Mon Nov 11, 2019
The sky was grey and dreary when we left home at 9:00 a.m. and it wasn't long before we noticed light snow flurries. There was a winter storm warning suggesting heavy snow later in the day so we were anxious to get through the dreaded 'Watertown to Syracuse snow belt' about an hour's drive south of home before the storm hit!
There was a very short line at the border and we were processed through in a jiffy. Just a few minutes later we made our first stop at Karla's Christmas Shop in Clayton New York. We had to wait a few minutes until Karla opened at 10:00. It was cold and windy and the sidewalks were ice-covered because of the spray from waves crashing on the break-wall behind the store. Carol bought a Department 56 Christmas Village piece from the North Pole Collection to add to her Disney Village.
At Watertown we stopped at Joann's Fabrics and picked up some wire rings which I use to make Disney wreaths; Carol bought some Christmas decorations. We stopped at a nearby Walgreens store but they didn't have much of their Christmas product out yet, so we quickly got back on the freeway and continued driving south toward Syracuse.
We pulled off at Cicero at 12:15 and had a tasty lunch at Chick-fil-A then carried on to Mattydale, a suburb of Syracuse. Carol was distressed to see the 'Store Closing' sign as we pulled up in front of K-Mart. It was the last K-Mart around and soon there will be none. There was very little left in the store and it was all heavily discounted, but Carol came out empty-handed. Sad and empty-handed!
The Christmas Tree Shop was a different story, we managed to fill several bags with lots of new Christmas decorations that we really don't need! We drove around and stopped in at three different CVS stores before we found one (at Manlius, just a few miles southwest of Syracuse) that had any Christmas product on display.
We arrived at the Best Western Hotel beside Syracuse International Airport at 4:00 p.m. and checked in. After a brief rest we hopped back in the car and headed to the nearby Destiny USA Mall. We browsed the men's wear department at JC Penny and found nothing for me. Then we stopped at the Disney Store and Box Lunch where Carol found a few more items to take home with us.
We ended our day with dinner at the Cheesecake Factory and were back at the hotel by 7:30. It will be an early night, our flight is scheduled for takeoff at 6:20 a.m.
---
Tues Nov 12, 2019
We tossed and turned all night. There was a big, deep pocket in the bed and we both gravitated to the bottom as we tried to sleep. The alarm was set for 4:30 a.m. but at 3:50 we decided that we'd had enough involuntary spooning so we gave up trying to sleep, showered and packed then caught the airport shuttle at 4:30.
There was a very short line at TSA and Carol whisked right through . . . but I got the most thorough pat-down of all time. My artificial knees always set off the scanners!
Our snow covered plane was waiting outside the window as we sat in a restaurant beside the departure lounge and had coffee and breakfast. By 6:10 everyone was boarded for our 6:20 flight and they announced that the door would be closed. About 30 minutes later they announced that maintenance was coming to top up some hydraulic fluid and after another 30 minutes we pulled away from the gate and taxied out for de-icing. At 7:30, while they were de-icing Carol got a text advising that our takeoff had been delayed until 6:45 - nope! We won't make it by 45 minutes ago! After sitting on the tarmac for 2 hours in a stuffy plane we lifted off at 8:10 - almost 2 hours late.
It was a very nice aircraft, an Airbus A320 with all modern technology; streaming live TV, lots of movies, USB charging ports and good legroom. Fortunately the US TV stations made no mention of Don Cherry's ridiculous poppy comments, unfortunately they were filled with chatter about the impeachment hearings. Carol watched a movie, I read my book and dozed.
It was a smooth flight; we landed at 10:55, about 1 1/2 hours later than planned. Carol took our carry-on bag and headed to Alamo Car Rental while I waited at the baggage carousel. She was back with all the rental paperwork done before our checked bags arrived. She had reserved a Ford Fusion or similar car but there was nothing left in the Alamo lot but full sized vans. That was not what we wanted, so we waited a few minutes while they rounded up a smaller SUV. It wasn't long before we left the airport in a KIA Sportage. It was much later than we'd hoped but the smaller vehicle was worth waiting for.
We drove directly to Disney Springs and the first thing Carol spotted were the Mickey Mouse popcorn buckets. She just had to have one. I carried Mickey around the Pin Store while she picked up the first of several batches of collector pins. Some for herself, some for a few friends back home.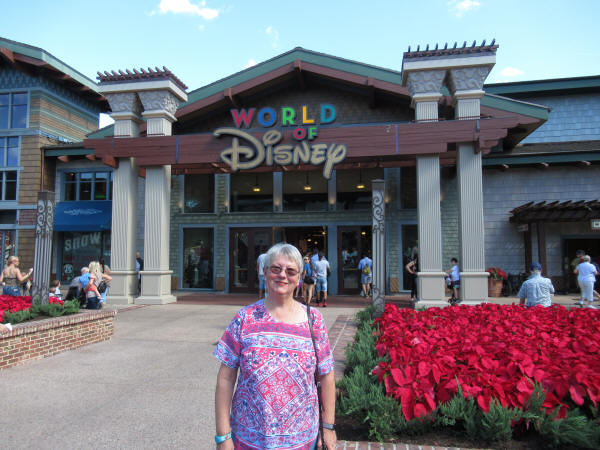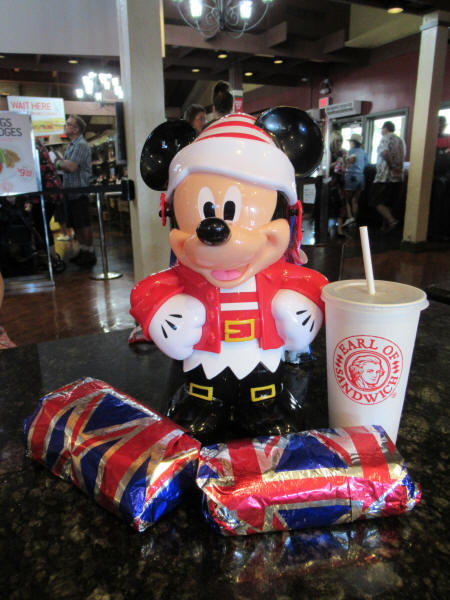 After the Pin Store we enjoyed a tasty lunch at Earl of Sandwich, a Tuna Melt for Carol and an All American for me.
We walked the length of the Christmas Tree Trail snapping pictures of the Disney themed trees on display. Half way through the tree trail Carol spotted the Christmas Tree popcorn buckets. She bought two, so I now had three buckets to lug around.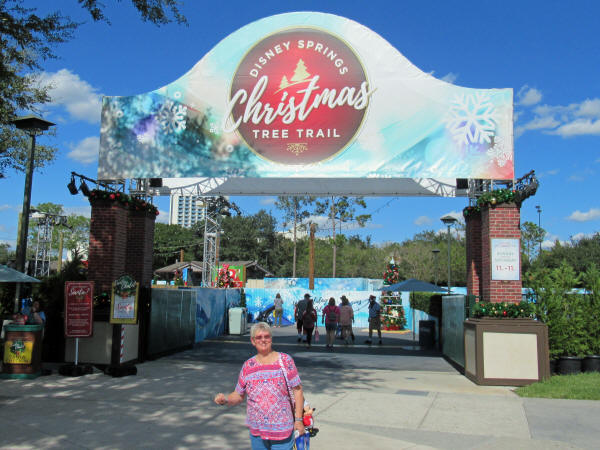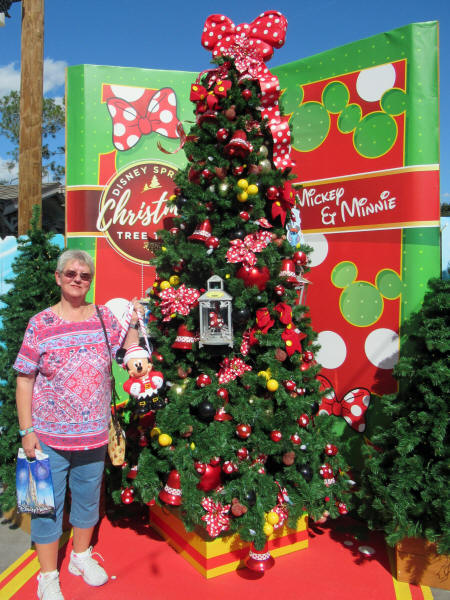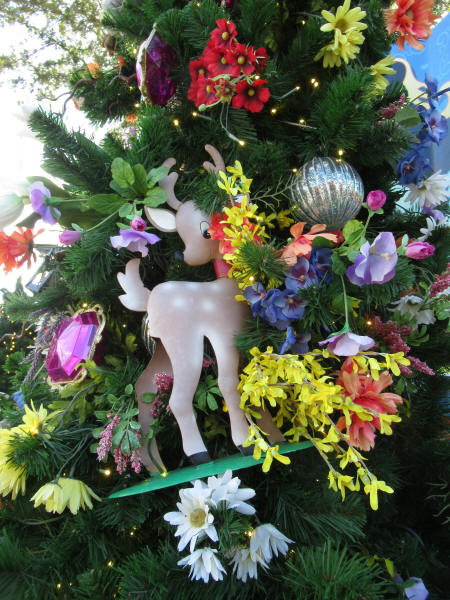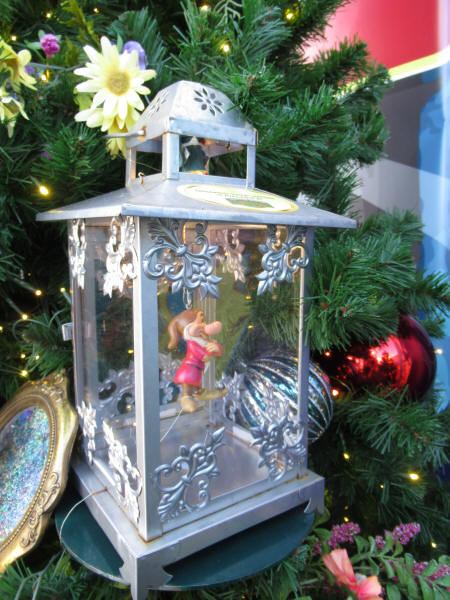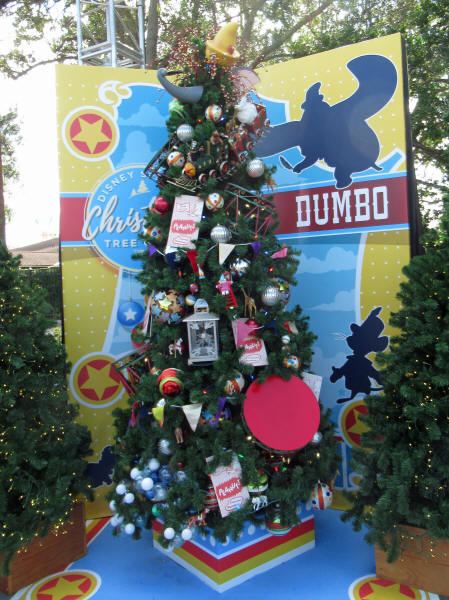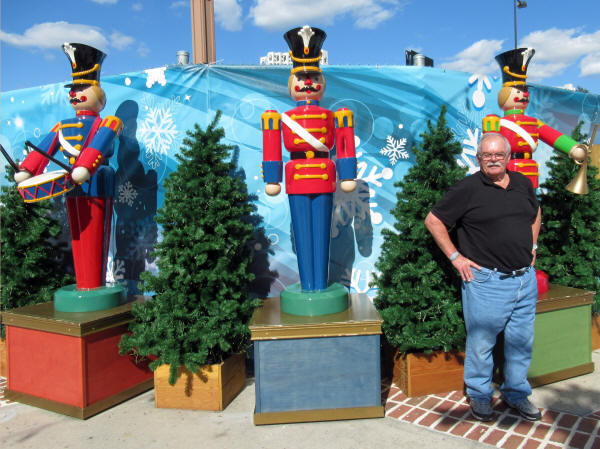 We'll be going back one of these nights to get some pictures of the trees when they're all lit up
We walked the bridge across the lagoon to Guest Services to upgrade a 7-Day base ticket into a Platinum Annual Pass for me. Guest Services sent us to the newly opened Ticket Office a few doors away. They got the job done, but they weren't able to answer any of our questions and didn't even make an attempt to be helpful. Disney service sure isn't what it used to be!
Next stop, Port Orleans French Quarter where I waited in the car while Carol dashed in to pick up some special 'Resort Pins' issued for the Christmas Holidays. Then we carried on down the road to Wilderness Lodge and once again I sat outside in the car reading my book while Carol grabbed the pin for that resort. She was thrilled to get them, they sell out quickly.
Carol was pleased to get quite a bit of her shopping done on the first day. We drove to Springhill Suites by Marriot and checked in at 3:00 p.m.
Carol had us unpacked and settled in by 4:45 when we jumped back in the car and headed off to EPCOT for a little 'Food and Wine Festival' fun!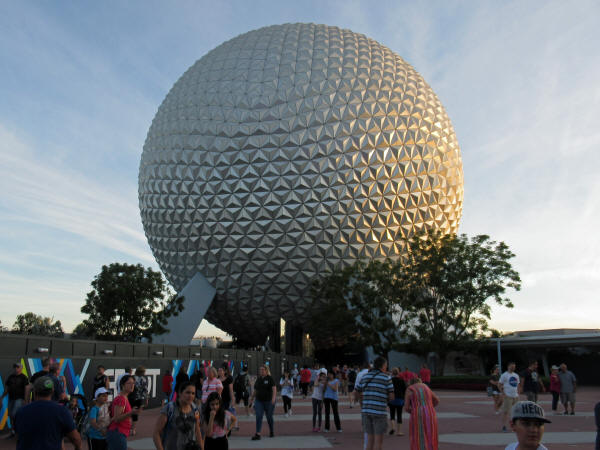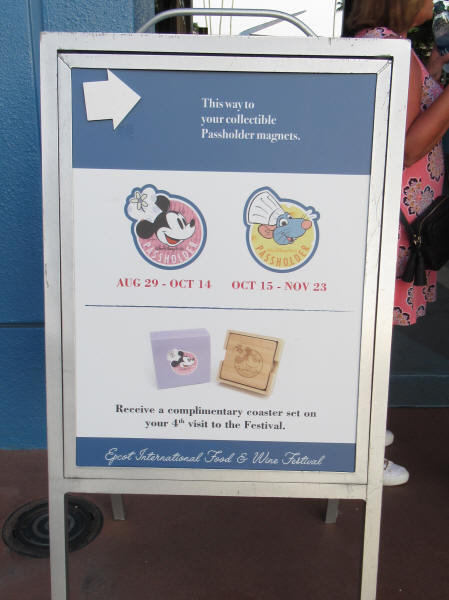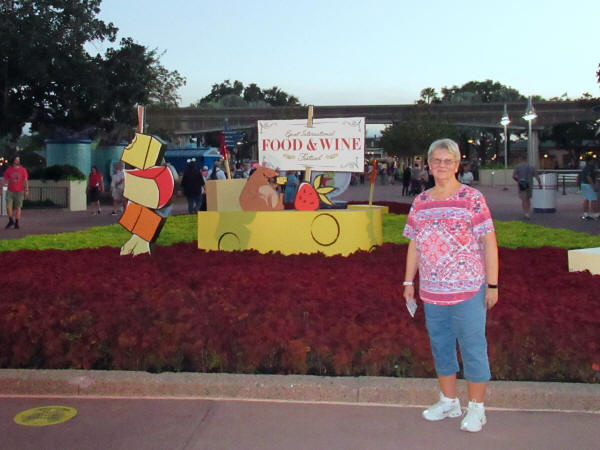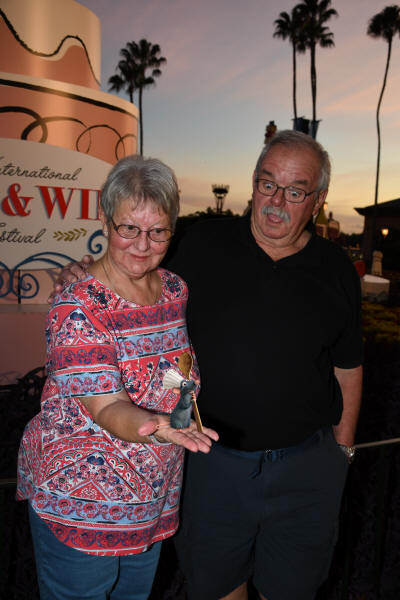 We stopped for a few PhotoPass pictures as we made our way back to World Showcase and turned left, toward Mexico to begin our culinary journey.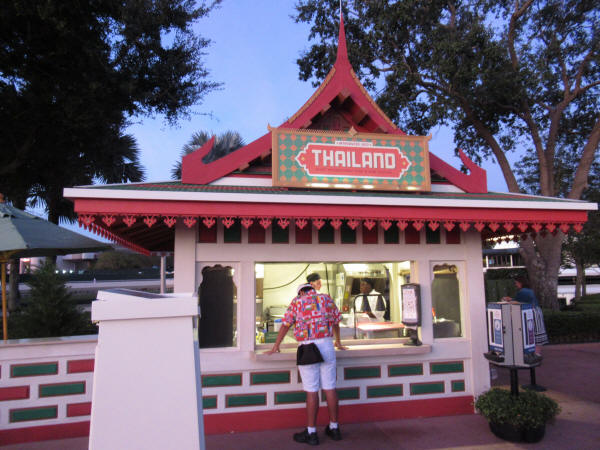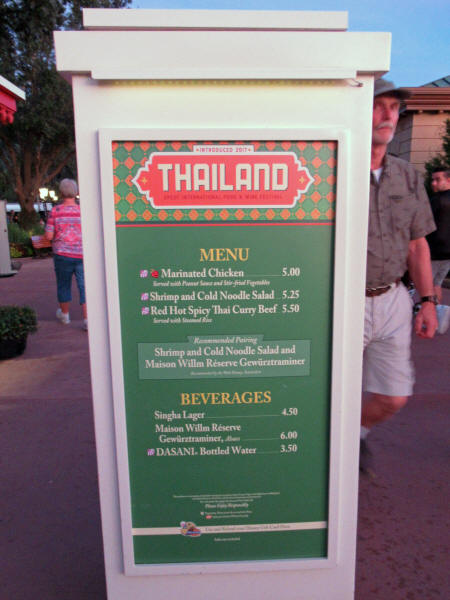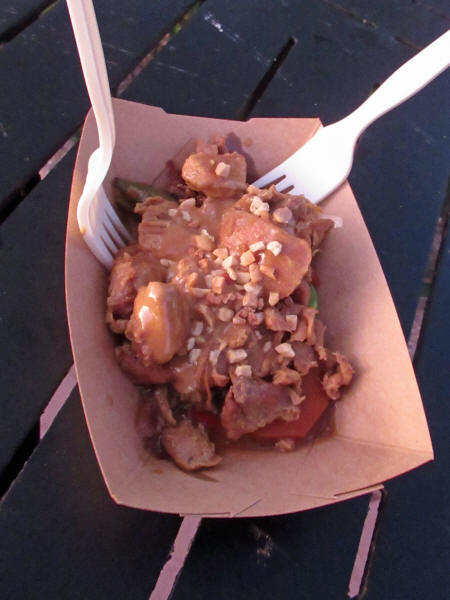 At Thailand we sampled the Marinated Chicken with Peanut Sauce, it was tasty!
Next on our tour was Islands of the Caribbean where we enjoyed a Quesita, a puff pastry with sweetened cream cheese and guava sauce.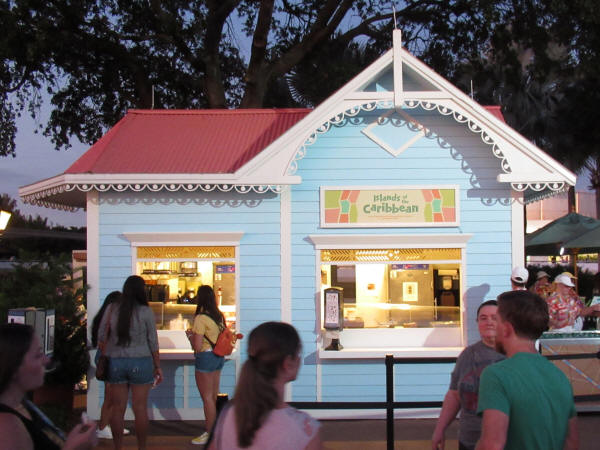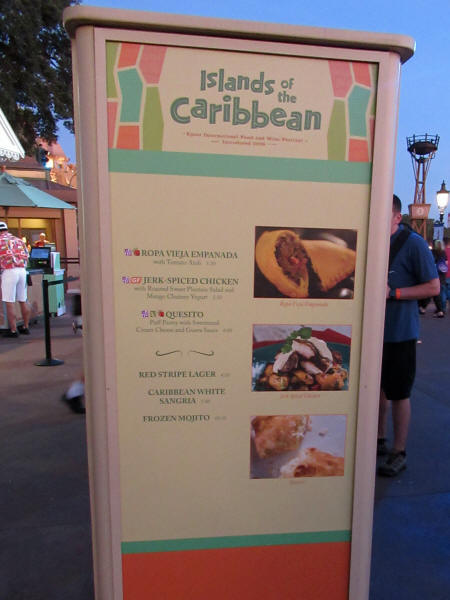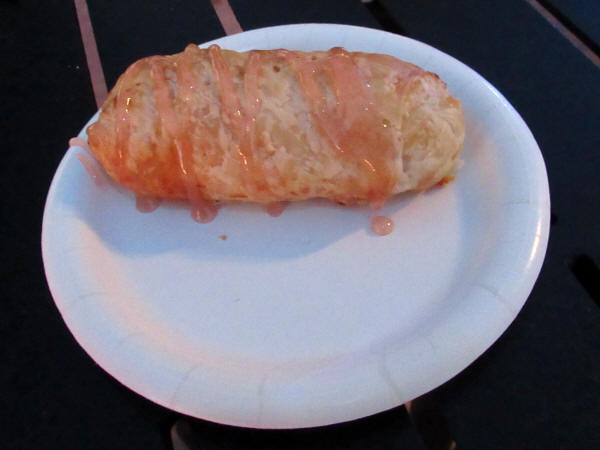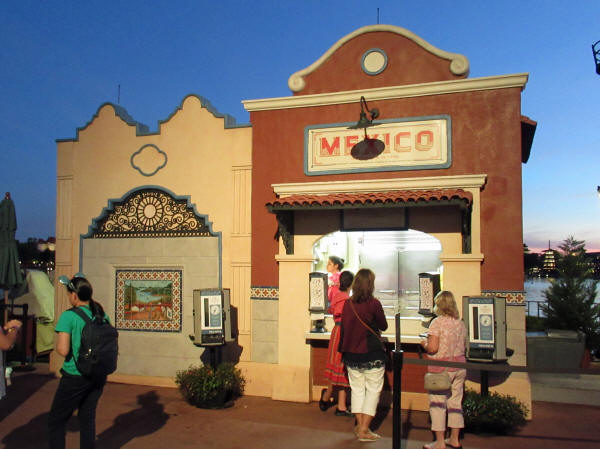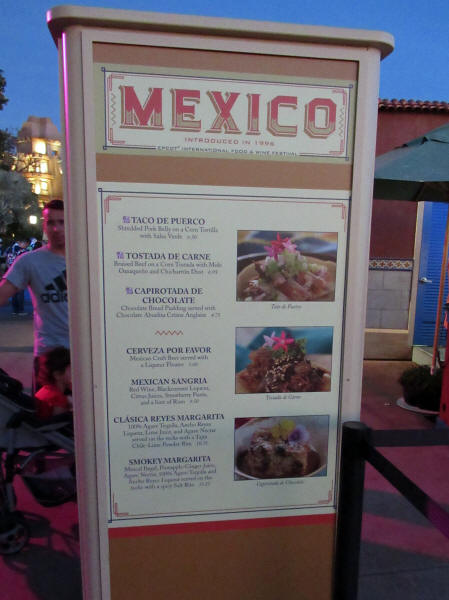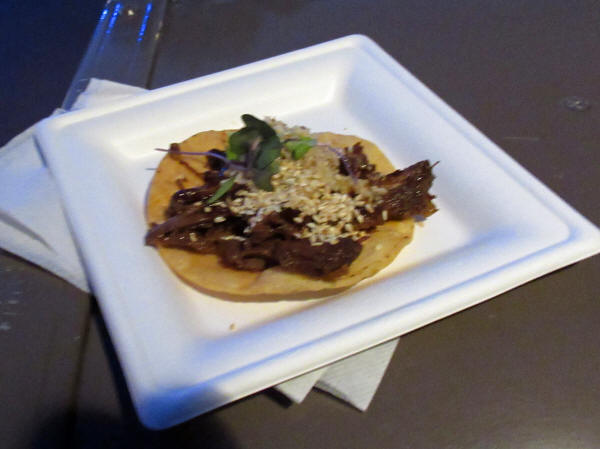 At Mexico we ordered a Tostada de Carne, beef on a toasted tortilla. This wasn't one of our favourites!
We scaled The Alps and ordered a Warm Raclette Swiss Cheese and a Blueberry and Almond Frangipane Tart. The raclette was merely OK but the tart was delicious!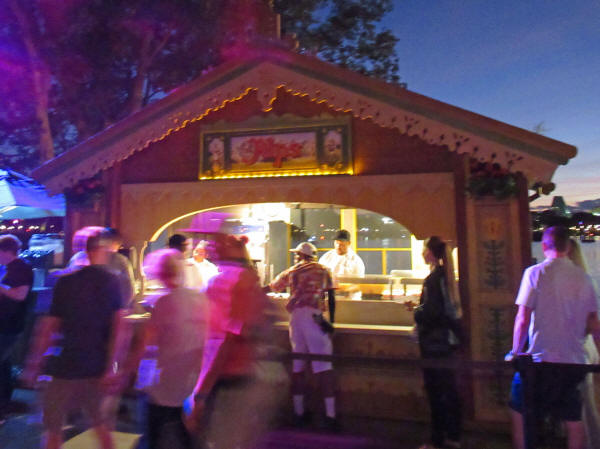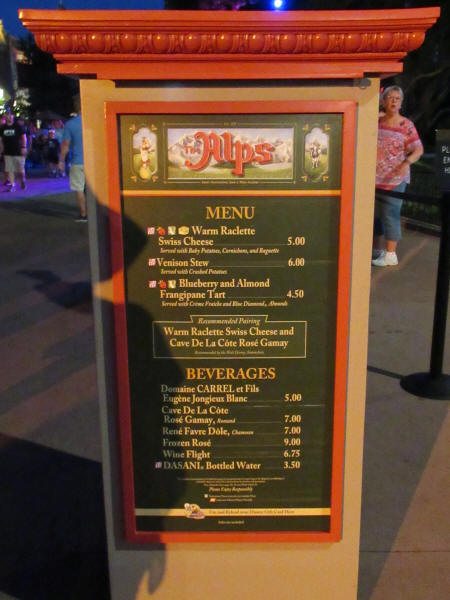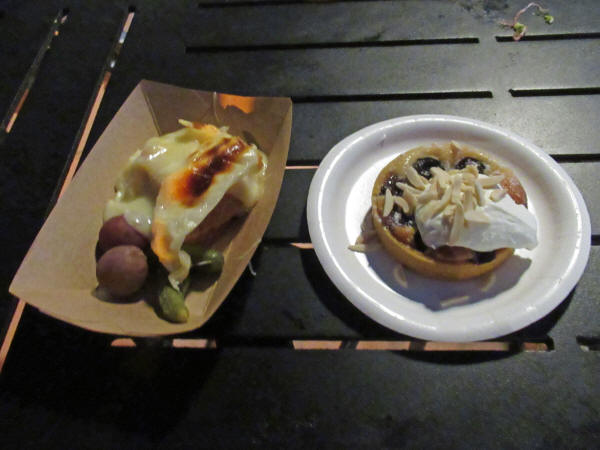 We walked to Norway and sat for a while as we enjoyed a cold soft drink and a Troll Horn (they're good!), then at 7:00 p.m. we used our FastPass to take a ride on Frozen Ever After with Anna and Elsa!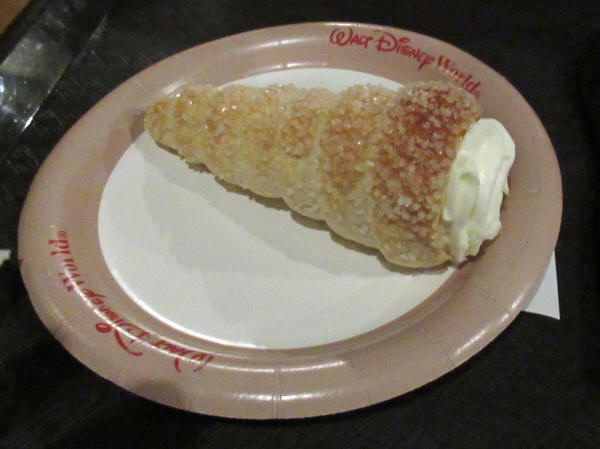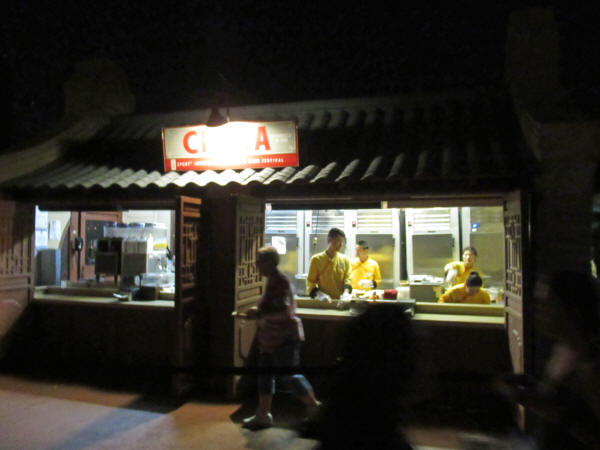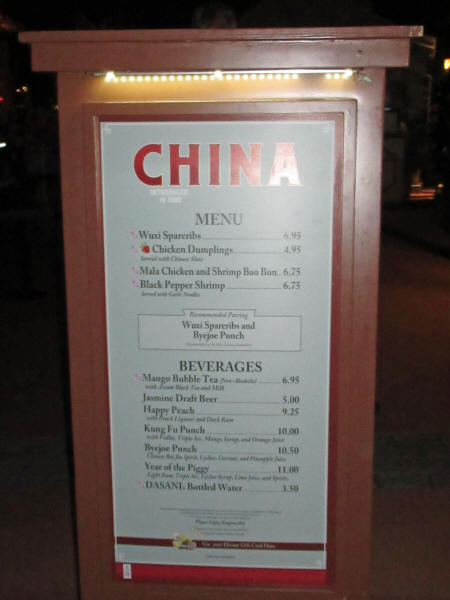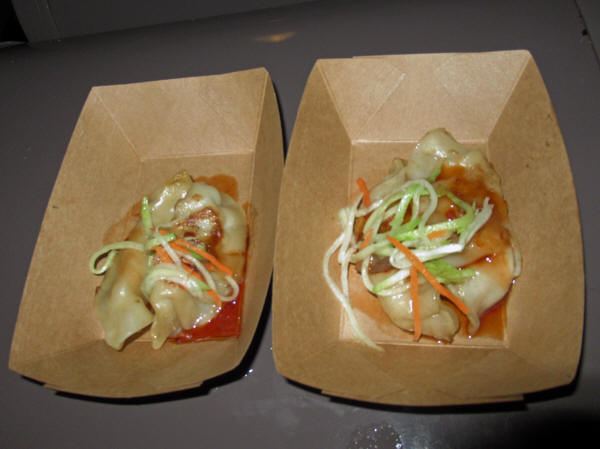 A short walk took us to China where we each enjoyed an order of dumplings - they are too good to share!
We walked back to Mexico and took the Gran Fiesta Tour with Donald Duck, José Carioca and Panchito Pistoles.
We wanted to see the new (temporary) fireworks show at EPCOT so we found a water-side table at Mexico's Cantina and enjoyed a couple of cold sodas and a light snack as we waited about an hour for the show to begin. There was a light drizzle coming down as the show began at 9:00 but it was all done raining when the fireworks finished at 9:15 - we were so mesmerized by the show that I don't know when the rain actually stopped. We found the new show 'EPCOT Forever' to be much more enjoyable than Illuminations which it replaced.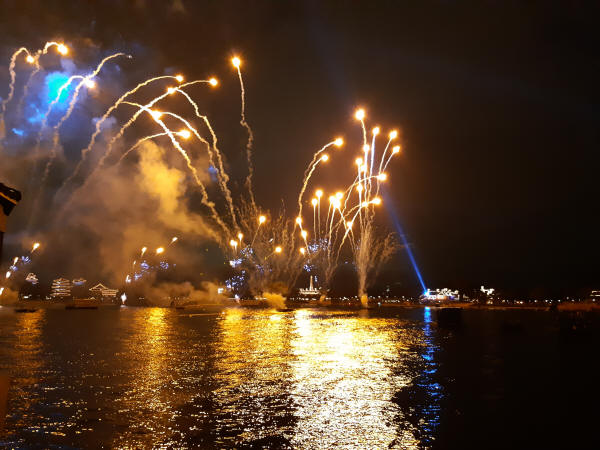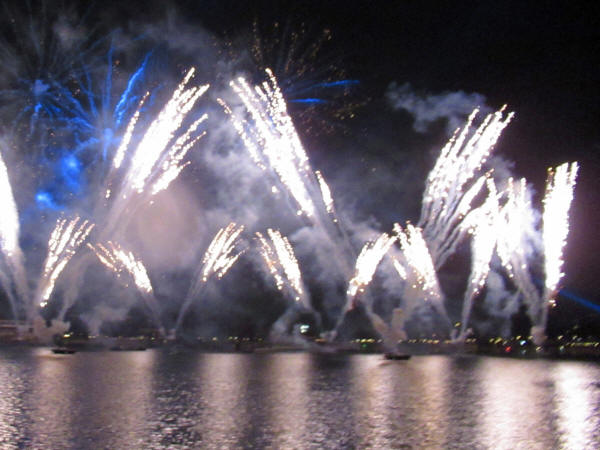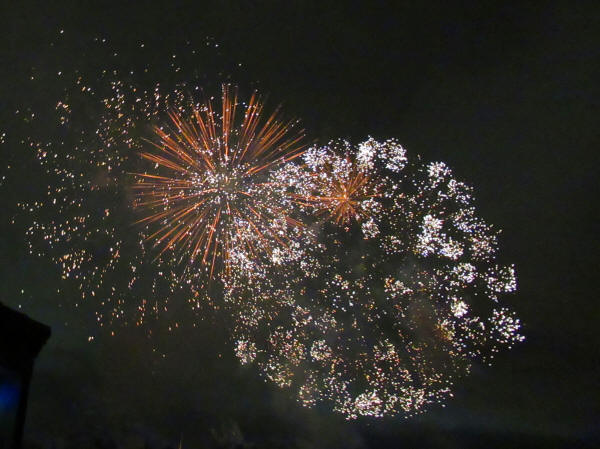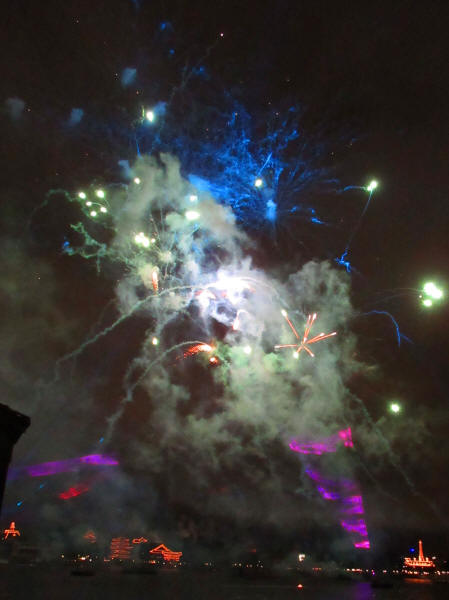 Dog-tired after a very long day we dragged ourselves back to the parking lot and were back home at about 10:00 p.m. We'll sleep well tonight.
---
Wed Nov 13, 2019
We were up at 6:45 and enjoyed coffee in the room. At about 7:45 I went down to the lobby for the complimentary breakfast. We pulled out at 8:45 and headed out to Route 192 where we picked up a rental ECV. Carol's knees are giving her trouble and she is waiting for replacement surgery. It was a real benefit for both of us, during long days at the theme parks we often took turns using it!
We arrived at EPCOT at 9:15 and paused for a quick PhotoPass at the entry. There is construction everywhere, but it was a real treat to see all of those big, ugly tombstones gone!
There was no line at Spaceship Earth so we took a ride back in time with Dame Judy Dench and gave thanks to the Phoenicians!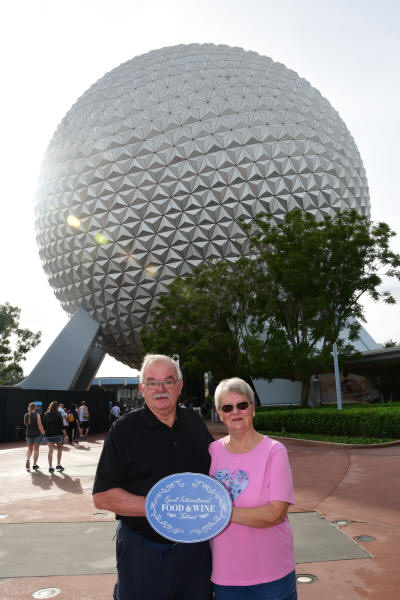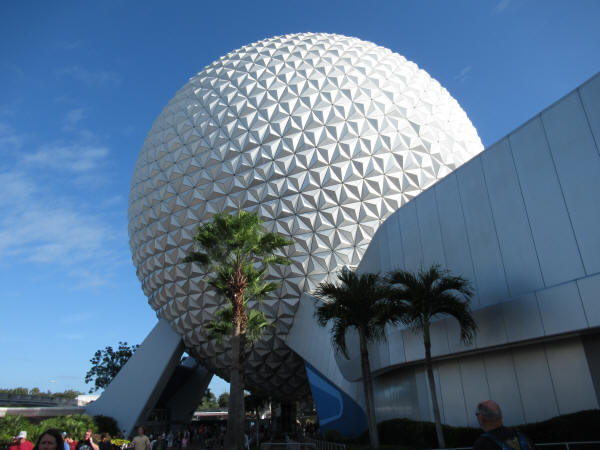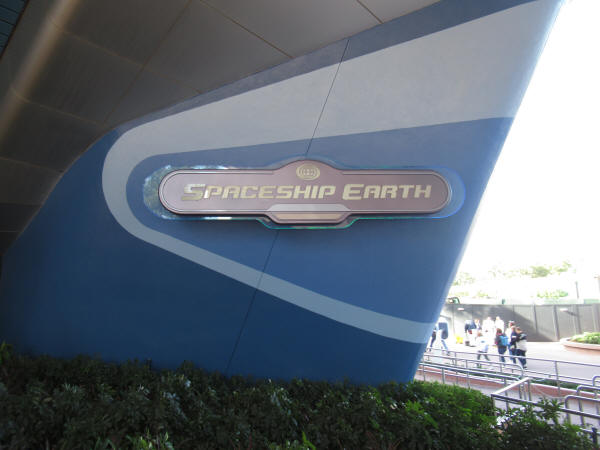 We browsed our way through the Art of Disney shop beside Spaceship Earth and naturally Carol made a stop at Pin Central to check out the new releases.
We walked to The Land Pavilion and took a boat ride through the greenhouses at Living With the Land.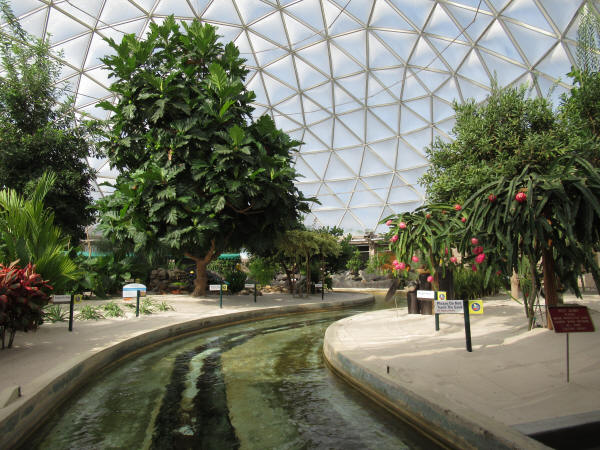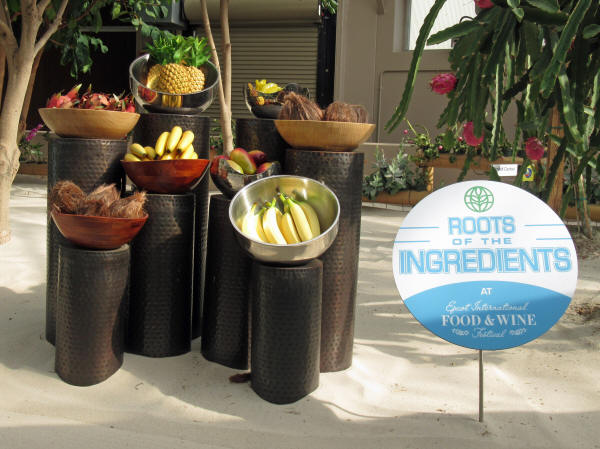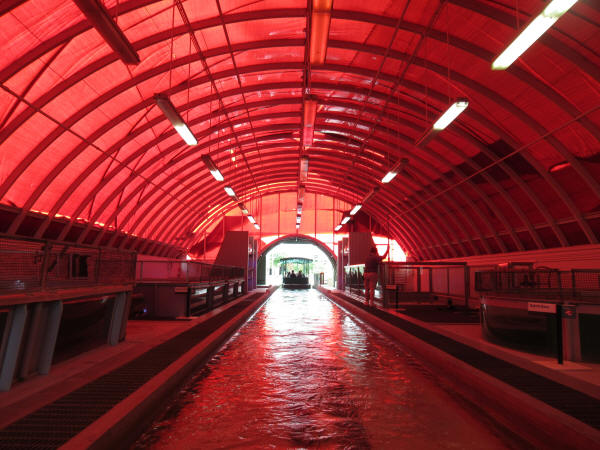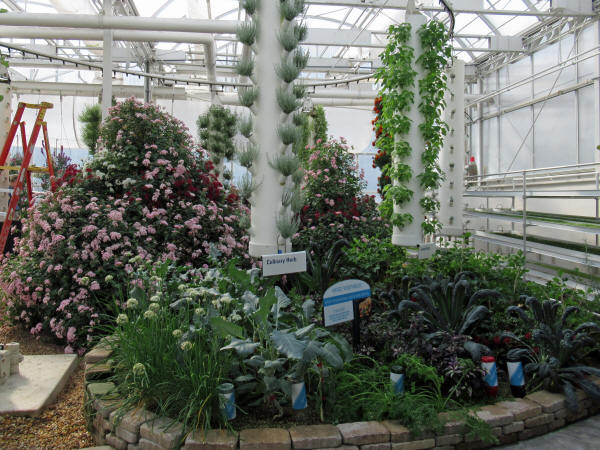 We strolled through the Rose Garden and arrived at World Showcase just before 11:00. The Food & Wine Festival wasn't open yet so Carol browsed at Port of Entry Shop while we waited.
We walked through the shop at Canada and saw Coffee Crisp candy bars for sale at $4.45 each - they're about 89¢ at home!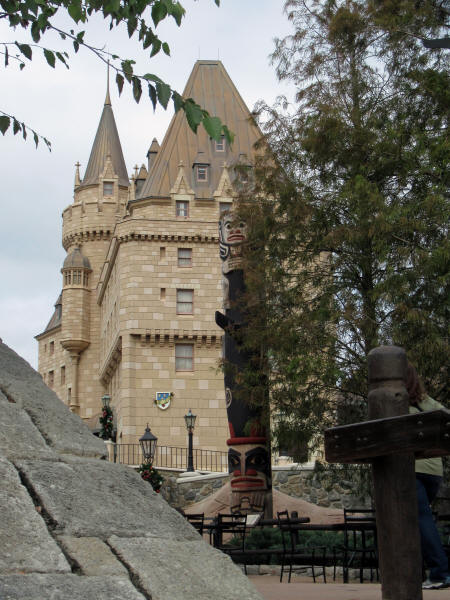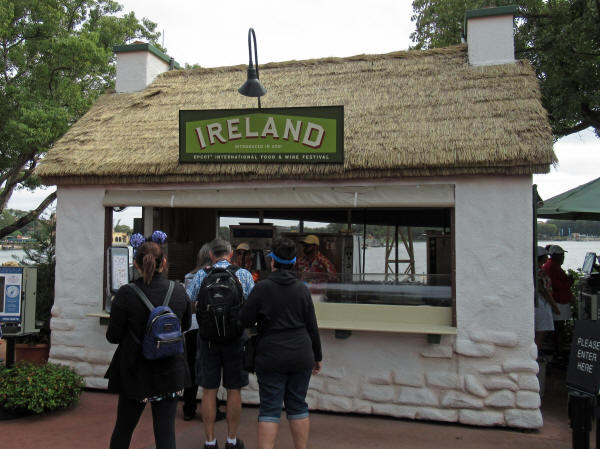 At 11:15 we had our first snack from Ireland - roasted Irish sausage with potatoes and onion gravy - the best item we've had yet!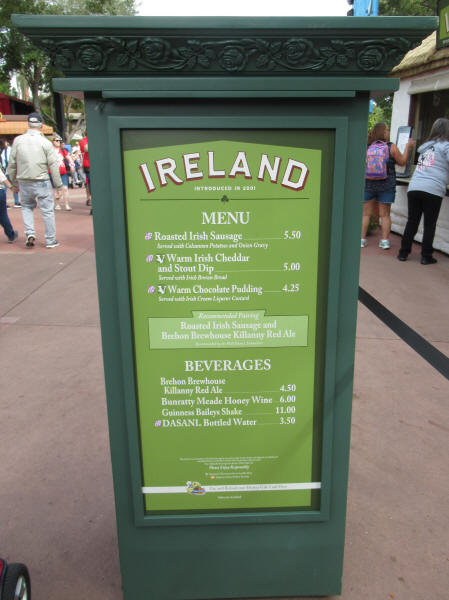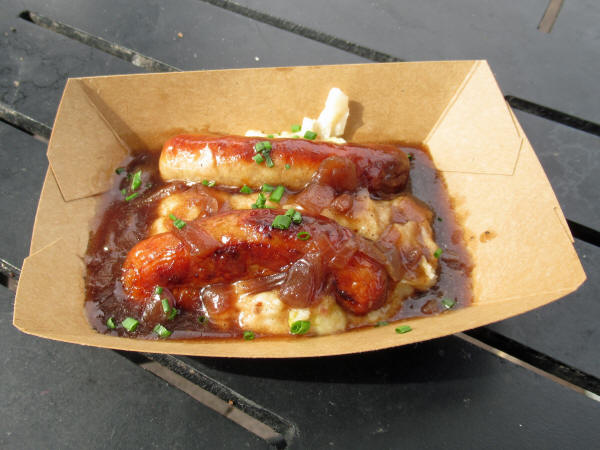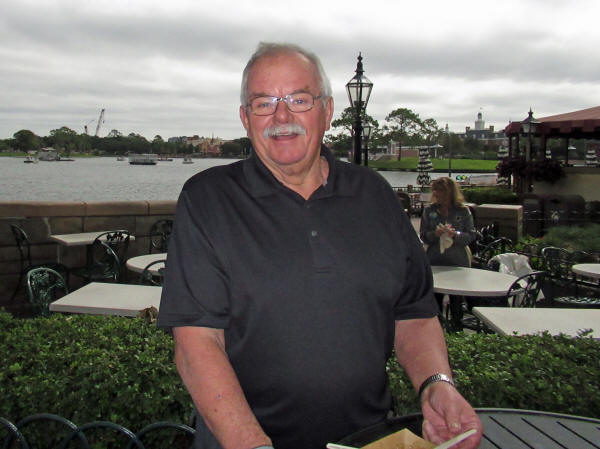 We headed to World ShowPlace, the spot between Canada and Great Britain where Carol's annual Pin Trading Event is held. It's the Festival Centre now for Food and Wine so we hoped to see some exhibits. Unfortunately it's only open for special functions.
We headed toward the exit and made one final food stop at Australia where we enjoyed Kalua Pork Sliders and Teriyaki glazed Spam Hash. It was the first time I'd had Spam in several decades - it was quite tasty!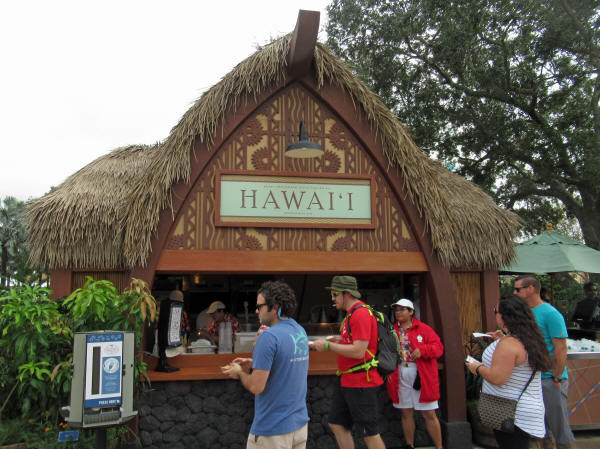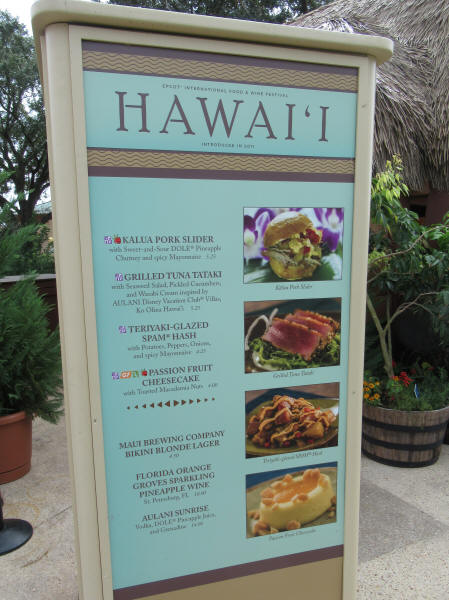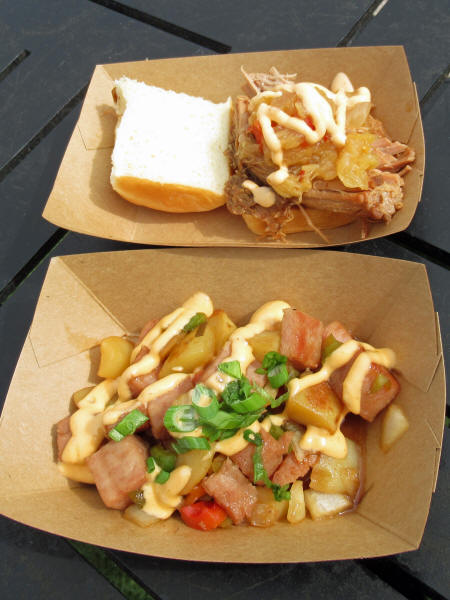 Our last stop on the way out was at Guest Services where Carol picked up the Fall and Holiday issues of the Mickey Monitor. Even though Carol and I pay well over $2,000 for annual passes to Walt Disney World, Mickey cannot afford to send Canadian passholders the quarterly magazine that all American passholders receive. I feel so sorry for that poverty-stricken mouse!
We headed west, toward the Animal Kingdom theme park and stopped at Property Control, one of the shops where Disney sends outdated or unsold merchandise for liquidation. Carol managed to pick up a few trinkets, mostly Halloween and Christmas Decorations.
We had made arrangements to meet some good friends for a late lunch at The Boathouse and arrived at Disney Springs at 1:00 p.m., a bit early for lunch. That gave Carol some time to browse the World of Disney Store. She put the time to good use but we still had a few minutes to wait before Deb and Linda arrived, they were a few minutes early as well.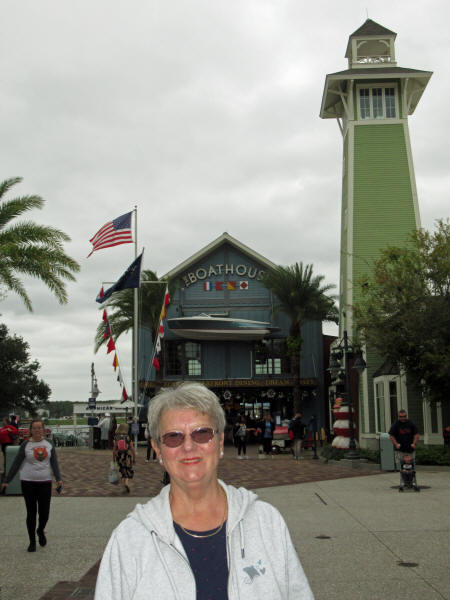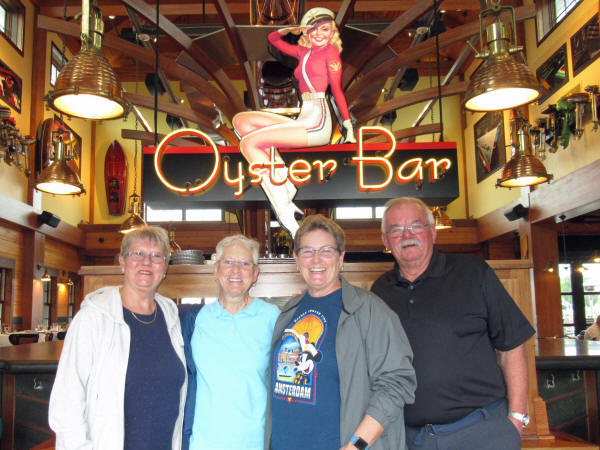 We had a great time over lunch, as we always do with these wonderful ladies.
Could there be some fun adventures with them in our future? A Kentucky Bourbon Trail Tour? A trip to Ireland? We sure hope so!
We parted company with Deb and Linda at about 4:45 and Carol stopped in at the Vera Bradley shop where she picked up a snazzy new backpack . I made a comment about the pattern being 'pretty busy' - that was a tactical error!
"They had three nice Disney patterns." she said. "I picked the most subtle pattern."
"Oh yes," I replied, "That one just screams out subtle!" It may not have been the right thing to say!
We were back to the hotel by 4:45 and rested quietly for a while before striking out for dinner. At about 6:30 we headed to Wilderness Lodge to see the new Gingerbread House and pick up a couple of newly released Resort pins. Success with both missions!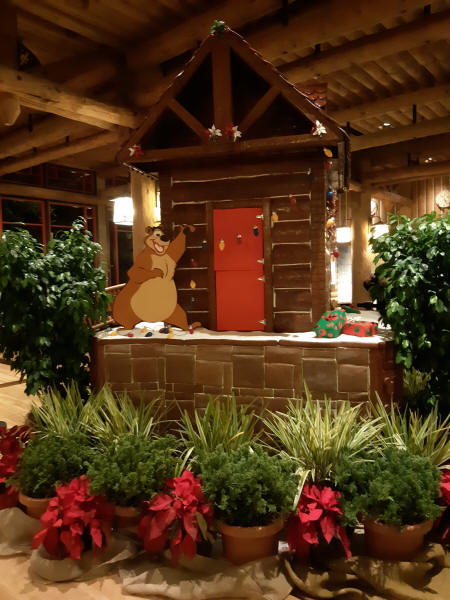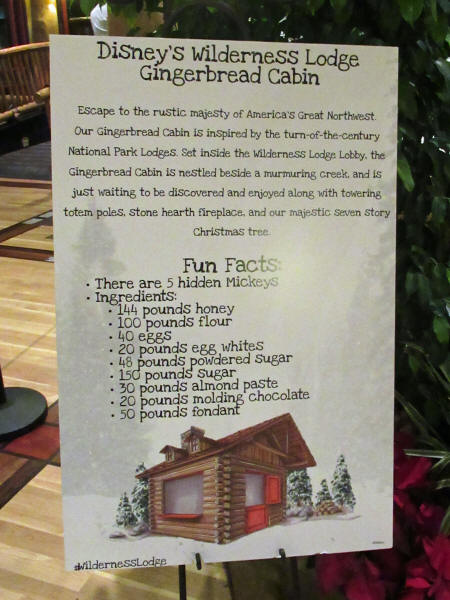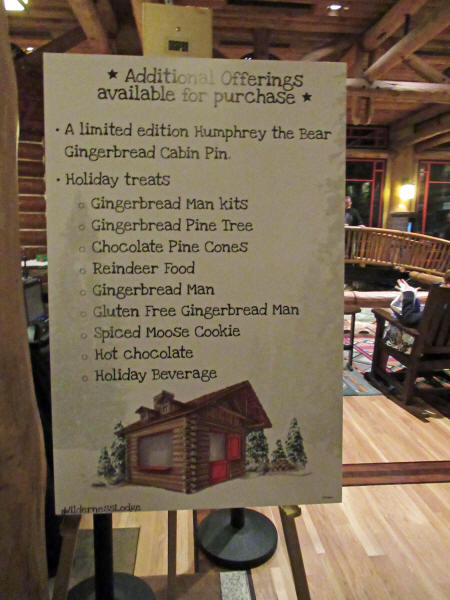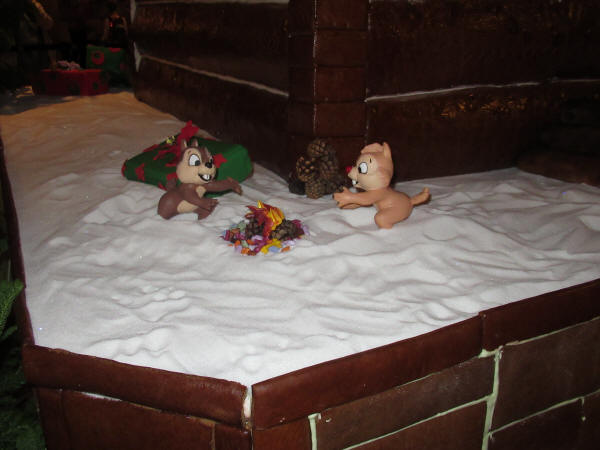 After a big lunch we weren't particularly hungry so we popped into Sweet Tomatoes for some soup and salad. We were home about 8:30 and settled in for the night!
---
Thur Nov 14, 2019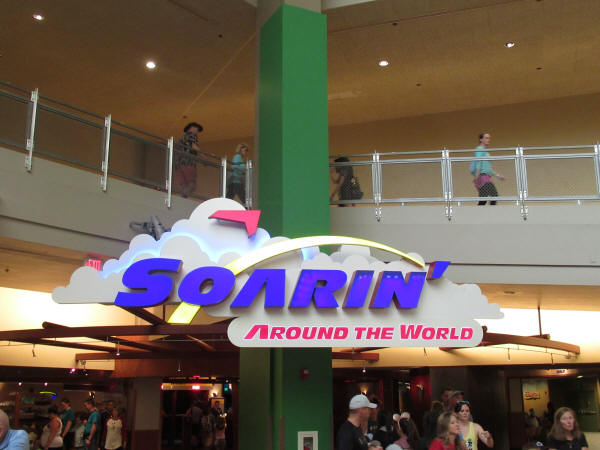 This morning we were up at 6:45 and after coffee and breakfast we pulled out at 8:30 heading back to EPCOT. The park opened at 9:00 a.m,. and Carol made a quick stop at Pin Central before we carried on to Soarin' where we used our FastPass for a flight around the world.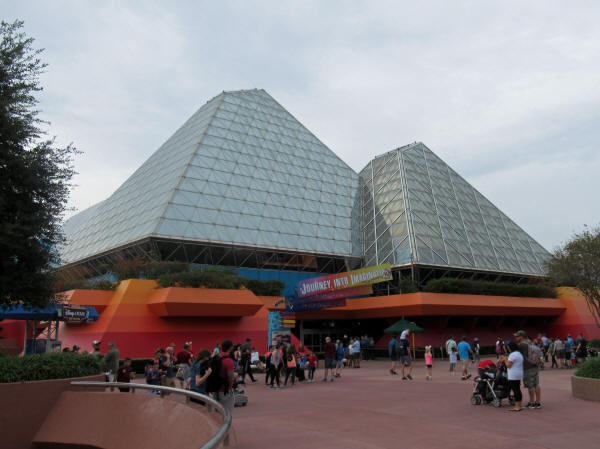 We stopped in at The Imagination Institute and took a ride with Dr. Nigel Channing and Figment. It's a cute attraction that we seldom visit.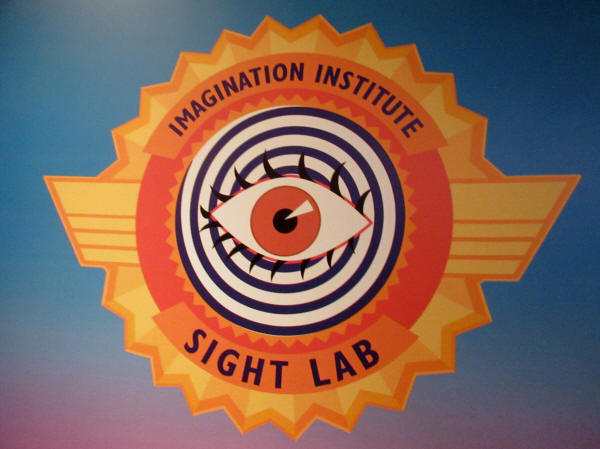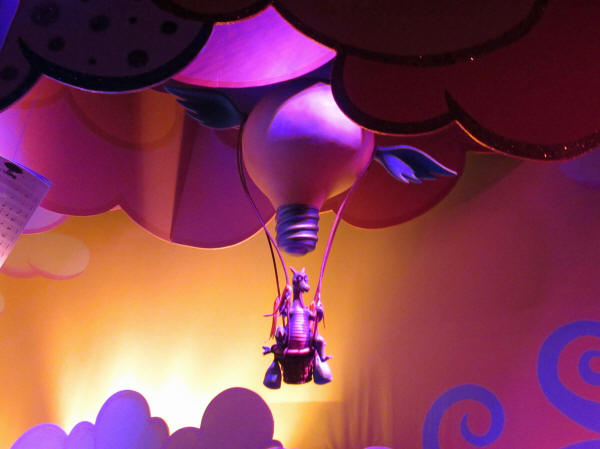 We crossed to the other side of Future World and headed to the Odyssey Centre which is now the home of a wonderful show previewing all the amazing changes coming to EPCOT.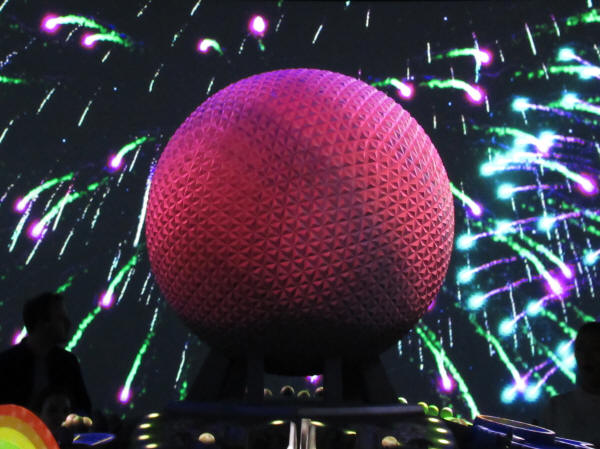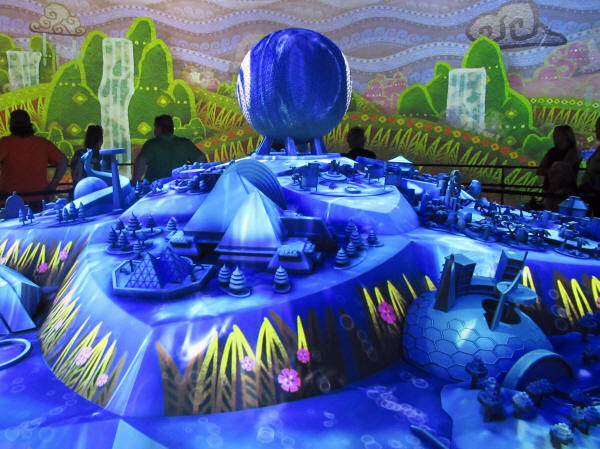 The preview uses leading edge lighting technology to show the future direction of the park.
A model of the park fills the centre of the presentation hall and is transformed by vivid coloured lights to correspond with the 360º movie which is projected on the exterior walls.
The effect is totally immersive, my mind really had trouble figuring out where my eyes should be looking.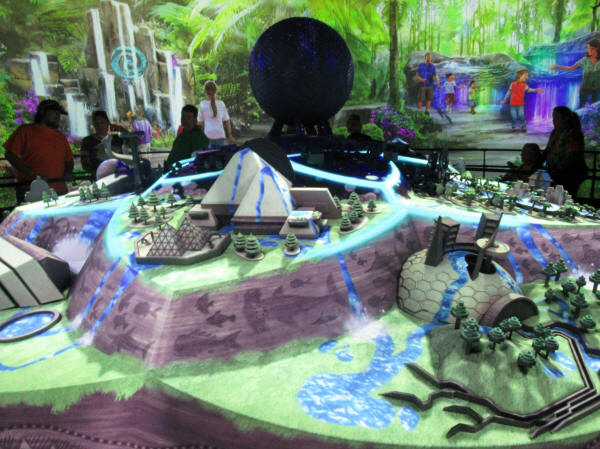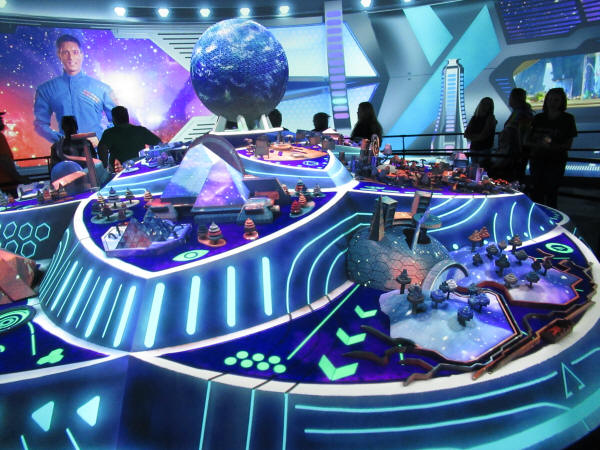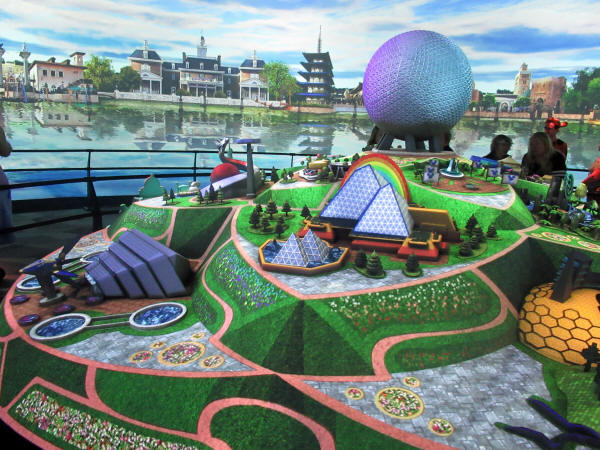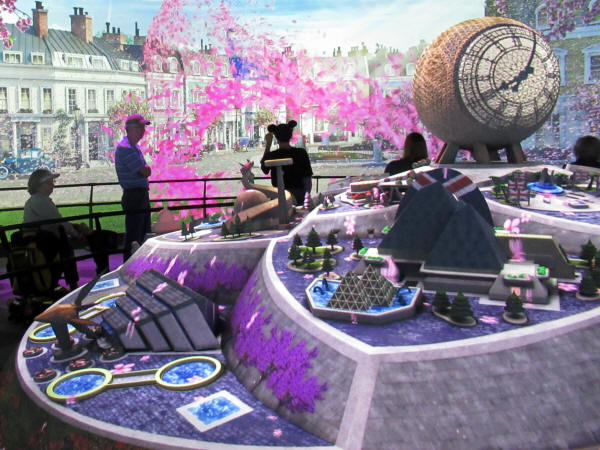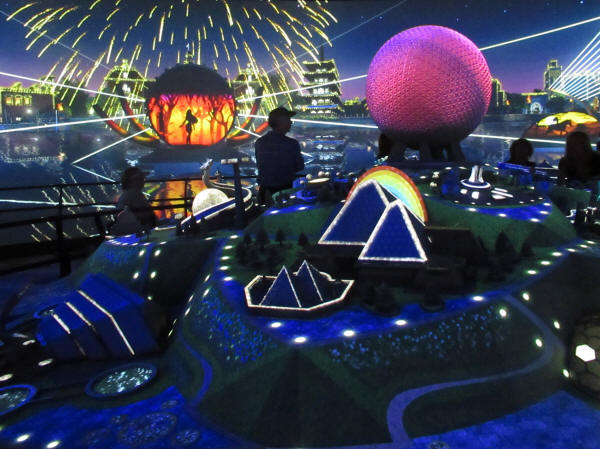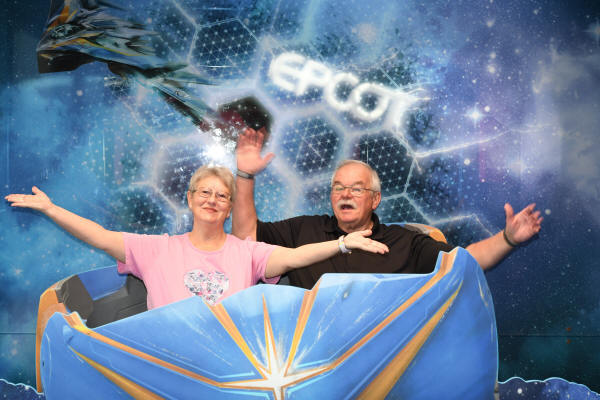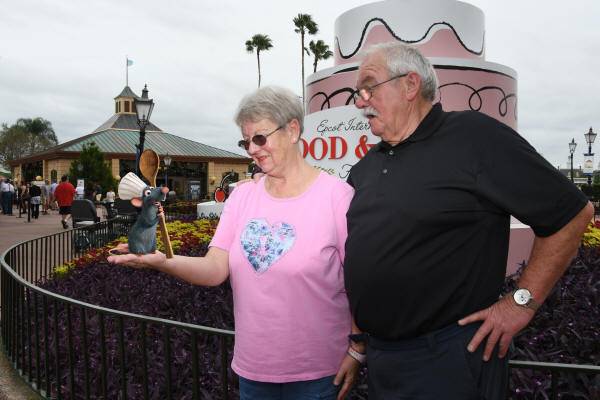 We are really looking forward to seeing all the changes at EPCOT as they unfold over the next few years!
After the preview it was time to enjoy more of the Food and Wine Festival.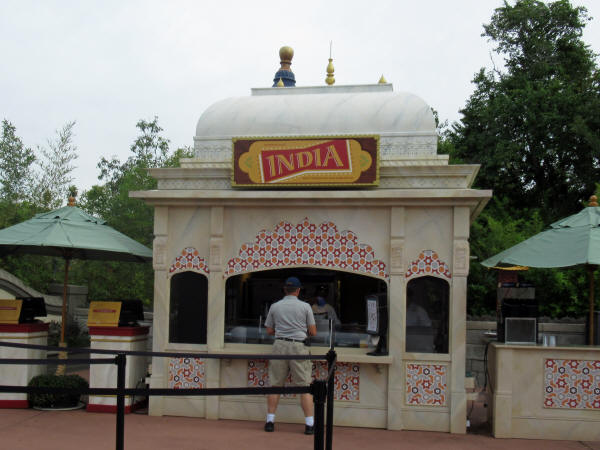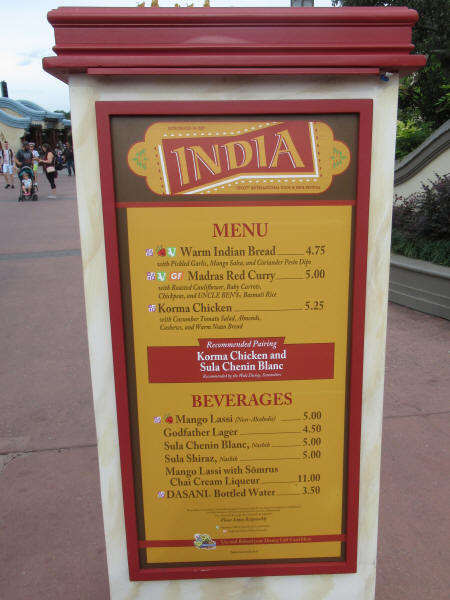 At India we sampled the Korma Chicken; it was good, but a bit too spicy for my palate.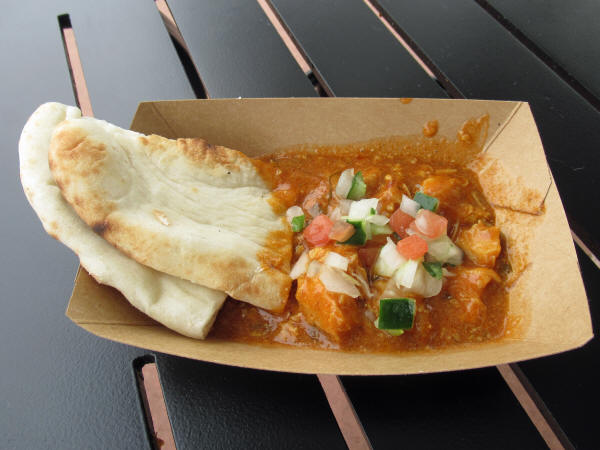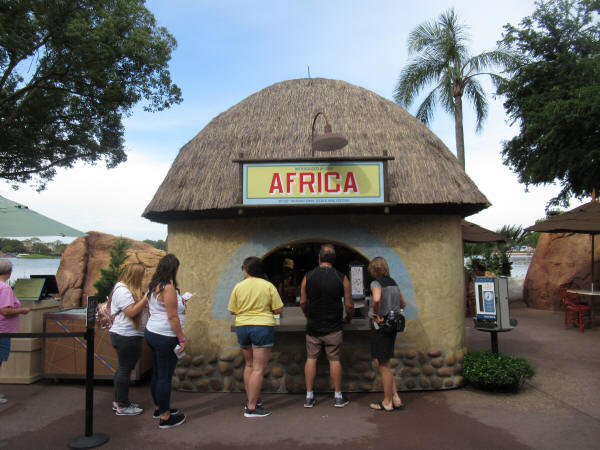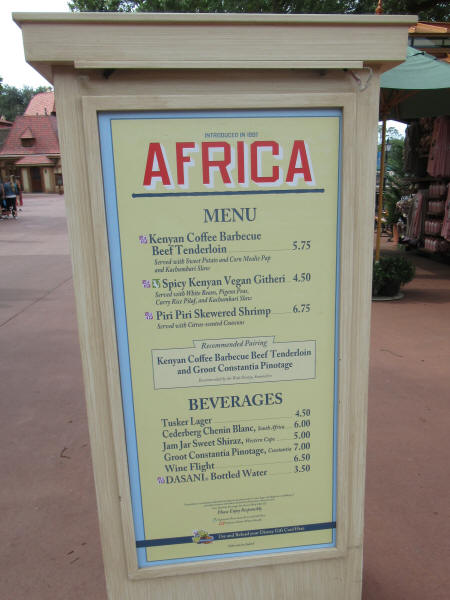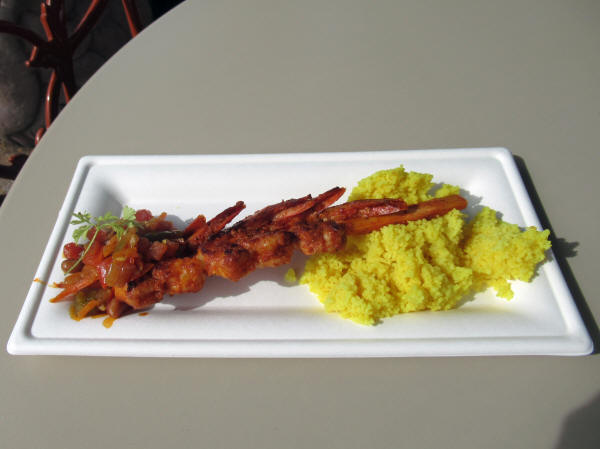 In Africa we decided to try the Piri Piri Skewered Shrimp. It was a good choice; very tasty!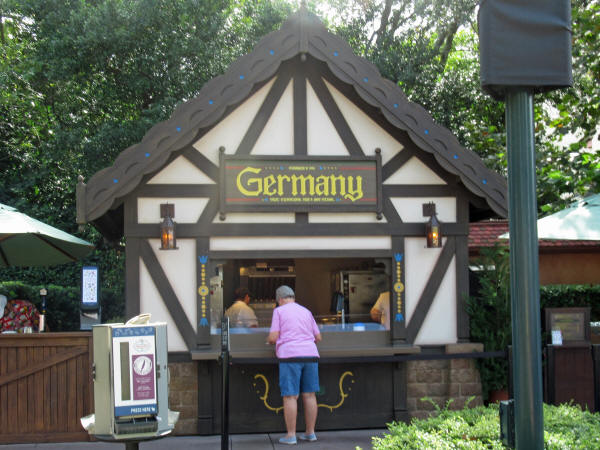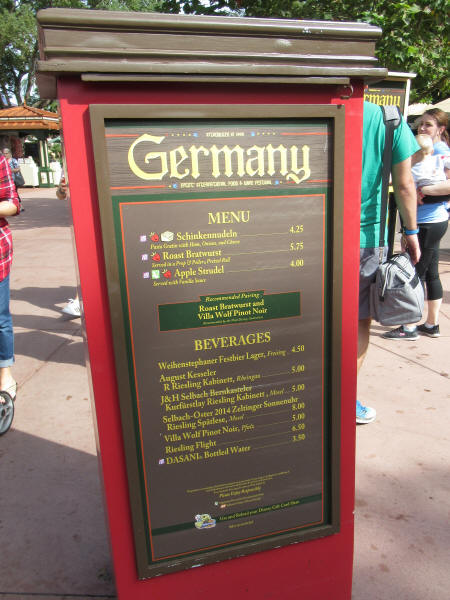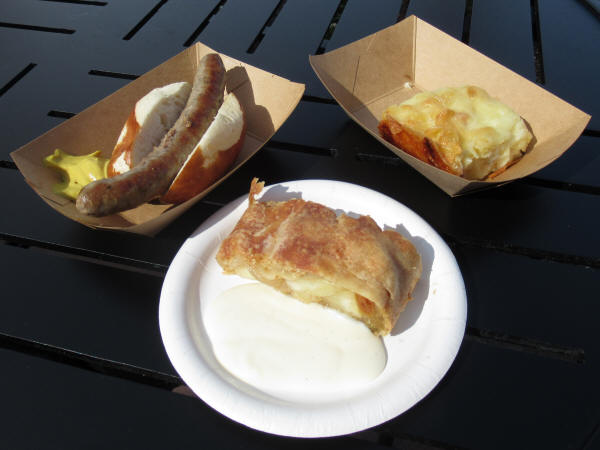 We knew that we liked all three of the dishes offered at Germany. Schinkennudeln, Bratwurst and Apple Strudel so we ordered one of each. They were all just as good as we remembered!
Before leaving Germany we paused to watch the model trains for a few minutes and then took advantage of a photo-op with Baloo; you don't see him too often!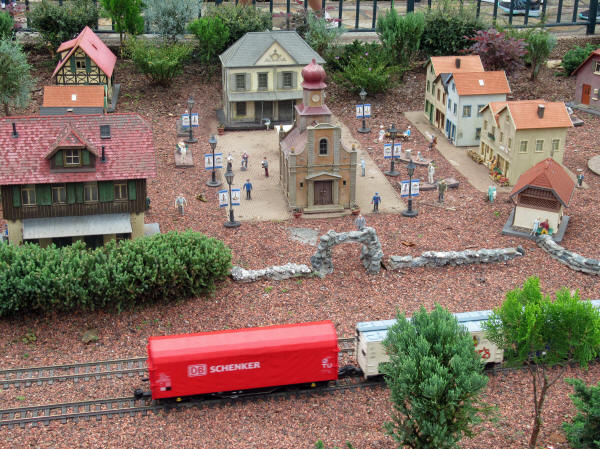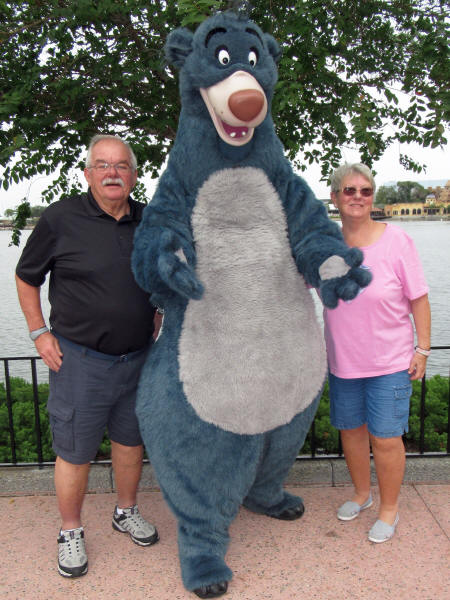 We stopped in France to watch the movie, hoping to see some of the scenery we had so recently enjoyed during our vacation in Paris. Unfortunately the movie was closed. Like the movie in Canada it is being updated and the new one is scheduled to be introduced in just a few months. We're hoping to see it when we return in January 2020.
We stopped at the fountain beside the Chefs de France Restaurant and spent a few minutes with Chef Remy before heading on to Great Britain where Carol roamed the shops and traded a few pins.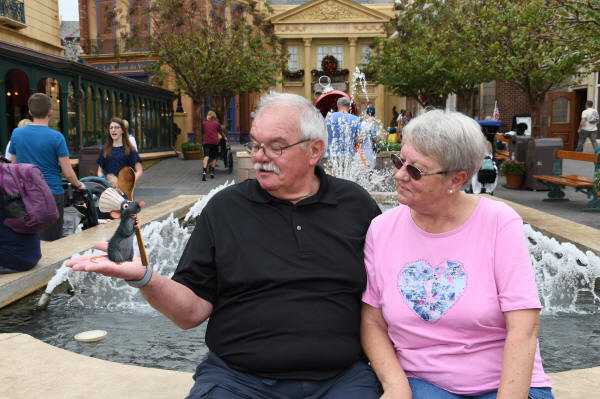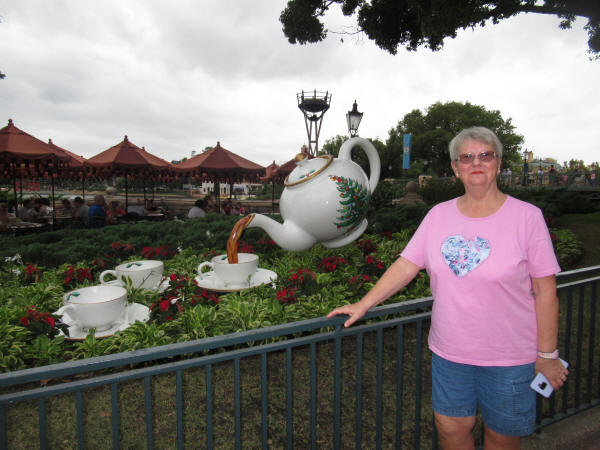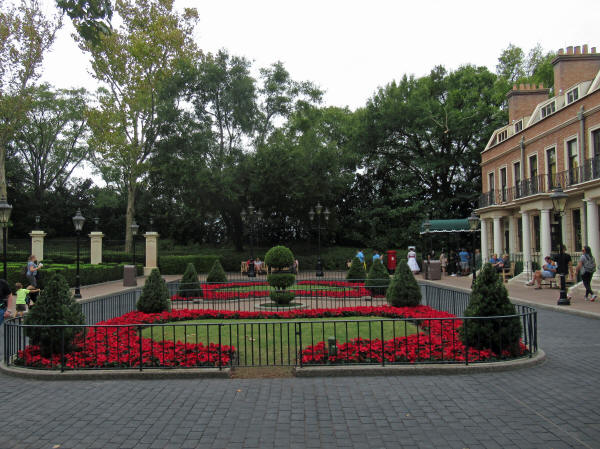 We were back to our hotel by 1:30 and rested for a few hours. At 4:00 p.m. we drove to the Polynesian Village Resort where we had a 5:00 p.m. reservation at the Kona Café. Carol had pot stickers and wings, I enjoyed a cheese burger, then we finished up with a serving of 'Ohana Bread Pudding. We couldn't finish it . . . I think it's the first time we've left any of their delicious bread pudding uneaten!
We took the monorail from the Polynesian Resort to the Magic Kingdom and at 6:15 picked up our wrist bands for Mickey's Very Merry Christmas Party.
We stopped at the Fire Hall to pick up the special Christmas Party Sorcerer Cards then I ambled down Main Street USA snapping pictures while Carol walked through the Emporium looking for pins and Christmas ornaments.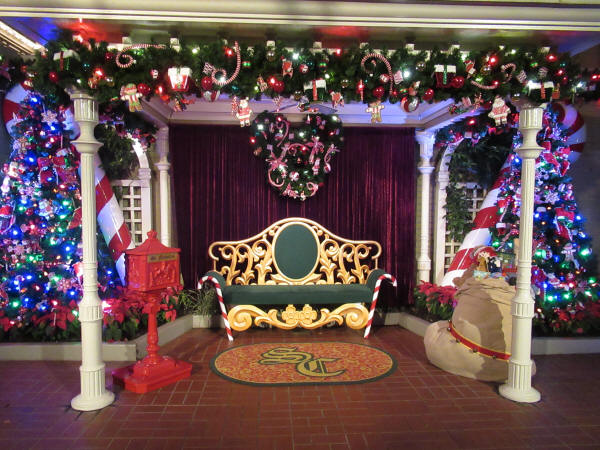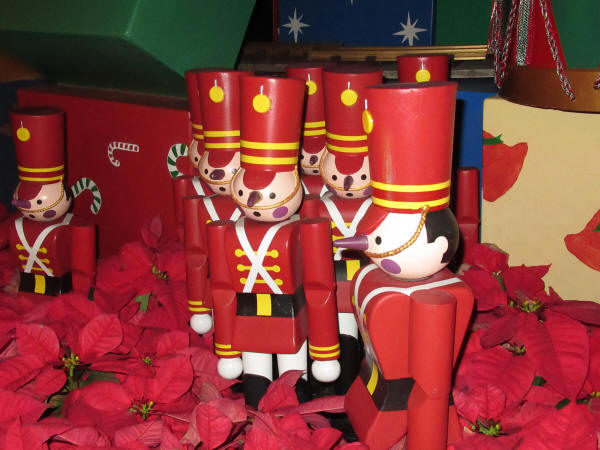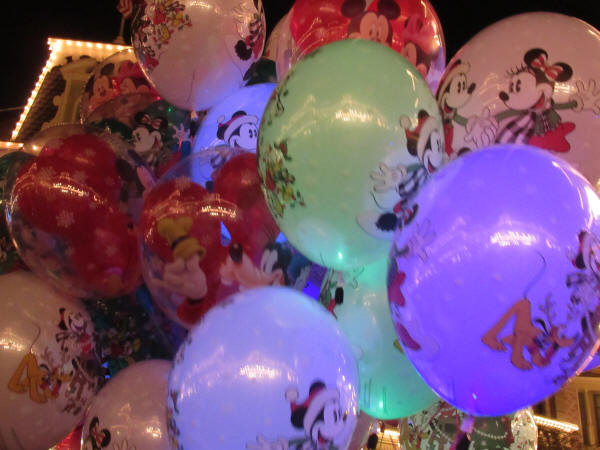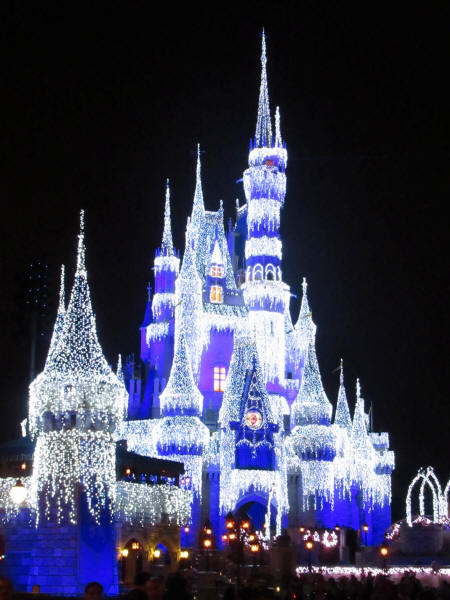 When we met at Casey's Corner Carol said it was too busy in the shop, she couldn't get near a counter to buy anything, so she would try again later.
We left The Hub and walked through Adventureland. We hoped to ride the Jingle Cruise but the line was much too long so we walked on to Frontierland. There was a very short line at Frontier Mercantile so Carol bought her pins.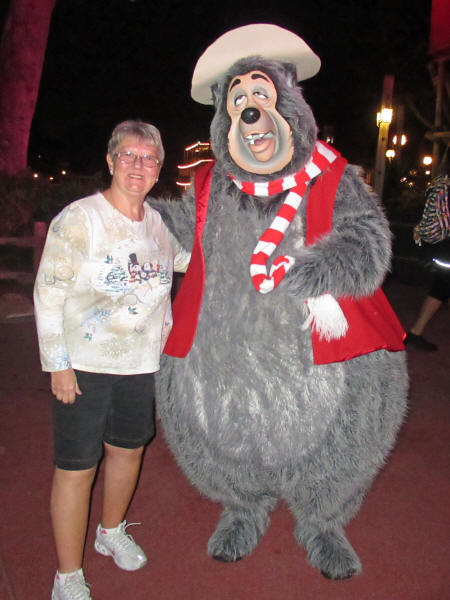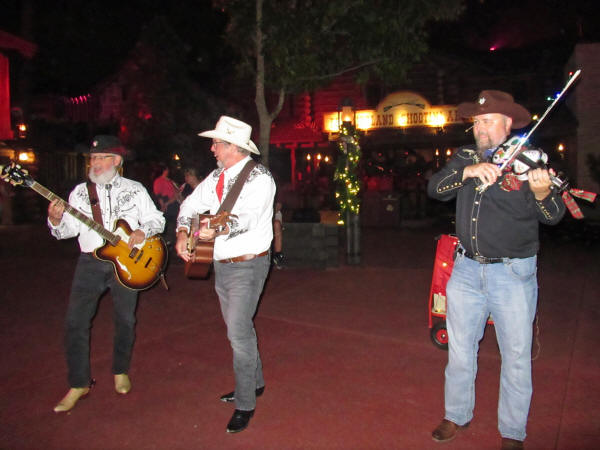 There was a hoedown in Frontierland and Carol had a dance with Big Al.
We headed back to The Hub and enjoyed the Castle Forecourt Show, 'Mickey's Most Merriest Celebration'.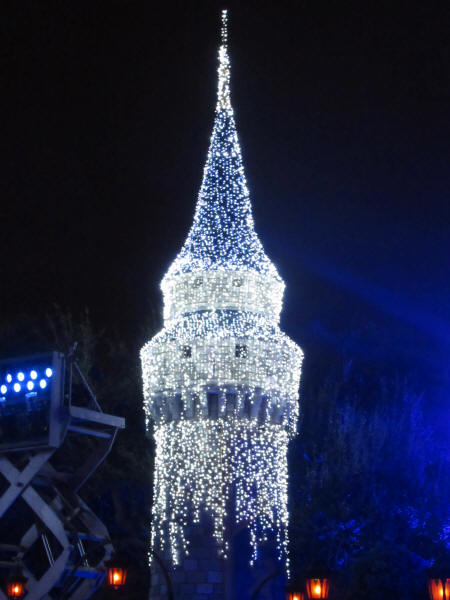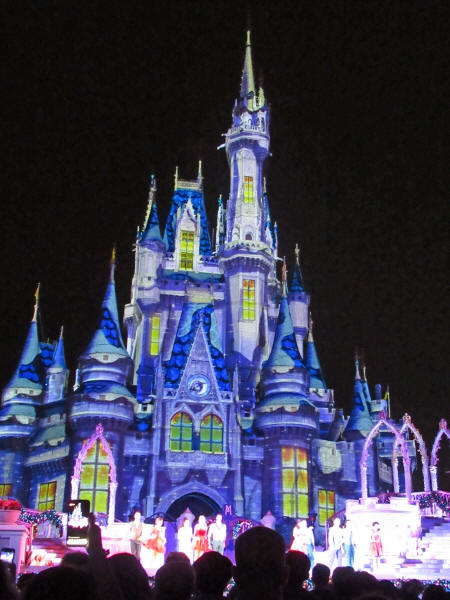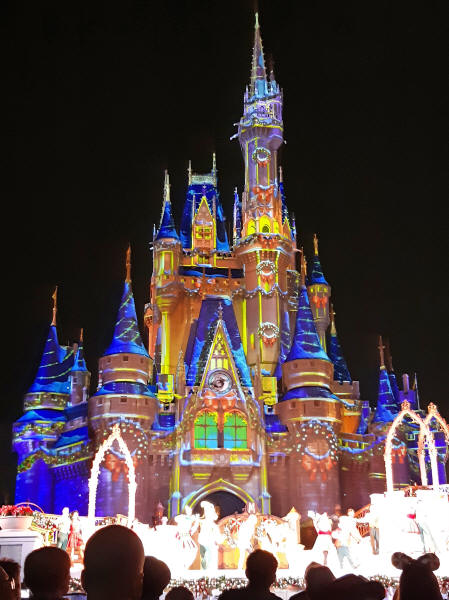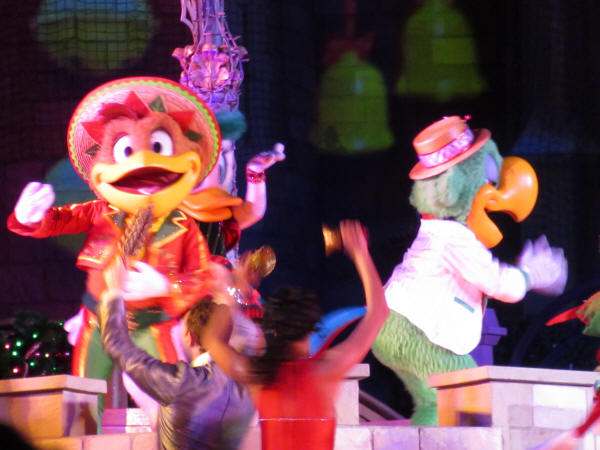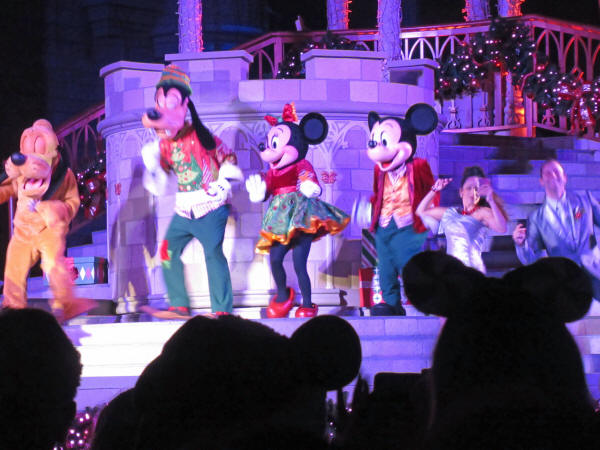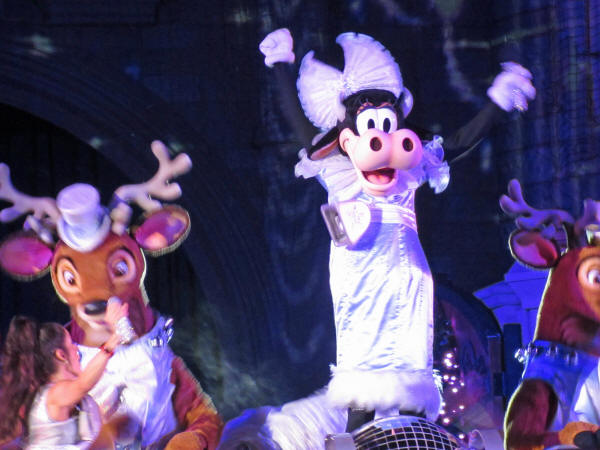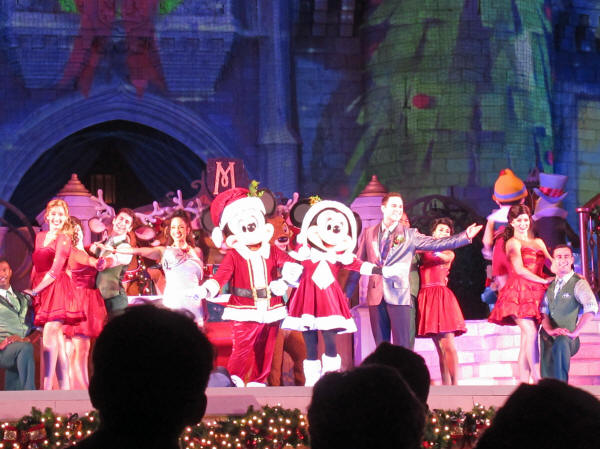 Just a few minutes later 'A Frozen Holiday Wish' began. Queen Elsa used her powers to create a sparkling, icy castle centerpiece for the Christmas Party.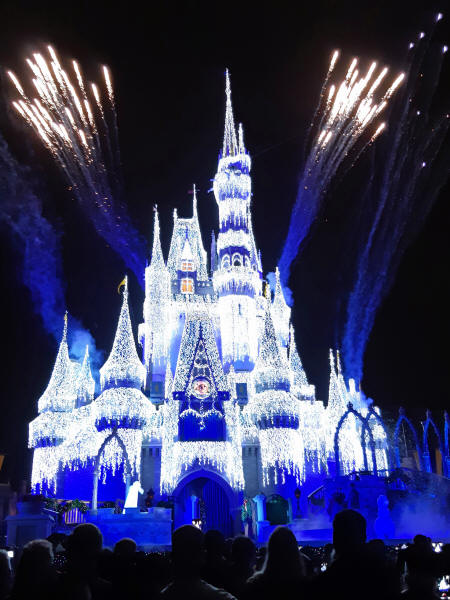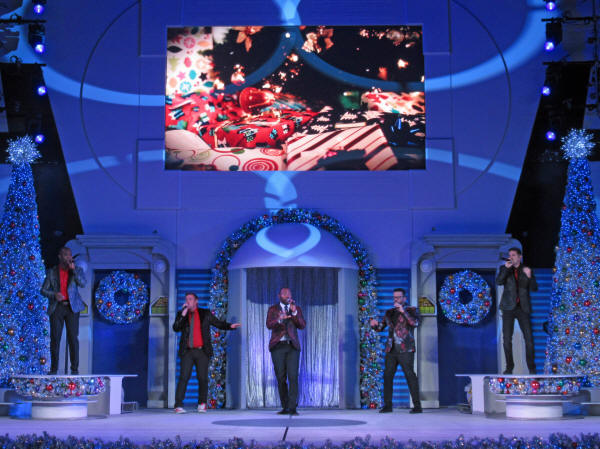 We waited a few minutes after the castle lighting for the crowd to disperse then walked walked to Tomorrowland where we stopped in at the Monsters Inc. Laugh Floor to watch the special Christmas performance.
An a cappella - beat box group, The Edge Effect, was performing at the Rockettower Stage, just around the corner from Monsters Inc., so we stopped and enjoyed their show for a few minutes.
At Cosmic Ray's Starlight Café we picked up peppermint cookies and cocoa. While we were there Carol bought a 'Jingle Sipper'. It's a red Mickey Head that lights up with multiple colours . . . no home should be without one!
We headed back over to Main Street and stood on the crest of the hill, about 50 yards in front of Casey's Corner to watch 'Minnie's Wonderful Christmastime Fireworks Show' at 10:00 p.m. It was a great show featuring pyrotechnics, music, lights and lasers. WOW!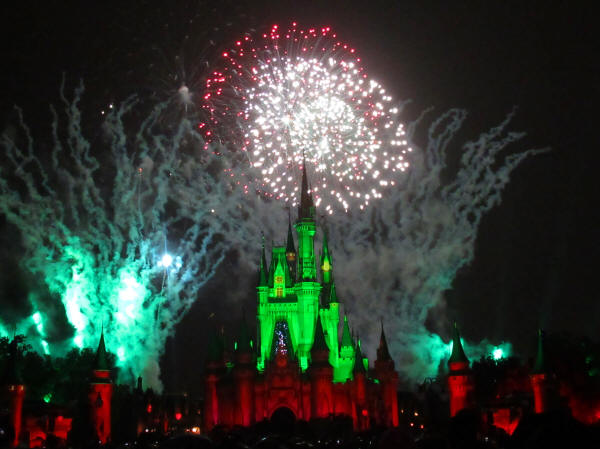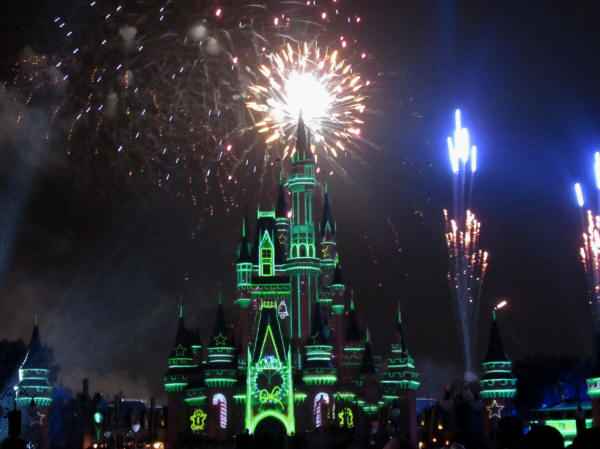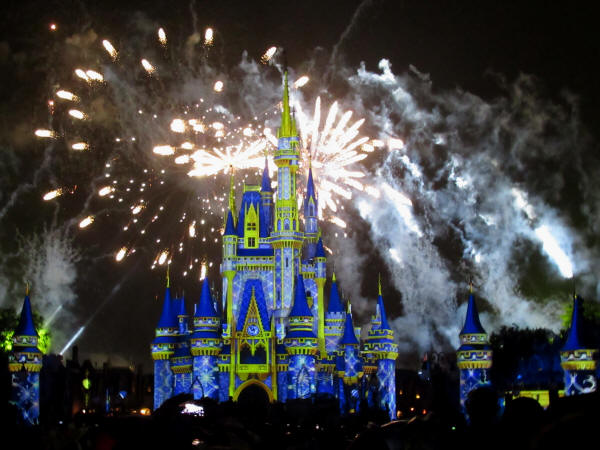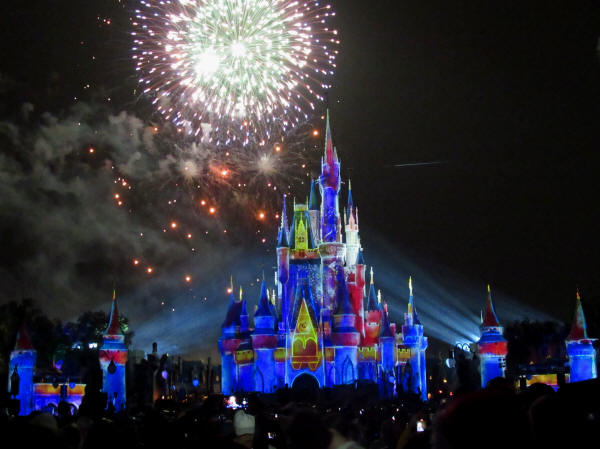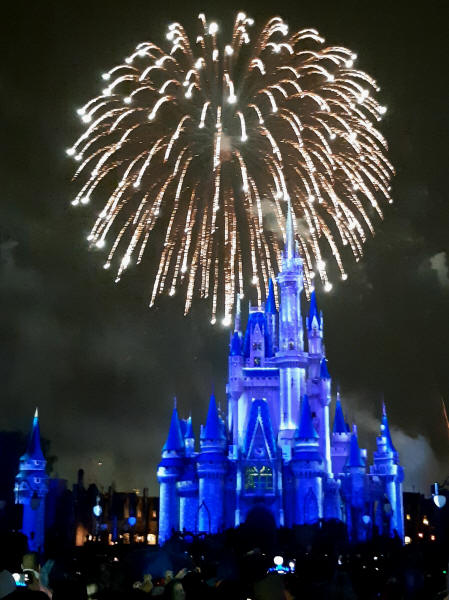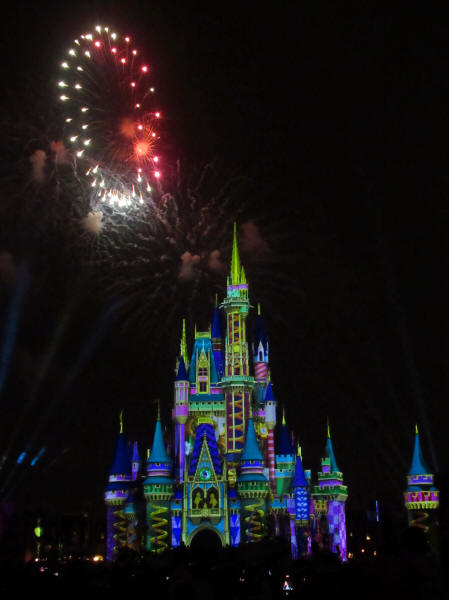 We decided to try the Jingle Cruise again but as we approached the area Carol had an overwhelming urge for a citrus swirl. She stopped to pick one up at the Sunshine Tree Terrace while I went on to Aloha Isle for a Pineapple Float. We shared a table beside Aladdin's Magic Carpets while we worked on a side-by-side his-and-hers brain-freeze!
We strolled through Frontierland to Liberty Square and found a good spot to watch the 11:00 p.m. parade, across from the Christmas Shop. The crowd is always much lighter for the late parade and we were able to stand in the front row with great sight lines.
The Christmas Party Parade is always spectacular, with dancing reindeer, real live gingerbread men and a drum and bugle corps of marching toy soldiers!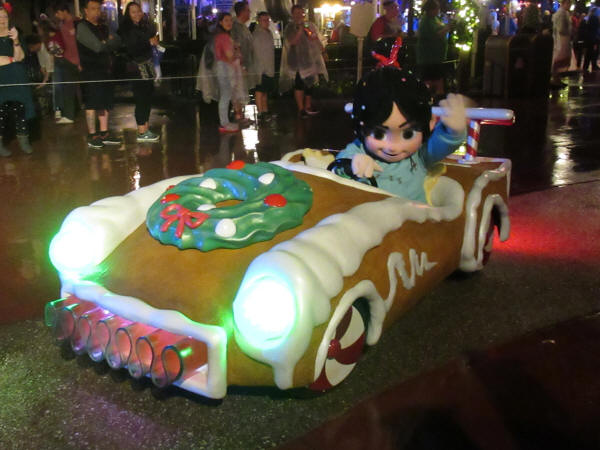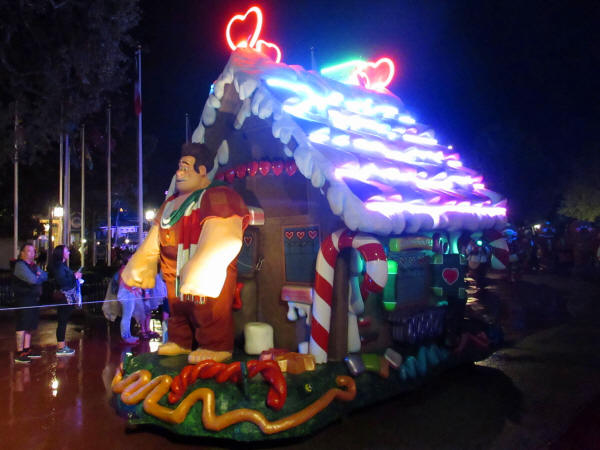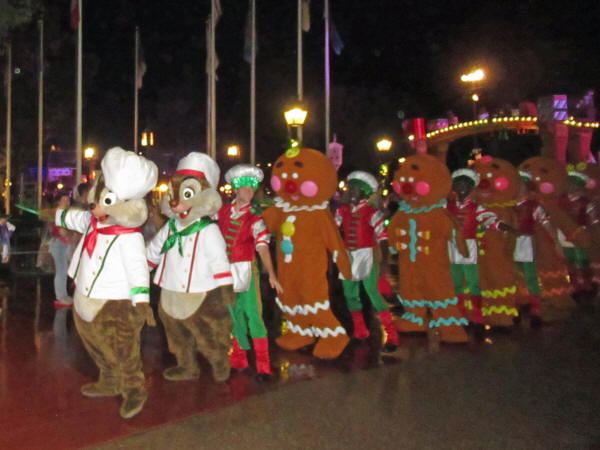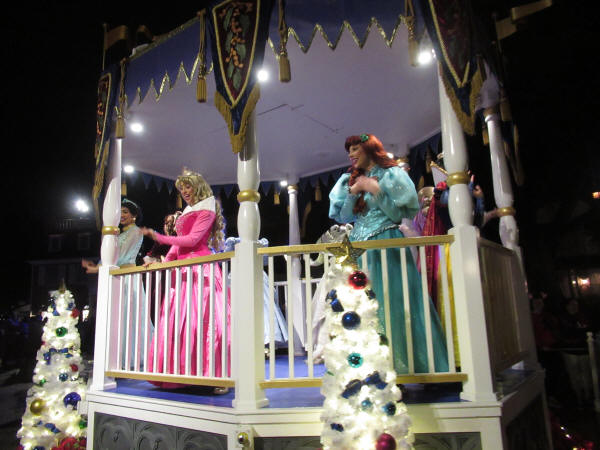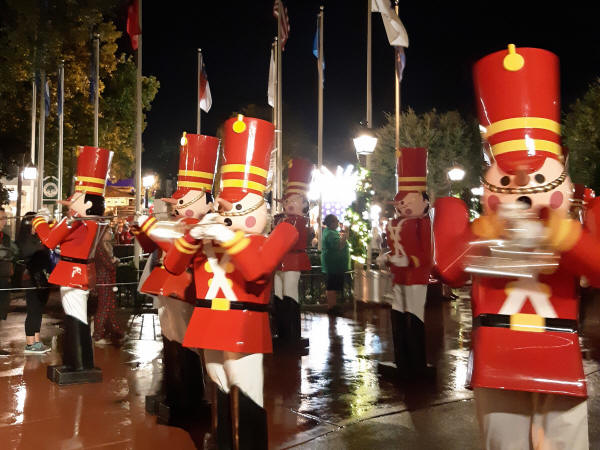 When Santa Claus passed to mark the end of the parade we stepped out onto the street and followed his float all the way to The Hub. We turned left into Tomorrowland and enjoyed a peaceful ride on the WEDWay People Mover. The ride gave us a nice overview of the Christmas decorations that adorn the Tomorrowland Speedway and the tea cups at Alice's Mad Tea Party.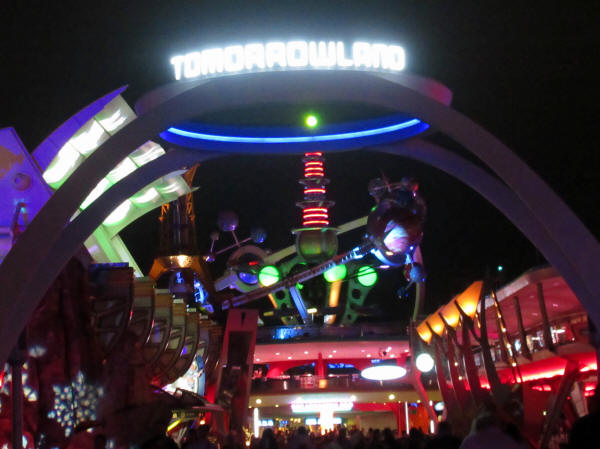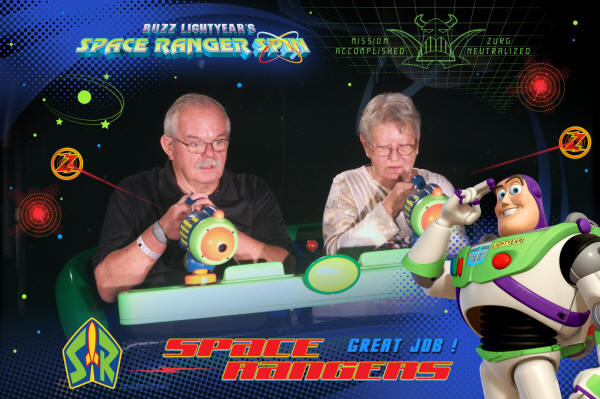 It was 11:57 p.m. when we stepped in the line at Buzz Lightyear's Space Ranger Spin. Once again Carol's aim was truer than mine!
She won this round but I'm sure we'll have a rematch when we're back in January!
The park had closed by the time Carol finished trouncing me at Buzz so we took a slow and sombre walk down Main Street toward the exit.
After a quick stop for a PhotoPass picture we boarded the express monorail to the Polynesian Village Resort, retrieved the car and headed back to the Marriott Hotel.
We fell into bed at 12:45, pooped after a terrific day!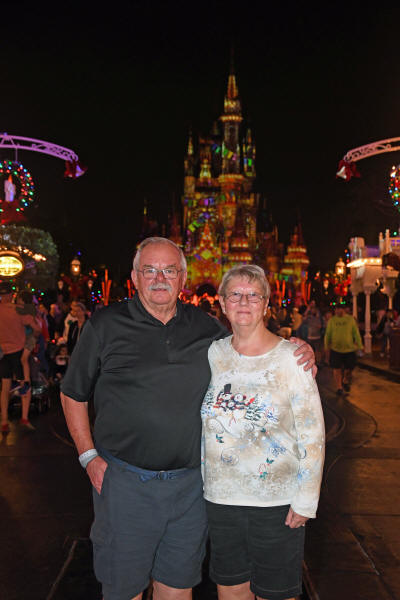 ---
Fri Nov 15, 2019
After a late night last night we slept in a bit today . . . until 7:30 a.m.
After the usual routine of coffee in the room and breakfast downstairs for me, we hopped in the car at 9:30 and headed to EPCOT.
We had to make four visits to EPCOT before we were eligible to pick up our special passholder coasters . . . so that was our first stop. We now have two sets of boxed wooden coasters!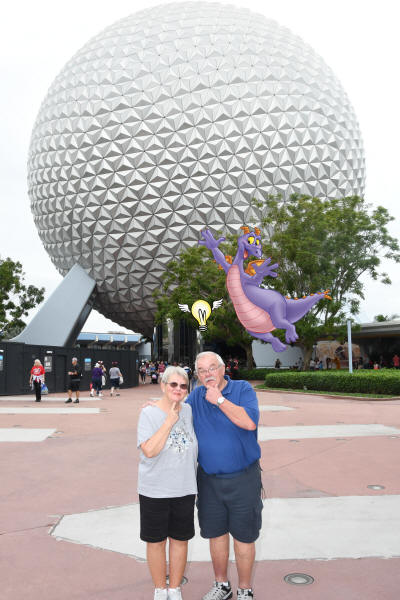 We walked over to Odyssey to see EPCOT presentation one more time. This time we stood back from the big model in the middle of the pavilion so we could enjoy a different perspective.
Both Carol and I saw plenty that we missed the first time.
Before leaving Odyssey we paused to talk with a cast member who was there to answer questions. She gave us some estimates of the timeframe involved in many of the changes, some of which will be visible in just a few more months.
We had a few PhotoPass pictures taken before we left Odyssey to resume our gastronomic journey around World Showcase!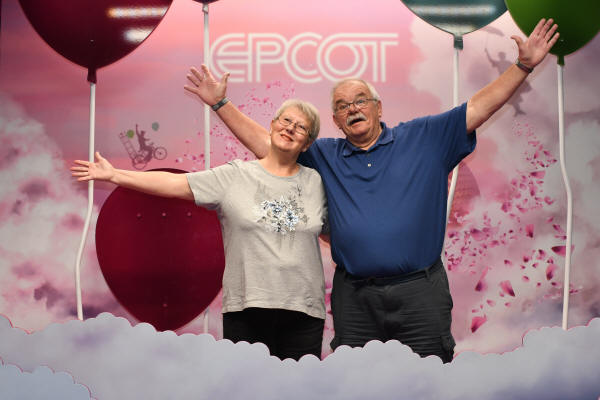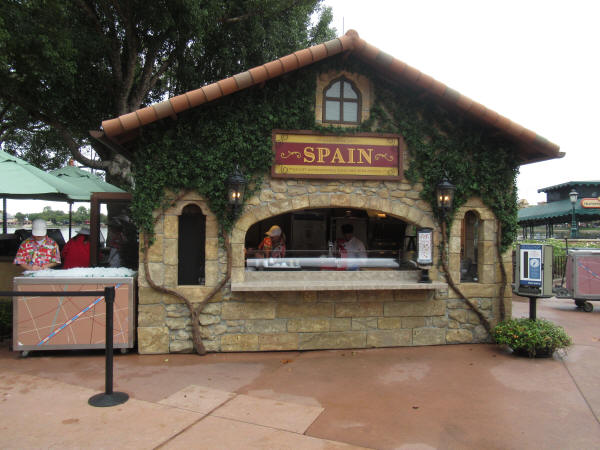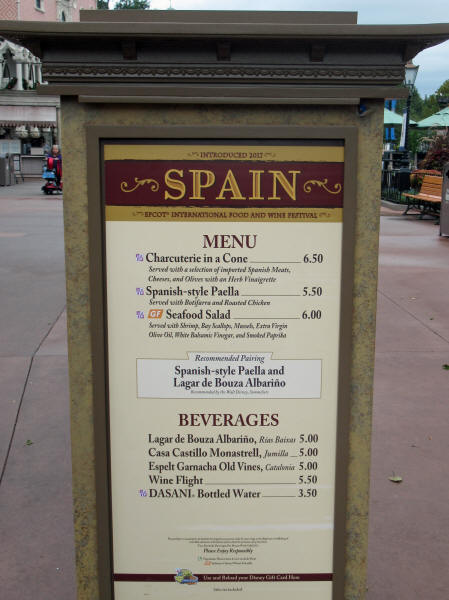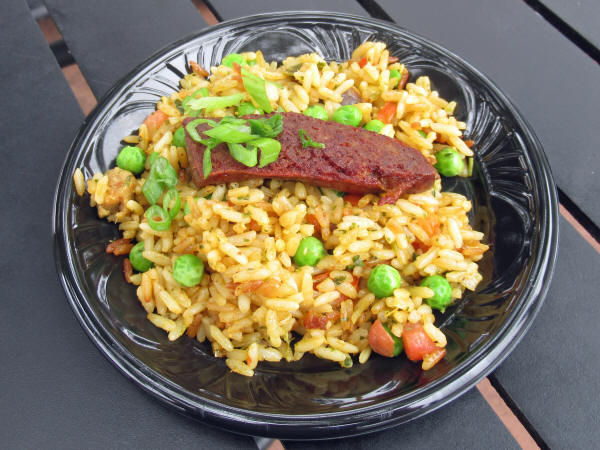 We had to wait just a few minutes for the kiosks to open at 11 a.m. and began at Spain. The Spanish-style Paella was very nice!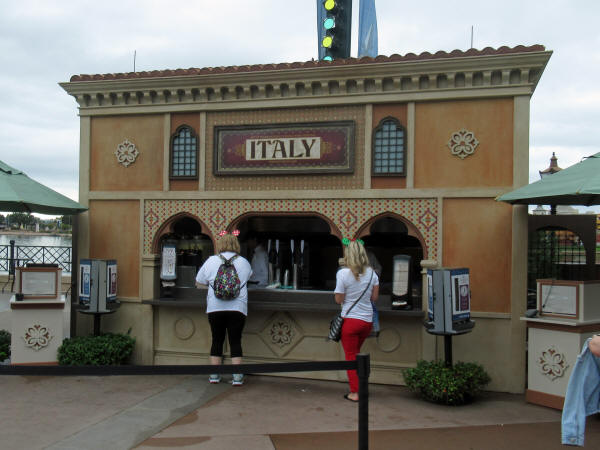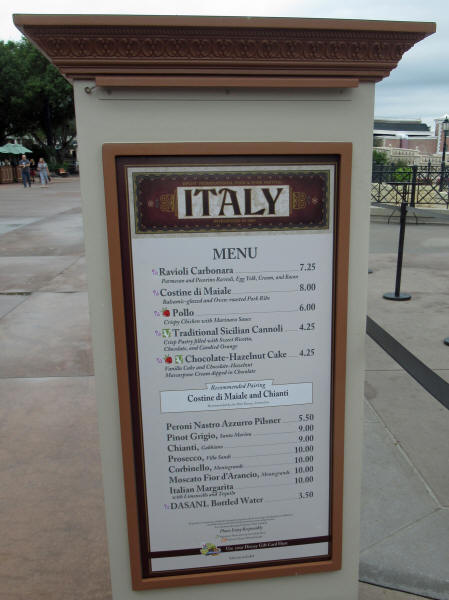 At Italy we enjoyed some very tasty Ravioli Carbonara. The dish they called 'Pollo' bore a striking resemblance to chicken fingers served with marinara sauce. It was quite enjoyable as well.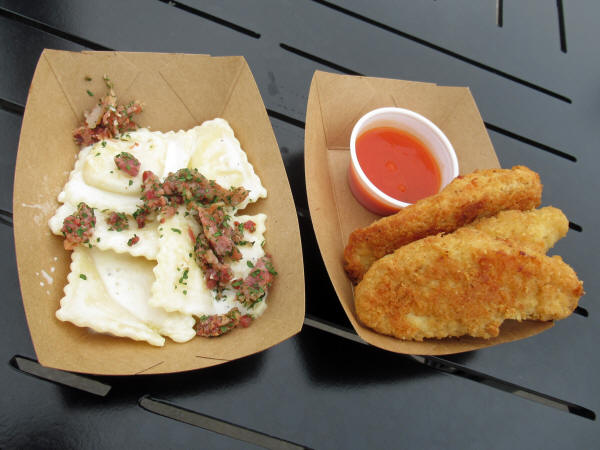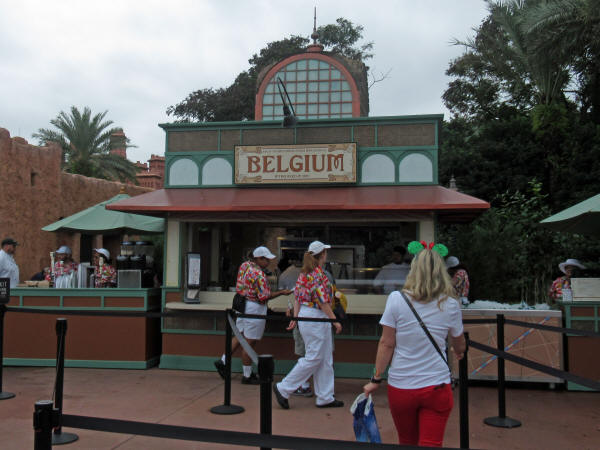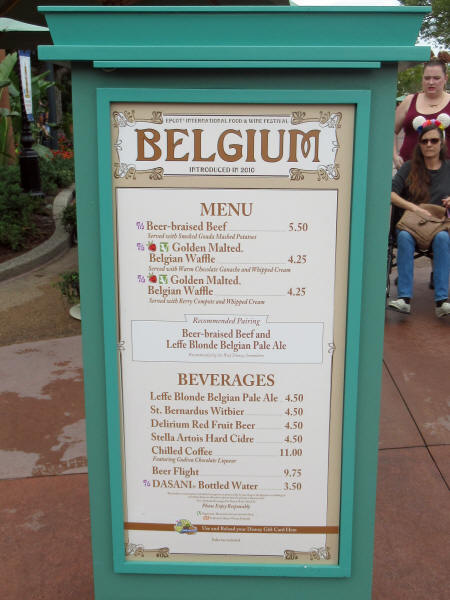 When we came to the Belgium kiosk Carol ordered a waffle for each of us. They're just too good to share!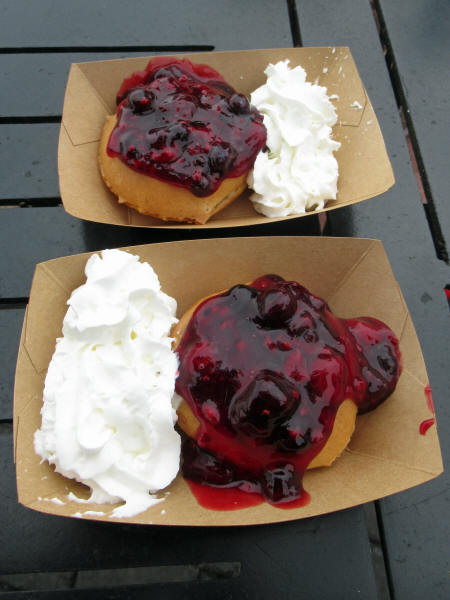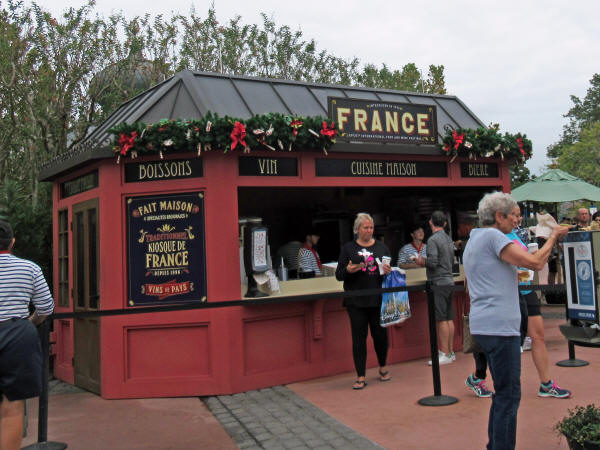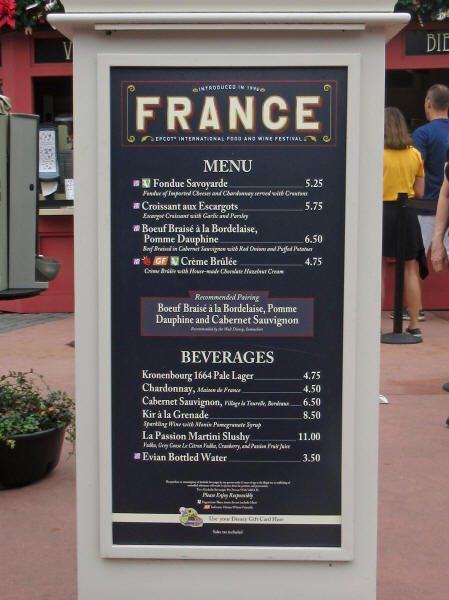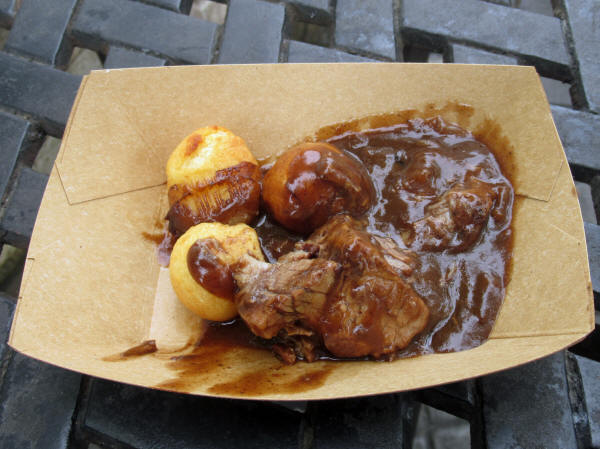 We were both quite excited as we approached France . . we have always really enjoyed the Boeuf Bourguignon there. HORRORS! It wasn't on the menu this year. Instead we tried the replacement dish, Boeuf Braisé à la Bordelaise. It was a big disappointment! We sure hope that they bring the old dish back!
It was getting quite busy in the park and we were feeling full so we decided to call it quits. As we approached the exit Carol stopped briefly at Pin Central while I watched The Jammitors who were playing behind Spaceship Earth.
We left EPCOT at 12:30, went back to the hotel and rested for an hour.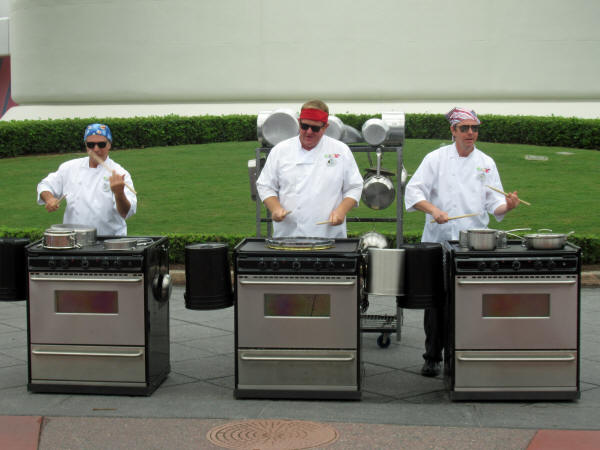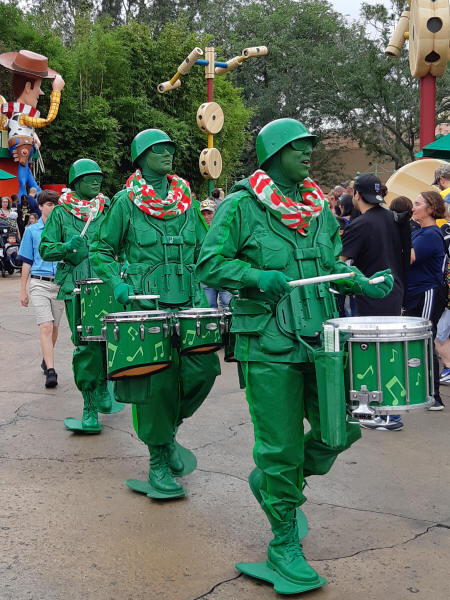 At 2:00 p.m. we hopped back in the car and headed to Hollywood Studios. We arrived in Toy Story Land a bit early for our FastPass at Midway Mania so we sat and enjoyed a root beer float. It's been decades since I've had one. It probably won't be that long until I have another!
I won this round of Midway Mania then we walked over to Galaxy's Edge, the new Star Wars themed area, and wandered a bit taking it all in.
It was a gloomy day so the photo's don't do it justice, but Galaxies Edge is extremely well done!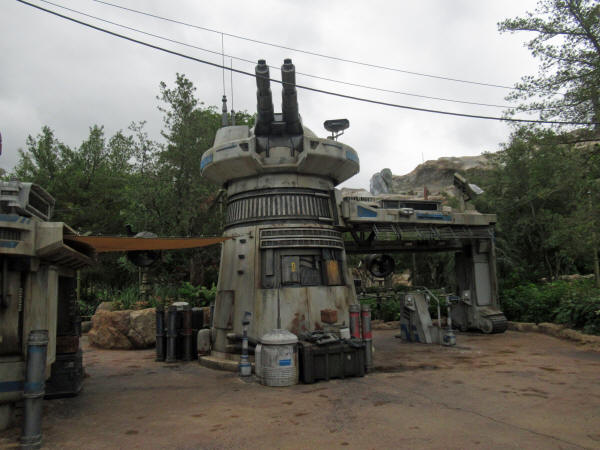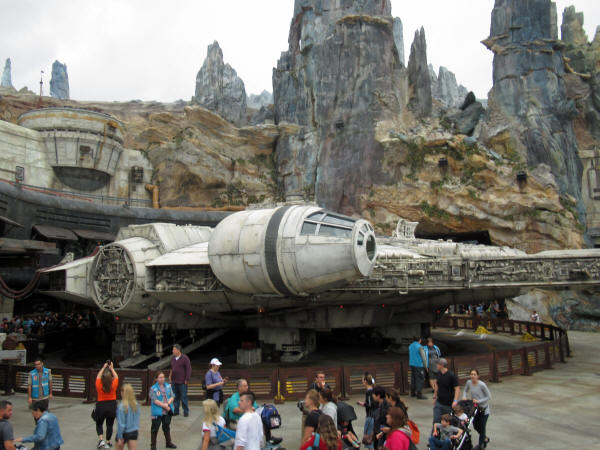 There were iconic features from the Star Wars movies everywhere and it was surprising how many men and women were paying over $200 to custom-build their own light sabres.
That proud dude on the right is posing with his expensive new toy!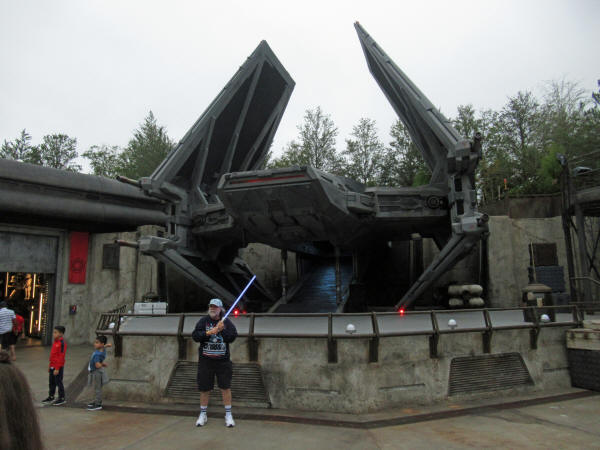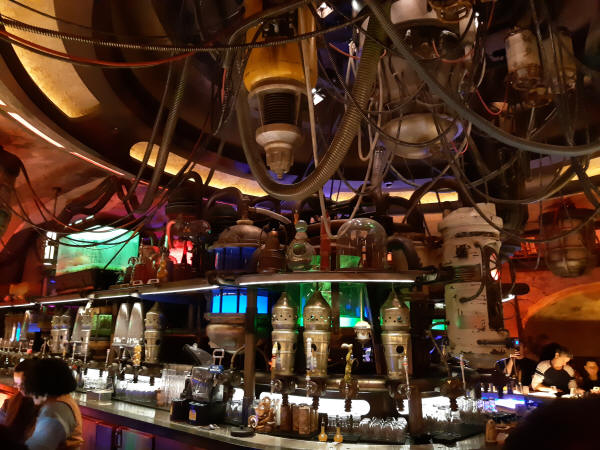 We made our way to one of the galaxy's most infamous watering holes, Oga's Cantina where we had a reservation. Our hostess led us to a stand-up spot at the bar and we were allowed 45 minutes to carouse with riff-raff from across the galaxy.
A droid DJ called R-3X, a former Starspeeder 3000 pilot, is a popular musical entertainer at Oga's!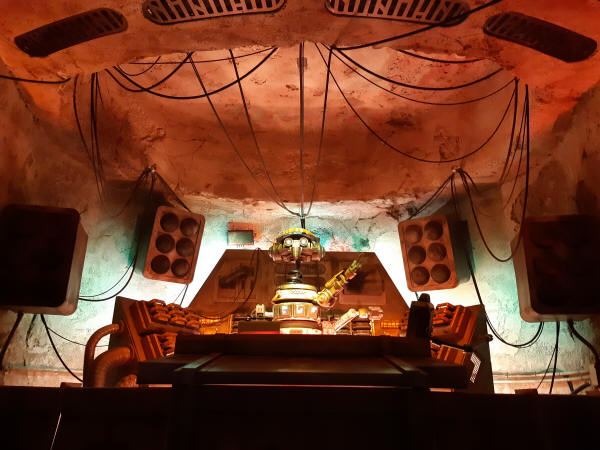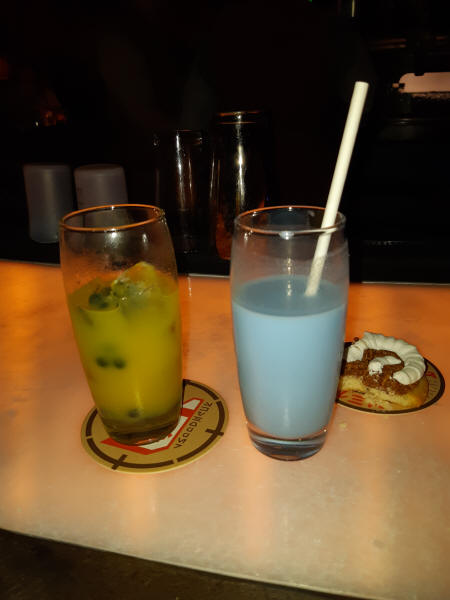 We ordered a Jabba Juice and a Blue Bantha (everyone calls it Blue Milk), the Jabba Juice was really good . . . the Blue Milk not so much!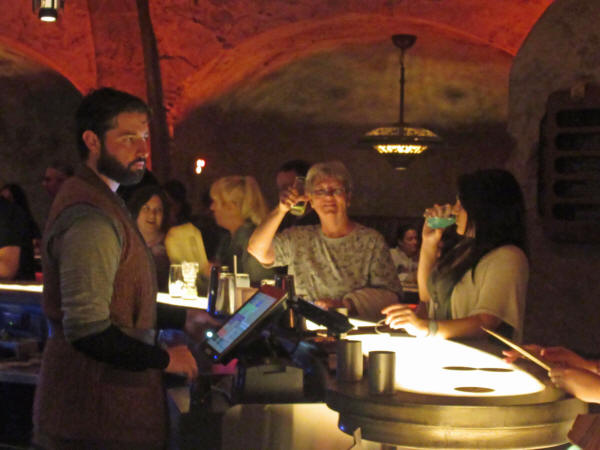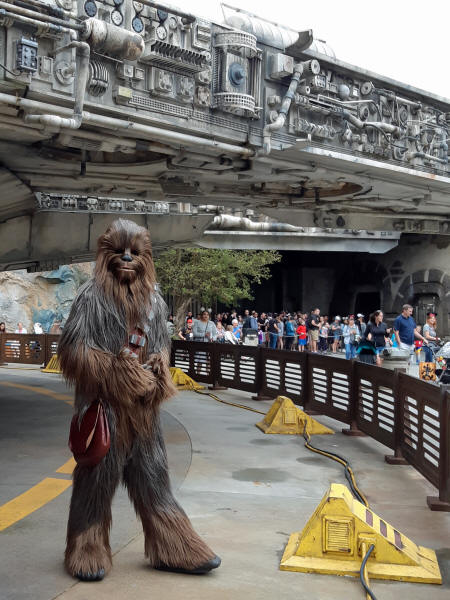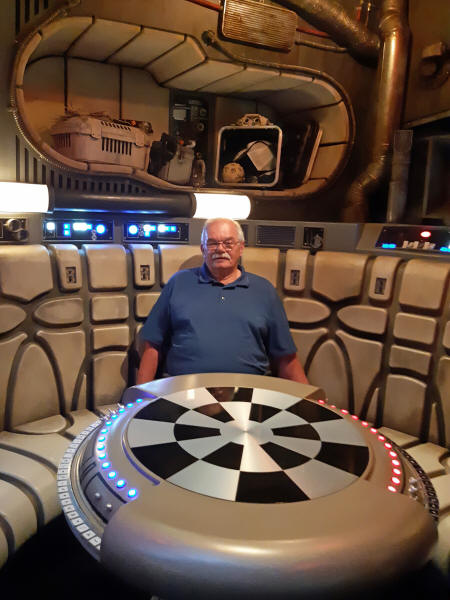 We ran into Chewbacca as we walked over to the newest Star Wars ride, Millennium Falcon Smugglers Run, to check out the wait-time.
We asked a Cast Member how long the single-rider line might be and she said that most times it was faster to go through stand-by, which was about 50 minutes at that point.
Then she said, "But you don't have to wait." and directed us through the future FastPass line. We boarded right away. We were both gunners.
After the Smuggler's Run ride we wandered around Galaxies Edge taking pictures. I hope it's a bright and clear day then next time we're there so the photos turn out a bit better!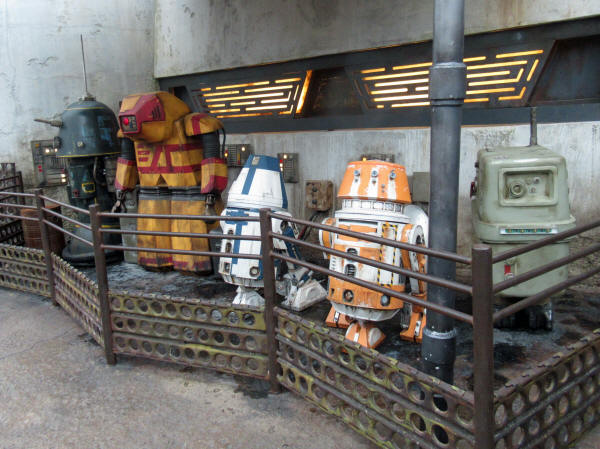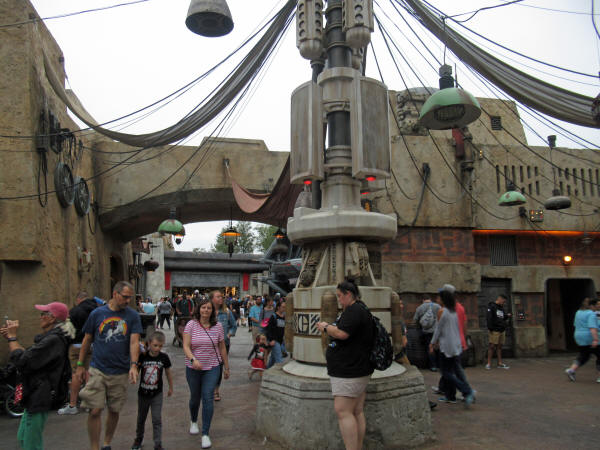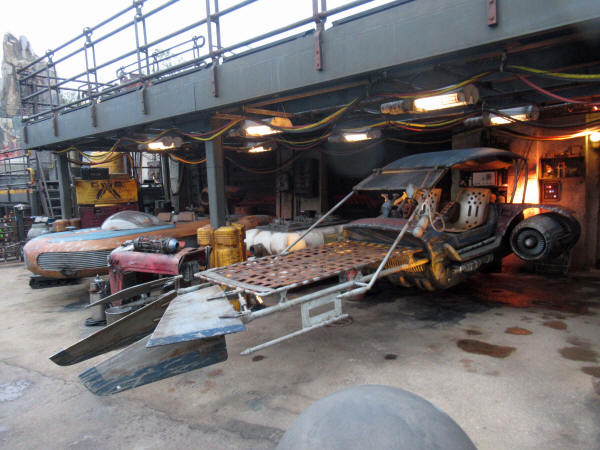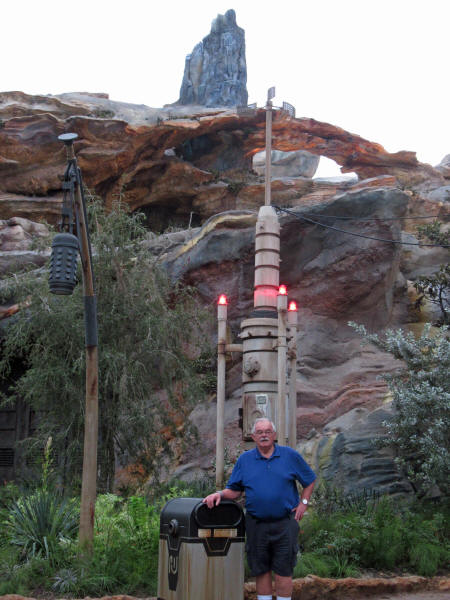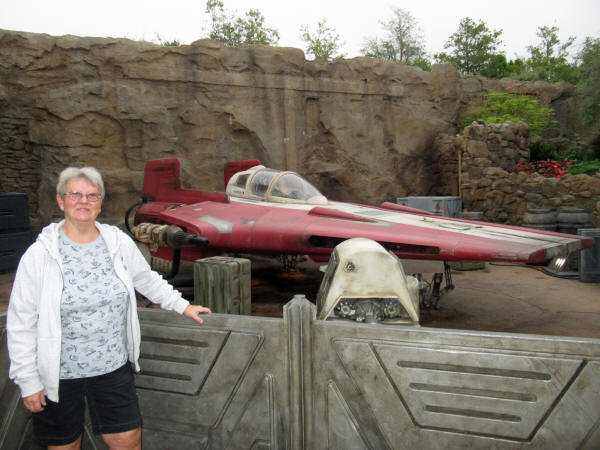 We exited the Star Wars area near the Muppets 3D theatre so naturally we had to take in their performance. We've seen it countless times, but it still brings a chuckle!
We went to the Commissary and shared a burger, a light meal since we were on our way to a dessert party later!
Daylight was fading as we walked toward the '50's Prime Time Café. The registration desk for the 'Jingle Bell-Jingle Bam' dessert party was set up in front of the café.
Once we had checked in and picked up our party credentials we headed to Sunset Boulevard where we watched 'Sunset Seasons Greetings', the animated Christmas light show projected onto the Hollywood Tower of Terror.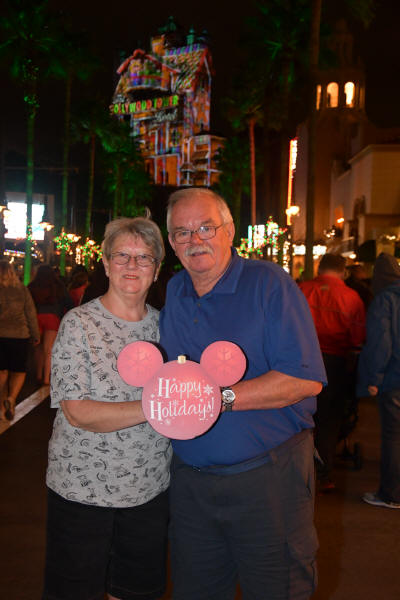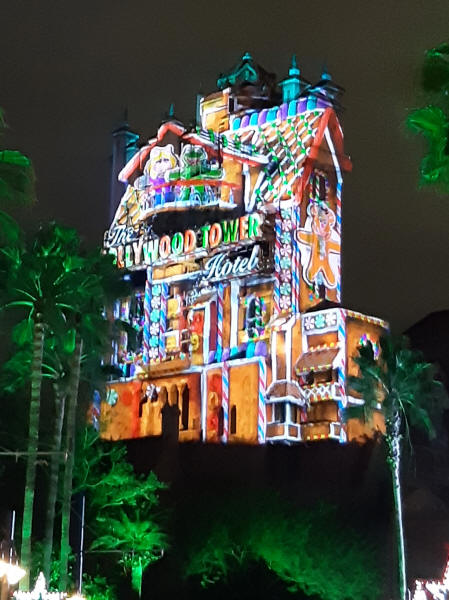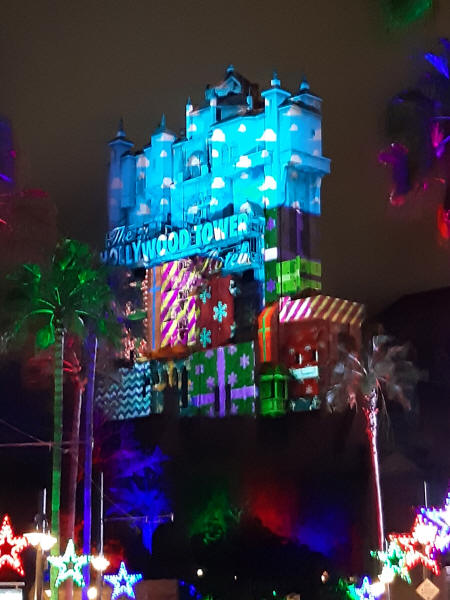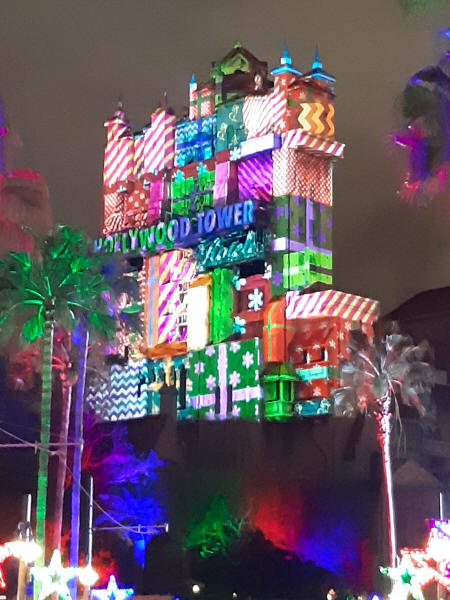 It is incredible how lights, lasers and music combine to transform the Hollywood Tower. Even the trees along Hollywood Boulevard change colour to match the tower.
The show features scenes and clips from some classic Disney movies and cartoons and the overall effect is captivating.
After watching several segments of Sunset Seasons Greetings we walked back to Echo Lake and were escorted to our private table at the dessert party.
It was held in a cordoned-off area between the Indiana Jones Theatre and the lake.
There were tables filled with savoury treats and dips, tables piled with sweet treats and plenty of alcoholic and non-alcoholic beverages to complement the food.
It was wonderful to have a few minutes to sit and relax with some tasty treats as the lights of that huge Christmas tree reflected and shimmered on the waters of Echo Lake!
Chip and Dale dropped by, along with a PhotoPass photographer and the pesky chipmunks posed with guests as we enjoyed our drinks and deserts. Our table was just a few yards away from the PhotoPass area so Chip and Dale came over to visit with us several times during the evening when they weren't busy with other guests.
Just a few minutes before show-time we were led to our special viewing area, directly in front of the Chinese Theatre where we watched a short pre-show titled 'Animation' and then the 'Jingle Bell - Jingle Bam!' show. This is the third year we've seen this spectacular light show and it is still as magical as it was the first time!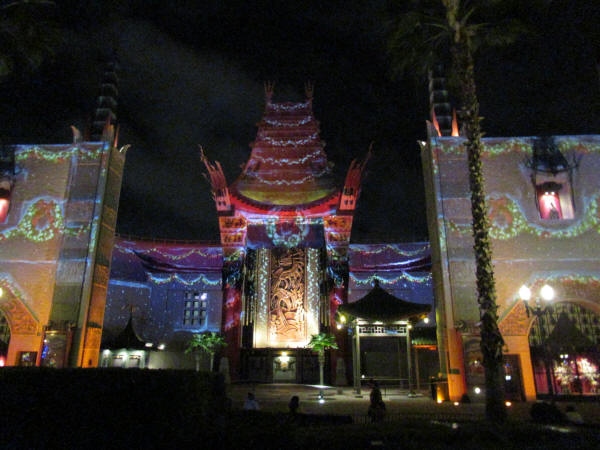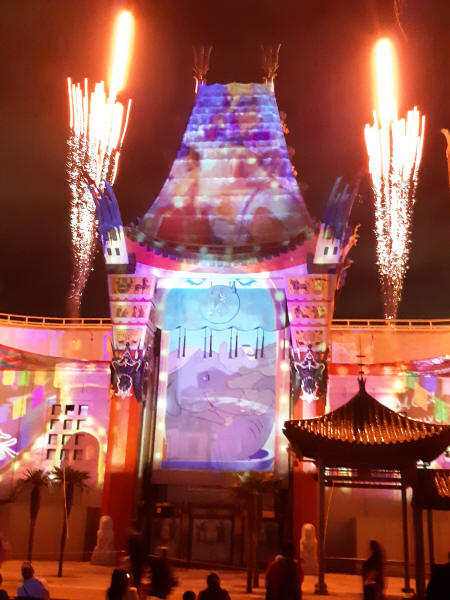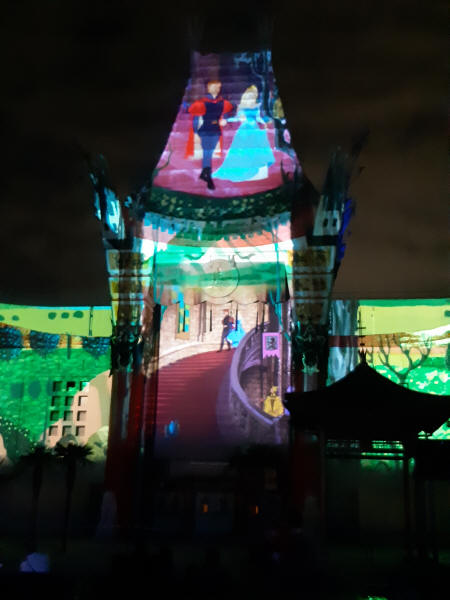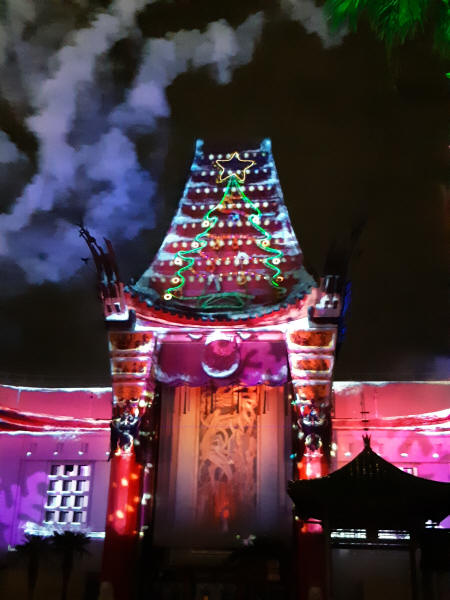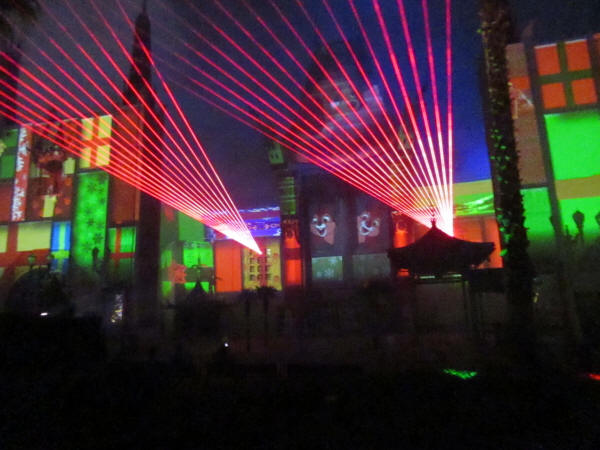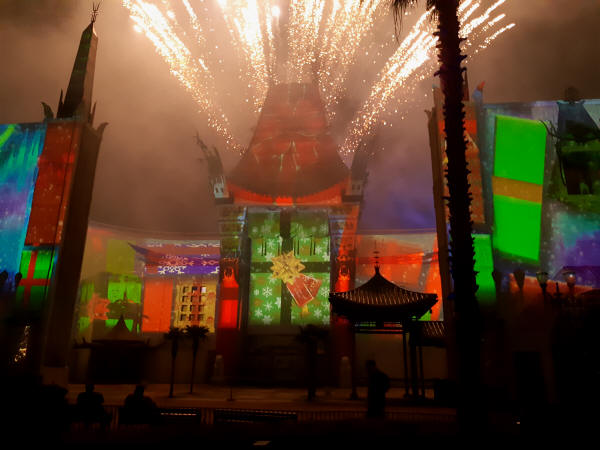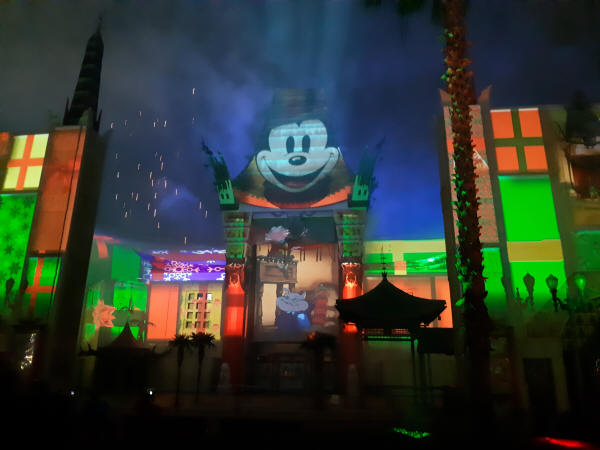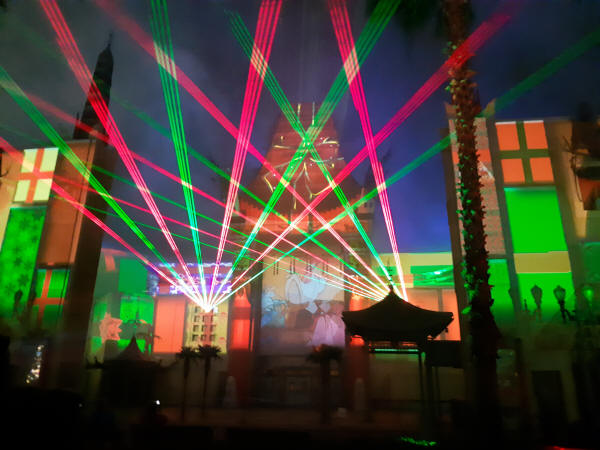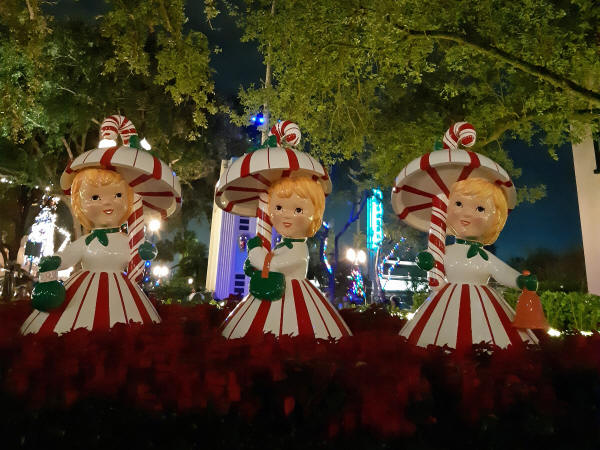 Two tired old geezers left the park at 9:30 p.m., all tuckered out after a fun-filled day!
---
Sat Nov 16, 2019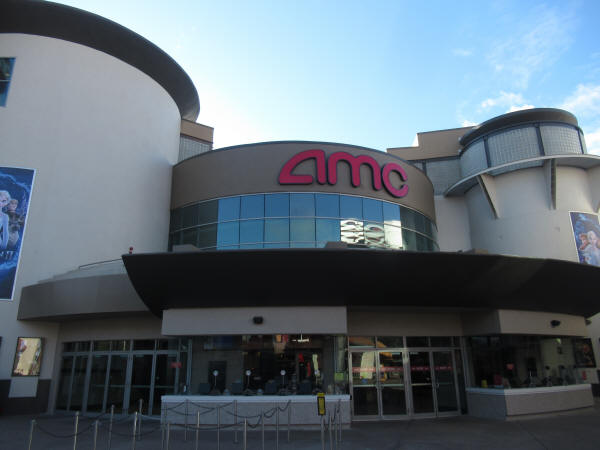 We left at 8:30 for Disney Springs and parked in the Orange Garage, the closest parking area to the AMC Theatre complex. They were hosting a special showing of 'Up' for D23 members.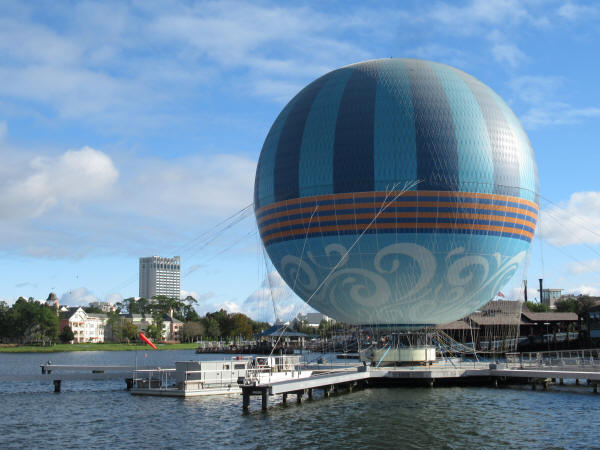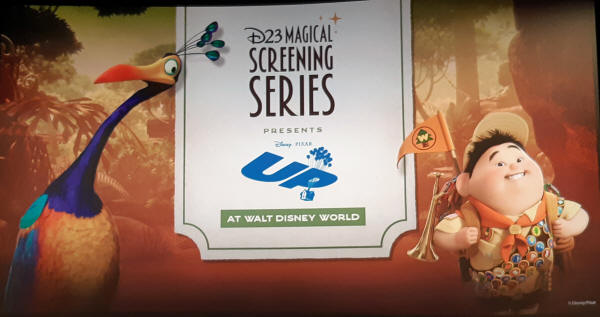 There was already a line-up when we arrived, but the line moved quickly. We registered at 9:15, picked up popcorn and a cold drink and took our seats, ready for the 10:00 a.m. screening to begin.
There were two brand new Pixar shorts before the feature and we were the first to see them. Then the movie began and it captivated us just as much as it did when we first saw it. I think we had almost forgotten how good the movie really is!
At noon we left Disney Springs and headed to Fort Wilderness Resort & Campground to visit our friend Hilda. While we waited she booked a 23 night stay at 'The Fort' for us in Feb/Mar 2021.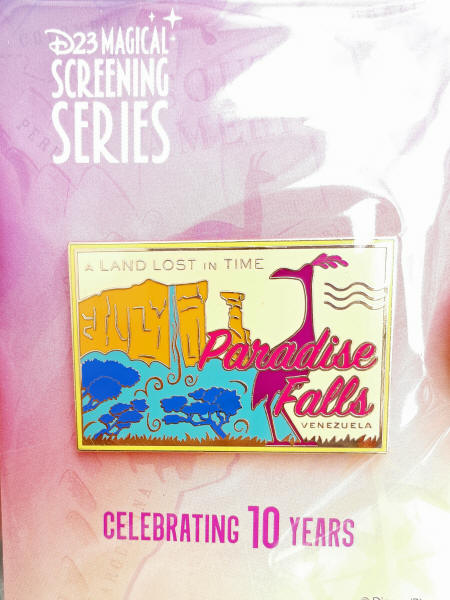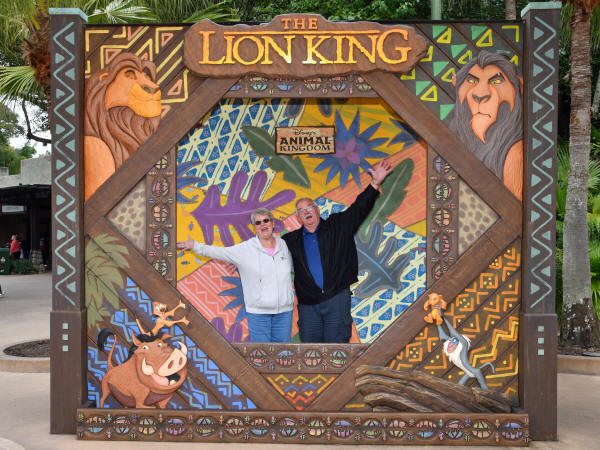 We stopped for a quick bite of lunch at Chick-fil-A on Route 192 and drove on to Animal Kingdom. The day had turned cloudy, windy and cold.
We stopped for this special PhotoPass backdrop at the park entrance then Carol wandered through a few shops while I did some people-watching outside.
It turned out to be a combination of people-watching and puppet-watching. The cast members who operate these large puppets make them seem very real and life-like.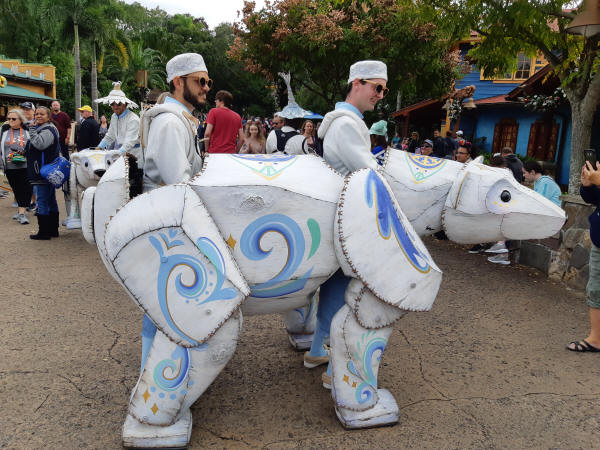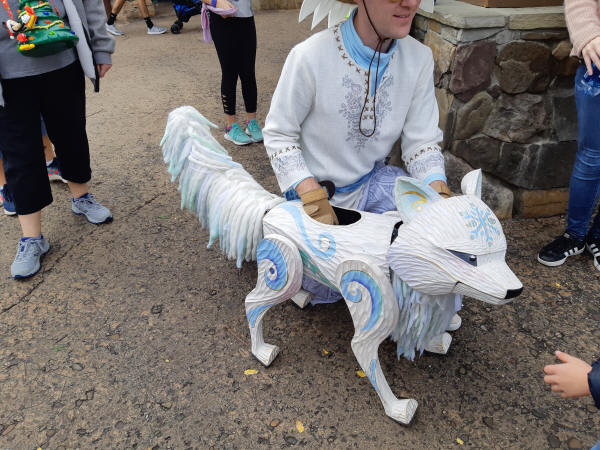 This fox was just amazing. It looked sly, cunning and stealthy as the puppeteer moved it through a curious crowd. The fox would sniff at guests and then shy away timidly . . . they put on a great show for about five minutes before wandering off to another area in the park.
We watched the Winged Encounters, dozens of brightly coloured free-flying macaws entertained us in front of the Tree of Life. Then we spent a few minutes watching some lively otters playing in their newly renovated habitat.
Soon it was time for our FastPass at Kilimanjaro Safaris. We didn't see very many animals on the ride, they must have been sheltering from the cold.
Carol did manage to get a couple of great photos though. The two cheetahs and three lions were huddled close together, probably trying to keep warm.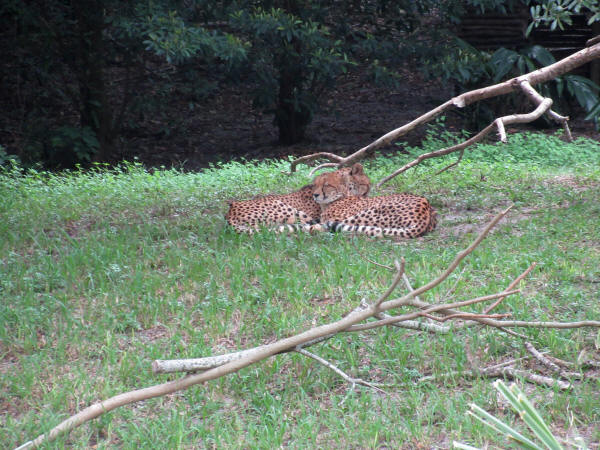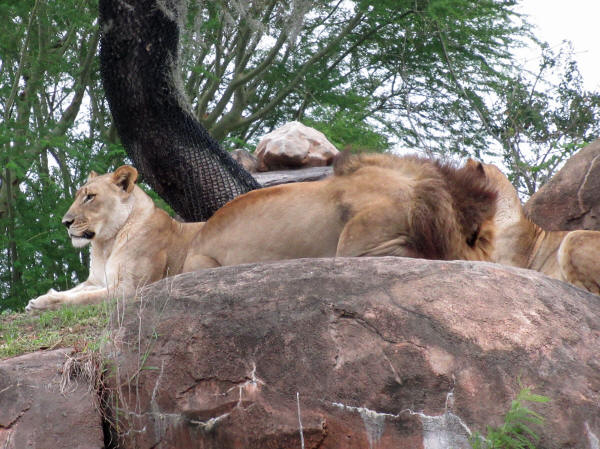 There were four Spanish speaking ladies in the row directly in front of us. They were in their 30's, not teenagers, but they spent the entire safari giggling and talking. One lady took about 43 pictures . . . one shot of a giraffe followed by 42 selfies. I don't know why they took the safari ride, they certainly weren't interested in the animals.
We walked on to Expedition Everest where we had a FastPass but the ride had been closed for over two hours and the cast members had no idea when it would re-open. We carried on toward Dinoland and stopped along the way to see the live-action Finding Nemo show.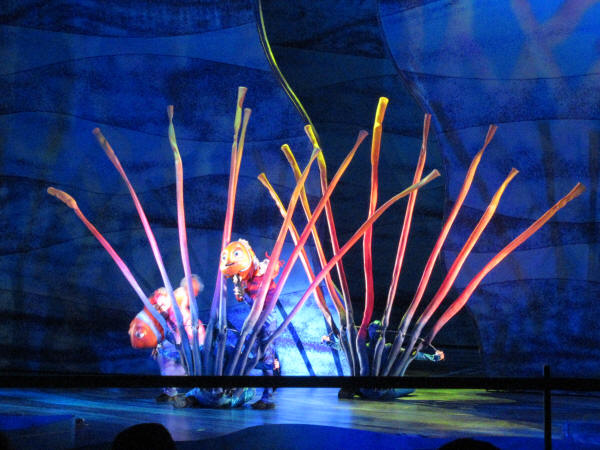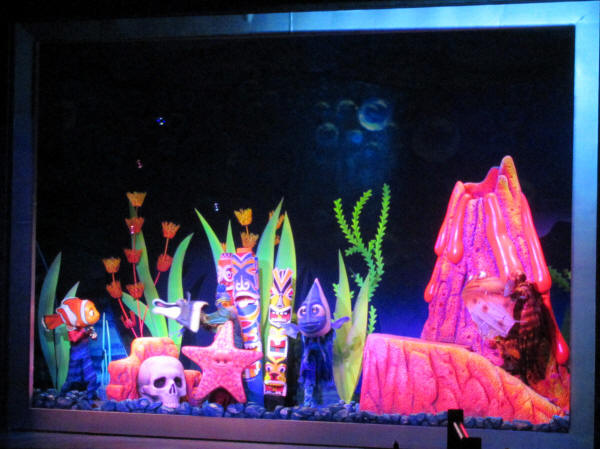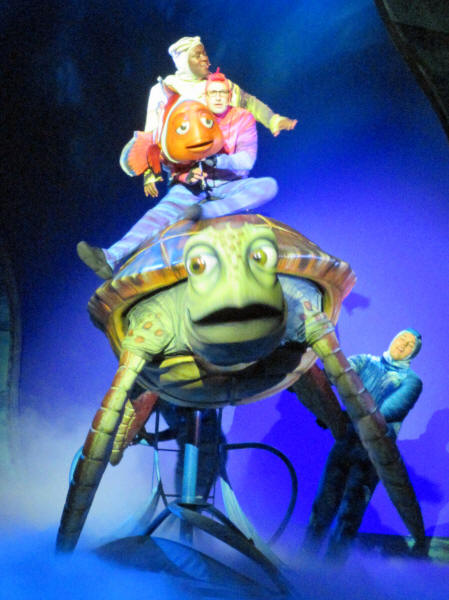 It's been several years since we've seen Nemo . . . and the theatre was warm! Warmth was becoming more important as daylight began to fade and temperatures fell even more.
We carried on to Dinoland and had some photo-ops with Goofy, Donald Duck, Pluto and Launchpad McQuack.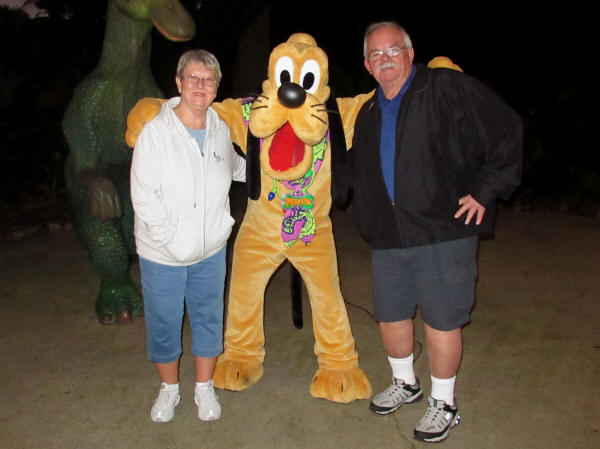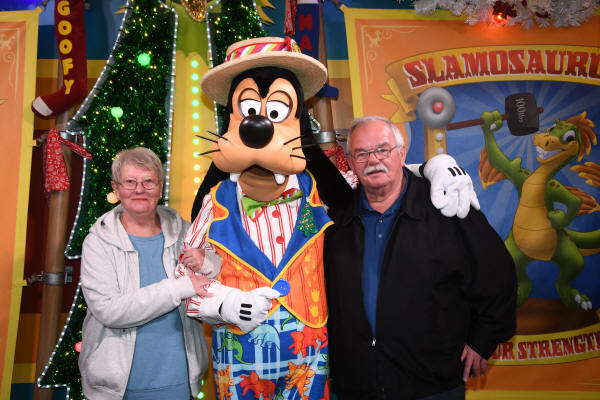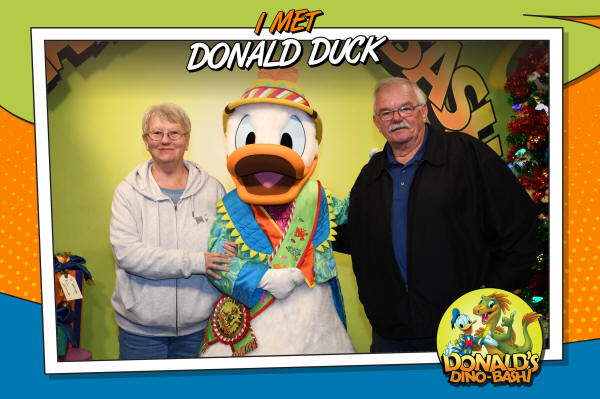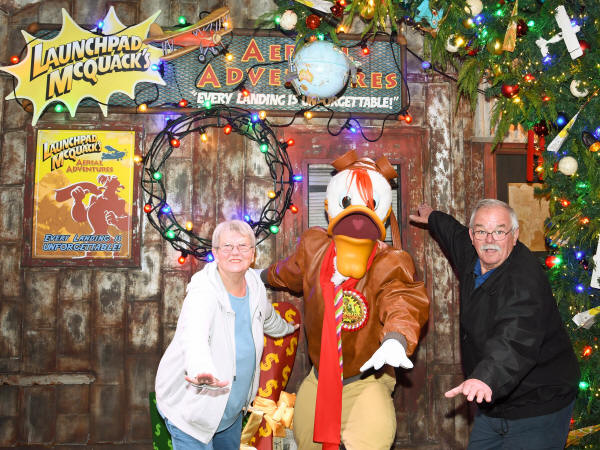 We enjoyed dinner at Donald's Reastaurantosaurus, our first time there in about a decade. The burgers were tasty and we followed them with a nice ice cream sundae from the 'build-your-own' sundae bar.
Dinoland was closed when we finished dinner, it had been rented out for private function that evening, so we were escorted out of the area.
We had a FastPass for the Rivers of Light show on the lagoon but it was too cold for us so walked back to Discovery Island, watched the projection show on the tree of life, then headed back to the hotel.
We were all settled in at 7:30 enjoyed a quiet night.
---
Sun Nov 17, 2019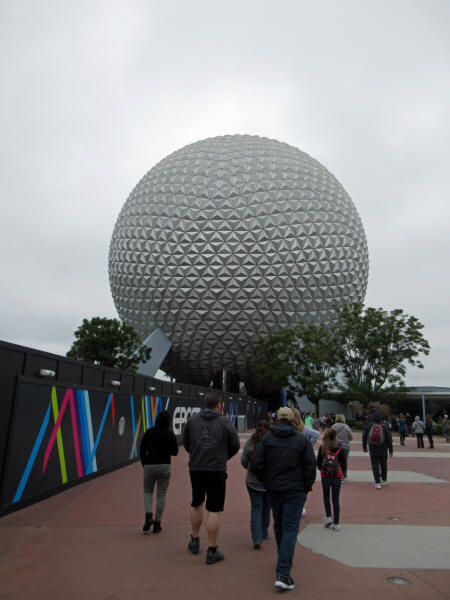 This was our last day at EPCOT and we still had a few things at the Food & Wine Festival to sample. We left the hotel at 9:10 and walked through the EPCOT entrance at 9:35. It was cloudy, windy & 52° Not the kind of weather we were hoping for! Brrr!
There was only a 25 minute standby line for Soarin' so we took a ride. We checked Living With The Land but the line was unusually long so we picked up tea and coffee at Sunshine Seasons and sat in the nice warm pavilion for a while.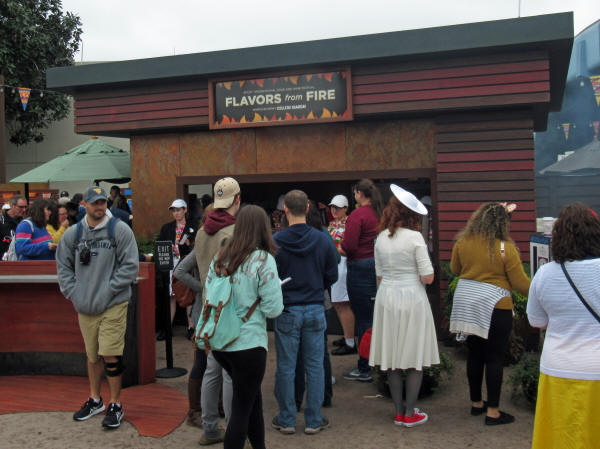 We left The Land Pavilion at 11:10 to take in a few more Food & Wine Kiosks. Our first stop was at Flavors From Fire where we sampled the Steakhouse Blended Burger and the Smoked Corn Beef. Both were yummy!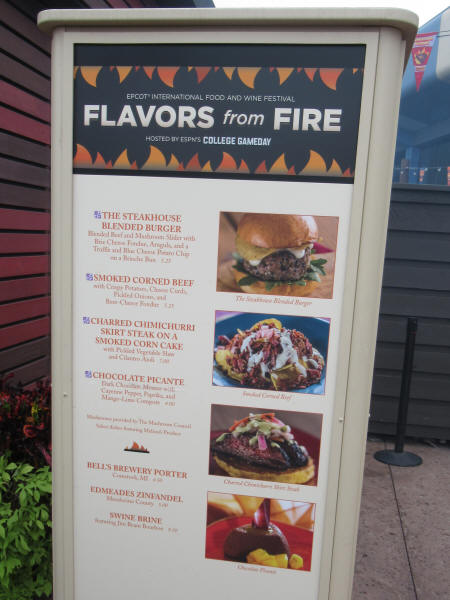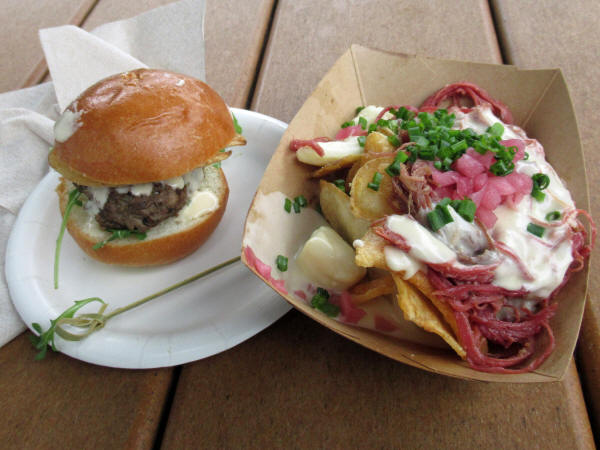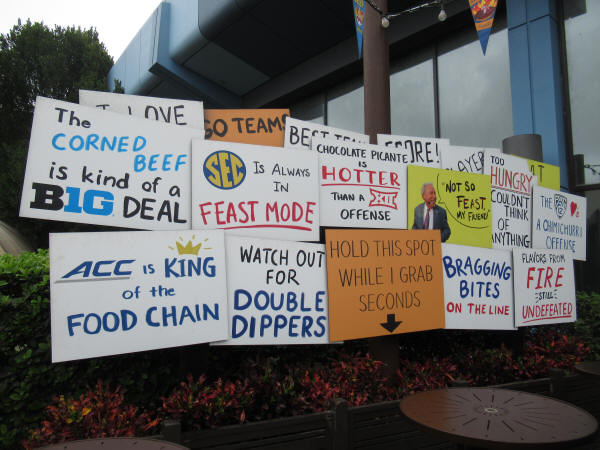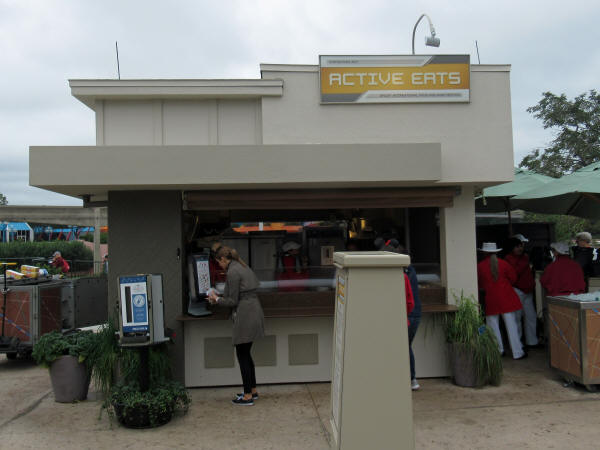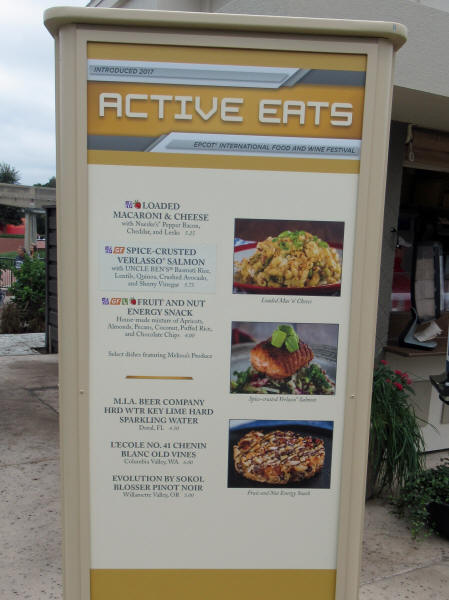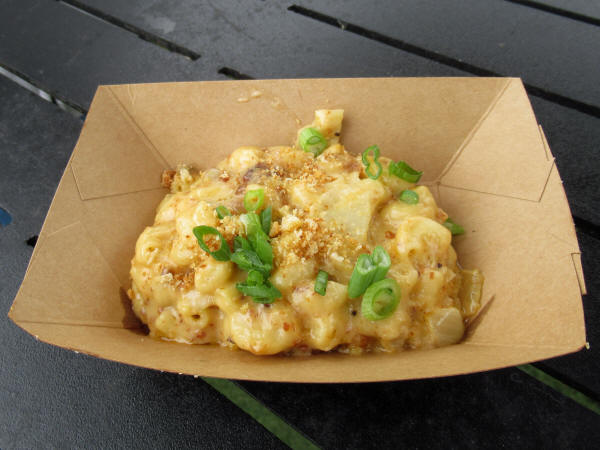 At Active Eats we tried the Loaded Mac & Cheese. It's hard to mess up Mac & Cheese but they did. It was much to peppery-hot for our palates . . . we threw it out!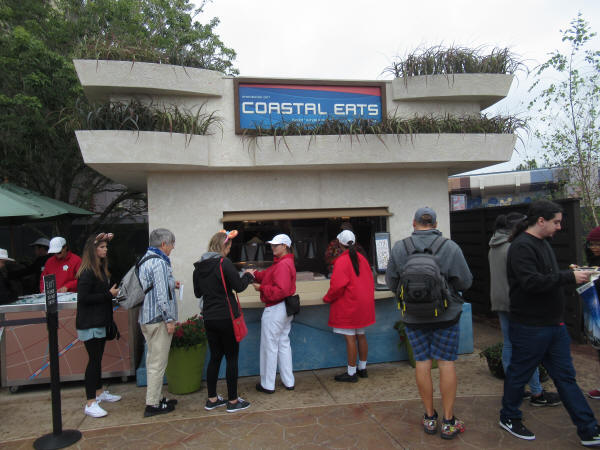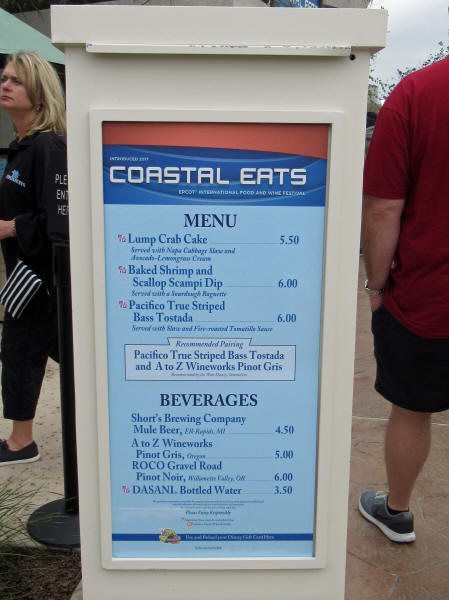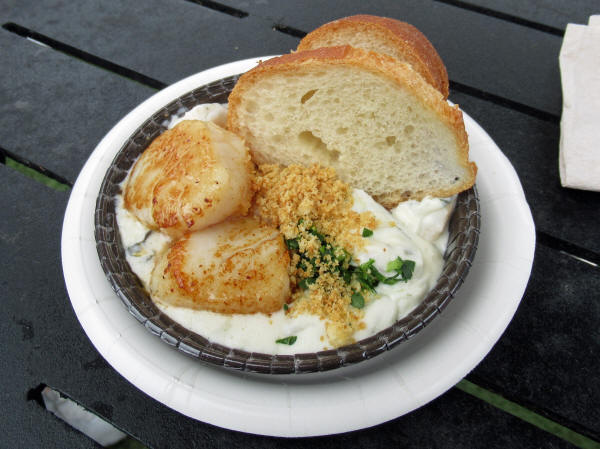 At Coastal Eats Carol picked the Baked Shrimp and Scallop Scampi Dip. It was good to the last drop!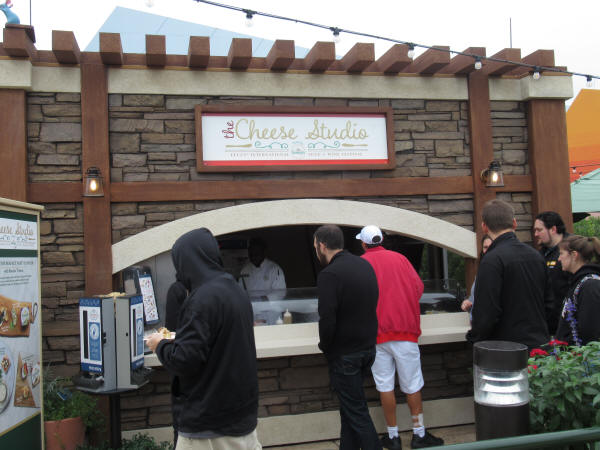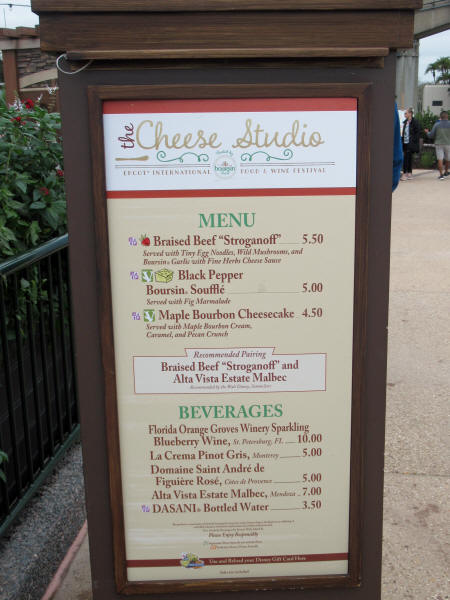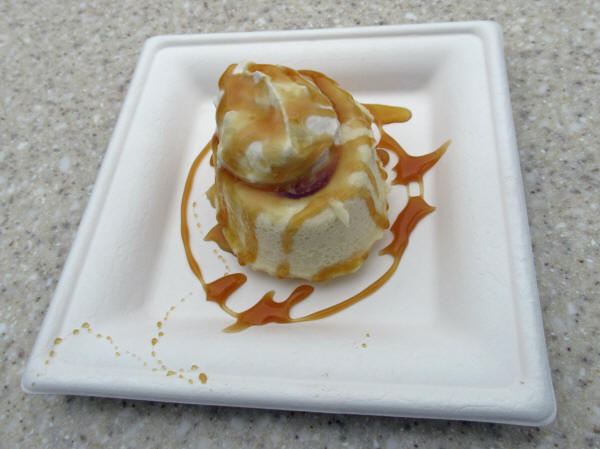 Our next stop was at The Cheese Studio where we savoured the Maple Bourbon Cheesecake. It was very creamy, rich and tasty.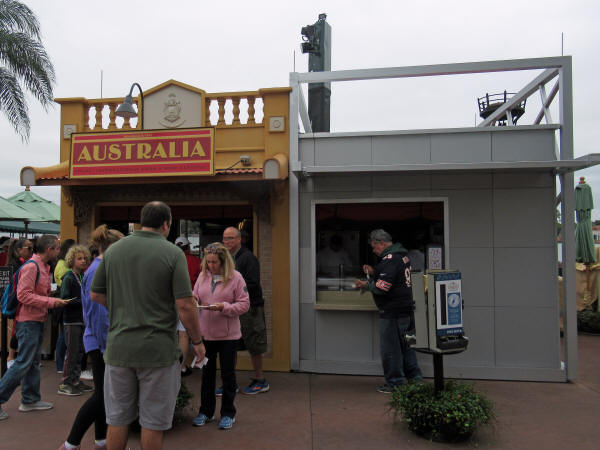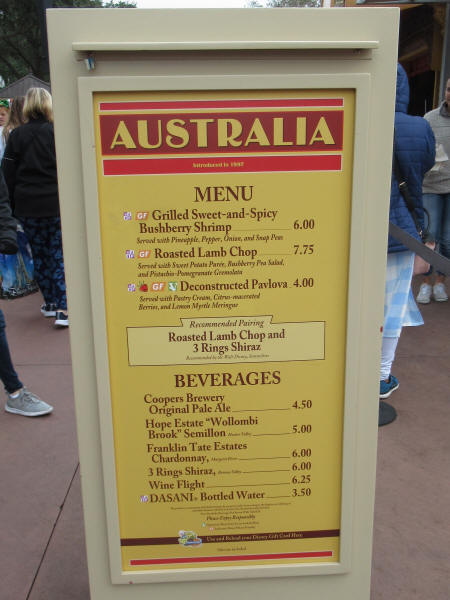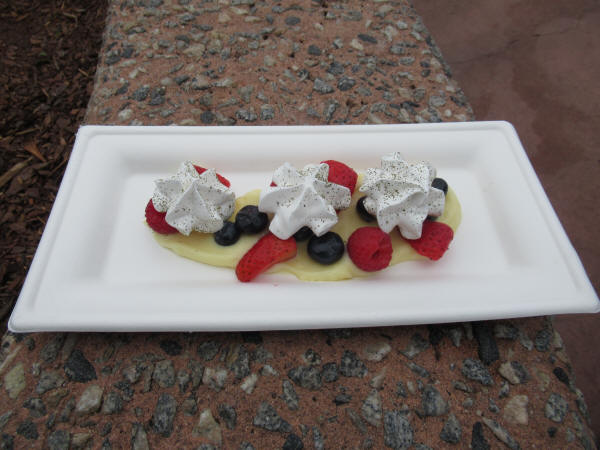 At Australia the only dish that called out to us was the Deconstructed Pavolva. The meringue was much crisper than we expected, in fact it was very crunchy and hard to chew, but the fruit and the custard were very nice.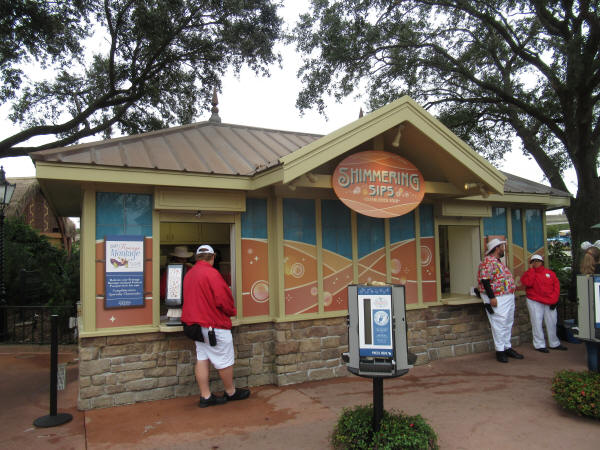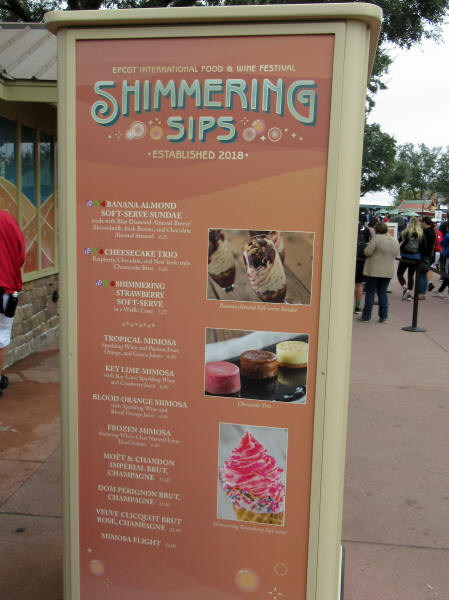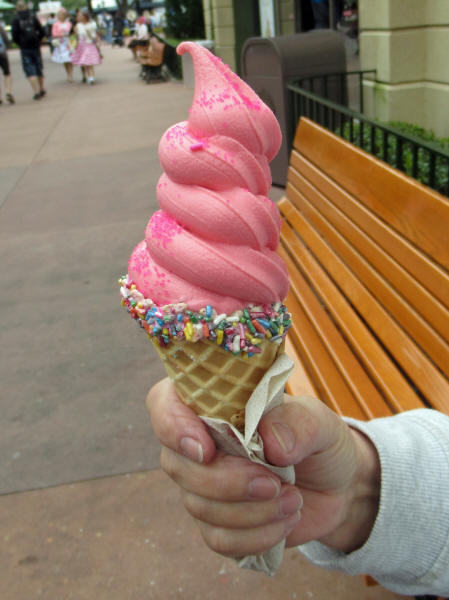 Our final dish at this year's festival came from Simmering Sips. We shared a Shimmering Strawberry Soft Serve. It's basically a strawberry flavoured brain-freeze in a waffle cone. It was almost too good to share!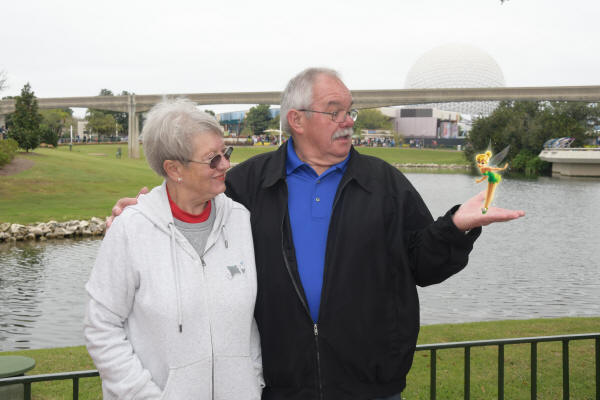 We stopped for a PhotoPass picture before we left EPCOT and Tinker Bell stopped to say hello!
It was Dapper Day at EPCOT. That means that some guests dress in their finest 'retro' outfits while others dress up to resemble Disney characters. Them latter is called 'Disney bounding'.
We saw one fellow in a pink beret, pink cardigan and pink plus-fours. Now that's dapper!
We took a few pictures of a few of the dapper guests as they had PhotoPass pictures taken just after we had ours taken with Tink!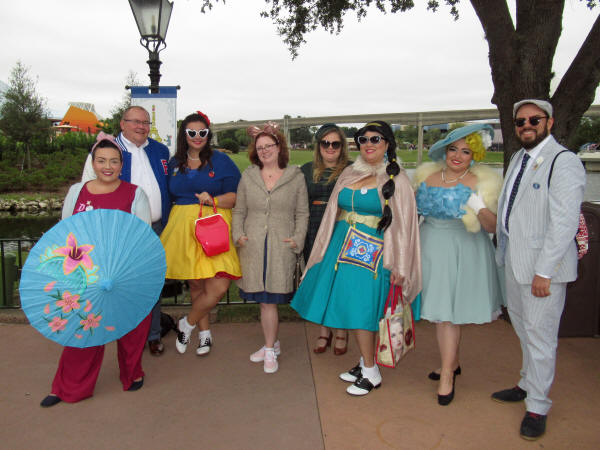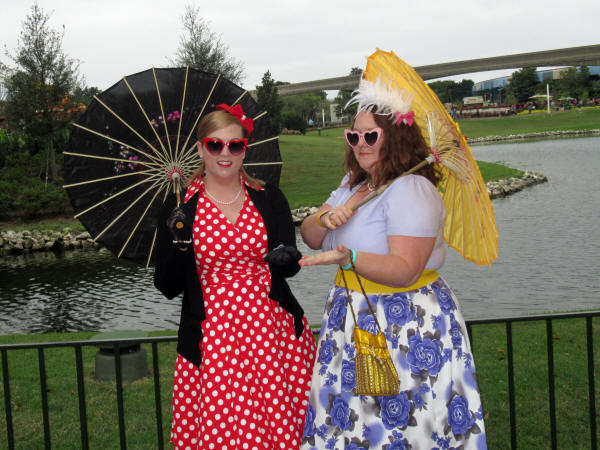 We'd had enough to eat and enough of the cold & dreary weather, it was 12:45 when we headed back to the hotel.
Carol did some more packing and we rested for a short time.
At 3:15 we struck out for Disney Springs where I did some shopping. I found a perfect gift for Carol, it was one she was pointing at!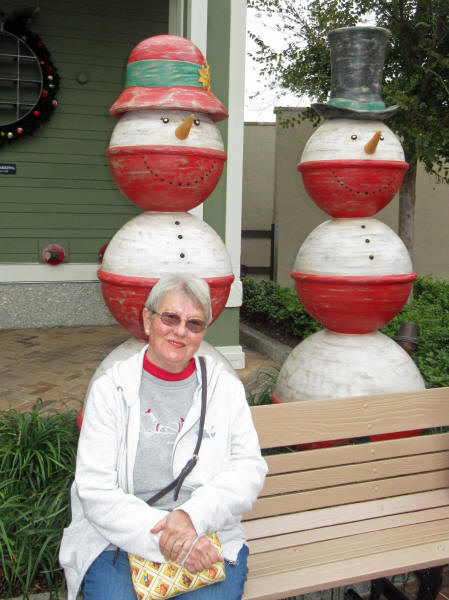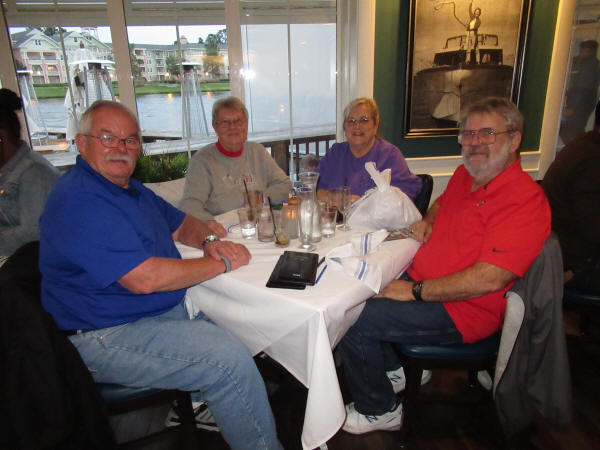 We met our friends Al and Jane from Missouri at The Boathouse for an early dinner at 4:00 p.m. They had just arrived in Florida earlier that day to spend the winter at a nearby motor home resort where they own property.
We enjoyed catching up with them over a nice meal!
After dinner the four of us enjoyed a walk through the Christmas Tree Trail. It looks even better at night, but it's much more crowded.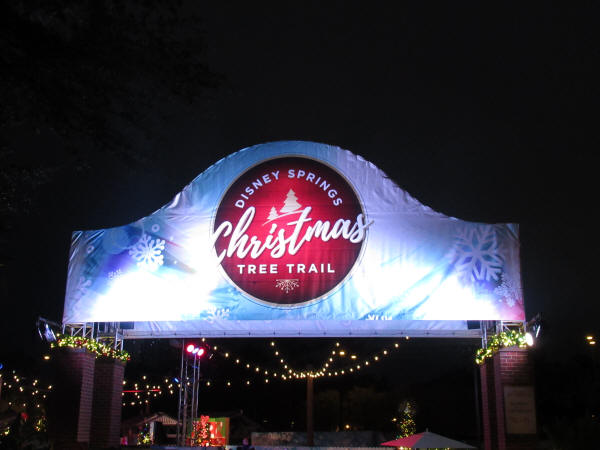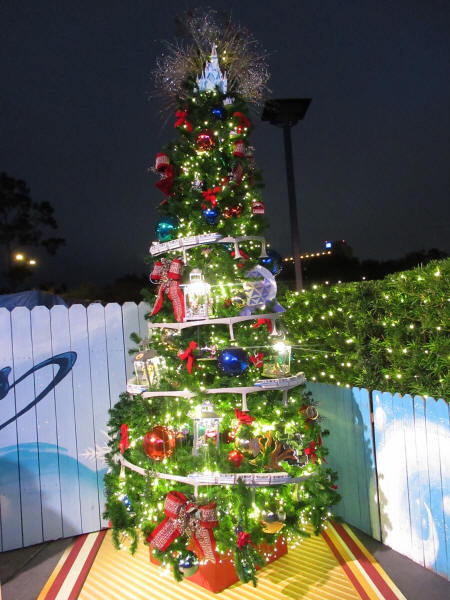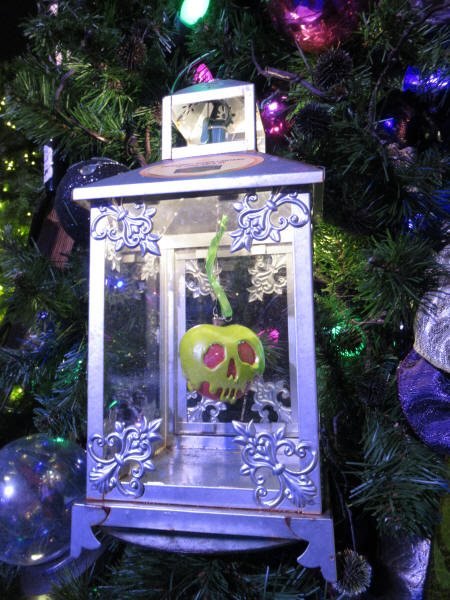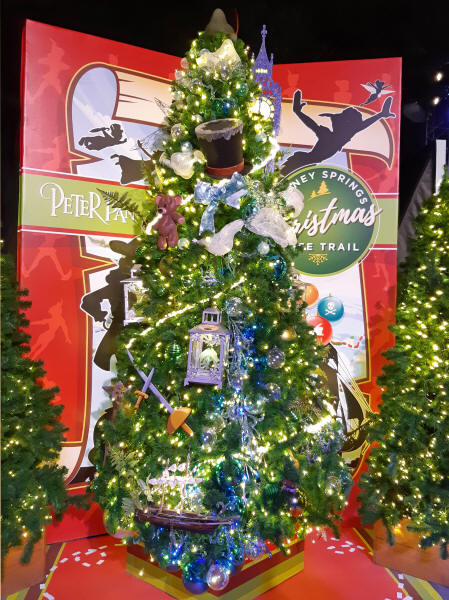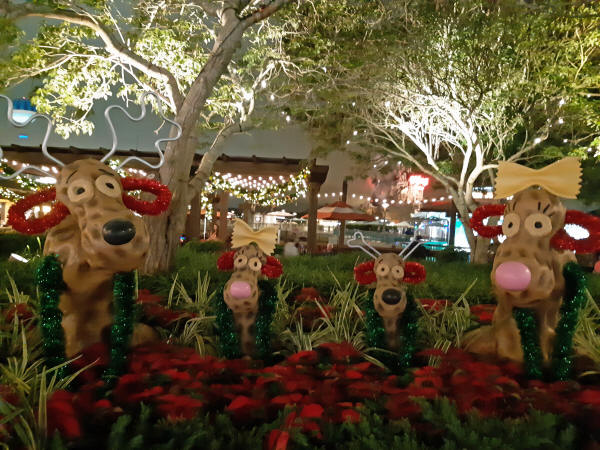 We said goodbye to Al and Jane at the end of the Tree Trail as they went back to their coach to tend to their road-weary cocker spaniels. Carol did a quick browse at the Pin Station and then we headed the car toward Fort Wilderness once again.
We borrowed our friend Hilda's golf cart and toured most of the camping loops looking at Christmas lights and decorations; Hilda's daughter Stephanie joined us as we drove around almost all of the camping loops. It's been a few years since we were at The Fort during the Christmas season and we enjoyed seeing the displays.
It surprised us that so many sites were decorated for Christmas . . . before Thanksgiving.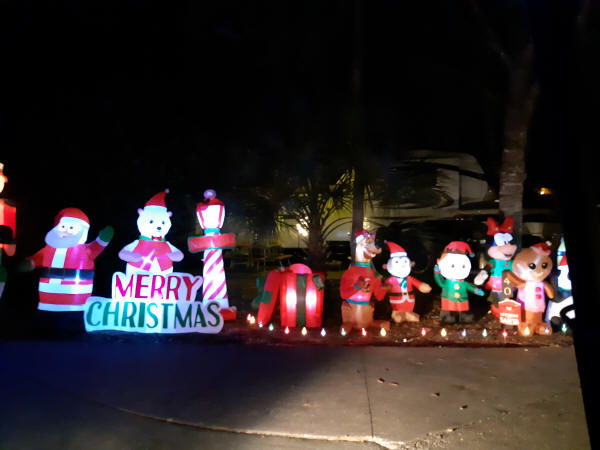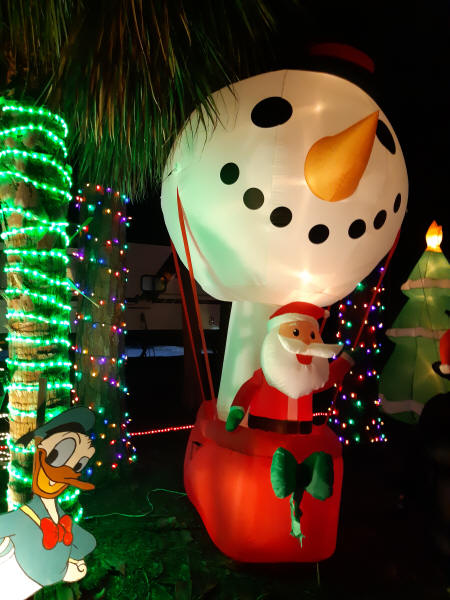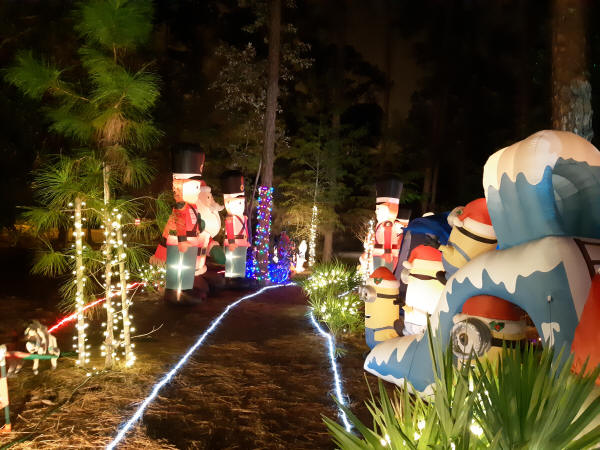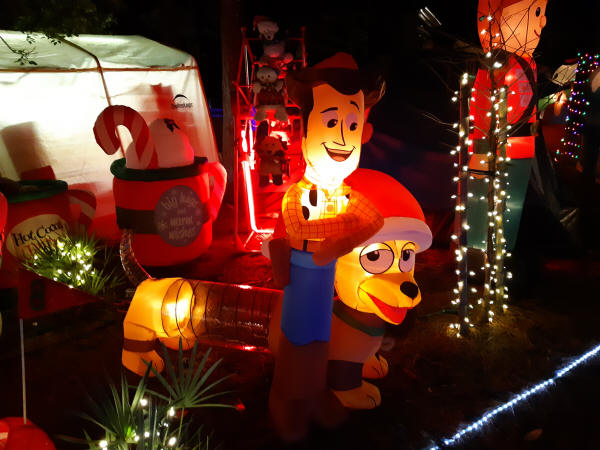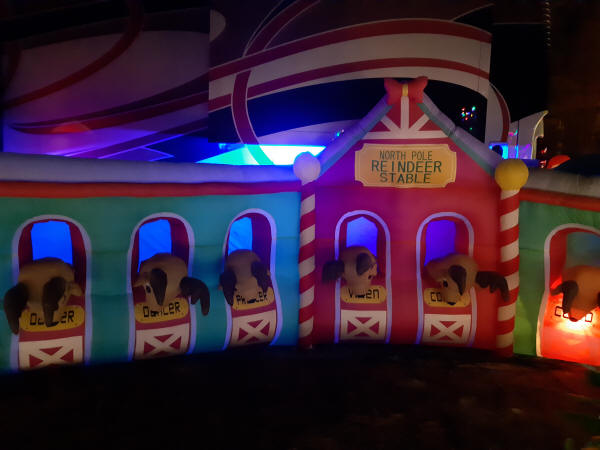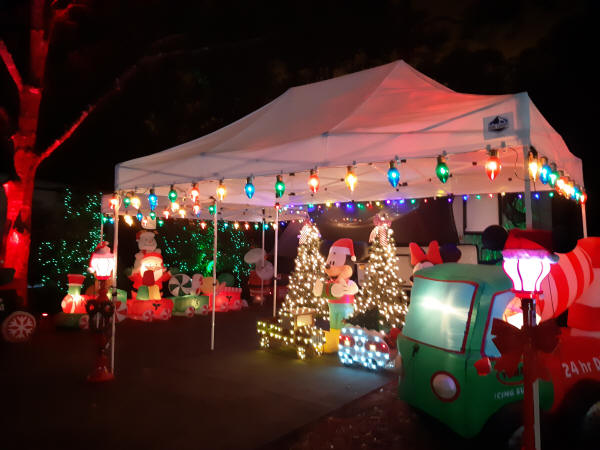 Once we finished the tour we chatted with Hilda for a little while before heading home at 9:45 p.m.
---
Mon Nov 18, 2019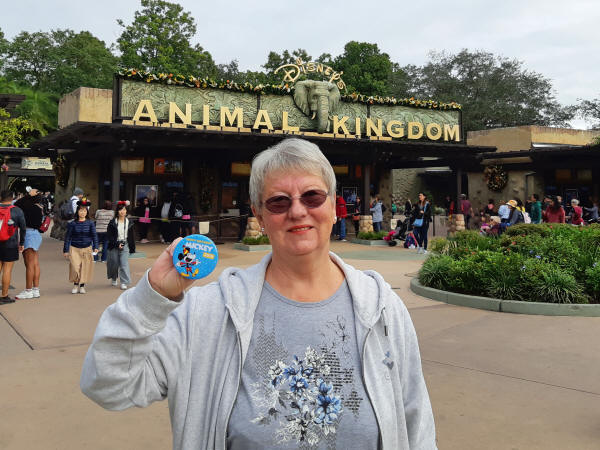 We were up at 7:00 a.m. on our last day in Florida.
Carol wanted to take an earlier flight with a layover in New York at JFK which would have had us landing in Syracuse at about 8:00 p.m. I hate layovers so I suggested a direct flight which would put us in Syracuse at 10:00 p.m. The later flight gave us most of the day to do touristy things and we had very little planned except for a few FastPasses at Animal Kingdom.
Since it had been cool for several days I suggested a trip to Blue Spring State Park to see some manatees. After I had breakfast in the hotel and Carol printed our boarding passes in the hotel's business centre we loaded all of our luggage in the car and hit the road at 8:45 a.m.
Our first stop was Disney's Animal Kingdom where we picked up special buttons commemorating Mickey's 91st birthday.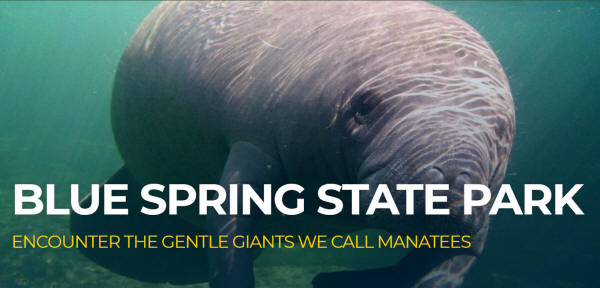 Traffic was relatively light and we made good time through the construction zone in downtown Orlando and arrived at Blue Spring State Park at 10:25.
Wow! It was great. When we went last February we saw two manatee, a mother and her calf.
The guides at the park explained that in warm weather the manatees move to the St. Johns River but when it's cool they are attracted to the warm-water spring in the park. The spring discharges over 100 million gallons of water into the river each day, at a constant 72º. Yes, you read that correctly - 100 million gallons!
The park spans over 2,600 acres and a clear, wide stream carries the 72º water from the springs to the St. Johns River. A half-mile-long boardwalk follows the stream with large observation decks at the springs and the two lagoons.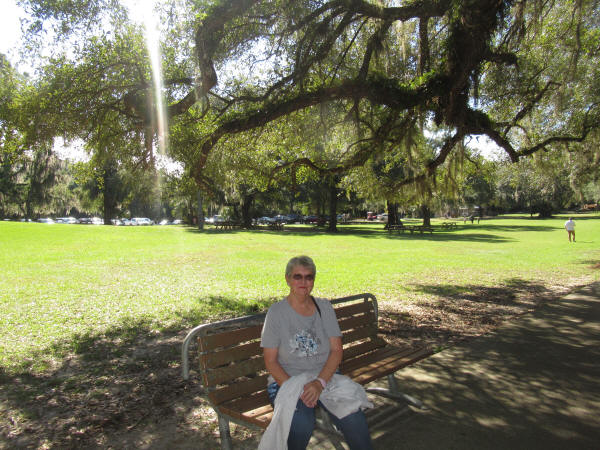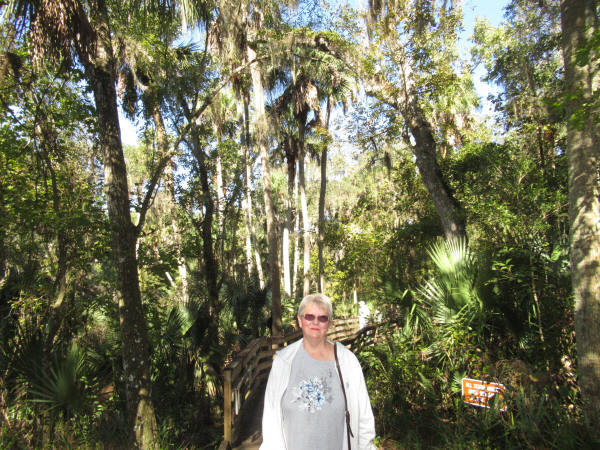 The park has a campground and areas where guests can canoe, kayak, swim and snorkel in the warm spring waters. There are also narrated 'Nature and Ecological Cruises' on the St. Johns River, but so far we've been happy to simply follow the boardwalk through the shady hardwood hammock.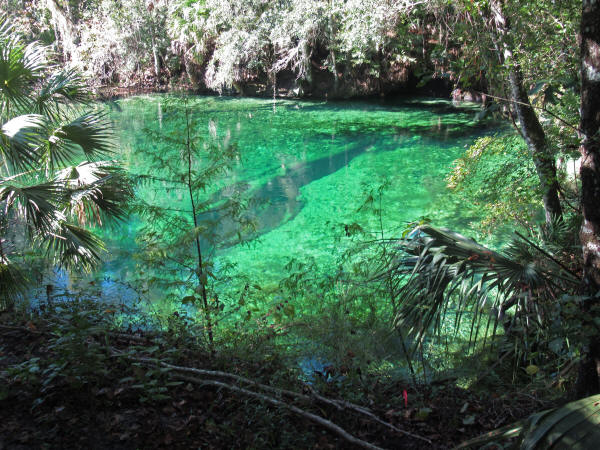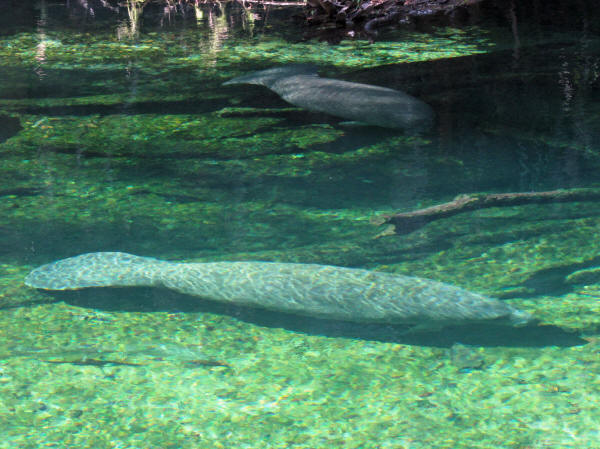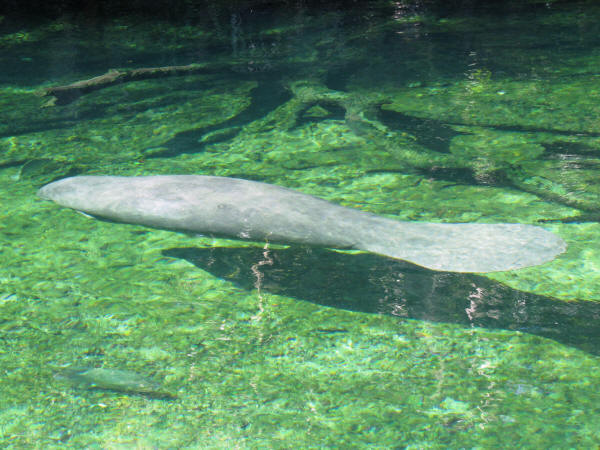 Today was cool and there were plenty of these huge creatures swimming lazily through the crystal clear spring waters.
A pair of naturalists who work in the park passed by in a canoe and told us that they had counted 249 manatees during the morning.
We spent an hour and a quarter walking the boardwalk alongside the spring and the stream leading to the St. Johns River, enjoying the natural vista.
There were manatees, turtles and even a large alligator. It was a great morning!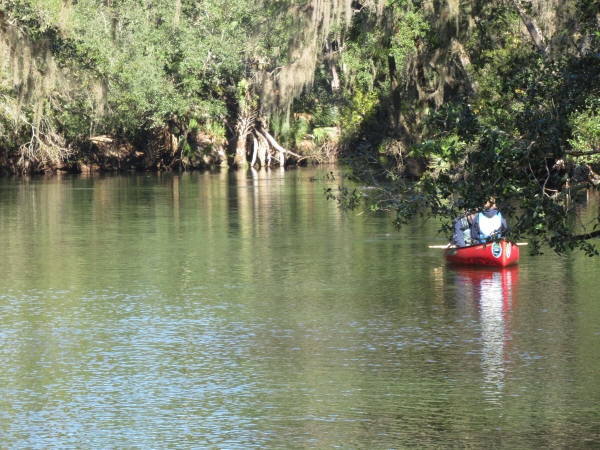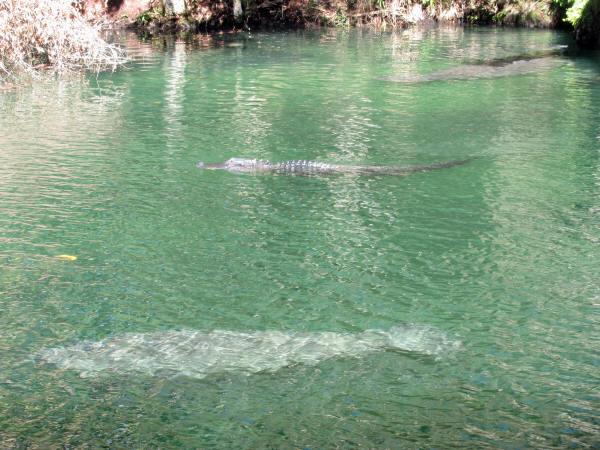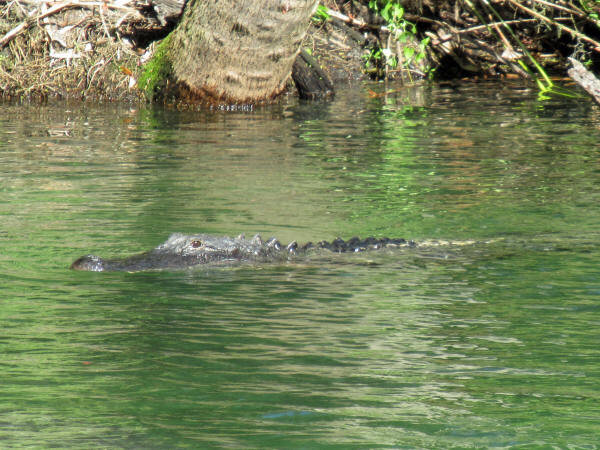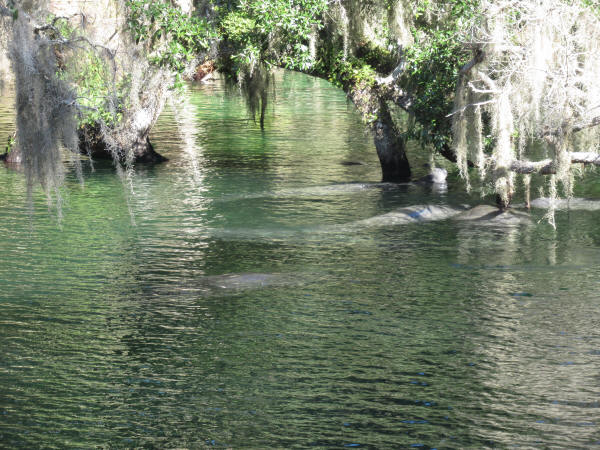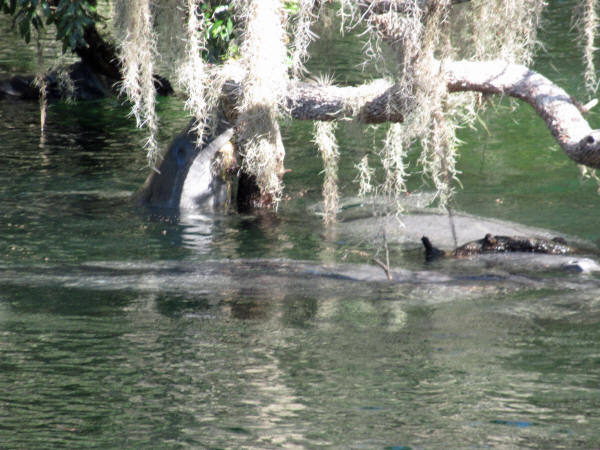 Look closely and you'll see a mantee eating Spanish Moss hanging from that cypress tree!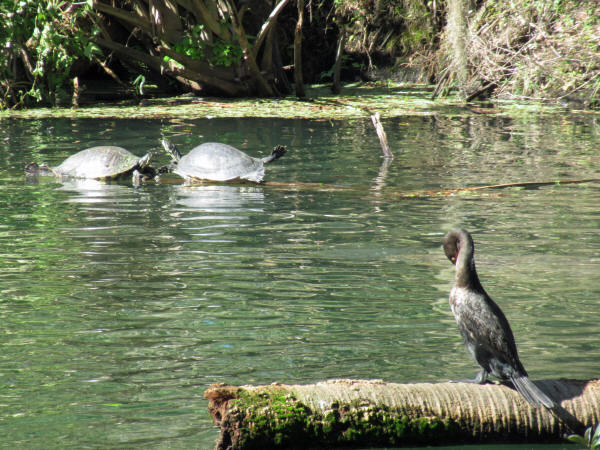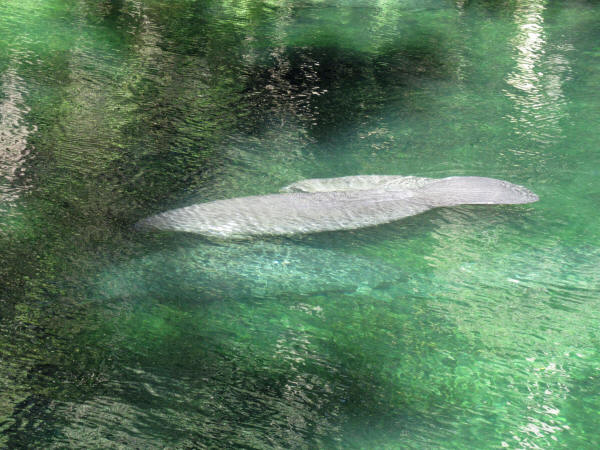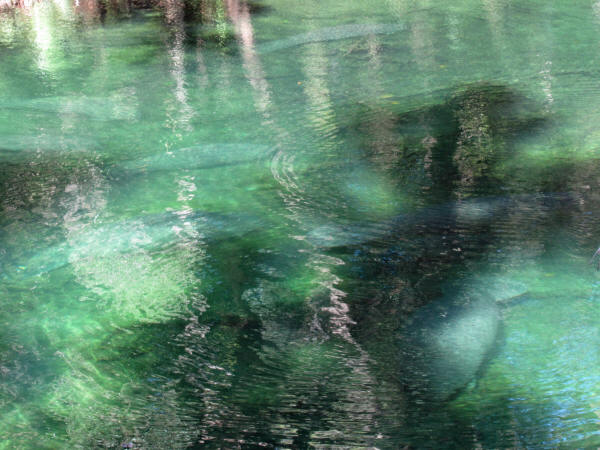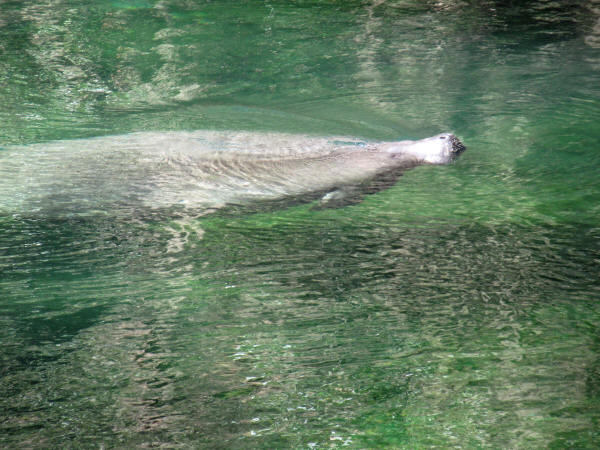 We drove back through Orlando and headed to Disney Springs where we had a light lunch at Earl of Sandwich.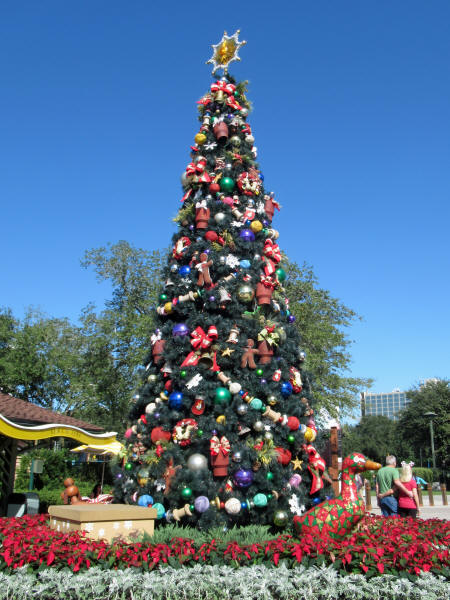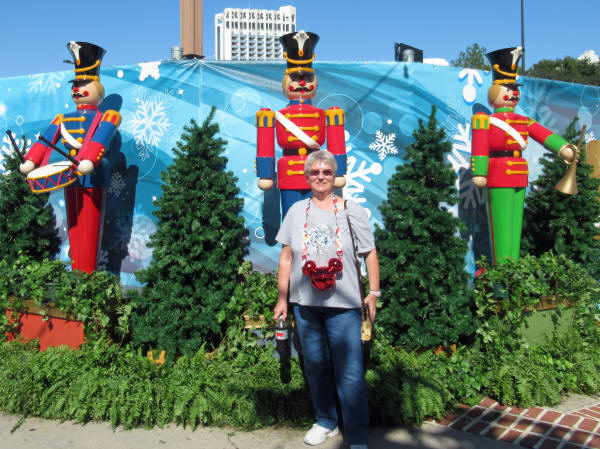 We walked the Christmas Tree Trail again in the daylight and picked up another pair of Mickey's birthday buttons at the exit.
It was still too early to leave for the airport, so we stopped at Ghirardelli for a couple of ice cream sundaes.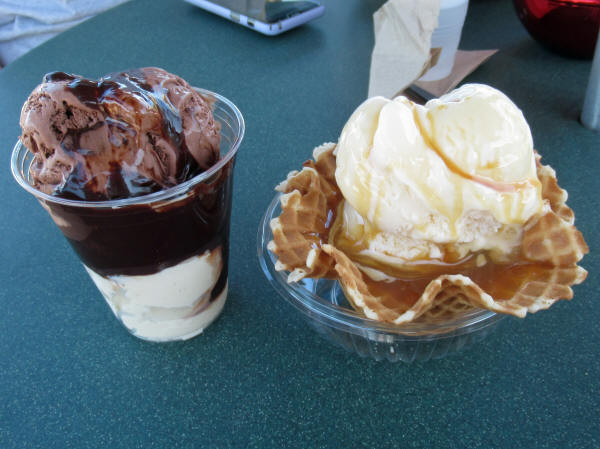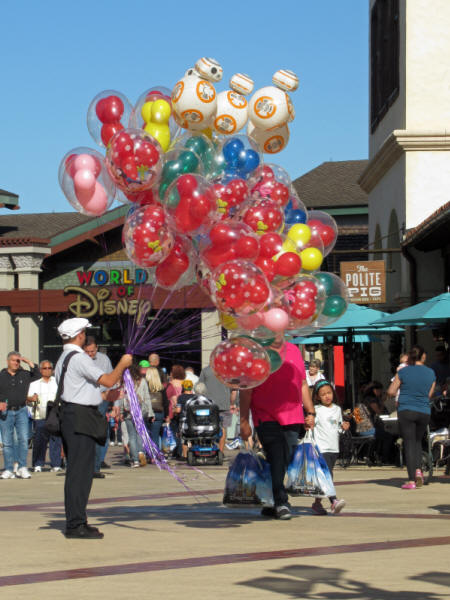 We found a park bench in a shaded area and sat, just enjoying the Disney atmosphere and people-watching, for about an hour. This balloon vendor was having fun with his arm-load. As younger guests walked by he held the bundle in such a way that the wind blew them downward, often surrounding the delighted children. It seemed to be a good marketing process, he sold plenty of balloons.
Just as we were about to leave Disney Springs and head to the airport a familiar face appeared in the crowd. It was our friend Beci Mahnken, owner of Mouse Fan Travel. We haven't crossed paths with Beci for a few years so we sat for about a half-hour catching up. Then it was time for her to rush off to a business meeting with Disney and for us to head to the airport.
We checked in at Jet Blue at about 4:30, dropped off our checked luggage, then cleared security and spent almost two hours waiting in some semi-comfy chairs near the food court. At about 6:30 we ate some sandwiches from one of the food court shops then headed to our departure gate to wait for the boarding call.
We boarded early but sat for a long time still connected to the loading bridge. We pushed away from the terminal about 10 minutes after our scheduled departure time, and took off about 25 minutes late.
It was a smooth flight and surprisingly quiet; there were lots and lots of young children aboard but we only heard the occasional scream or wail.
We must have had a tail wind, we landed two minutes after our originally scheduled time and a mere 25 minutes after touchdown we were loading our luggage into the car at the Best Western parking lot.
We pulled onto the freeway at 10:30, crossed the Canadian border at midnight and pulled into our garage at 12:30.
Tails were wagging furiously when we entered the house. After greeting the dogs we emptied the car and dropped everything in a spare bedroom.
Unpacking would have to wait, we were pooped and hurried off to bed!