We knew from the start that this would be a whirlwind trip for us. There were just so many things going on at the same time . . .
We would be joining some friends from the Tagrel.com web site for our annual Tag-O-Mania meet; many other friends who go to the annual RADP get-together would be there and our good friends at AllEars.net and Mouse Fan Travel were hosting some 30th Anniversary events. AllEars was celebrating 20 years and Mouse Fan Travel was celebrating 10 years.
There was so much to do that we knew that the pace would be hectic. It was everything we expected, and more. I hope you enjoy reading about the trip, we sure had a great time!
---
Thursday December 3, 2015
There was no need for an alarm clock; we were both excited and wide awake at 6:00 a.m. We dashed through our usual morning routine and by 7:15 we had the house all locked up and secured for a few days.
We hopped in the car, raring to go, but had to wait a few minutes. It had rained overnight and then temperatures fell below freezing. The windshield was covered with frozen raindrops; not a heavy coating of ice, but just enough to obstruct our view. Within a few minutes the engine had warmed and the defroster did its job. We pulled away at 7:20. a.m.
The sun was just rising above a grey bank of low clouds as we approached the US border.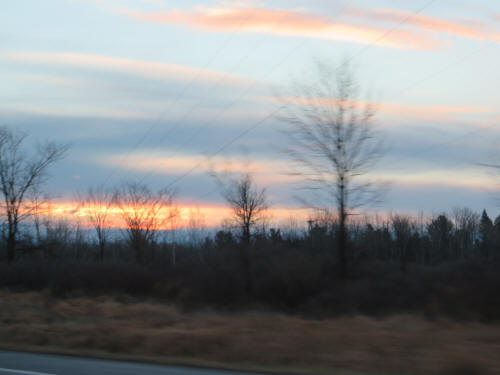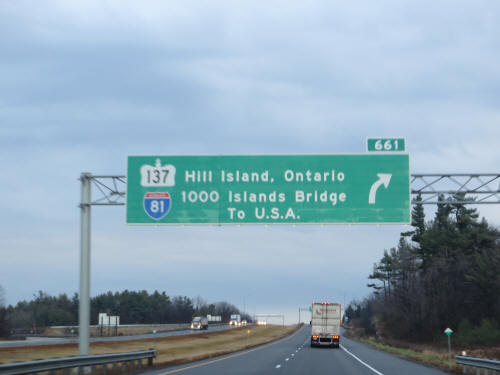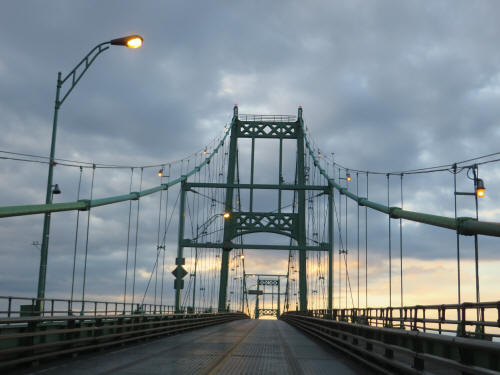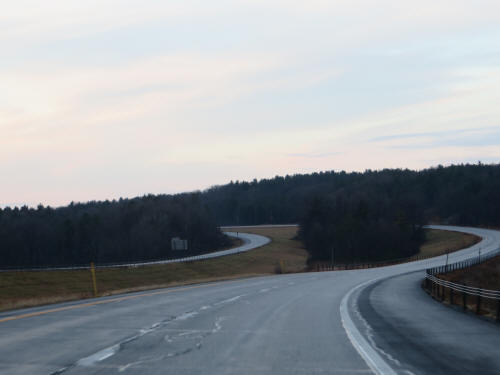 There was no line at the border and by 7:50 we were southbound on Interstate 81.
It always strikes me as funny, we travel on Canada's busiest highway to get to that bridge - and once we cross the border there is no traffic at all. That part of I-81 travels through a remote and sparsely populated area of Upstate New York.
We pulled off at Watertown New York and picked up a coffee at Tim Horton's then headed on south to Syracuse. By 9:30 Carol was scouring the aisles at the Christmas Tree Shop in Mattydale, just south of Syracuse's Hancock International Airport. I browsed along with her for a few minutes, then returned to my usual spot, reading in the car. It wasn't long until she finished and we made the short hop to the airport.
We pulled into the parking lot at 10:30 and by 10:45 we had checked in with Jet Blue, cleared security and were headed to our departure lounge. Have I mentioned how much we like our Nexus cards? They give us automatic TSA pre-clearance!
Alas, we were early but our flight was late . . . but only by a little bit! We watched our aircraft approach and wait just outside our window, not far from the loading bridge. It couldn't pull in until a flight to La Guardia pulled away from the gate.
We took off at 12:14, about 10 minutes behind schedule and after an uneventful flight we landed in Orlando at 3:00 p.m. On our way to the baggage carousel we chatted with Roberta, from Syracuse, who had been on the same flight and will be at the same Anniversary events Carol and I are going to. Carol sat beside Roberta on a flight home from her annual EPCOT pin events a few years ago.
Carol waited for our giant, overweight (50.5 pounds) suitcase while I carried on downstairs to Alamo to do all the paperwork for our rental car. She arrived with the suitcase and we walked across to the parking garage where we picked out a blue Hyundai Sonata from the line-up of cars. We were on the road by 4:00. After a quick stop at a convenience store to pick up some soft drinks for the room we headed to our happy place.
We spotted Mickey through a rain-spotted windshield at 4:20 p.m.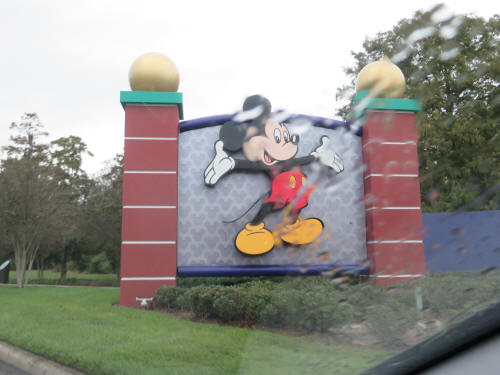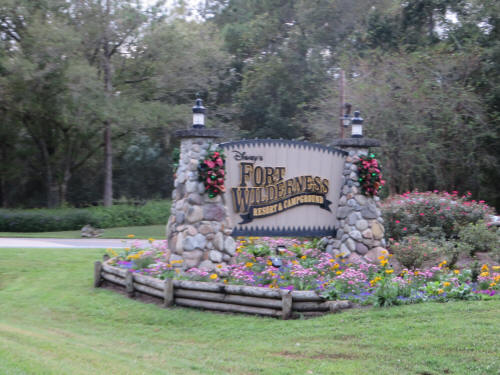 Our first stop was Fort Wilderness where we had a short visit with our campground friends Hilda and Stephanie.
We picked up some pins Hilda had for Carol, then carried on to Port Orleans French Quarter.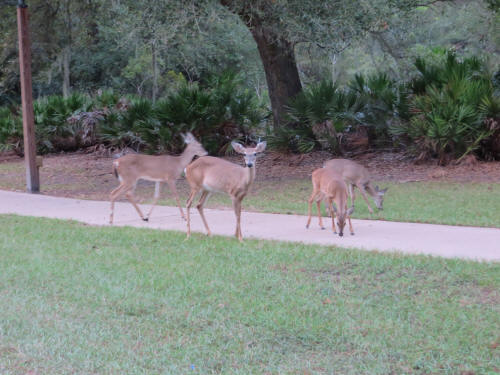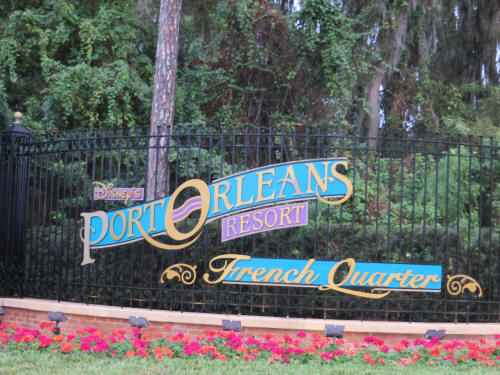 Carol had received a text message that our room, #7101 was ready so I waited in the car, under the porte-cochère, while she popped into the lobby to pick up our magic bands.
We had a very nice corner room, but it was a long way from the lobby. In fact, it was as far from the lobby as it could possibly be. We were closer to the lobby at the neighbouring Riverside Resort! It worked out very well for us, we spent very little time at the resort, got back very late each night and there was always plenty of parking way out there in the boondocks!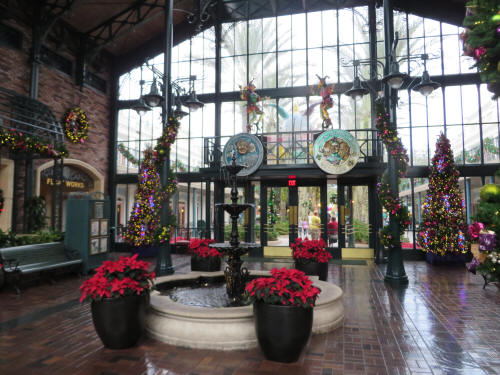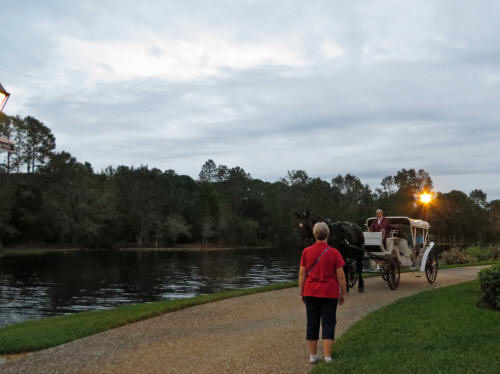 We were all unpacked and settled in the room by 5:45 and it was time to head out for dinner. We walked along the bank of the Sassagoula River in a light drizzle and watched the boat to Disney Springs pull away from about 50 yards upstream of the dock. Dang!
The next boat arrived 20 minutes later and we enjoyed the scenic ride past the tree-houses and golf courses.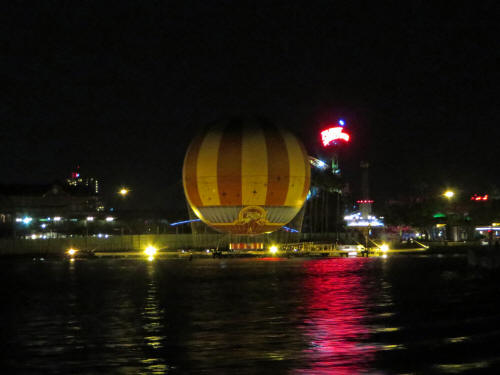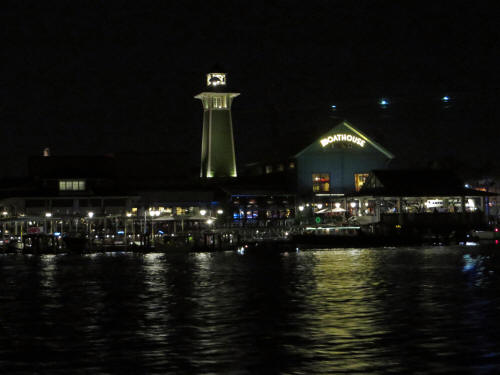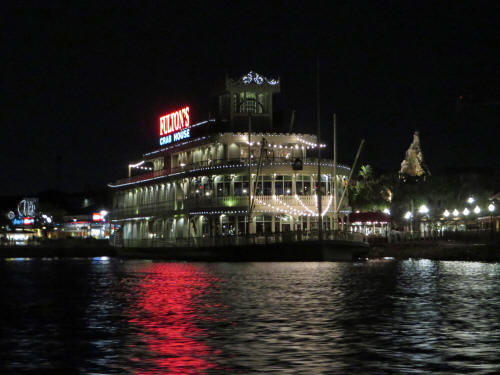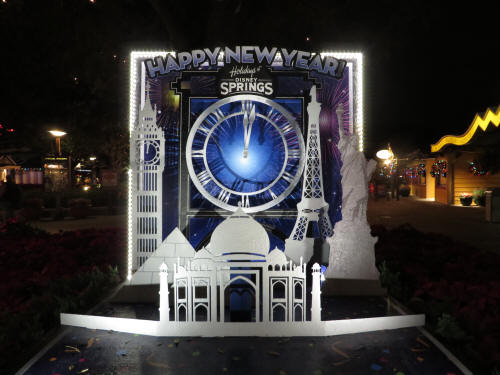 Carol's first priority was pins so we headed directly to Pin Central where she picked up everything she had on her wish list!
There were a few she hadn't expected to find so she was a happy pin trader!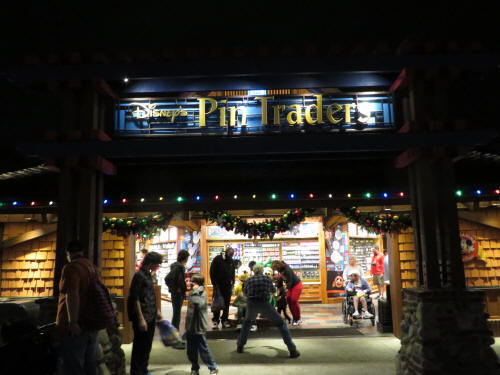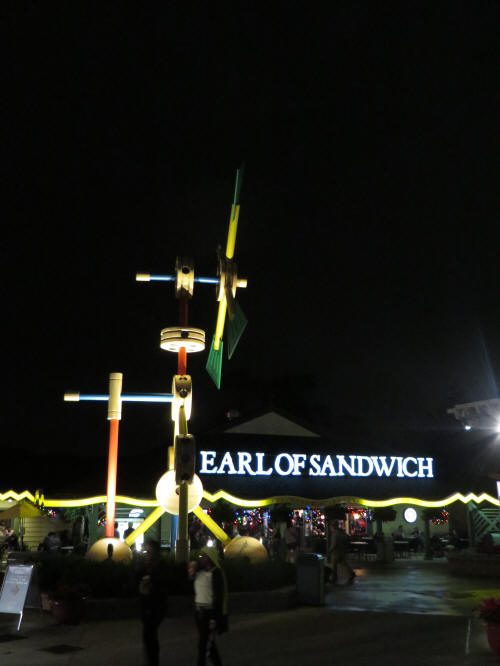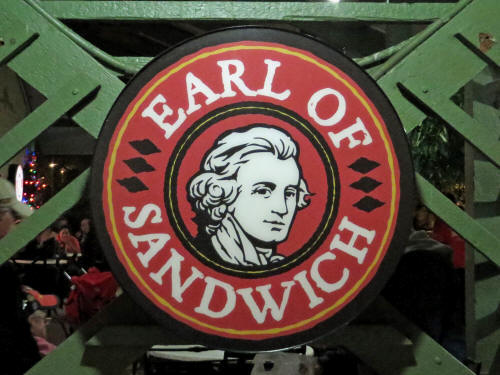 By 6:30 we had settled in for some fine dining at Earl of Sandwich, then Carol shopped while I sat outside, sheltered from the rain, people-watching and reading my book. She managed to scour all the stores in under two hours and only had one small bag when we headed back to the boat dock ay 8:30.
Our ship sailed within 5 minutes and had us back to the resort by 9:05. I snapped a few pictures of the Mardi Gras themed décor in the Jackson Square gift shop while Carol checked out the resort themed merchandise.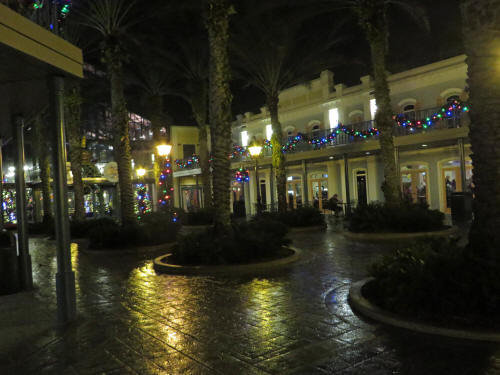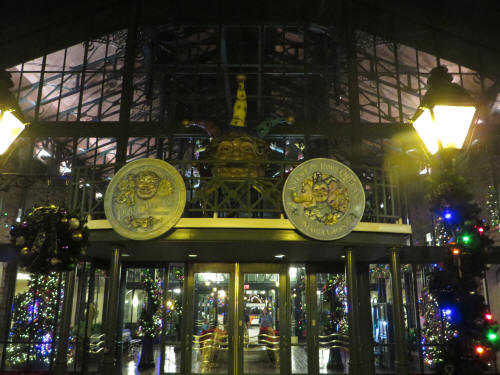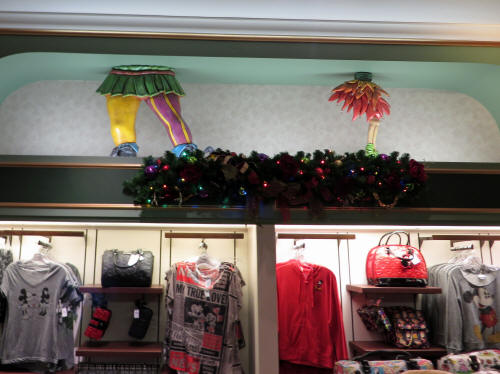 By 9:30 we settled in the room, tuckered out after a long travel day!
---
Friday December 4, 2015
We always have a restless sleep the first night in a new hotel and this was no exception. We were up at 7:00 a.m. but neither of us felt fully refreshed.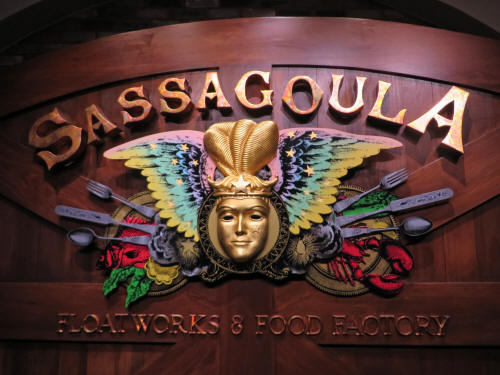 We had breakfast at Sassagoula Float Works, the resort's food court, and discussed our plans for the day. We had intended to go to Animal Kingdom for a few hours for a ride at Kilimanjaro Safaris and a plunge down Expedition Everest but changed our minds over breakfast. We knew we'd be very busy for the rest of the weekend and decided not to rush that morning.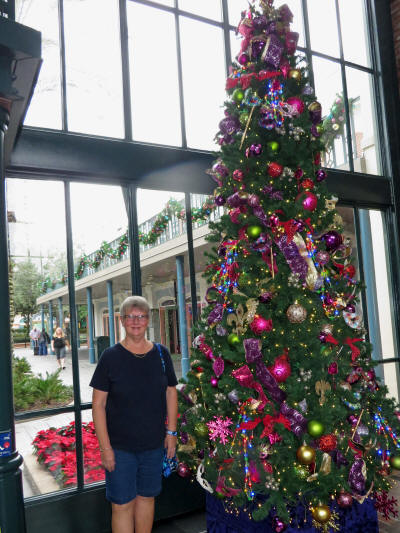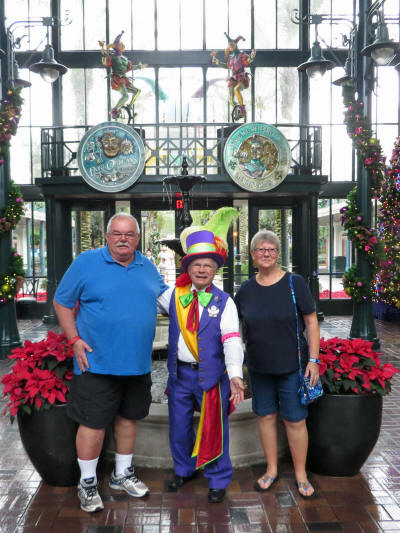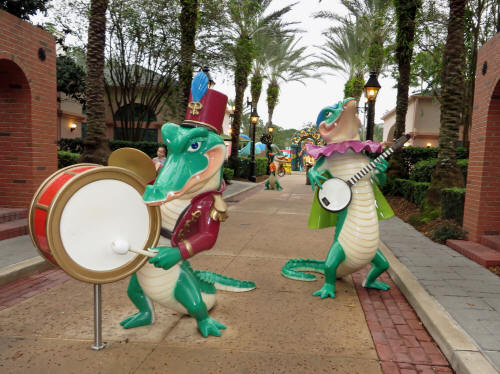 Instead we took a leisurely drive over to Property Control, the Disney liquidation shop, and browsed.
Carol was admiring a Vera Bradley shoulder bag. It was an exact match for a smaller bag that I had bought her last year for Christmas and I could see the wheels turning in her mind. Even though it was marked down quite a bit, did she really want to spend that much on another bag? Then I saw the light go on . . . it actually flickered in her eyes! She handed me the bag and said, "This would make an excellent Christmas gift for me!" Bonus! I think my shopping is now all done!
We still had some time to kill before reporting for work at Kidani Lodge so we went to Animal Kingdom Lodge and walked out to Arusha Rock to see all the animals on the savannah. What a shock we had . . . there wasn't a single animal, not even a bird.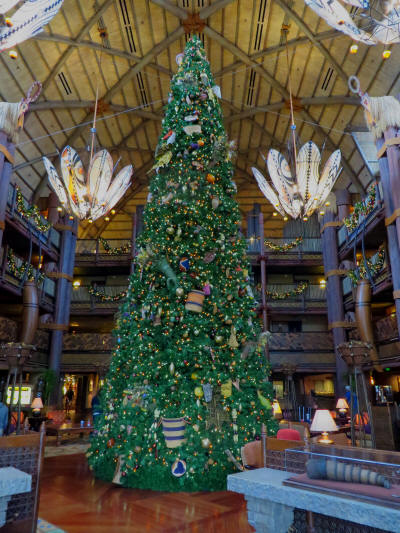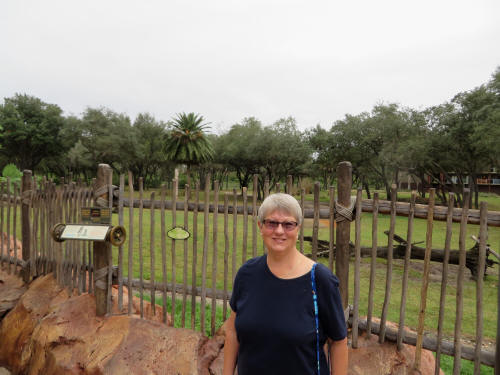 We've never seen it that desolate before! I really wanted to get a picture of some wildlife, but the picture to the left was the closest thing I could get!
We wandered back out through the lobby at Animal Kingdom and drove to the nearby Disney Vacation Club property, Kidani Lodge, where we were helping to host the AllEars/MFT open house at one of the Grand Villa suites. Wow! It was magnificent! The suite had three bedrooms and three baths spread over two stories. Three balconies overlooked the savannah and we were entertained by wandering giraffe, zebras, antelope and several other species who wandered by during the afternoon.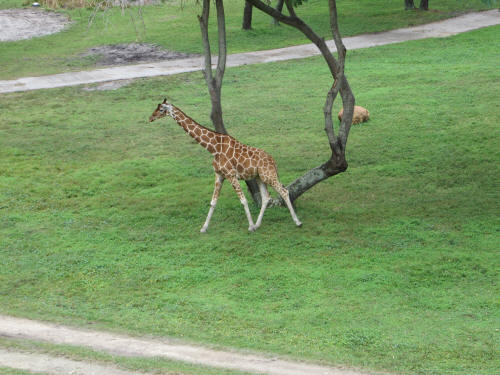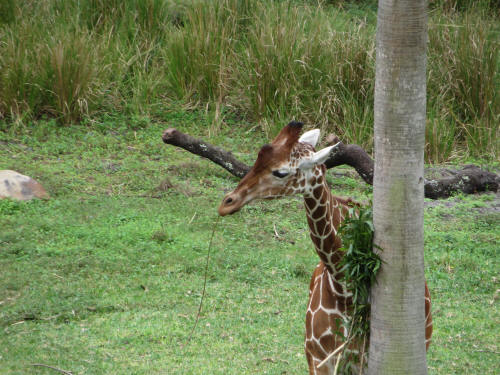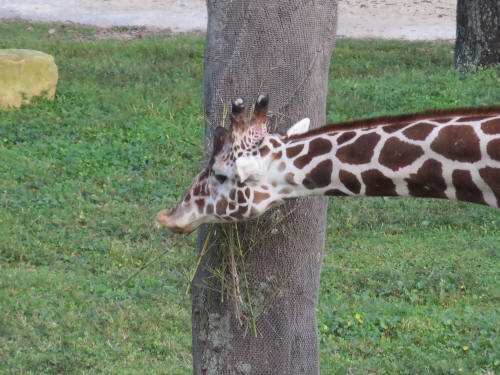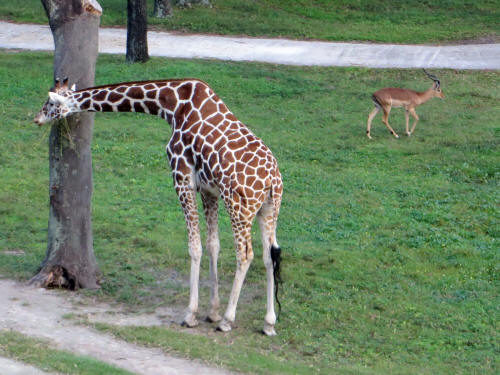 Our friend Melanie Camphouse, an event coordinator from Denver, reviewed the duties she had assigned for all members of Team AllEars, then we had some time to mingle with our fellow team members before the guests started arriving at noon.
Our special guest for the afternoon was Ron Schneider, the original Dreamfinder. If you were at EPCOT between 1982 and 1987 you may remember the bearded man who carried Figment around Future World and mingled with guests. The two pictures below show our son Rob and a friend Jenny with Ron Schneider in his Dreamfinder garb, one was taken in 1982 and the other in 1984.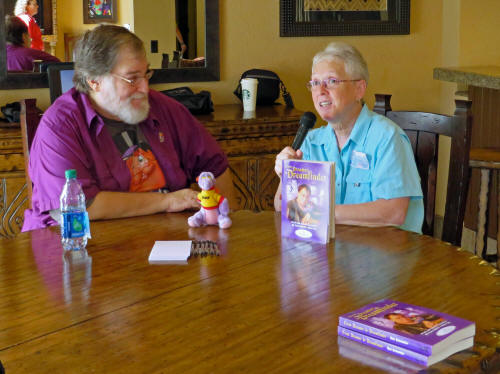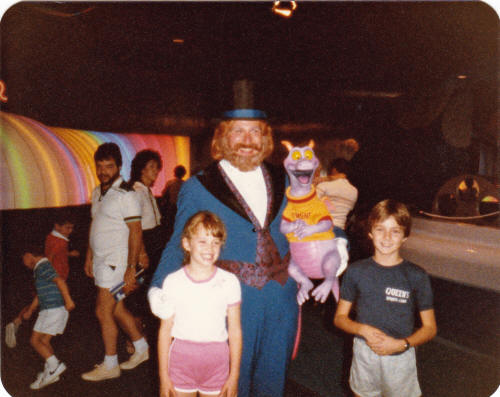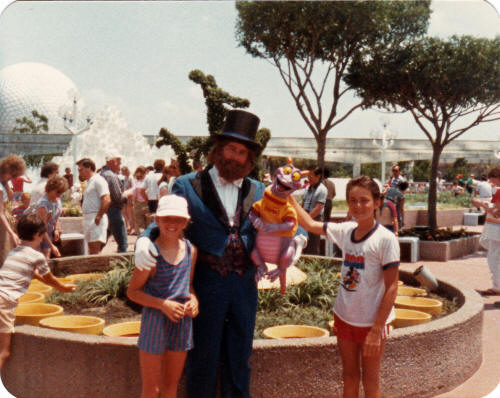 Guests came in four shifts, 45 families during each time slot, from 12:00 to 1:00 p.m., 1 to 2, 2 to 3 and 3 to 4. Each hour there were draws for some wonderful door prizes and every guest left with a "swag bag" with some special mementos of the day.
I spent the first hour directing traffic around Ron Schneider who was chatting with fans, signing autographs, posing for pictures with guests and autographing the book he has written about his Dreamfinder days.
Then I went to help Carol for the next three hours. She was on the second floor manning a pin trading board and overseeing the folks who were swapping AllEars Trading Cards. There are over 70 different trading cards and two brand new ones were released that day. Each guest was given a pack of 32 cards, one each of the new ones, and five each of six other cards. The trading was intense as folks tried to trade their duplicates away in exchange for cards they didn't have. It's always a good "mixer" to get people talking and interacting!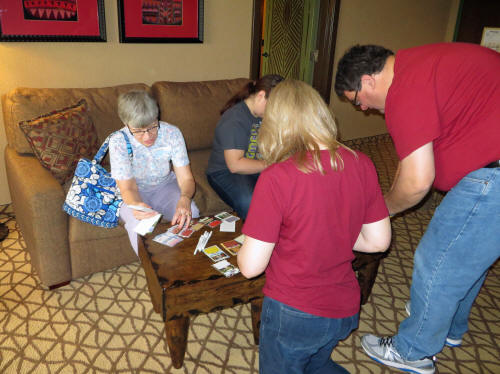 We both had a great time. There were plenty of familiar faces, people we've met at previous AllEars functions, people we've met on Disney cruises and some friends from the Tagrel.com site we've been members of for years. There were several people who enjoy the blogs both Carol and I write for AllEars who stopped by to introduce themselves. We had a terrific afternoon!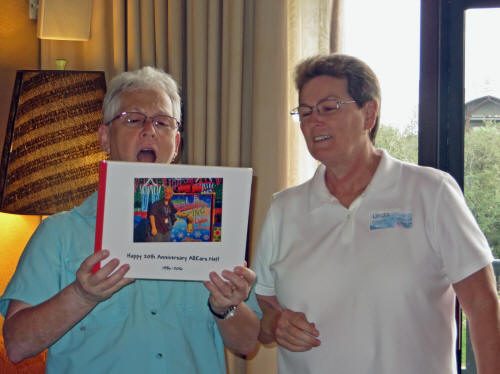 After the guests left the AllEars team lingered and presented Deb Wills and Linda with a special gift to commemorate 20 years of AllEars.net Deb Koma, Editor at AllEars, gave them a bottle of wine and a memory book on our behalf. Many of us on the team sent in pictures and stories which Alice McNutt Miller crafted into a wonderful hard-covered book.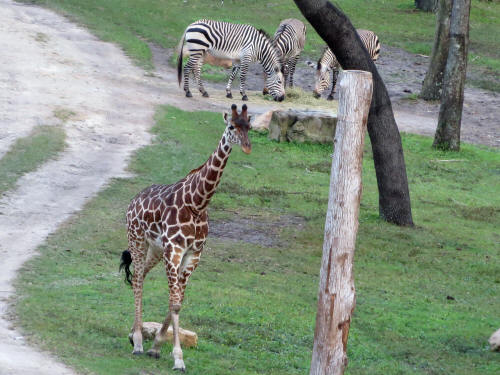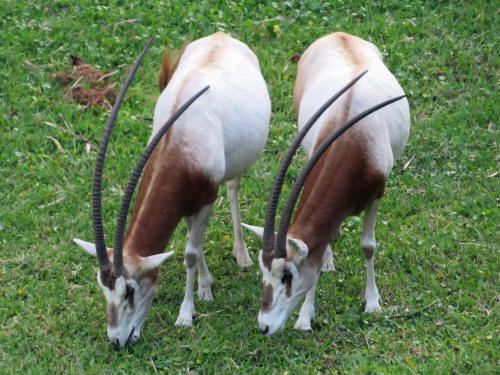 Carol and I left just before 5:00 p.m. and headed back to the French Quarter where I had a brief nap. It was actually a very brief nap, we were back on the road by 6:00 heading to Hollywood Studios where we met our Tagrel friends Susan, Lynne, Kristen, Cheri, Karen, Naomi, Terri, Amy, Sharon and John.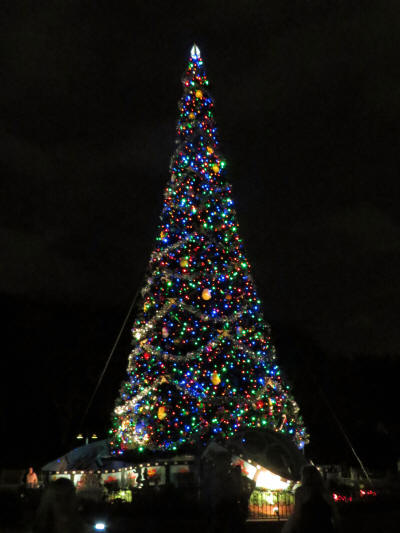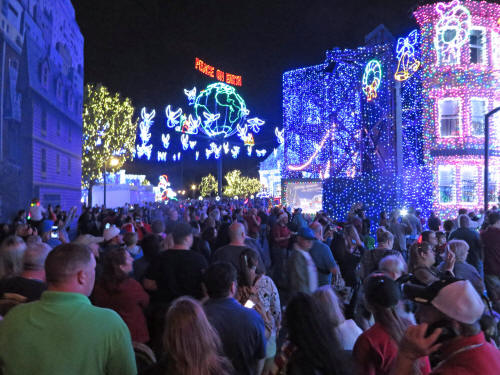 We wandered the Streets of America and enjoyed the Osborne Spectacle of Dancing Lights with about 10,000 other people while we visited with the Tagrel gang.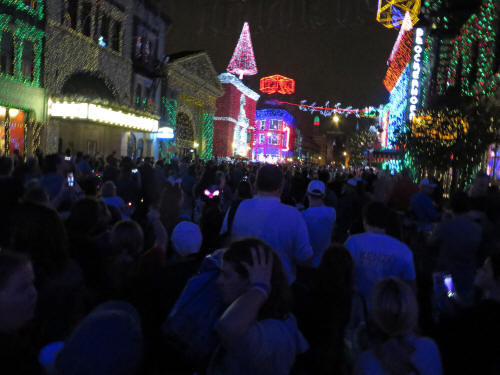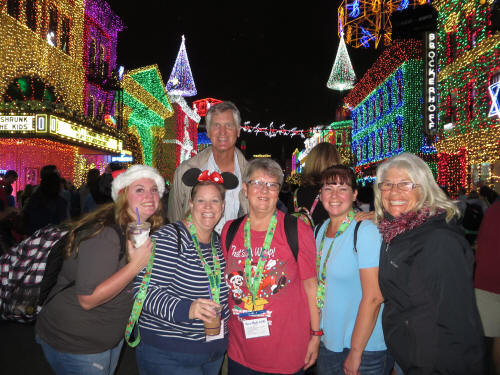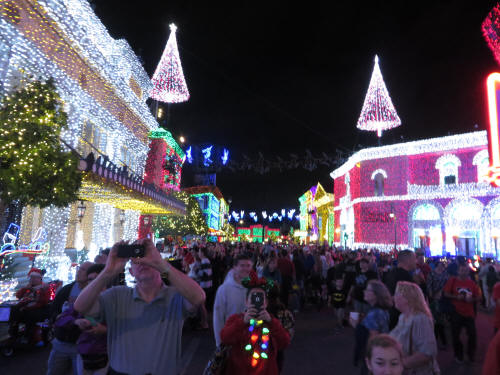 We had planned to pick up some dinner at a quick-service spot in the park, but the Tagrel group had a 7:50 p.m. reservation at 50's Prime Time Café and there was room to squeeze us in so we gladly joined them.
We had a fun-filled time with Karen (Rosebud), Karen (Merlesgirl), Mark, Robbie, SusanL, Pam & Mike.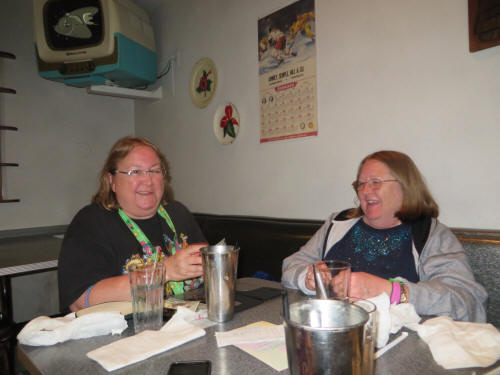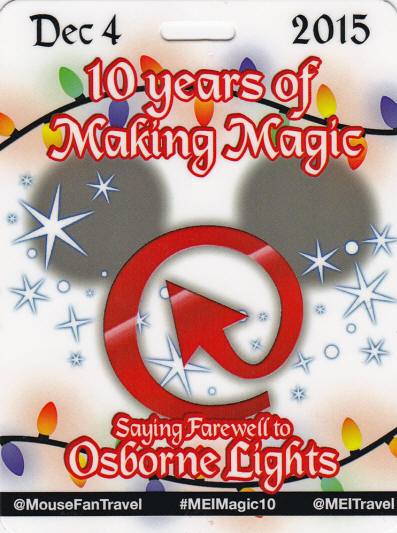 It was after 9:00 when we left 50's Prime Time. The park had closed at 9:00 so we found a park bench and sat for a relaxing half hour while the park emptied out. At about 9:40 we made our way out the exit and headed to the big Christmas tree near the boat dock. That was where we were to meet for our last adventure of the day. Mouse Fan Travel was hosting a special after hours dessert party and our friends Beci, Annette and Brock were waiting for us near the tree. There were 158 invited guests in the group which included long time clients of MFT, key suppliers and business partners and a few Disney cast members who the travel company wanted to thank for exemplary service. Carol and I have been Mouse Fan Travel clients for over 10 years, and so have our Tagrel.com friends Susan (Topaz), Lynne, Kristen & Lizanne who were there as well.
At 10:00 p.m. we donned our special lanyards for the event and Disney cast members led us through an empty park to the deserted and darkened Streets of America. After Mouse Fan Travel founder and owner Beci Mahnken greeted us she and her staff threw the big switch to turn on the lights. Wow! What a thrill! We had the place all to ourselves . . . only 158 people in the same place we had walked through with 10,000 people just a few hours earlier!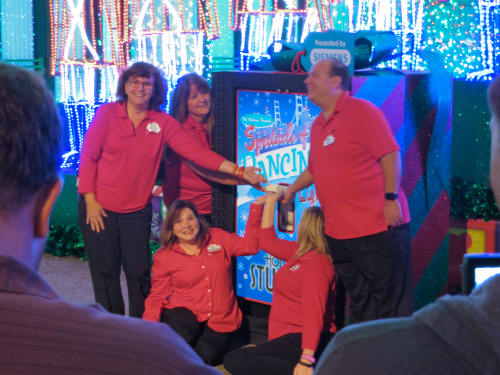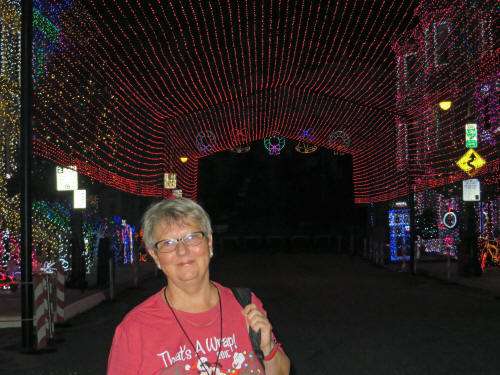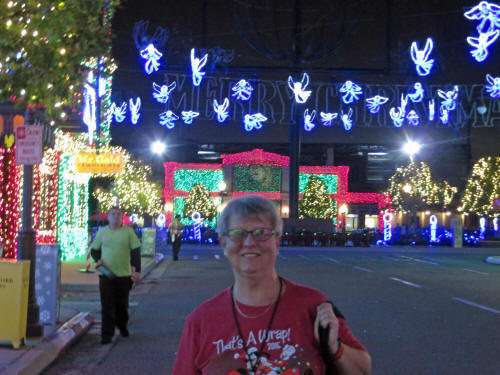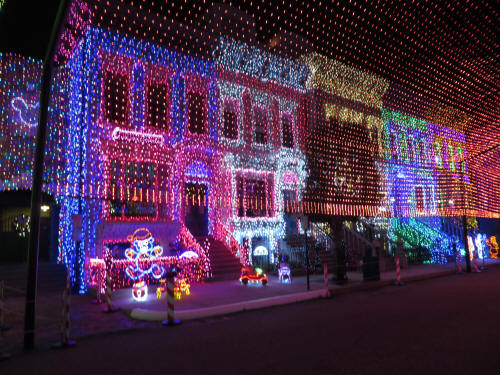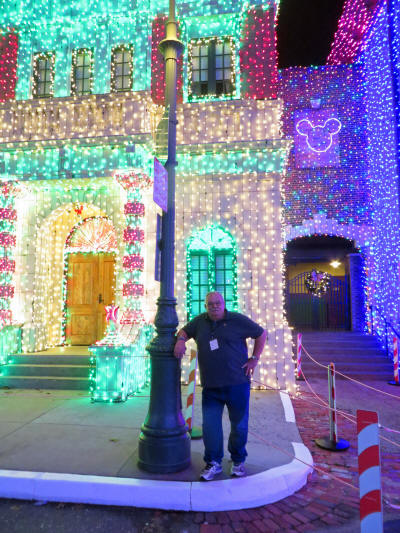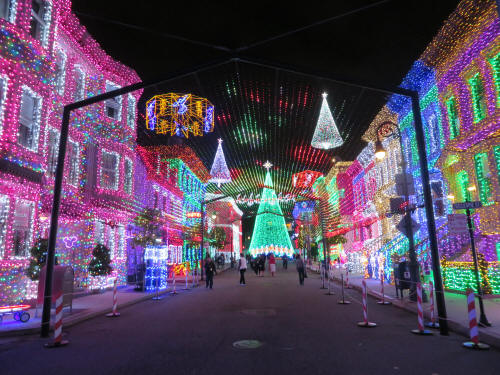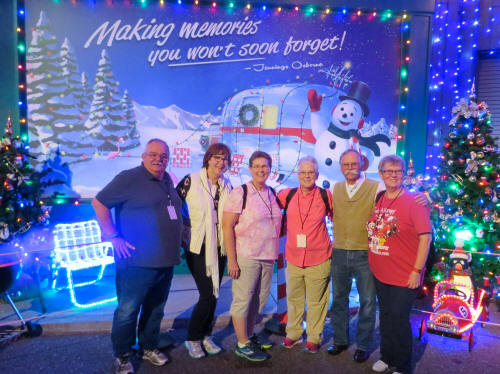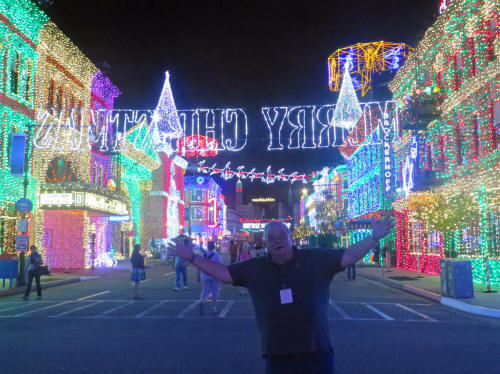 Look Mom, no people!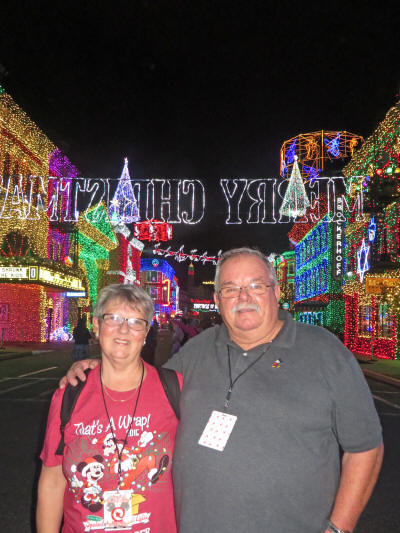 In the town square area, under the big illuminated globe and all the flying angels there were linen draped tables, comfy chairs, hot and cold drinks and a sumptuous array of deserts. Carol sampled "nitro infused" popcorn, the popcorn was topped off with a shot of liquid nitrogen and the bowl wafted out an eerie white mist for several minutes!
It was nice to relax in comfort for a few minutes and enjoy the desserts, but we didn't want to miss such a special opportunity under all those lights so we were soon up wandering up and down the almost empty streets, snapping pictures all the way. It was extra special since this is the last time we'll see the lights in that location. That area of the park is being re-developed and Disney has not decided if the display will be used again. It sure would be a shame if the lights don't return in some other location!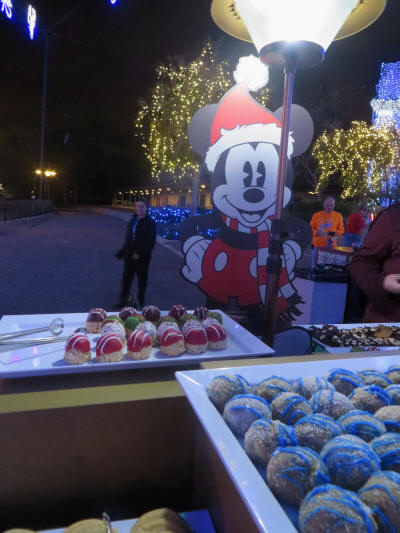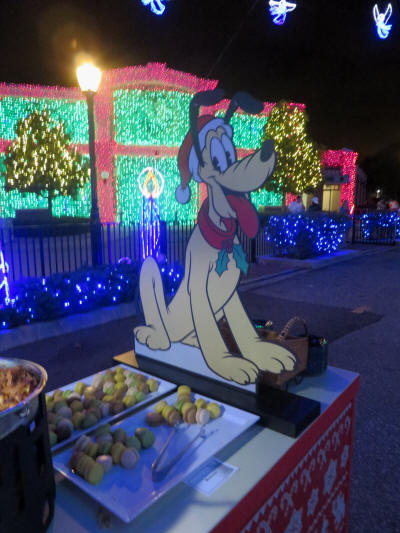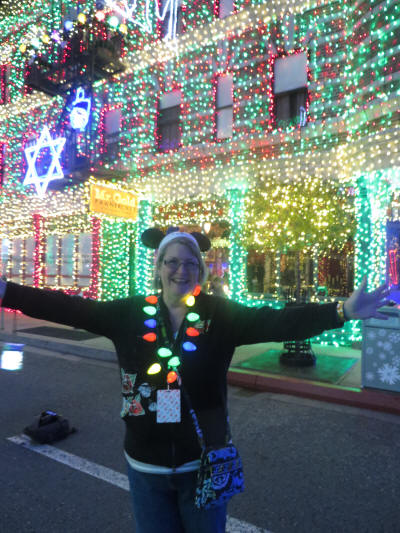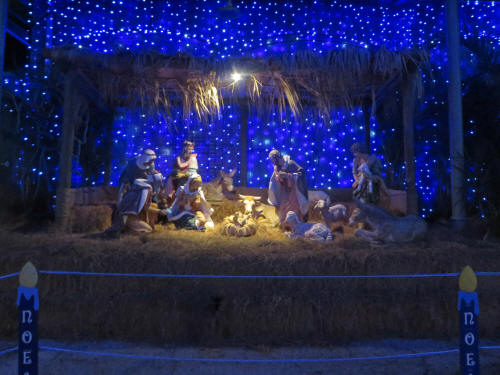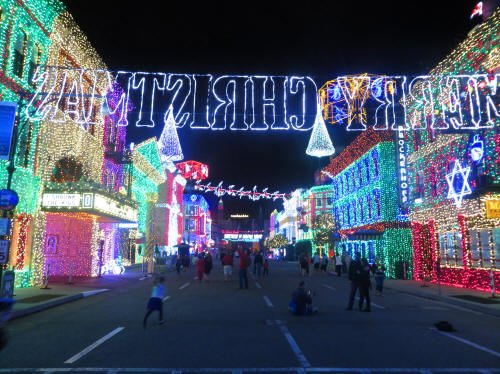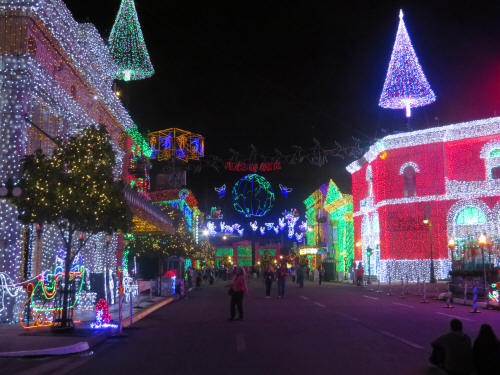 The lights went out at 11:30; we were dog-tired by then so we thanked Beci for a truly amazing evening, said our goodbyes then began our trek home. As we exited the park we spotted our friends from California, Mari May and Raleigh, at exit asking directions. There were no buses running at that late hour and they didn't have a car. Their resort, Saratoga Springs is just around the corner from ours so we gave them a lift home. It was 12:10 when we walked back into our room and crashed for the night!
---
Saturday December 5, 2015
It was another early start, up at 7:00 a.m., with another long day ahead of us!
We were in the Sonata on our way to EPCOT at 8:30 and arrived at the gate at 8:45.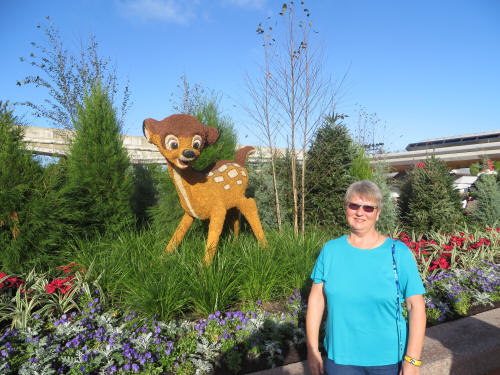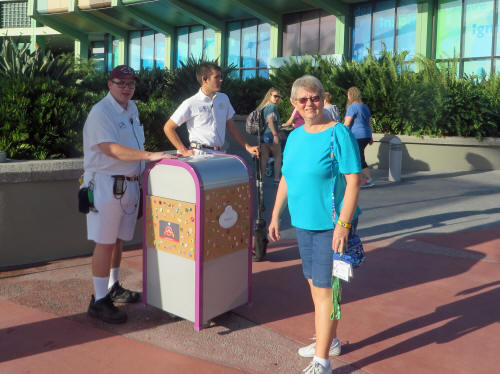 As you probably expected Carol had to stop and check the new pin releases. The pin trash can, Pinnifer, was standing nearby so she stopped for a trade.
We met our Tagrel.com friends at The Land at 9:00 and once everyone was assembled we posed for a group photo before 17 of us stepped into the FastPass line for a ride on Soarin'.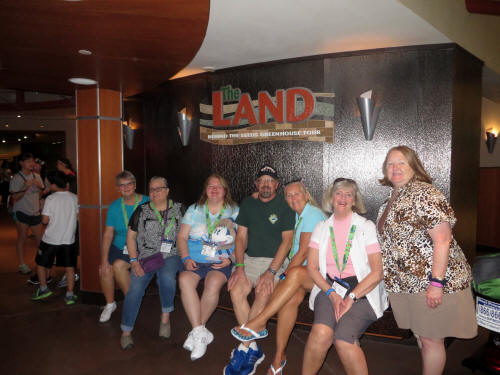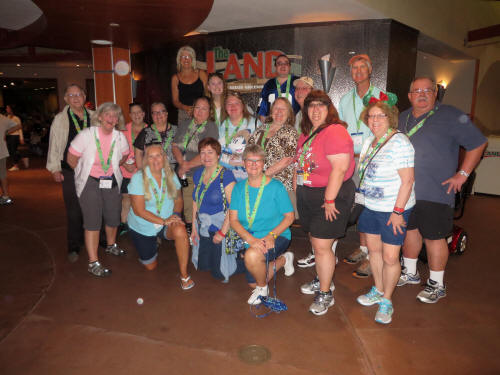 John, Sharon, Mark, Robbie, Karen (Rosebud), Karen (Merlesgirl), Karen (JellyRolls), Marie, Susan (Topaz), Susan (SusanL), Cheri, Naomi, Lizanne, Pam, Mike, Carl and Diane were there!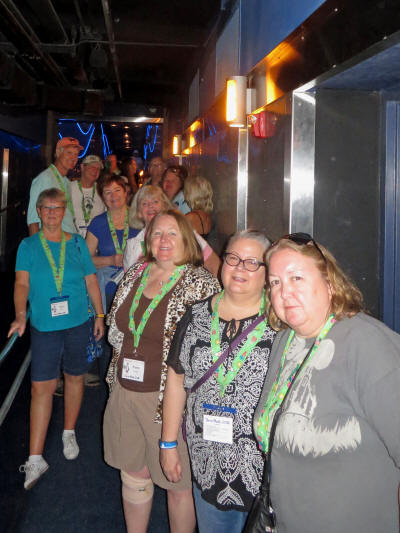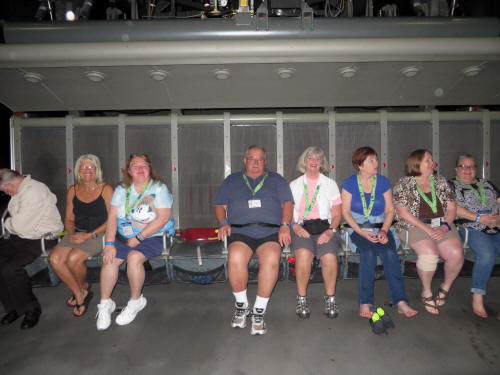 Mike had saved several tables at Sunshine Seasons so we all stopped for coffee and a snack before moving on to Spaceship Earth where 16 of us stepped into the FastPass line and enjoyed a trip back in time.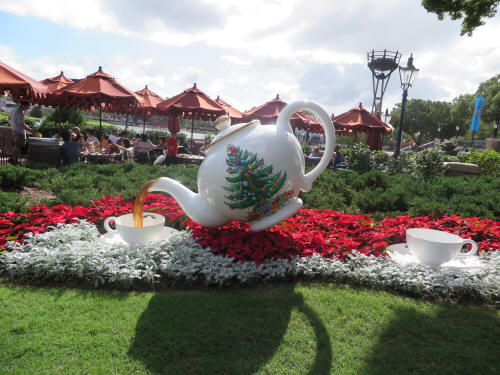 Most of us walked to World Showcase and stopped in France.
While we waited for a few Tagrel friends who were on the way to join us, Carol spotted four ladies wearing some unique, hand-crafted Disney attire. They all wore themed t-shirts, Mickey ears and carried one-of-a-kind Disney purses. Carol asked one of them who created their wonderful stuff. The woman looked at her and said, "Do you blog? Are you Carol?" Wow, what a small world; Lisa from Pittsburgh reads our blogs and we spent a few minutes chatting with her and her three friends. Soon our Tagrel friend Pam joined in the discussion. Pam enjoys sewing and is very good at it; she makes lanyards for our meets, fish extenders for our group cruises, luggage tags, etc. She now has some new ideas to work with! Thanks Lisa, it was nice to meet you!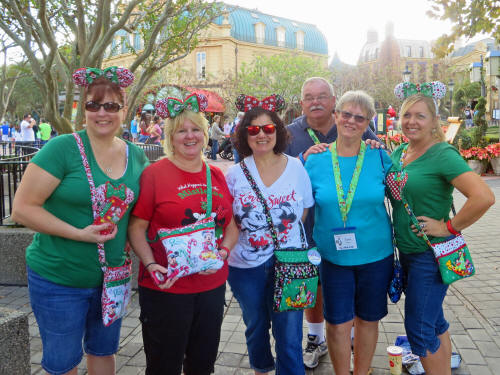 It wasn't long before Mark and Robbie joined us and we wandered off to a quiet corner for a short Celebration of Life. Our Tagrel.com group has lost four people in the last few years. Cheri took us back through some wonderful memories and gave a stirring tribute to our fallen friends.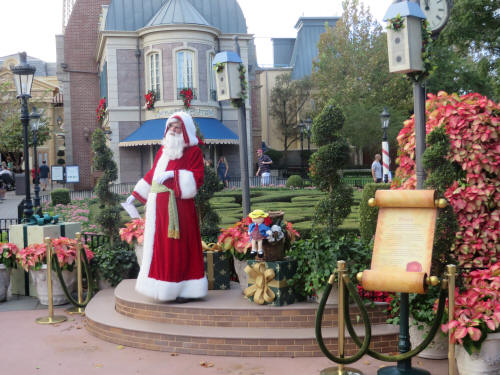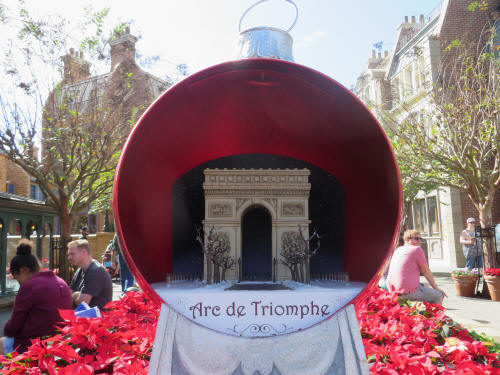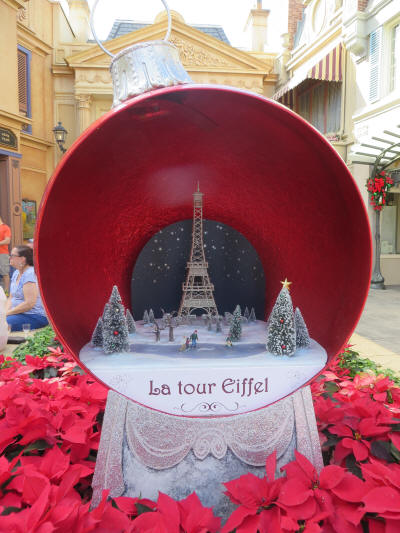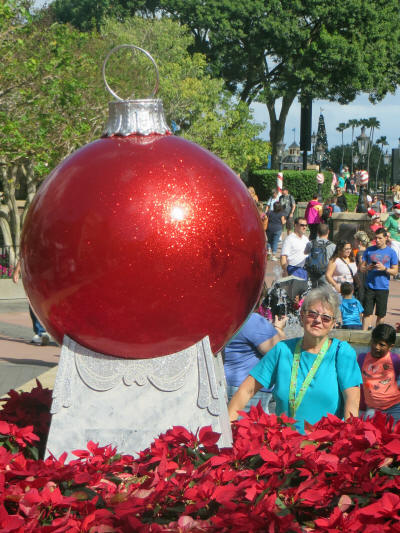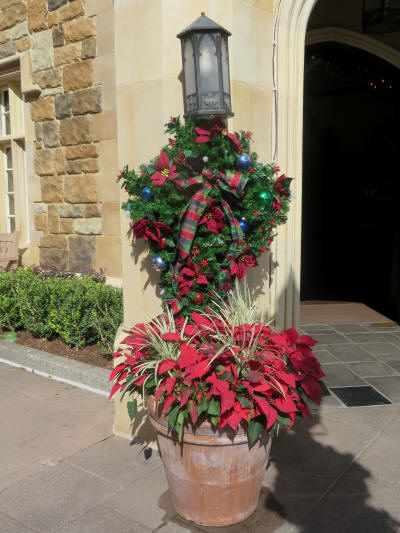 We said goodbye and headed toward the exit.
The new Canadian Holiday Voyageurs were playing as we approached the Canadian Pavilion so we stopped to give a listen. Now that's more like it . . . so much better than those wretched lumberjacks!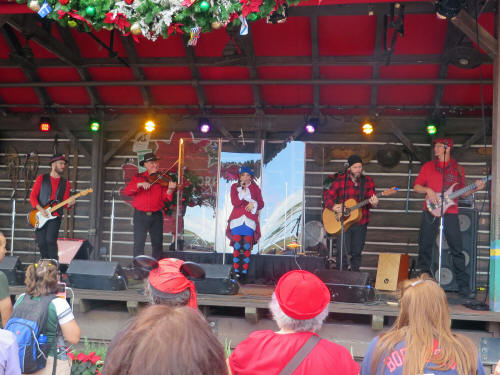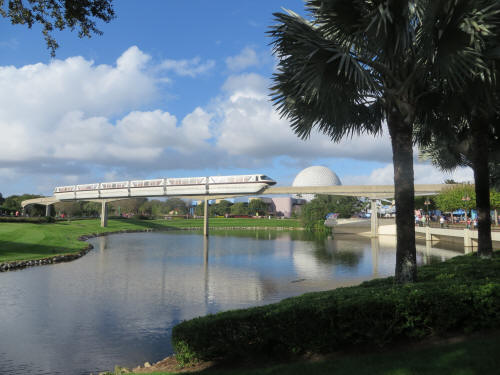 We had a cronut from the Refreshment Port for dessert then followed it with chicken nuggets at the Electric Umbrella. We were back at the resort by 2:00 p.m. and I took another very brief, almost instant nap. By 3:00 we were back in the car making our return trip to EPCOT. It was time for the big gala anniversary celebration.
We caught the Friendship boat from Canada to Morocco at 3:30 and joined the AllEars team at the American Adventure pavilion. Carol and I helped Event Coordinator Melanie and the Mouse Fan Travel team with the check-in process. The 150 guests began arriving just before 4:00 p.m. and by 4:30 everyone was checked in and waiting for our first event, the 5:00 p.m. Candlelight Processional.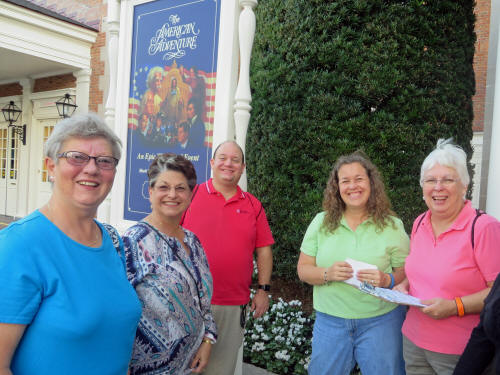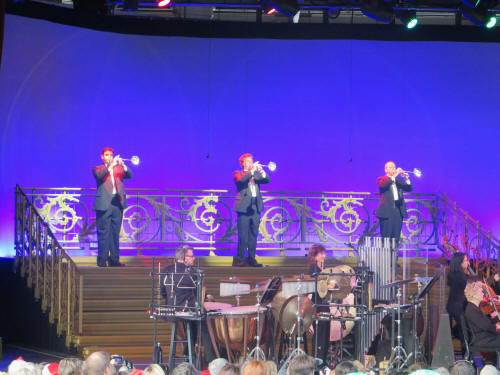 At 4:45 Disney cast members led us to our reserved seating area in the America Gardens Theatre for this wonderfully moving rendition of the Christmas story. Carol and I really enjoy the event; it has become a holiday tradition for us; we always attend the processional when we're at the parks during the Christmas season.
That evening the guest narrator was Whoopi Goldberg and the guest conductor was Dr. Don Sinclair. They both did a terrific job!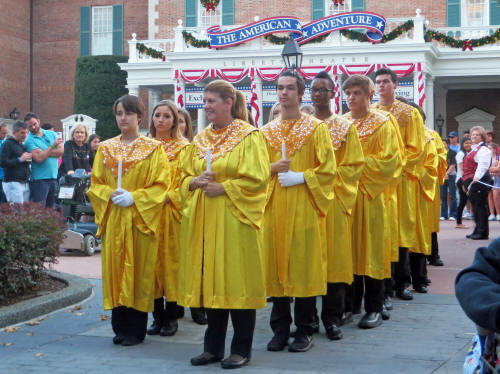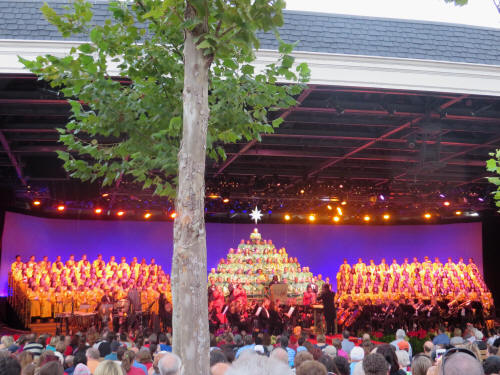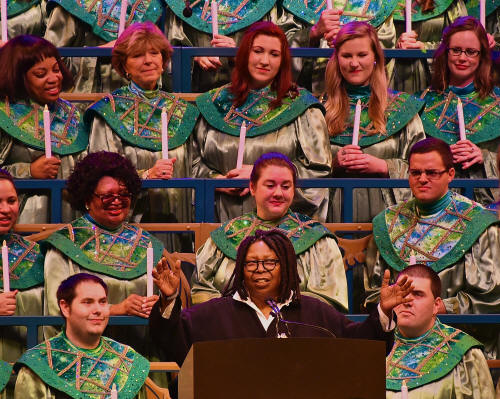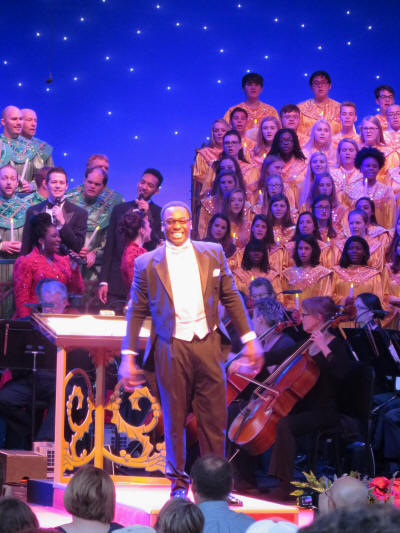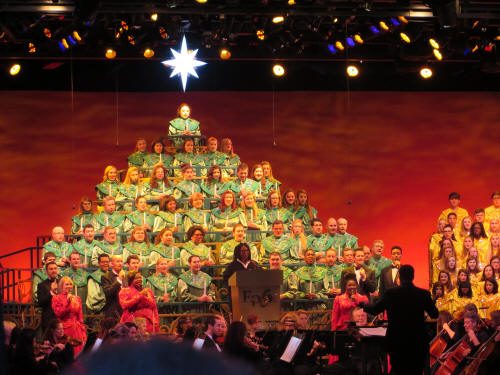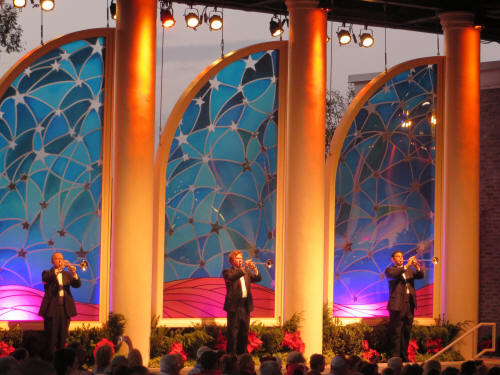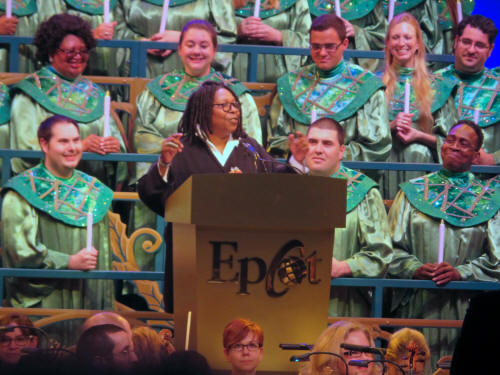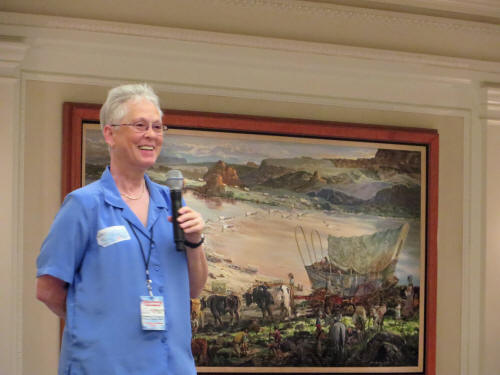 Next on the evening's agenda was dinner in the magnificent rotunda at the American Adventure. They had closed the rotunda and redirected people wishing to watch the show through an alternate entrance. At 6:40 we were led into the hall to find it lavishly set up for our dinner. There were two buffet tables, one at each end of the hall, and we savoured the delicious fare. It was several levels above normal buffet fare, the salmon, chicken and beef were outstanding!
We were still enjoying our dinner at 7:25 when the Voices of Liberty, a professional singing group who perform daily in the rotunda, arrived to give us a private concert. They were dressed in Victorian era Christmas attire and sang a number of Christmas carols and songs in perfect a cappella harmony. What an awesome treat!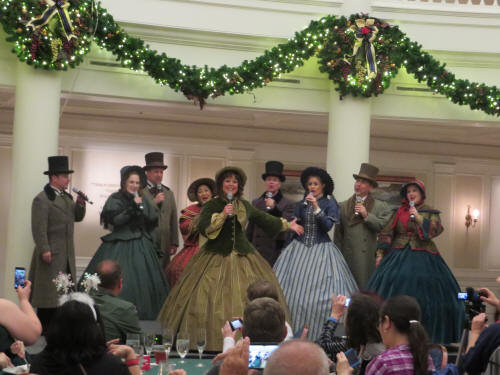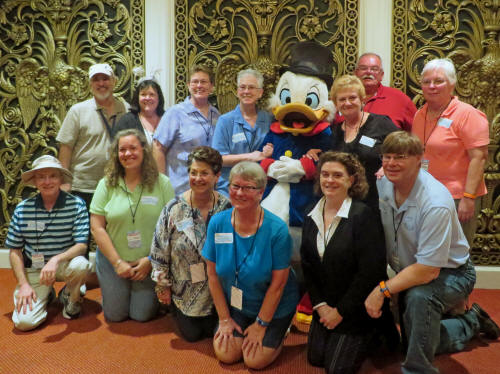 The AllEars Team
As soon as the Voices of Liberty left the rotunda another special guest arrived. Scrooge McDuck joined us and stayed over an hour posing for pictures with all the guests. Scrooge is a character you seldom see in the parks so it was extra special to get a picture with him.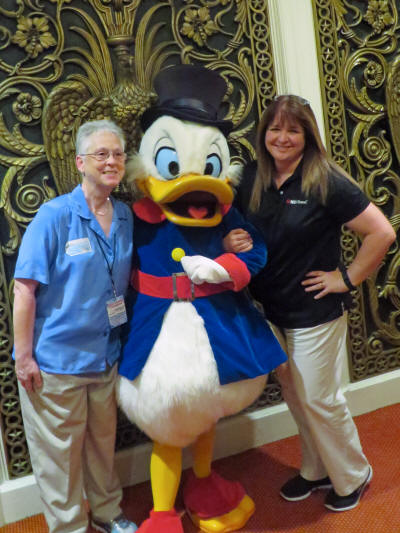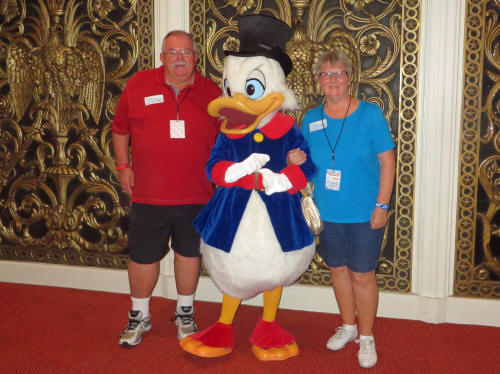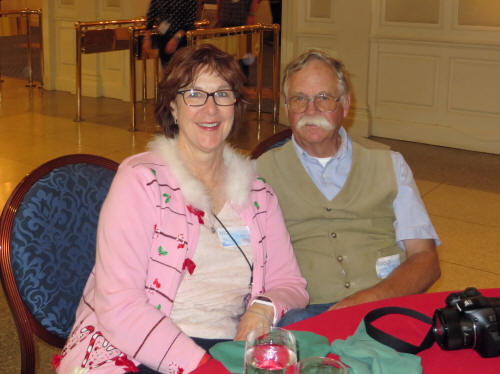 At 8:45 Disney cast members had us line up and follow the big red flashlight beacons as they led us through the crowds waiting for the nightly Illuminations fireworks spectacular. All 150 of us paraded behind the guides from the American Adventure to our reserved viewing area just past Mexico, near the Port of Entry and the Friendship boat dock. Comfy chairs, linen covered tables and a very nice dessert buffet awaited us. We sat, sipped coffee and enjoyed drinks and a nice variety of sweets, cheese and crackers and fresh fruit with whipped cream as we watched Disney's largest pyrotechnic display. To be honest, Illuminations is not our favourite fireworks show, but this was a wonderful way to watch it!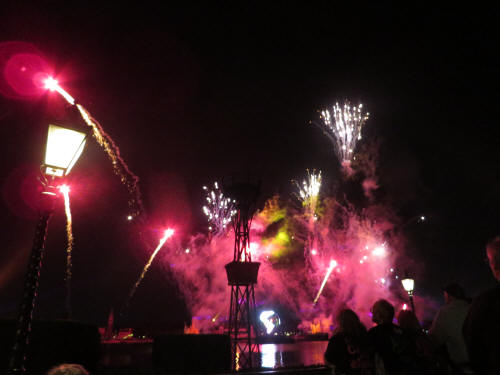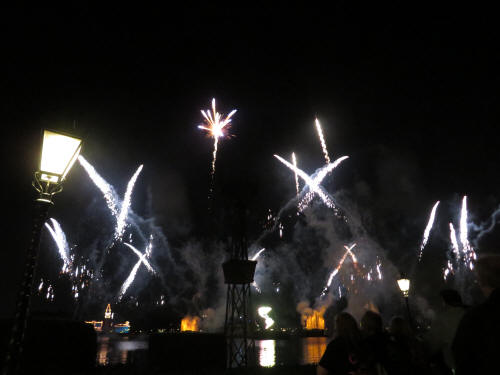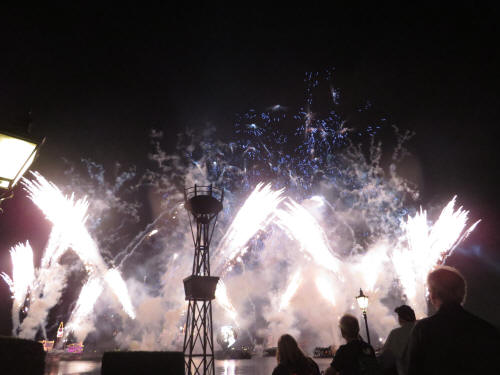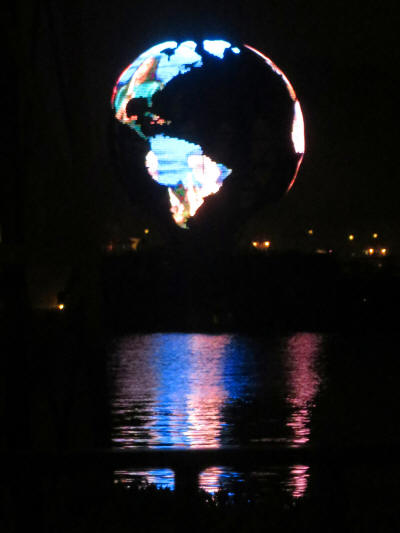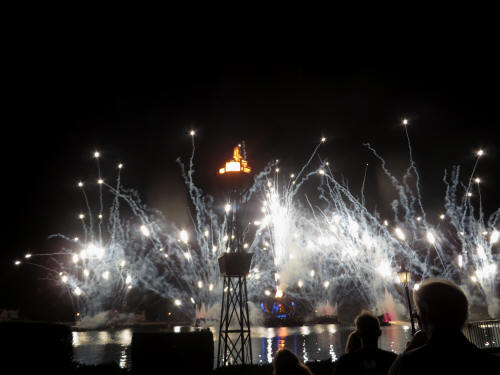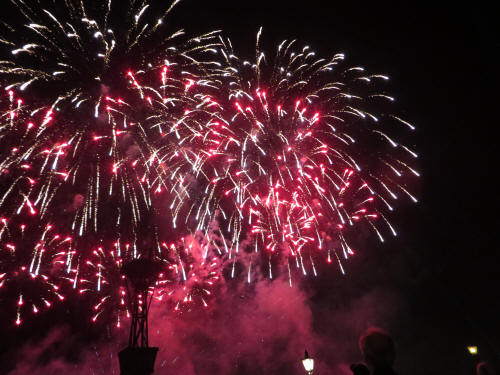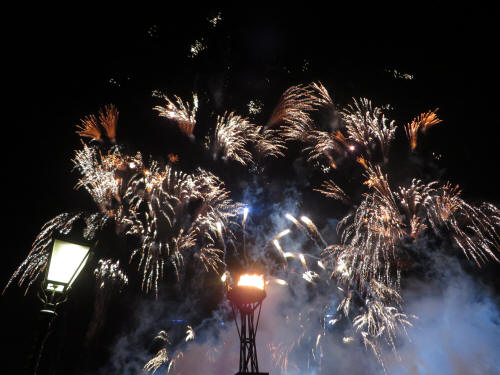 The park was officially closed when Illuminations concluded. We sat for another 20 minutes, enjoying the buffet, while guests exited the park. Once the crowd had thinned our Disney guides arrived once more and led us all to Future World.
We walked up the ramp into The Land pavilion and were treated to a private ride on Soarin'.
What a great way to wrap up a fabulous day!
Once again we drove Mari May and Raleigh home to Saratoga Springs, got back to our resort just after 11:00. We were exhausted and crashed almost instantly!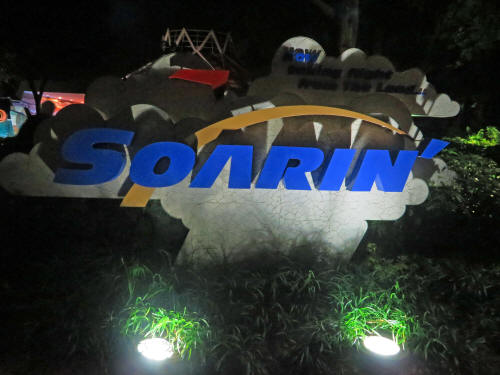 ---
Sunday December 6, 2015
We were up at 7:00 and on the road by 8:00.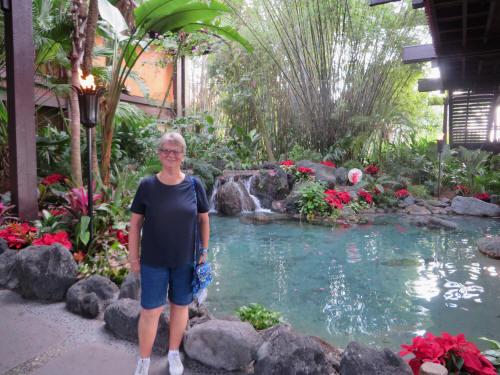 We drove to the Polynesian Village Resort to have breakfast at Captain Cook's.
The lobby décor was fabulous so we stopped to admire the tropical Christmas tree. It was filled with orchids, hibiscus, bird of paradise and many other exotic tropical flowers. Very nice!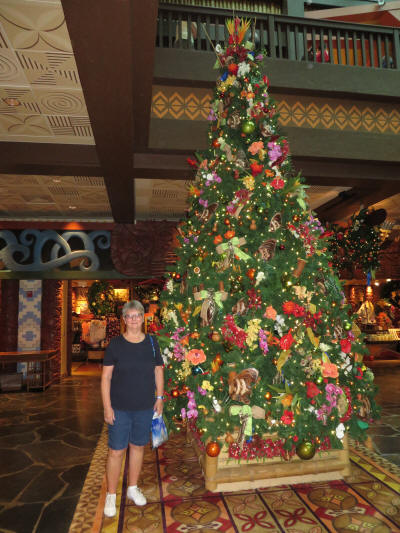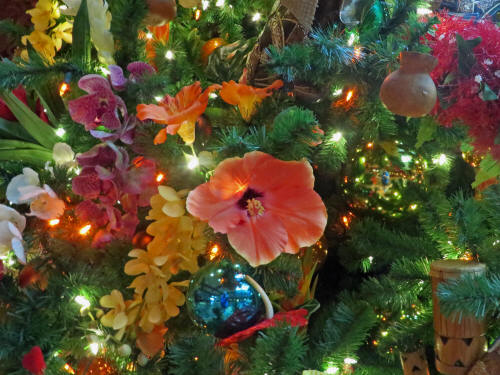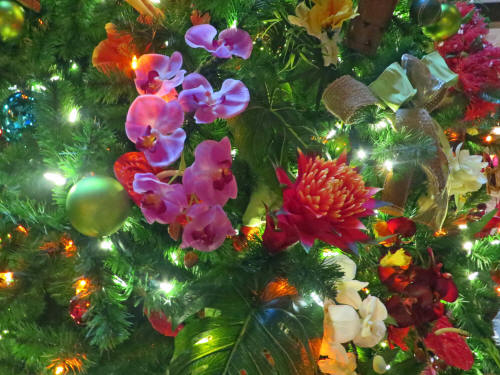 At Captain Cook's I lined up to order our food while Carol went off to pick up utensils, napkins, etc. She came back with a long face, "I can't believe it," she said. "There were no forks and no napkins. I asked one of the cast members for help and they came back with a box of forks but told me they couldn't find napkins. We would have to do without!" What? Definitely not the kind of service you expect in a deluxe resort where the cheapest rooms cost $429 per night! That's a definite faux pas, but it's symptomatic of the recent decline in service at Walt Disney World. I went to the condiments table and found some soggy napkins under a jug of cold water. They had absorbed some condensation, but they were better than nothing!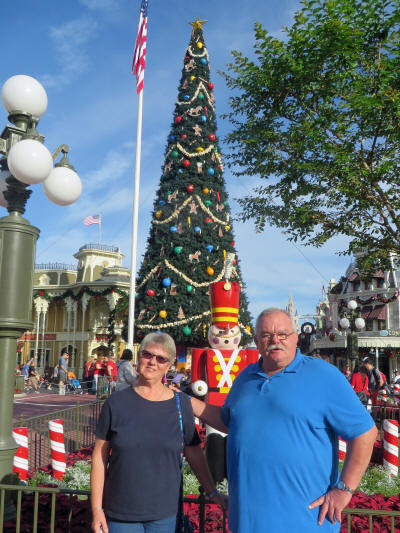 We hopped aboard the monorail at the Polynesian Village station and arrived at the Magic Kingdom at 9:05 a.m.
We slowly browsed our way through the Main Street shops and checked in with our AllEars friends at Tomorrowland Terrace by 9:30.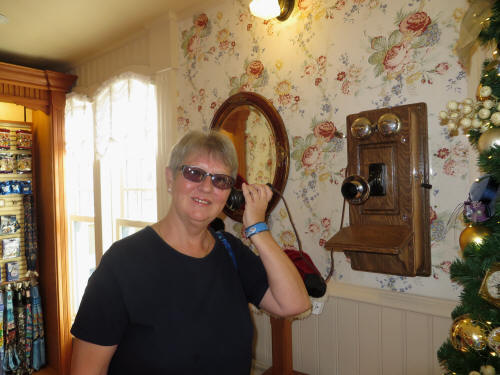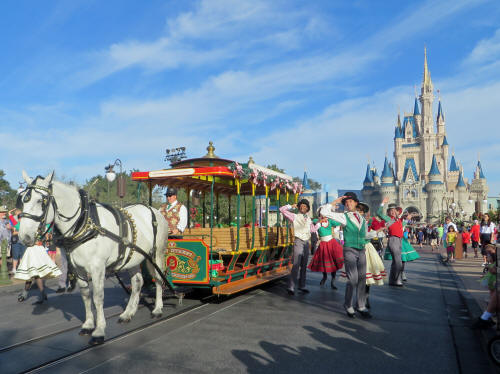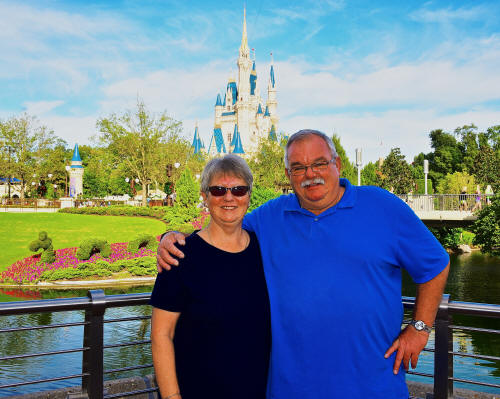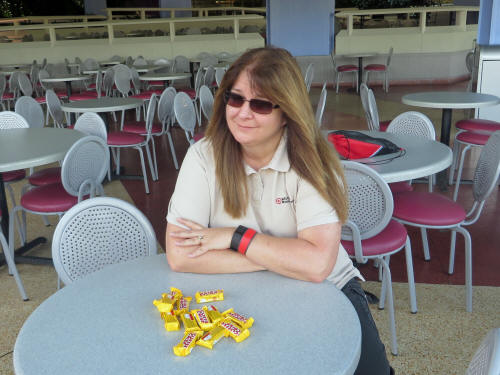 The entire AllEars team were there for a "Meet & Greet" session from 10:00 to 11:30. We mixed and mingled with AllEars fans from far and wide who came to say hello. Guests were delighted to meet AllEars founder Deb Wills, "Mister Hidden Mickey" Steve Barrett, and a number of AllEars bloggers. It was a great session, Carol passed out the special AllEars trading card produced for the event and others passed out pens and a variety of swag as we mingled and spoke with AllEars fans from all across North America. It was a nice relaxing time with old friends and new acquaintances.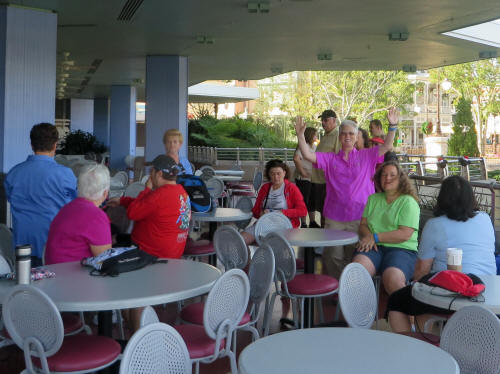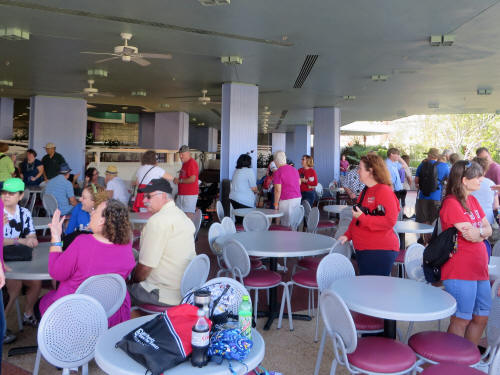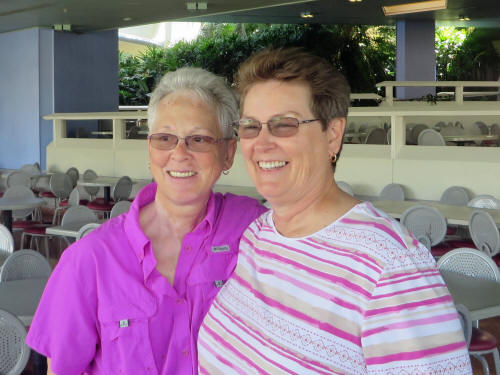 The crowd had thinned by 11:45 so Carol and I said goodbye to the AllEars team and scurried off to the Seven Dwarfs Mine Train where we had a FastPass. It's the newest attraction at Walt Disney World and the standby line was over an hour long. Sure glad we had those passes!
After our high speed trip through the mine we walked over to Liberty Square to checked in for lunch at Liberty Tree Tavern. Carol had a few minutes to browse the nearby pin store while I waited near the restaurant. We were seated by 1:00 p.m. and had a nice lunch.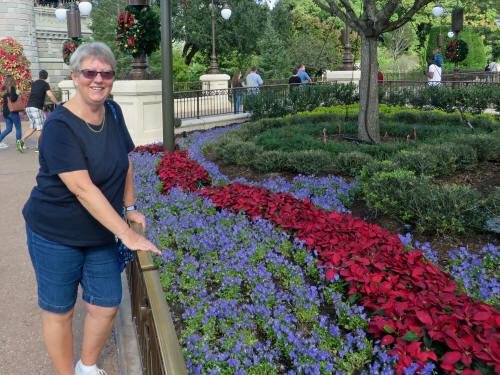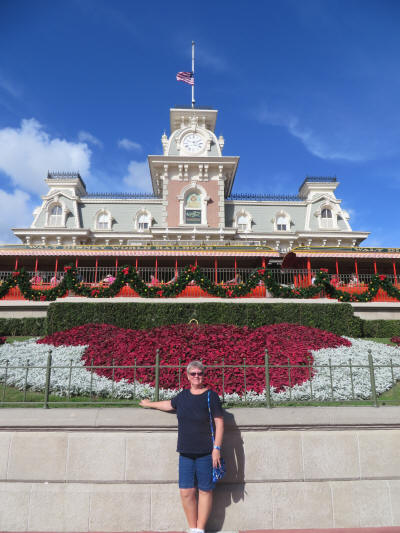 Our time at Disney was coming to an end, this was the last time we'd spend in a park until our next trip in April, so we moved slowly on our way toward the exit, savouring the atmosphere before boarding the monorail for our return trip to the Polynesian where the car was parked.
We made a quick stop at the Contemporary Resort to check out the gingerbread house in the lobby and got back to the French Quarter at 3:00 p.m. I relaxed and enjoyed a full length nap; Carol packed our suitcase and had a shorter nap.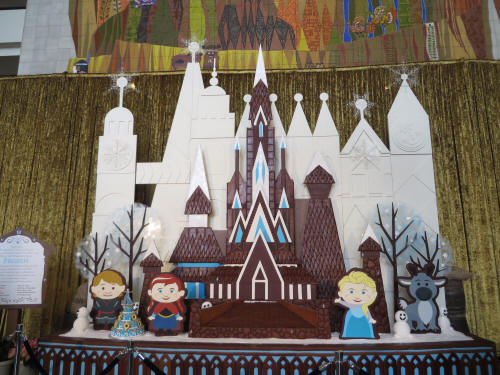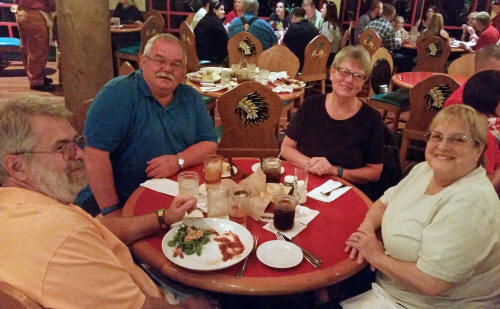 At 5:15 we left again, this time it was a short drive to the Wilderness Lodge Resort where we met friends and fellow Fort Wilderness campers Al and Jane, from Missouri, for dinner at Whispering Canyon Café. They had just checked in at the campground that afternoon and will be staying until about April. It was sometimes difficult to have a conversation over the raucous background noise in that always rowdy restaurant, but we had a very nice visit over dinner.
Al and I settled in some comfy chairs in the lobby while the girls checked out the shops, then we said goodbye and headed back home. We were back at our resort by 9:00.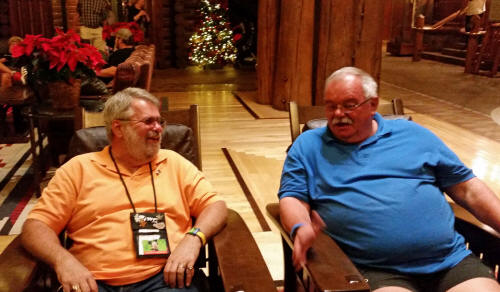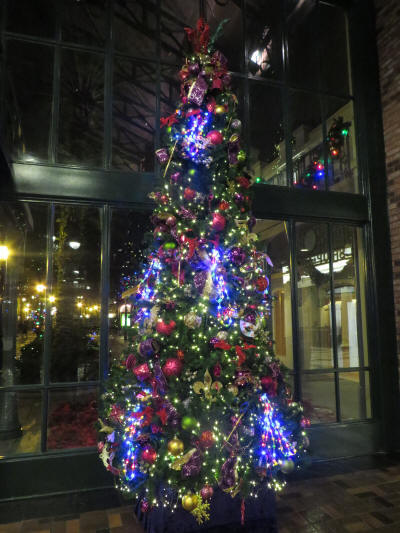 I dropped Carol off at the lobby; she needed just a teensy bit more retail therapy at the Jackson Square shop. She snapped a few more pictures of the Christmas décor before joining me in the room.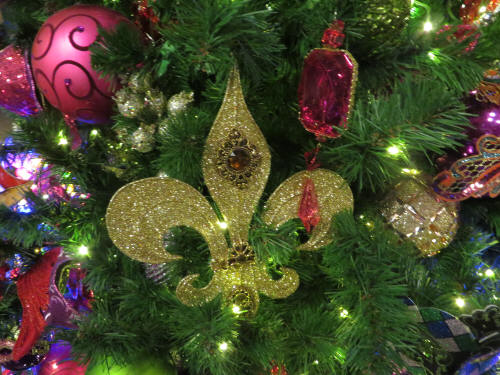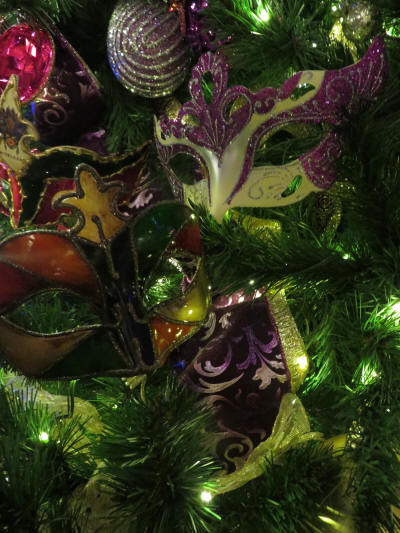 We watched a bit of TV and went to bed early since we had an early start the next day!
---