Monday July 12, 2010
Our plan was to leave for Cape Cod Tuesday morning. We picked the RV up today and started packing for our trip at about 10:45 this morning. We're getting this down to a science; packing doesn't take too long any more. We were pretty much finished by lunch time. After lunch Carol went off to do a little last minute shopping, leaving me home alone. This is always dangerous. There's no telling what I'll do with too much time on my hands.
By the time she got back I had found a campground for this evening. She agreed to leave early (Wow . . . didn't expect that!) so we rushed around doing a few last minute things, loaded up the dogs, and were on the road by 4:30.
Our border crossing at the Thousand Island Bridge was smooth and quick. We didn't mention Danny Johnson and they didn't bring him up either!
We drove non-stop to Cicero NY , a suburb of Syracuse , where we stopped for a quick bite to eat and then carried on eastbound on I-90 to our campground, The Villages at Turning Stone. We pulled in at 8:00 p.m. It's right beside the Native Casino just outside Rome , NY . It's quite nice; we may have to come back here for a few days sometime.
Tomorrow we'll be back on the road again, eastbound on I-90. Our next stop is Sturbridge , MA tomorrow night, then we're off to Bourne MA where we'll stay for six nights while we soak up some of what the Cape Cod area has to offer.
Then we plan a short hop over to a campground at Salisbury Beach , MA where we'll spend six days exploring the coast and visiting nearby Salem where Carol hopes to get in touch with her inner witch!
Now it's time for bed!
---
Tuesday July 13, 2010
Since we had gained over two and a half hours by leaving on Monday we decided we could waste a bit of time and sleep in this morning. All was going according to plan until Carol kicked me out of bed at 6:50 a.m. Poor little Zoë had to tinkle and suddenly it was my responsibility! So I took "my little dear" out to do her business, then I came in and banged and clattered a few coffee cups around . . . all for the benefit of "my big dear". My plan worked, Carol was up in little more than an hour.
I wandered down to the comfort station for a shower and by the time I returned she was sitting outside with the dogs. Since we had seen little of the campground last night we took the dogs for a nice walk around the grounds. It's quite a pretty place, plenty of small lakes, lots of flowers and it's laced with walking and biking paths. The only drawback is the Canada Geese. There are hundreds of them and they leave a mess everywhere.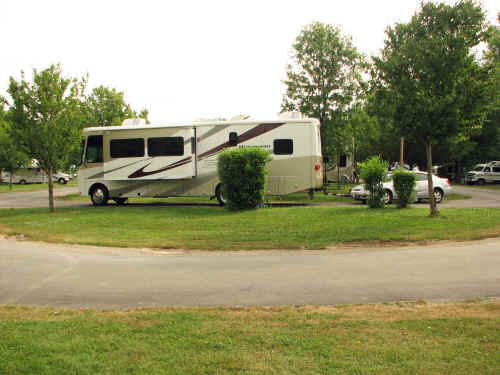 Our campsite at Turning Stone, Rome NY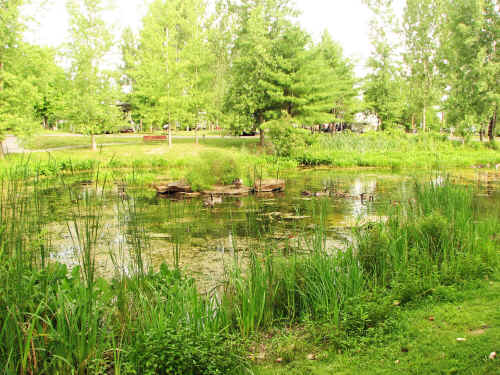 A pretty spot - with lots of geese!
So with all of yesterday's time gain fully wasted, we hit the road about 9:15. It was a nice ride running along between the Adirondacks and the Catskills. In some areas it reminded me of Northern Ontario – nothing but rocks, hills and trees! For a good part of the day we ran alongside the Erie Canal and saw plenty of pleasure boats enjoying the historic old waterway. We made a couple of rest area stops along the way and had a quick bite at Rotten Ronnie's in a Service Centre shortly after crossing over into Massachusetts .
We pulled into the Yogi Bear campground at Sturbridge , MA at about 2:15 By 2:45 we were all hooked up and settled for the evening. After a short walk with the dogs Carol and I both laid down for a nap. Sleep wouldn't come for me so while Zoë and Carol snored I went for a walk and explored the campground. I checked out the pool, the lake and the beach and then played on the computer for a while. When Carol got up we hopped in the car and set out to explore the Sturbridge area.
Just a few miles down the road is the town of Brimfield , where the biggest flea market/antique sale we have ever seen was just kicking off. There must have been thousands of vendors! Tents were set up on every available square inch of empty land in the town. The sale began today and runs all weekend. Traffic in the town is already at a standstill – what will the weekend be like? Ouch!
On our way back to the campground we stopped at a nice family restaurant, Romaldo's in Fiskdale, and had a nice Italian dinner. While we ate the rain started and by the time we were finished it was pouring.
I hooked the car back up and Carol fed Zak and Zoë. Then we quickly took them out between showers. The rain is supposed last all night so it will be TV and bed once again!
Tomorrow is a short driving day, only 100 miles to our campground at Bourne, MA where we will stay for about 6 nights!
---
Wednesday July 14, 2010
It rained all night, often raining quite hard, but it stopped at about 6:00 a.m. When you are in an RV you are well aware of the rain. The ceiling is not far away and there is no attic. You hear every drop hit the roof! Fortunately there is no mist that comes with the raindrops, as there often is when you're stuck in a leaky tent! We were dry and toasty warm!
We had a short drive planned today, but we were anxious to get to Bourne and get set up and settled for our week at Cape Cod . That meant we were both up and rolling by 7:00 a.m. After a pot of coffee we packed up the RV and battened everything down. By 8:35 we were back on I-90 heading east.
We pulled into Bay View Campground at 10:15, well before the 2:00 check-in time. A site was available and we gladly paid the extra ½ day rental to be able to get set up right away. We unhooked the car at the gate and Carol drove it back ahead of me, then directed as I backed the RV into our site. By noon we were all hooked up, awning out, outdoor carpets in place and we were in the pool cooling off. It is hot and steamy here, so the pool felt great. The campground is quite nice there is a snack bar (hot dogs, hamburgers, fish & chips) beside the pool, an ice cream parlor, and a small grocery store as well. I think we're going to like it here!
After our swim we took Zak and Zoë for a walk. Zoë chased a squirrel so she has decided that she likes it here too! We hopped in the car and went in search of lunch. We headed down Route 28 toward Falmouth and soon found ourselves at Seafood Sam's in Falmouth . It was quite good, we each started with a cup of clam chowder (Yum!) and Carol had haddock while I enjoyed clam strips.
After lunch we carried on, thinking we were heading into downtown Falmouth . My keen sense of navigation somehow took us to Woods Hole.

Not what we had planned, but what a pretty drive. It was such a dull and overcast day that we didn't take any pictures, but we saw some amazing properties along the way. We passed the Woods Hole Oceanographic Institute and were soon overlooking the Steamship Authority docks where the ferries to Martha's Vineyard load.
We turned around and made our way back to the corner where I took the wrong turn. Soon we were stuck in traffic as we detoured around the area of downtown Falmouth which was closed for a craft show. We skipped the craft show and carried on to a pet store where we picked up some special treats for the dogs. Next door was the Christmas Tree Shop so we had to stop so Carol could pick up a few trinkets! Our last stop was a grocery store for some basic staples.
By 4:15 we were back in the campground and we both laid down for a short nap. The rain came back with a vengeance! Carol said the road sloping past the front of our campsite was a river for about a half hour. (I was still snoozing!) Soon the rain quit and the dogs let us know that they wanted to head out for another walk. We explored the dog walk area just down the hill from us. Zoë was aggressively looking for squirrels, but no luck this time.
About 6:30 we hopped in the car and headed to nearby Monument Beach for dinner at the Lobster Trap. It wasn't quite what we expected, but we had a nice dinner. We had sort of expected a Red Lobster style restaurant. It turned out that you walk up to a counter and order your dinner, pay for it and then go find a table in the seating area. They call your number and you pick up your dinner on a tray. We were disappointed that it wasn't a table-service restaurant, but the food was not disappointing. The chowder was wonderful and the entrees were quite good. Carol had breaded scrod and I had breaded scallops.
After dinner we followed the shore road back north to Bourne and arrived back at our campsite by 8:00. It's still raining (and SYTYCD is on TV) so we've settled in for the evening.
Tomorrow morning we plan to hop in the car and drive directly to Provincetown , at the very tip of Cape Cod and then slowly make our way back, exploring any nook or cranny that calls out to us!

---
Thursday July 15, 2010
This morning we took it slow and easy. After a pot of coffee and a long walk for the dogs we hopped in the car and headed off to find adventure. By 9:30 we were on Route 6 headed toward Provincetown . We had decided to go there non-stop and then putter off on side trails on our way home. We more or less stuck to the plan. Our one digression was at Nauset Light Beach . We just had to see a beach, so we left the highway and ventured to the shore. Unfortunately the parking lot was full by the time we arrived, so a quick glimpse was all we had. Soon we were back on the highway on the way to Provincetown .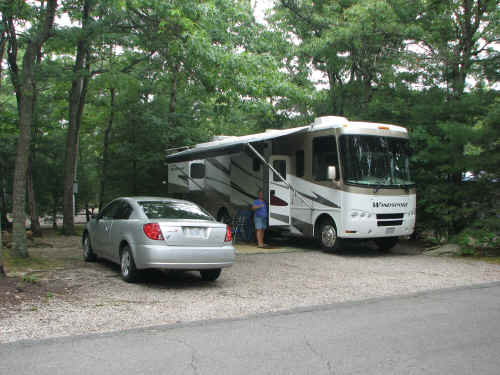 Along the way we passed some magnificent salt marshes, plenty of seafood restaurants, acres and acres of sand, dunes, shorebirds and so many houses, churches and other building clad in weathered grey shingles. Even under mostly cloudy skies it was a pretty drive!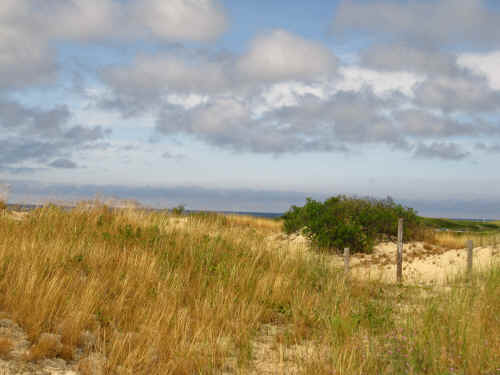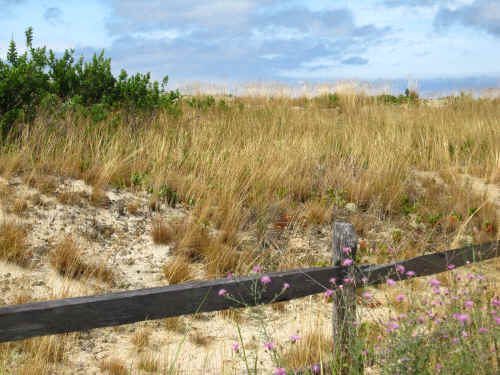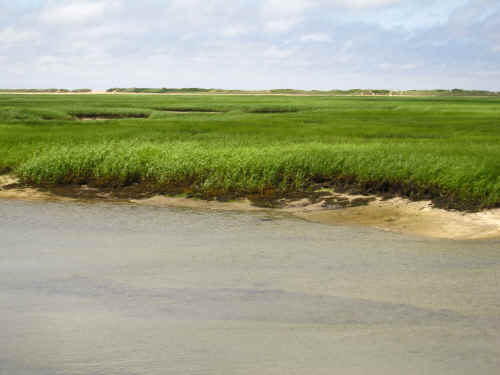 We pulled into Provincetown at 11:15 and took a quick drive around Land's End before heading to the harbour and beach area.
We parked just a few blocks from the harbour and walked several blocks of the tourist district, visiting the shops and checking out the restaurants. We decided to have something light from several different places in order to try several of them. We started by sharing a Tuna Melt and an order of Fried Dough from John's. The fried dough was similar to the Beaver Tails we buy in Canada , but it was somewhat drier and the texture was a bit "tougher". We'll stick with our Beaver Tails!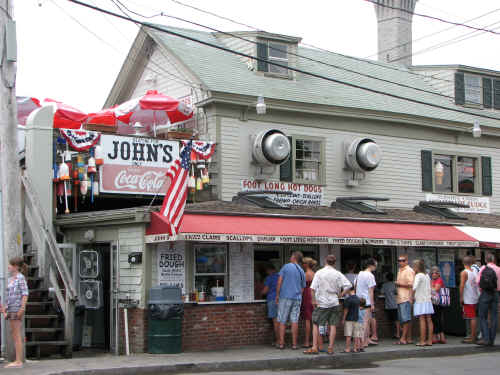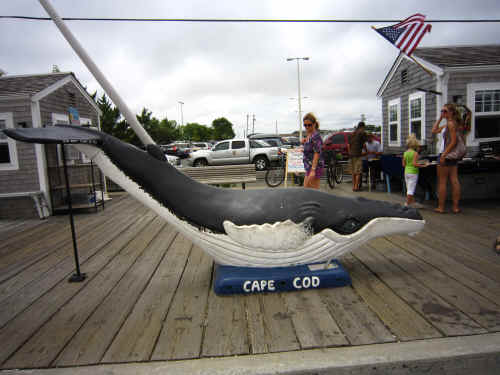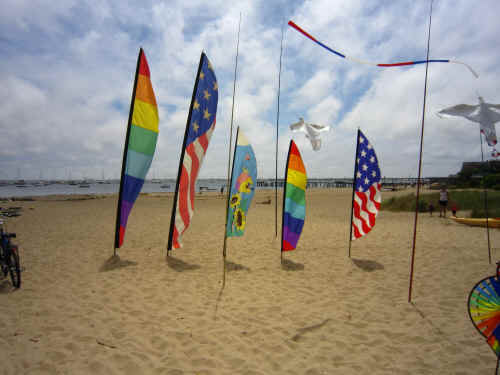 We wandered through a few more shops and Carol picked up a few T-shirts at Cuffy's before we headed off toward the beach, the ferry docks and the pier where the whale watching cruises depart.
Suddenly it was time to go! The dogs would be waiting impatiently. Of course we stopped for an ice cream cone on our way back to the car and left Ptown at about 1:30. We were back to the campground at about 3:30 and took Zak and Zoë out for a long walk around the campground. We rested for a while and fed the dogs before heading a few miles down the road to Sandwich for dinner. It was too overcast and dark for any good pictures, but Sandwich is just amazing. It is a quaint old village, filled with historical old buildings and some breathtaking landscaping. We just have to go back on a bright sunny day and walk those streets while we get some pictures. It is a gorgeous colonial village!
We had dinner at Aqua Grille, a very nice seafood restaurant nestled between the Sandwich Marina and the Coast Guard Station. We both had a cup of clam chowder and then Carol had shrimp while I had scallops. It was all great, but we agreed that the chowder at The Lobster Trap is still our favourite.
After dinner we drove to the Sandwich beach, dunes and boardwalk. It was too dark to explore the beach and the salt marsh but we sure hope to get back there before we leave.
Carol just had to make a quick stop at the Christmas Tree Shop on our way back to the campground. Then we settled in for the night.
Tomorrow we will head out for a day at Hyannis .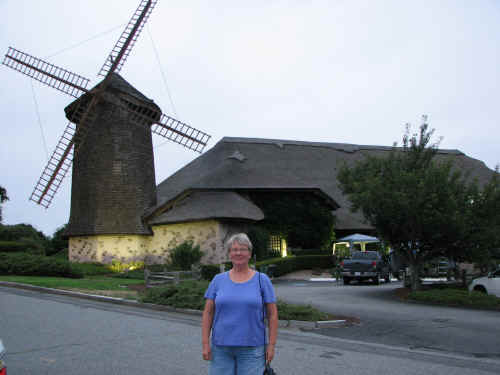 ---
Friday July 16, 2010
We had another slow start this morning but we were on the road to Hyannis by 9:15. As we entered the village Carol spotted a unique Christmas Tree Shop so we stopped for a few minutes.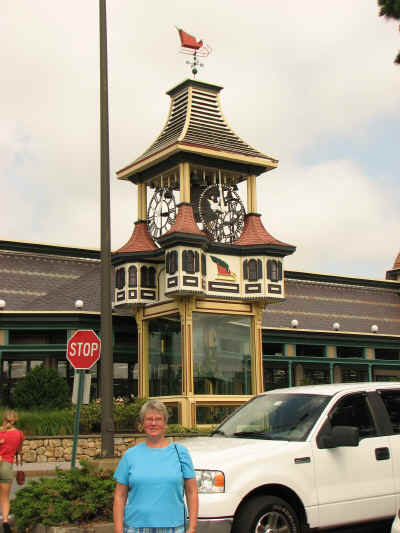 Then we were off to the waterfront. There was Spanky's Clam Shack . . . and across the road was Four Seas Ice Cream! Wow, what a place . . . a busy harbour, a bustling Main Street , quaint Cape Cod architecture. It's really very pretty!
We picked up a map at the Tourist Information Office and then drove a few miles to the JFK Memorial on Lewis Bay , beside Veteran's Beach.
After a short stay at the Memorial Park we drove back to central Hyannis and parked at the train station where we boarded the free shuttle bus and took a round trip tour of the town. It was a 30 minute ride which took us through the downtown area, past the ferry docks, all around the harbour and out to the JFK Memorial.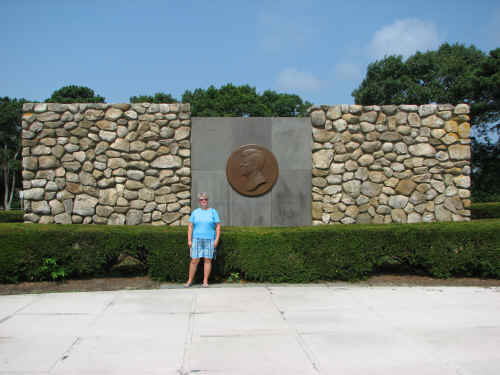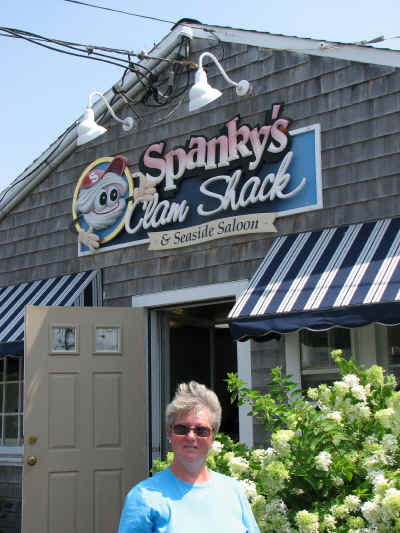 By the time we finished the tour it was lunch time so we drove down to the harbour and pulled in to Spanky's. Yes, it was good – the clam chowder at Spanky's bumped the Lobster Trap into second place! The food was very good, but the chowder was awesome!
We spent the rest of the afternoon in a leisurely drive westward along the shore toward Falmouth . Along the way we stopped at Centreville for Four Seas Ice Cream. Yum!
This part of the Cape is gorgeous. We followed many narrow roads to dead ends at pretty little beaches and saw some simply amazing properties. I think we turned around at a back entrance to the Kennedy family compound.
I have decided that if I am reborn I would like to come back as a cedar shingle distributor with an exclusive contract for Cape Cod . Almost all the buildings here are clad in cedar shingles. Walls and roofs! I could make a killing!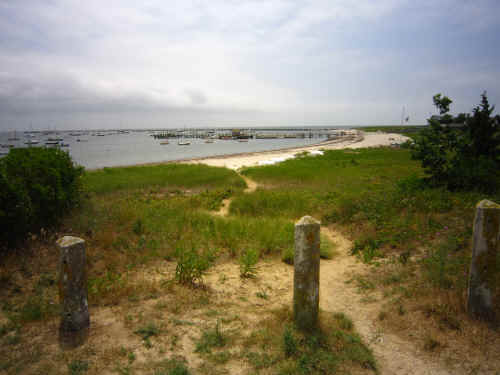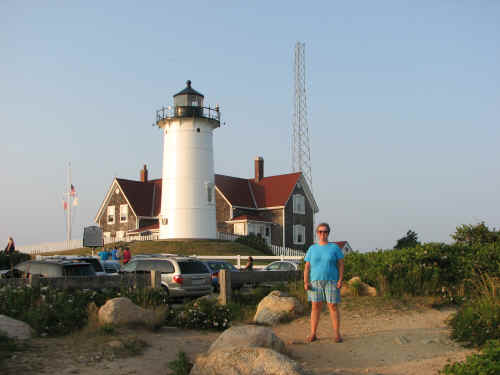 We got back to the RV at 2:30 and took the dogs for a walk before heading to the pool for a cooling soak. We enjoyed a restful afternoon at the campground and at about 6:30 left for some more exploring.
We had found Woods Hole by accident a few days ago but we didn't spend any time there. We drove back that way and took a detour to the Nobska Lighthouse on the way. There is a great little beach beside the lighthouse, we may have to take Zak there for a swim one of these evenings!
Then we were off to Woods Hole and spent some time walking around the harbour area. There are some interesting shops and several restaurants, but nothing cried out to us so we hopped in the car and drove in to Falmouth .
First thing we knew we were heading past McMenamy's, which Cheryl had recommended. In we went! The waitress explained the "fat belly clam" thing for us. When you open a clam there are two parts, the neck which is used to make clam strips and the belly which is disgusting and is to be thrown away. Well . . . that's not exactly how she explained us, but that's the message we took away from the restaurant. We ordered cups of chowder and a seafood platter with shrimp, scallops, haddock and clam strips. When it arrived I tried one of the clam strips and thought it tasted quite odd – and bad. I suspected that we had gotten fried clams (with belly) rather than clam strips (no belly). I mentioned the funny taste to Carol so she tried one immediately. I wish I had the moment on video. I'm not sure who looked more disgusted, Carol or the lady at the next table who took a clam-belly-shrapnel shot to the back of her neck. OK, I admit it, I lied about the shrapnel, Carol bravely choked that offensive little nugget down, but she whined about it all night! I guess clam bellies are an acquired taste, but it ain't never gonna be acquired in our household!
Oh yeah, the chowder was good, but not good enough to bump off Spanky's which remains in first place!
After dinner Carol decided to cleanse her palate with a little retail therapy so we stopped at WalMart before heading back to the RV.
A big day coming up tomorrow, we're going to the Barnstable County Fair.
---
Saturday July 17, 2010
Today we started moving a little earlier. Carol had a restless night, she had a recurring dream involving giant clam bellies . . . not good!
We headed to Holly Berry's Restaurant at nearby Monument Beach where we had a very forgettable breakfast. By 9:30 we had finished breakfast and were back in the car heading for Chatham . Once again we made a direct run down Route 6 to our destination and then spent several hours following the coastline back toward home.
Chatham was just magnificent – the Chatham Bars are breathtaking.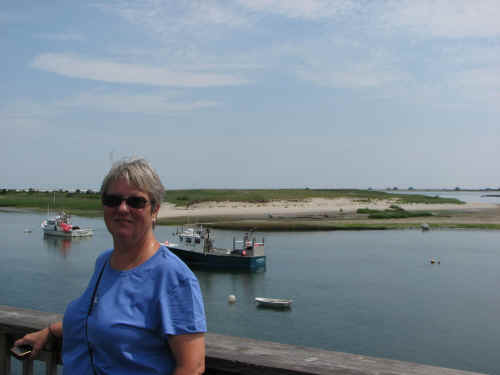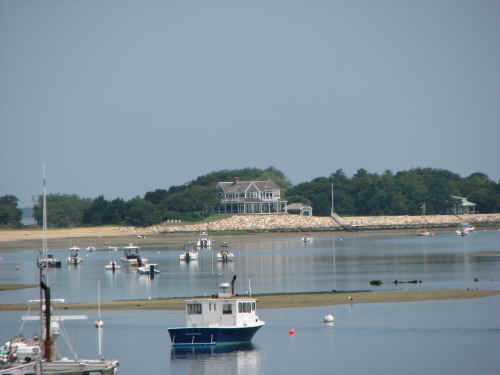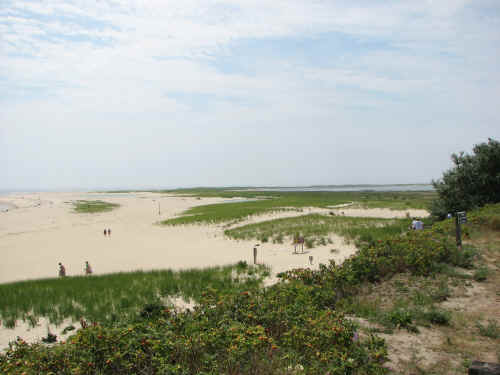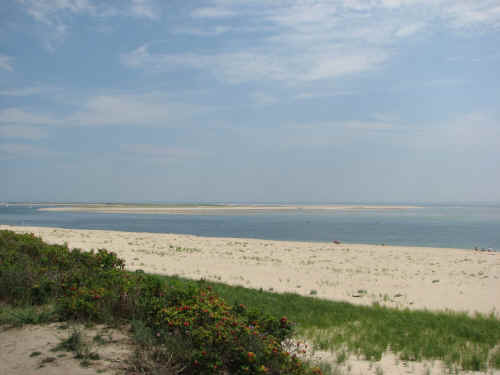 We stopped at the Chatham Pier and while we were overlooking the sandbars and snapping some pictures Carol spotted a seal swimming by. Before long a second one swam past. Wow! We don't see those guys at home in Lake Ontario .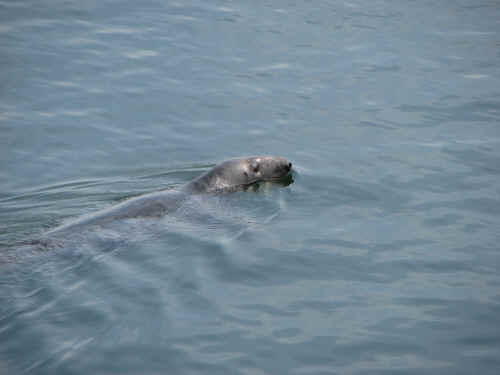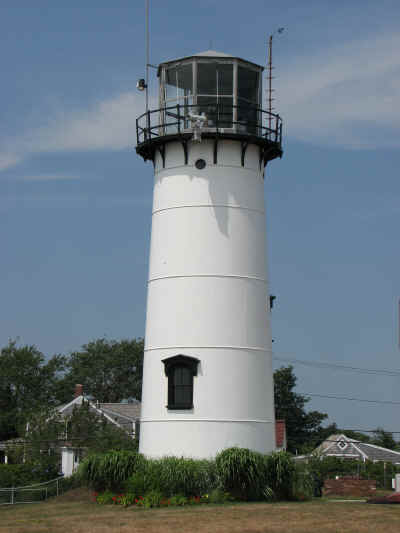 A few miles further west we stopped at a scenic overlook beside the Chatham Lighthouse. Once again we had a great view of the bars, and on the furthest sandbar were a couple of dark areas which looked like rock formations . . . except they were moving. They were made up of hundreds and hundreds of seals. The seals were everywhere, basking in the sun, swimming, playing in the surf. Although they were a long way off, we stayed and watched them for quite a while.
We soon moved on, following the coast wherever we could, past magnificent homes, plenty of seafood restaurants, and more hydrangeas than you could imagine. There are hydrangeas everywhere. And all colours, from pale blues and pinks to vivid dark blues, deep reds and rich purples. How do they get so many different colours? My mother used to fertilize her hydrangeas with aluminium sulphate to turn them from soft pink to soft blue, but she never had any colours as rich and deep as we have seen here.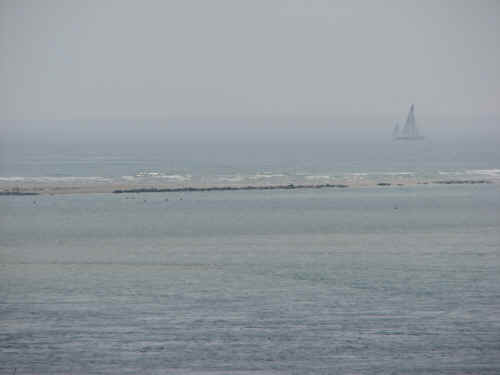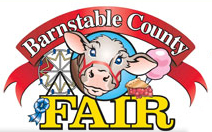 We wound our way, along the coast, back to Hyannis and then caught Route 6 and headed back to the campground. By 3:00 we had walked the dogs and were cooling off in the pool.
After a break and walking the dogs again we hit the road once more. This time it was just a short hop to the Barnstable County Fairgrounds near Mashpee.
The Barnstable County Fair opened today and the featured performer this evening was to be The Village People.

So Carol decided that she and her Macho, Macho Man just had to go see them.

So we walked around the fairgrounds for a while before their appearance, just soaking in the sounds and scents of a county fair.

It has been at least ten years since we last went to a fair like this.

We stopped at a food stand and Carol had a Philly cheese steak sandwich while I had a cheeseburger.

They were surprisingly good.

We actually went the entire day today without eating anything that could swim!

We went chowder-free!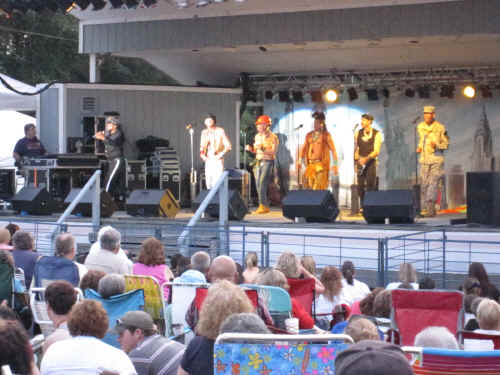 By 7:00 we were sitting on the grass in a small outdoor amphitheatre waiting for the performance to begin. They came on stage right on time at 7:30 and performed for a solid hour, winding up the night with YMCA, which got the entire crowd on their feet.
If you had asked me a few days ago what I would be doing in Cape Cod , the Village People would not have been a remote possibility, but Hey! They were the hottest act in Cape Cod tonight and they put on a great show. When in Rome , you gotta do what the Romans do! We had a ball!
We wandered out of the amphitheatre toward the midway but by the time we were approaching the midway and passing the exit we agreed that we would not be taking any rides, so we hooked a left turn and went to the car. By 9:30 we were home for the evening!
Tomorrow we plan to spend a good part of the day in Sandwich , beginning with breakfast with Lisa (Photographer) at the Dan'l Webster Inn.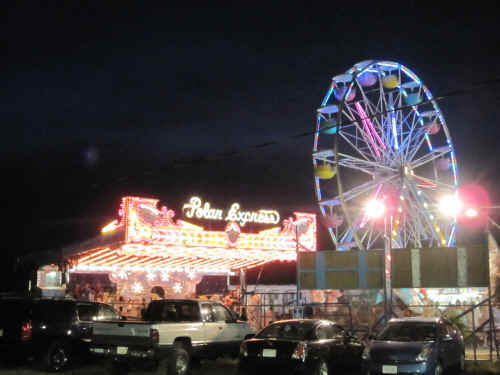 ---
Sunday July 18, 2010
It was a lazy day, a glorious lazy day. We started out by sleeping in; then luxuriated over a pot of coffee for a while. Before we knew it it was time for showers and the short drive into Sandwich for our breakfast at the Dan'l Webster Inn with Lisa. As we approached the Inn I noticed a blue Toyota following us – Yup, it was Lisa. Soon we were seated in the dining room, under a glass canopy overlooking the gardens. What a lovely spot! The meal was terrific and it was nice to spend some time with Lisa. We shared some experiences and talked about some of our mutual friends from Tagrel. Yes, if your ears were ringing, it was because we were talking about you!
After breakfast we took a walk around the beautiful gardens at Dan'l Webster and then Lisa hopped in the car with us for a quick trip back to the campground where she met Zak and Zoë. Zak is always happy to have someone to throw his toy and Lisa was happy to oblige!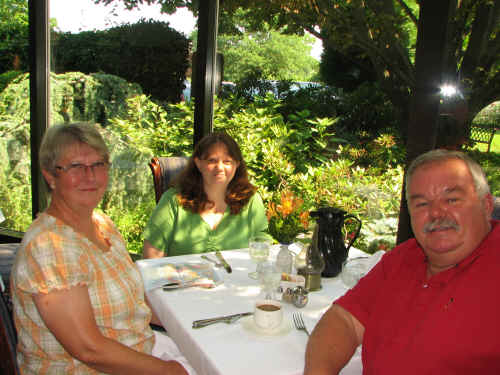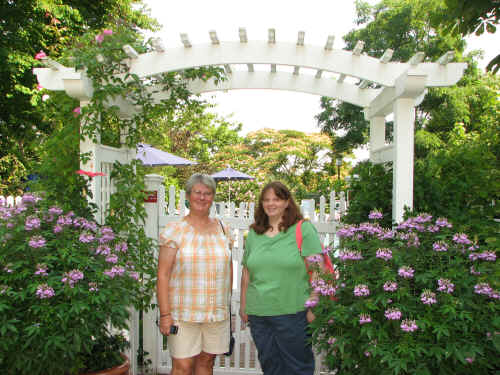 We dropped Lisa back off at the Inn where her family was having a special party and we carried on to the Sandwich Boardwalk. The boardwalk extends across a saltmarsh and gives access to the dunes and the beach. It's a beautiful walk with plenty of shorebirds to see. There are bluebird houses throughout the marsh and a large nesting box occupied by a pair of osprey.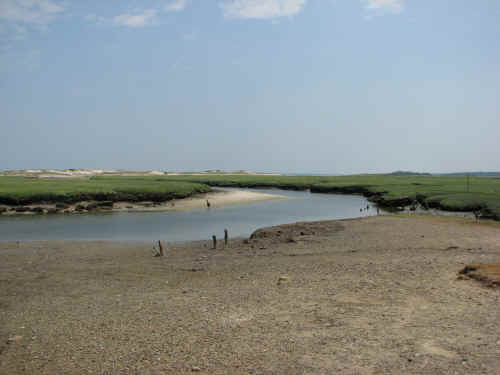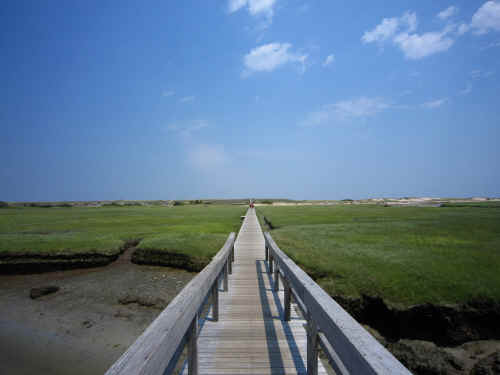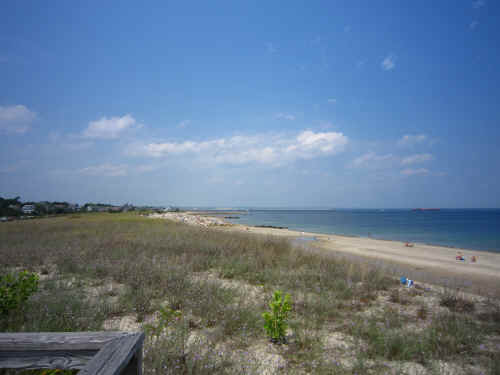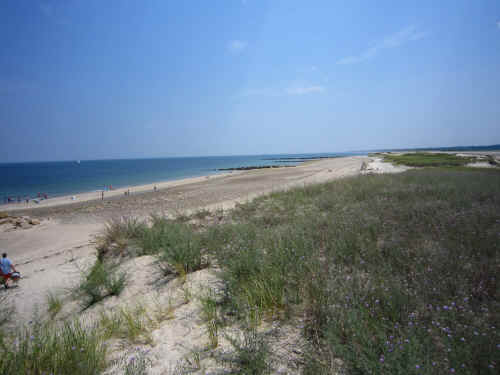 By 2:00 it was scorching hot, so we headed back to the RV where we had a sandwich for lunch. What to do? Should we swim and then have a nap? Or should we nap and then have a swim? Decisions, decisions! We decided to sleep on it!
Then it was time for a swim. We walked up to the pool, hopped in and cooled off, then lounged for a while beside the pool. Carol caught some rays while I huddled in the shade and read my book. By 5:00 the heat was getting to us again, so we headed back to the RV and fed the dogs their dinner.
We drove into Falmouth and stopped for dinner at the 99 Restaurant. Carol had a steak and rib combo and I had chicken fajitas. They were great. Another seafood free day too. Maybe tomorrow we'll get back to the chowder!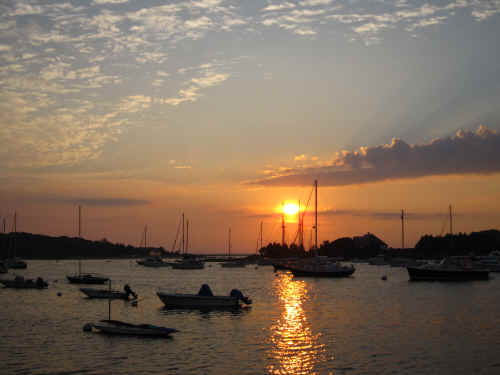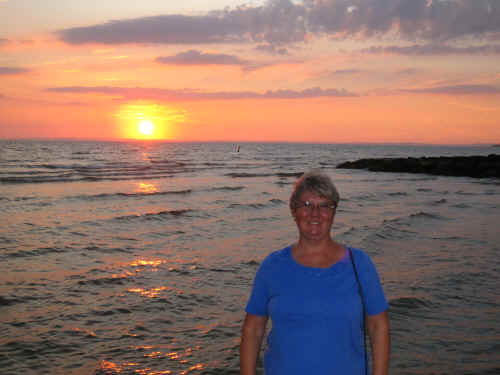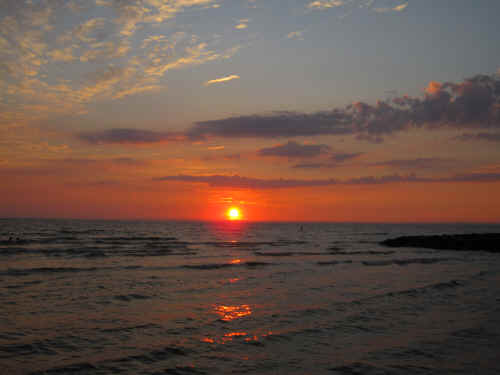 After dinner we followed the easterly coast of the Cape, through West Falmouth, North Falmouth and Pocasset. Along the way we stopped at Old Silver Beach to watch a magnificent sunset over Buzzards Bay .
By 9:00 we were back to the campground and settled in for the night.
---
Monday July 19, 2010
We had no agenda today; nothing planned and nowhere to go.
After reviewing our options over a pot of coffee we hopped in the car and once again headed east on Route 6. We went as far as Brewster and then followed the northern shore through Dennis, Yarmouth , Barnstable and Sandwich on our way back to the campground. As we wandered westward the skies grew darker and darker, rain was threatening! By noon we were back in Sandwich and looked around for a spot to stop for lunch. Before we knew it we were back in front of the Dan'l Webster Inn, so we stopped there and had a great lunch. We shared a crock of yummy French onion soup and Carol had shrimp scampi over fettuccini while I had lobster pot pie. It was terrific! By the time we left the Inn heavy thunder was rumbling and it was raining.
After a quick stop at the grocery store we were back at the campground and took the dogs for a walk between showers. Carol had just laid down for a nap and I was playing on the computer when there came a knock at the door. It was one of the campground staff, "You were supposed to be checked out by noon!" she said. Ouch, I booked a six night stay from July 14 to 19 and told them clearly that we would be leaving on the 20th. Somehow they had us leaving today . . . and a group was coming in – we had to move. They were very good about it, offered another site for the night at no charge (as they should have). Carol and I decided that if we had to move, we might as well move on to our next campground so I phoned ahead to see if we could check in a day early. Nope – they're full!
So, we disconnected and packed up the RV in the pouring rain, then drove to our new site in the same campground and hooked up again. It's a nice site, nicer than the one we had, but it's so annoying to have to move! By the time we were settled again Carol was wet and I was soaked to the skin!
I dried off and took a short nap, then we took the dogs for a walk and headed out in search of dinner. This time we crossed the Bourne Bridge and turned toward Buzzards Bay . Now you might think it would be hard to find gourmet fare in a town named Buzzards Bay . . . and you would probably be right! We had enjoyed a big lunch so we were looking for something light. We found it at a local seafood join called The Lobster Pot. We both had chowder followed by haddock and chips. It was good.
The skies are still threatening and there are severe weather warnings for the area, so we'll stick close to home for the night. (After all trailer parks are tornado magnets!) Tomorrow we are driving through Boston on our way to our next stop.
---
Tuesday July 20, 2010

We had a very leisurely morning. With only 100 miles to travel to our next stop at Salisbury Beach there was no need to rush. Check in time was not until 2:00 p.m. so we took it slow and easy. I packed up a few things outside while Carol neatened-up inside the RV; then we took Zak ands Zoë for a nice long walk around the campground. We arrived at the pool at opening time, 10:00 a.m. and had a nice relaxing swim before we pulled out of the campground.



We were on the road by 11:00. We crossed the Sagamore Bridge and followed Route 3 north to Boston . It was my first time driving through Boston , I quite enjoyed it! We exited Route 3 and picked up US 1 in downtown Boston ; this required two tunnels deep under the downtown area. I thought the tunnels were cool . . . but maybe that's just because Carol was speechless! She was white-knuckles all the way through and by the time we were done she was almost blue from holding her breath . . . but at least she wasn't telling me to slow down!

Soon we were through Boston (perhaps not soon enough for Carol) and on I 95 heading to Salisbury Beach . We pulled into the campground at about 1:15 and were soon backing into our campsite.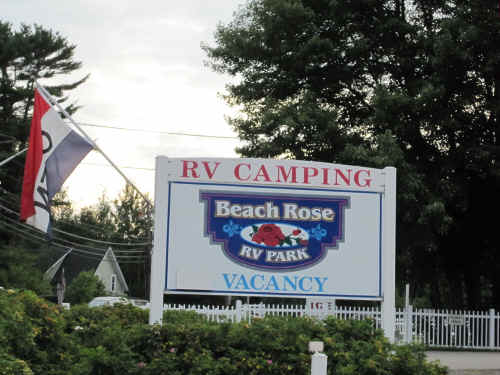 By 2:00 we were all set up and then took a walk around the campground checking out the facilities. It's a small place, just 50 campsites but it seems very nice. Zak and Zoë approve – and that's quite important.

I took the dogs to the dog park for a romp while Carol laid down for a bit; the stress of that drive through the tunnels in Boston had given her a headache!
We took the dogs for another walk and then hopped in the car to explore the immediate area. We snooped around a state park and campground just down the road and then followed the coast north a few miles to the New Hampshire state line. We followed Route 1A back south and were soon back at the campground. While Carol fed the dogs I talked to the campground owner who recommended a local restaurant for dinner. It was quite good.

After dinner we drove to Newburyport , just south of Salisbury Beach . It's a quaint little seaside town with very interesting colonial architecture. We'll definitely drop by again and poke around the town.

By 8:00 we were back home and settled in for the night. We didn't do much today, but we were both tired!

Tomorrow is our first Witchcraft day – we're heading to the Rebecca Nurse Homestead in nearby Danvers , MA . Rebecca Nurse and her sister Mary Easty were both hung as witches during the Salem Witch Trials of 1692. Rebecca and Mary were Carol's Great-Great-Great-Great-Great-Great-Great-Great Aunts. (That's eight greats!) I always knew there was something odd about Carol but it was only a few years ago we discovered that she was descended from witches!



(You suspected too, didn't you!)
---
Wednesday July 21, 2010
Today was the big day! Carol got in touch with her inner witch.
I have dabbled with genealogy for the last twenty years or so and about eight years ago Carol and I began to research her family prior to a big family reunion which was held in 2003. We picked up a number of interesting rumours during our research including a connection to "Fast Eddie" O'Hare, a lawyer for Al Capone and a connection to the Towne family of Salem , MA who had three daughters charged as witches in 1692. Two of the three were convicted and hung. About two years ago we were able to validate the connection to the witches. It is an extremely interesting story. In 1985 PBS aired a mini-series about the three sisters. Vanessa Redgrave played the survivor, Sarah Cloyce. It's available on DVD and it's very well done! It's titled "Three Sovereigns for Sarah"
We have both been looking forward to this part of our trip ever since we learned that Rebecca (Towne) Nurse's home had been set aside as a museum. So that was to be our first stop this morning!
We were on the road by 9:00 and quickly covered the 25 miles to Danvers (known in 1692 as Salem Village ) and found the homestead. The sign announced, "Open 10 – 4, Fridays, Saturdays and Sundays" DANG!.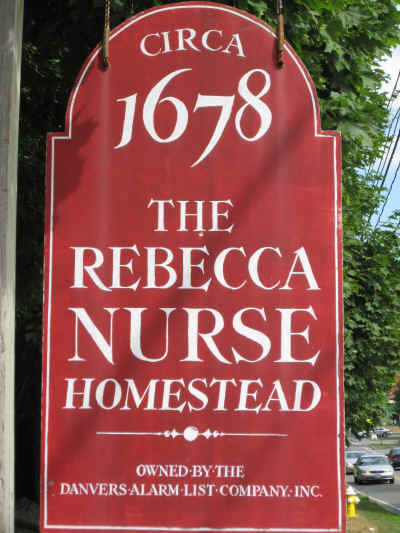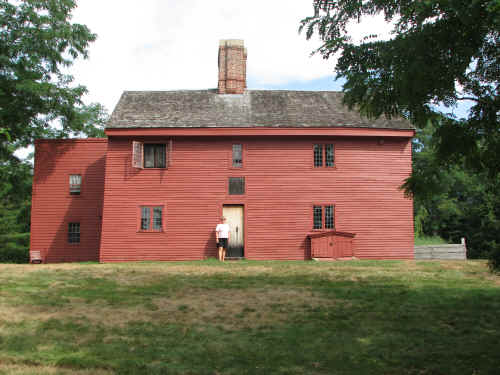 The Homestead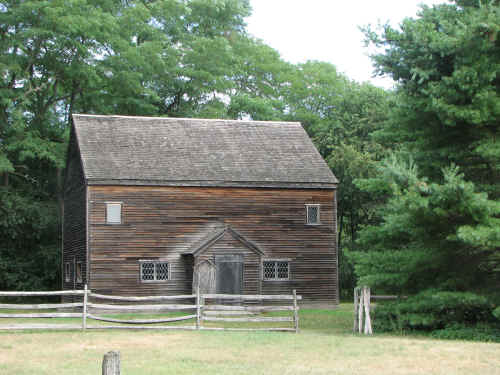 The Meeting House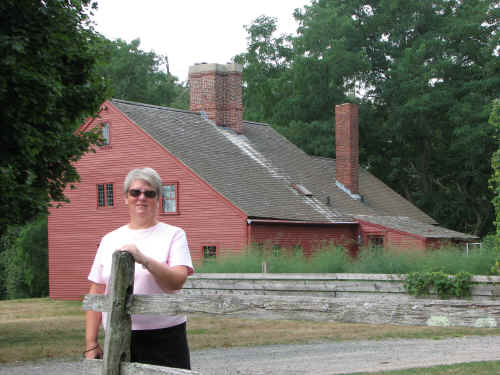 We were able to park, wander around the grounds and peek in the windows. The house is real, it is where Rebecca and her husband Francis Nurse lived when she was arrested and hauled off to jail in 1692. Rebecca (Towne) Nurse and her sister Mary (Towne) Easty were hung. Their younger sister Sarah (Towne) Cloyce spent over a year in jail awaiting trial and was finally freed when the witch trials were suspended.
One of the other buildings on the site is a replica of the Salem Meeting House which was erected by PBS for the production of their mini-series. The scenes in the church and scenes of the trials were filmed there. We will definitely head back on Friday for a better look at the homestead.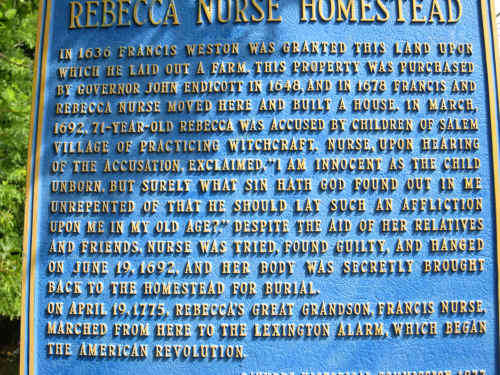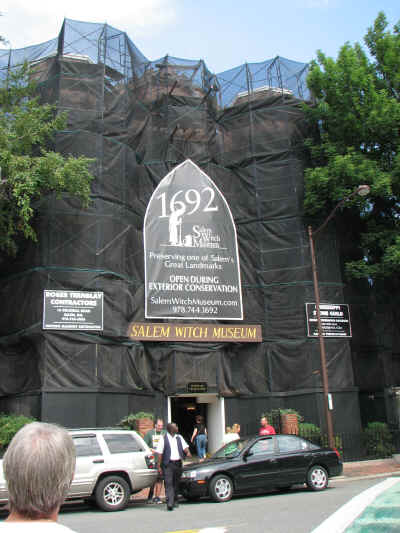 Our next stop was downtown Salem and the Witchcraft Museum . I was pleasantly surprised; I had been expecting a real tourist trap. It was really quite well done. The converted church was dark and had about a dozen different scenes which were lit in sequence along with the narration to tell the story of the hysteria and the trials. It's well worth a stop. We stopped in the shop and bought a few books and a DVD of another movie based on the witch trials, The Crucible, written by Arthur Miller. Carol was so engrossed by her inner witch that she had to buy a hat for the occasion. She had to try several on before she settled on a nice little black and orange number!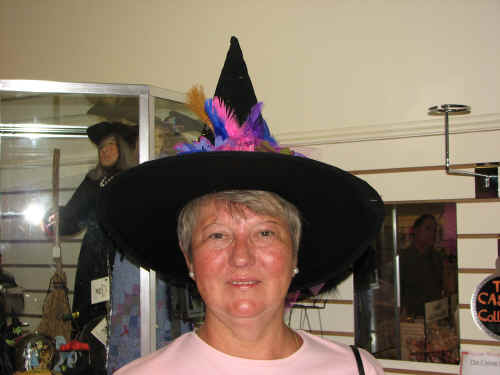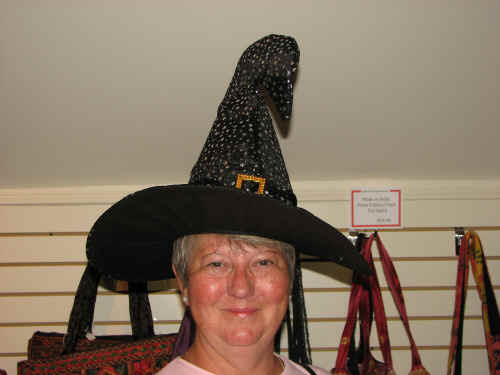 From the museum we drove over near the Memorial Park a few blocks away and had a quick bite of lunch at a little pub. Then we stopped at the memorial. The little park was dedicated in 1992 as a place for quiet reflection on the tragedy which occurred 300 years prior. There are 20 stone benches, each one inscribed with the name of a victim of the trials.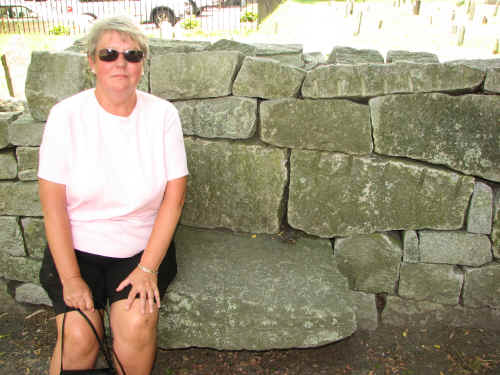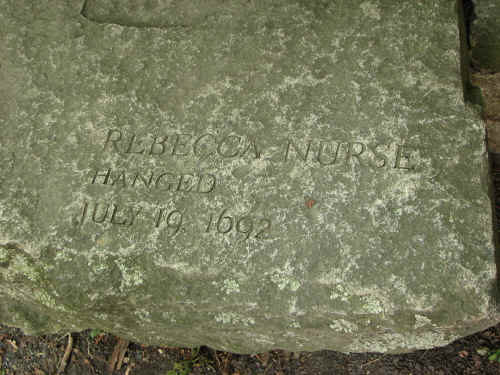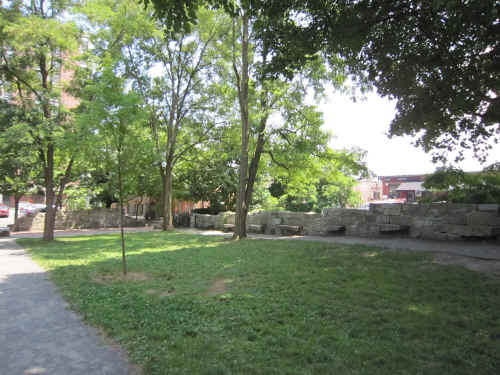 It was time to head back; the dogs had been on their own long enough. We went back the way we had come in, hoping to see a few more of the old buildings from 1672. We did see them, but there was no parking, so it was a quick drive-by.
Just a short rant about street signs in Massachusetts . . . I think this is the most unfriendly place in the world for a stranger to drive. The street you are looking for is never marked! The streets you are crossing are (mostly) marked, but nothing tells you what street you are traveling on. When you are looking for a street you need to turn onto it is almost guaranteed there will be no sign. We covered almost every street in town today. Ouch – it was awful!
Back at the campground we walked the dogs and relaxed for a few minutes. Our hopes for a swim in the pool were dashed by a thunderstorm, so we had a nap instead.
We spent a little time catching up on the computer and then dinner time was rolling around. Another walk with the dogs and we were on the way. We headed north on Route 1A to Rye Beach , NH and Petey's Summertime Seafood.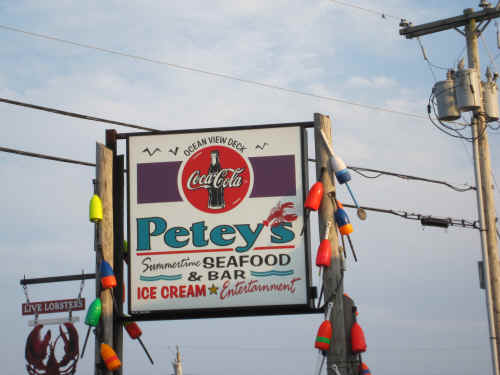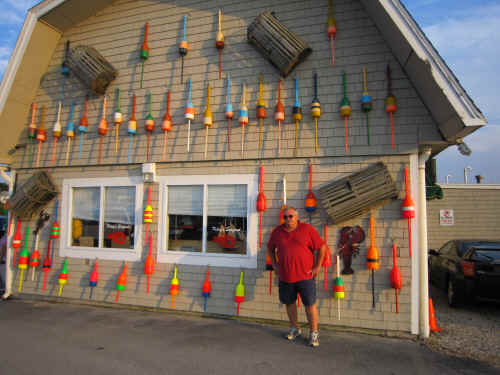 It's a little place we found by accident about four years ago. Once again it was great. We both had clam chowder. Carol had the lazy man's lobster (they take it out of the shell) and I had a combination platter with haddock, shrimp, scallops and clam strips. When I was full and had to quit there was still more food left on the plate than I consumed. I could not eat half of it! Everything was delicious. I think the chowder was a good as Spanky's . . . but Carol is still calling Spanky's number one. We have a dilemma!
We were back to the RV by 9:00 so Carol could watch the last half of SYTYCD
---
Thursday July 22, 2010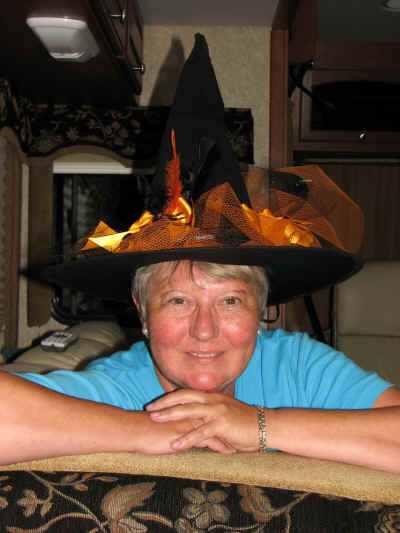 We had another witch day.

I had hoped Carol would wear her new witch hat, but she refused!
We were on the road shortly after 9:00, heading back to Salem . We planned to be there in time to catch the first Red Trolley run of the day at 10:00. Unfortunately we neglected to make allowance for the lack of street signs and the lack of parking. GRRRR!
We were parked and ready in time for the second trolley at 10:20. We like these trolley rides; we often take them to familiarize ourselves with a city we haven't visited before. Today's tour was very well done. The narrator was a high school teacher with a master's degree in history. He did a wonderful job explaining what we were seeing and putting it all in context for us.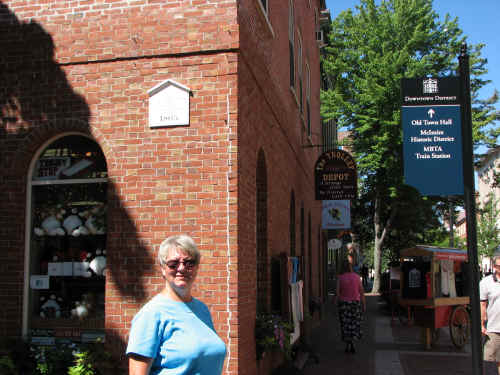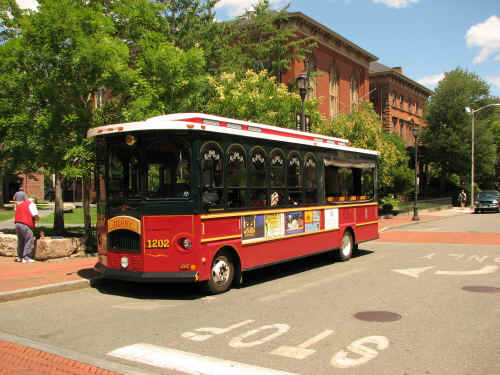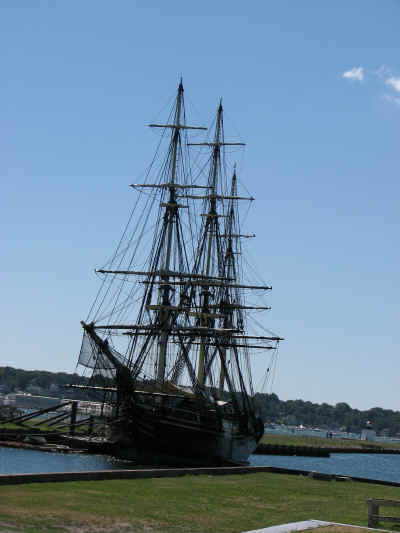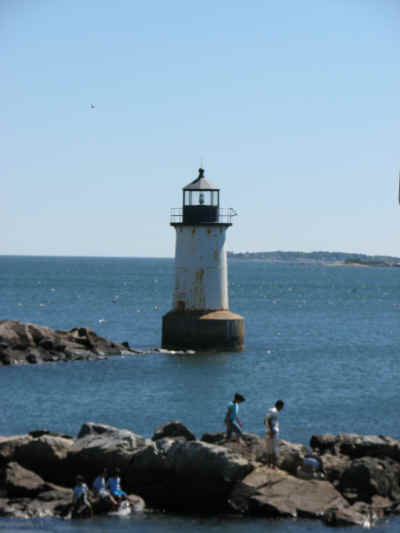 We saw many old buildings, some dating back to the 1600's. Many outstanding old mansions still remain on Chestnut Street . We passed the Witch Dungeon Museum , the Witchcraft Museum , the Witch Wax Museum and a host of other tourist traps. There were plenty of storefronts offering psychic readings! Question! If they are really psychic – why do you need an appointment?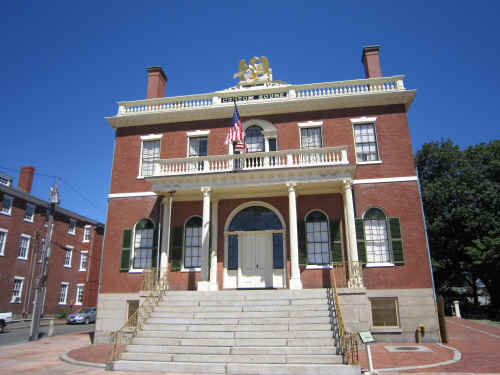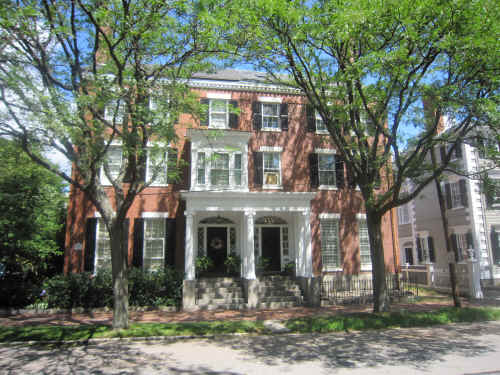 ---
Friday July 23, 2010
This was our last witch day. Carol still refused to wear the hat!
This morning we had breakfast at a local diner on our way back to Danvers and the Rebecca Nurse Homestead. Today we were delighted to see the "Open" flag as we pulled into the drive.
A young man named Dan gave us a guided tour of the site. We started our tour in the barn, which is constructed from materials salvaged from the home of John Endecott, former Governor of the Massachusetts Colony. The barn serves as the gift shop and is used to demonstrate construction materials and methods of the 1600's.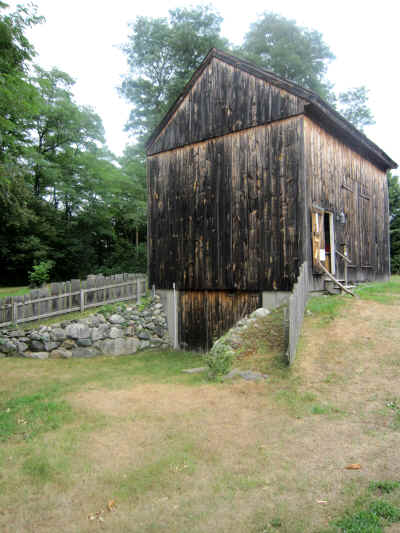 From there we walked over to the replica of the Meeting House. In Colonial times the meeting house was where all church assemblies and town meetings took place. This building was erected in 1984 by PBS to be used in the filming of their mini-series "Three Sovereigns For Sarah". It was built to the same specifications as the original structure. All of the Salem hearings and trials for witchcraft took place in this building. Our guide, Dan, described a normal Sunday in Colonial times, drums at 9:00 a.m. (they could not afford bells) announcing the beginning of the worship service, a three hour sermon, a break for lunch at the tavern across the street, followed by three more hours of preaching. And of course, they were puritans so it was a heavy, six hour long dose of fire and brimstone. It was an eerie feeling, having just watched the movie a few weeks ago, to be in this building, sitting in the pews and standing in the pulpit.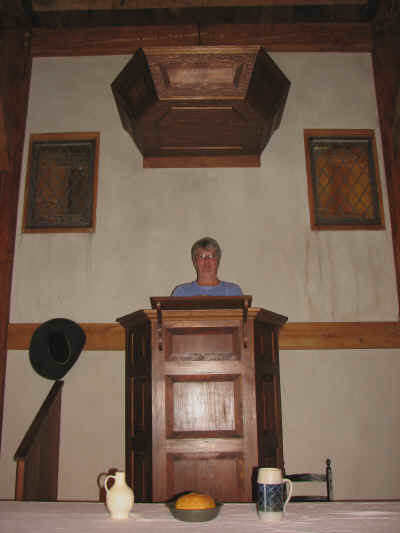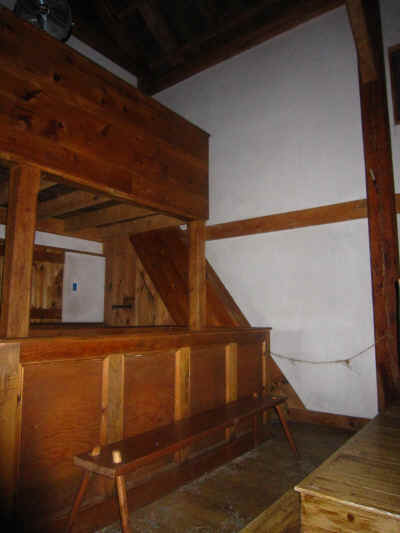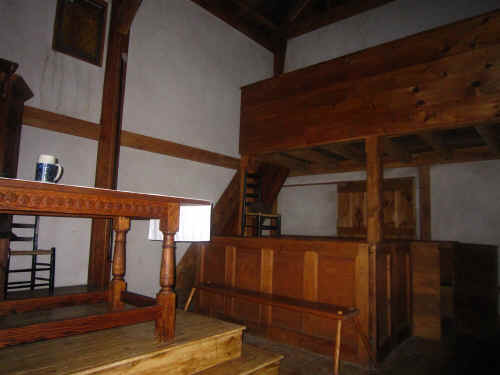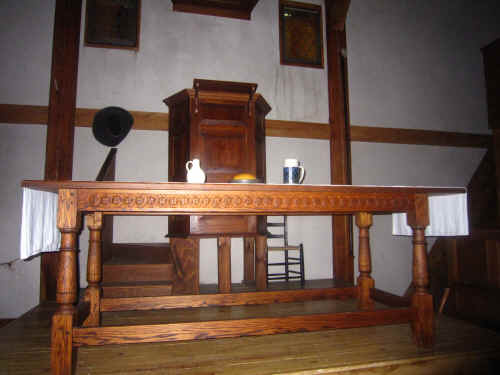 Then we headed to the house. This time the feelings were more powerful. This was no reproduction, this was the actual home where Rebecca lived, the place where they came and arrested a very ill and frail 70 year old Rebecca and hauled her off to jail. It felt downright spooky!
Dan described everyday life in the house, during daylight hours the men were in the fields and the women were busy in the kitchen. When the sun went down they went to bed. Dad, Mom and eight children and there were only two beds. Whoever didn't fit in a bed had to sleep on the floor. The eldest slept in the large room on the ground floor, since the second floor bedroom was accessed by climbing a ladder. An infirm 70 year old woman would not be climbing a ladder.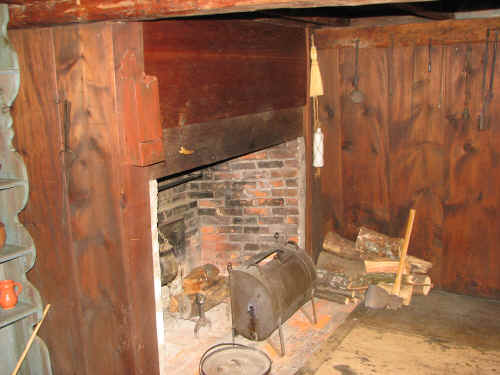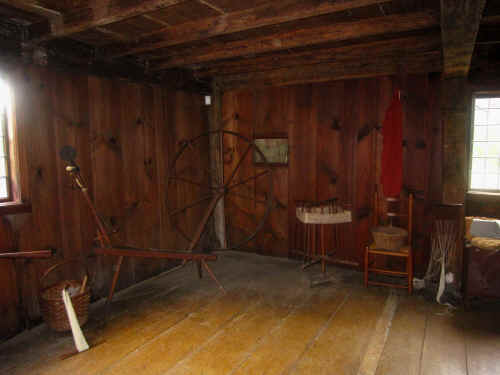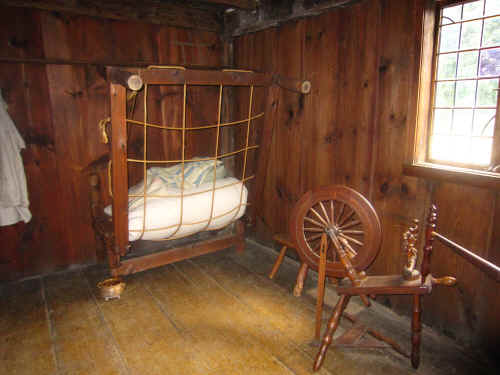 This house was lived in until 1909, when it was donated to serve as a museum. At that time it was restored to (or near to) it's 1692 condition. The plumbing was removed, and other later additions such as the ceiling. A few conveniences from later days, such as the staircase, were left in place.
We climbed the stairs to the second floor and Dan spent more time explaining life in the 1690's. They were rugged times and those who lived through them were hardy folks indeed!
There was a fireplace in every room and they were all kept burning through the harsh winters. That's a lot of wood to cut and split, and some of it had to be hauled up the ladder to the second floor bedroom!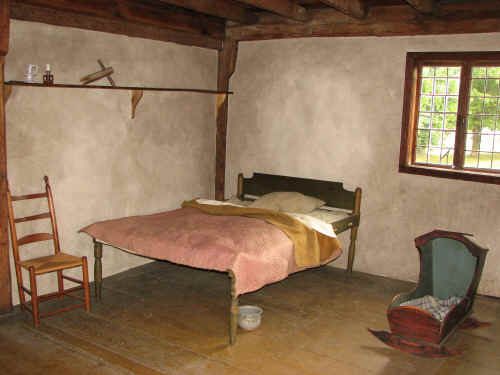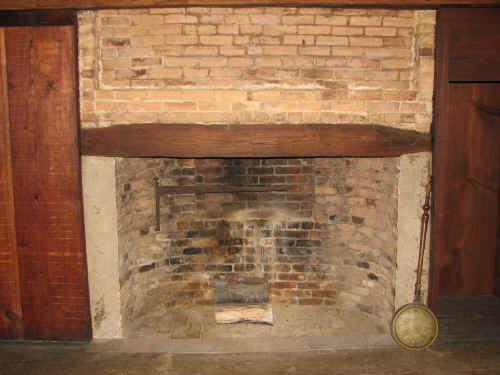 When we left the house we wandered down the lane to the family cemetery plot. This is thought to be where Rebecca Nurse was buried after her body was retrieved from Gallows Hill.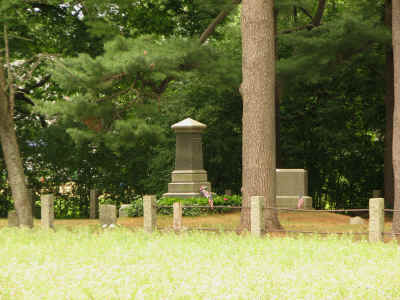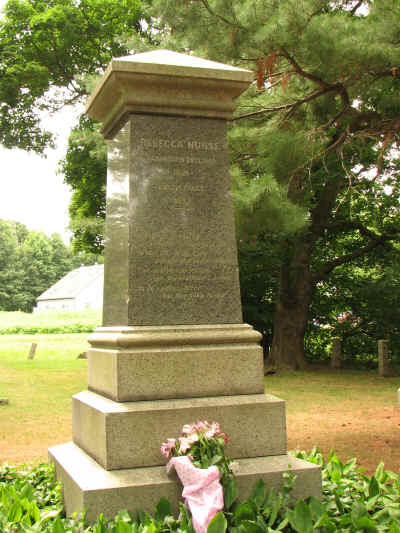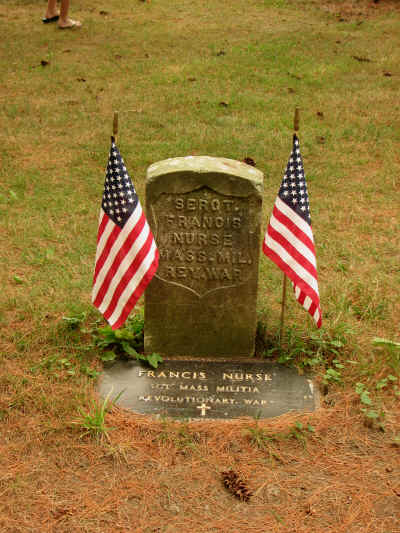 Following the tour of the homestead we drove over to the centre of the historic district, where he meeting hall and the residence of Rev. Parris were located. The minister's residence is long gone but the site was the subject of an archaeological dig. Many artifacts from the site are on display at the Rebecca Nurse Homestead.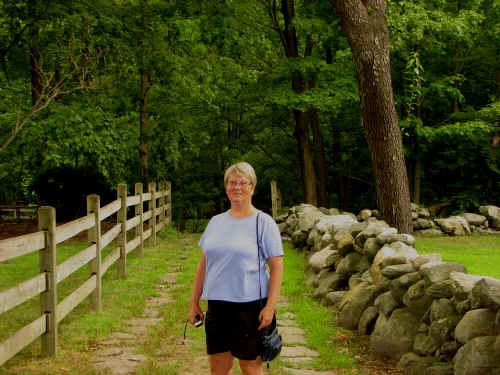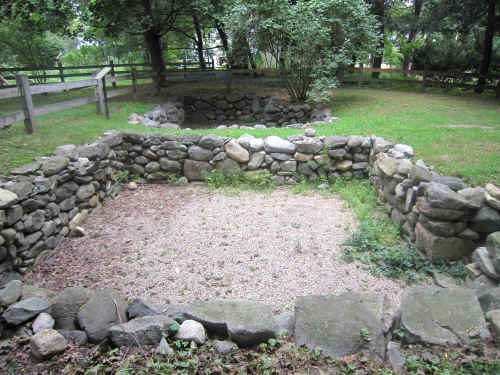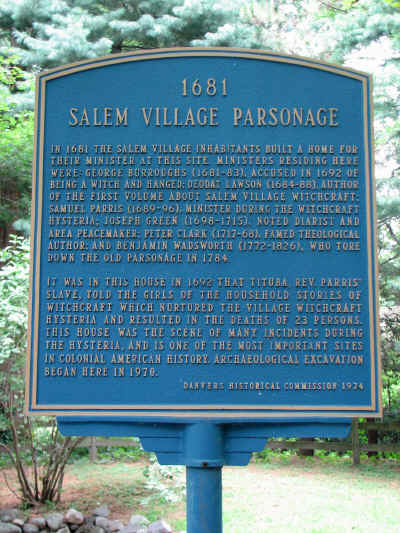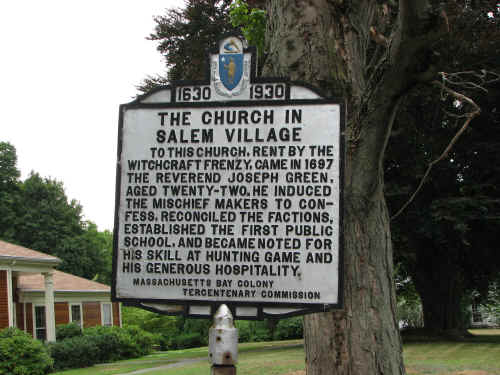 By 1:00 p.m. we had absorbed as much history as we could so we headed back toward the campground. We took a brief side trip through Topsfield, a nearby town where many of Carol's other ancestors (the Towne family) lived in the 1700's. We drove down Towne Lane and later stopped at a very old cemetery on Route 1 but found no burial sites for anyone from the family.
By 2:00 we were back in Salisbury Beach where we had a quick hot dog for lunch before returning to the dogs. We planned to head to the pool and Carol wanted to run a few loads of laundry while we were swimming. We took the dogs for a short walk and then I checked the computer while Carol sorted laundry.
When I logged into Tagrel.com, our favourite Disney fan site, there was a message – another fan from the site who lives right beside the Rev. Pariss site was out for a walk at lunch time and walked right past us. He thought we looked familiar but couldn't place us until later. It's a small world indeed! My arthritic old knees have been giving me grief for a few months now, and Carol and I stood aside to let a group of faster people pass just before we turned to enter the dig site. I guess Aurora 's Dad (Dennis) must have passed about the same time they did. Too bad we missed him!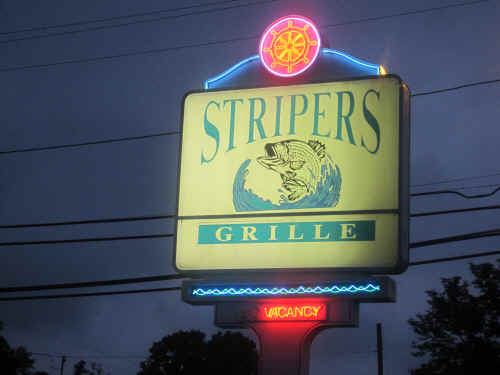 After our swim Carol finished the laundry and we rested with the dogs for a while before heading out for dinner. We went back down Route 1 and ate at Stripers, a terrific seafood restaurant on the shore of the Merrimack River . We had a window table overlooking the river with a great view of Newburyport on the opposite shore.
Dinner was great, I had a seafood casserole and Carol had sirloin tips. By 8:15 we were back and settled in for the evening.
We had planned to catch the train into Boston tomorrow, but that will have to wait until our next trip. We're heading off to Cape Ann to tour Gloucester and Rockport. Sunday we hope to see more of Newburyport and then tour Plum Island before we pull out and begin our trip home on Monday.
---
Saturday July 24, 2010
Today we were on the road just before 10:00 and followed Route 1A south to Route 133 which took us east to Cape Ann . We drove through some gorgeous scenery and saw some magnificent homes. The history in this area is just amazing. There are so many old mansions from the 18th and 19th centuries. Many merchants, fishing and shipping enterprises made this area quite rich in Colonial times.
By 10:30 we were in Gloucester and began our drive around the coast of Cape Ann . This little seaside town has a wonderful waterfront, we stopped along the seaside boardwalk and took some pictures of the statues honouring lost fishermen and their wives.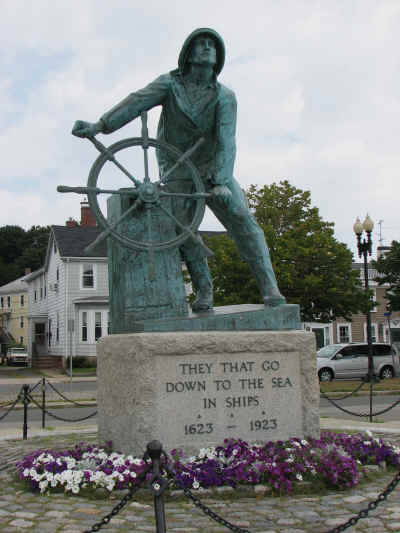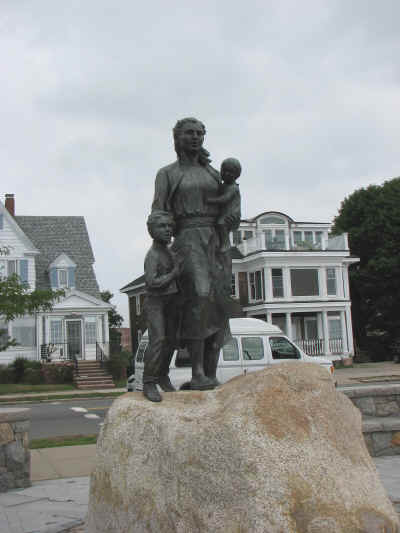 We drove out the Eastern Point Lighthouse past some awesome homes and a very exclusive yacht club. As we snapped a few pictures there a heavy fog began blowing in off the ocean. It was so thick in most places that we missed out on most of the scenery we had hoped to see.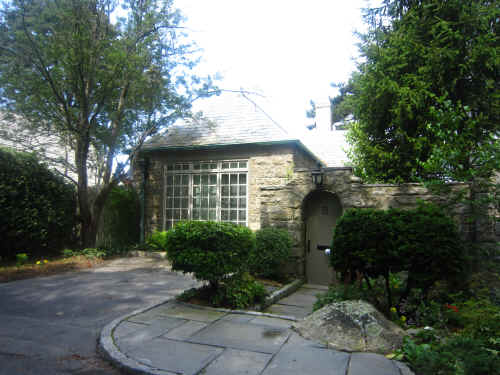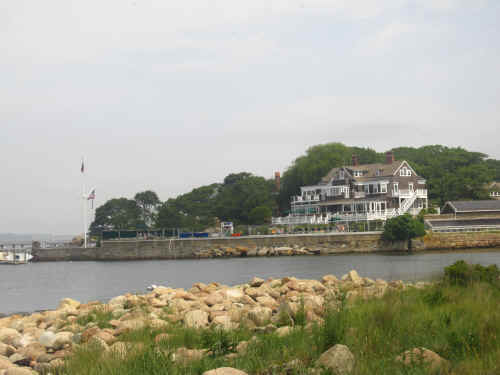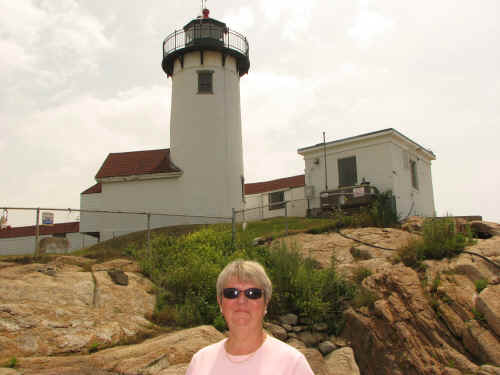 We drove past the Bass Rocks which we were told were very pretty. We think we may have seen one of those rocks through the mist.
We stopped for a quick bite of lunch as we approached Rockport and soon carried on with our counter-clockwise trip around "the other cape". The skies were clearer along the western side of the cape and we stopped at a few scenic spots for pictures.
By 2:00 we had finished our circuit and pulled on Route 128 which took us to I-95. We were back to the campground by 3:00. We relaxed for a while with the dogs, took them for a walk and sat outside enjoying a cool breeze.
Soon dinner time had rolled around so we hopped in the car and drove through Newburyport to Plum Island . Carol had picked the Plum Island Grille off a tourist map and wanted to give it a try. We were seated but when we checked the menu absolutely nothing appealed to us so we headed further down the road. We stopped again at Bob's Lobster, just down the road. Once again nothing appealed . . . I think we've had our fill of seafood. We ended up having a pizza in Newburyport. Carol needed some retail therapy so we stopped for a bit of shopping and were back at the campground by 9:00.
Tomorrow we're off to Newburyport to see the farmers market in the old Tannery and to explore the rest of Plum Island .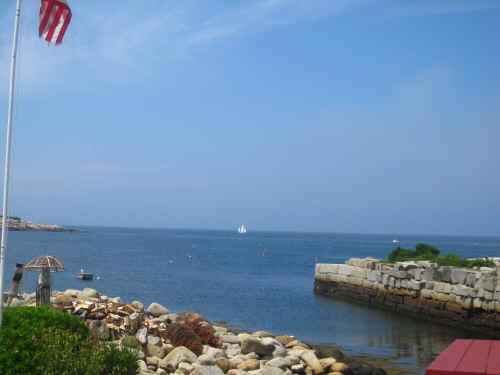 ---
Sunday July 25, 2010
Every day we seem to be moving slower and slower. Our trip is coming to an end and Carol thinks we are "all vacationed out"!
Just before we were ready to leave this morning I took the dogs for a walk and noticed that Ray, the campground owner, had complimentary coffee and doughnuts set out under a canopy beside the shuffleboard courts. We stopped and had a coffee and yakked with some of the other campers for a half hour or so. By 10:30 we were in the car on our way to Newburyport , just across the Merrimack River .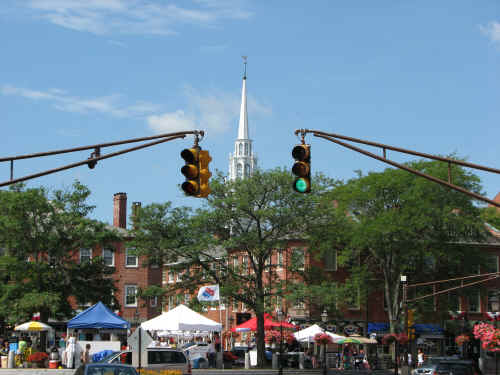 We parked downtown and walked around enjoying the sights and sounds in this quaint little seaport village. It was almost like a summer festival in the downtown core, merchants in some of the quaint little shops had merchandise displayed out on the streets, other vendors had tents set up to ply their wares and a band was playing on an open-air stage on the town common. It was nice to be there, soaking up all of the atmosphere while surrounded by so many old historic buildings. This sort of seaside town always reminds me of the little fishing village on Lake Erie where I grew up.
We poked our way in and out of all the shops and soon found our way into Richdales where Carol found a hot dog for 25 cents. Yup, a 25¢ hot dog! We shared a hot dog and a 99¢ bottle of water!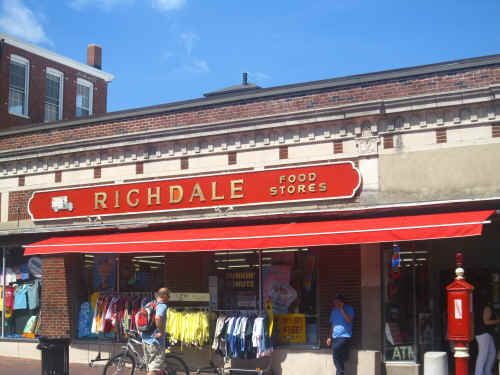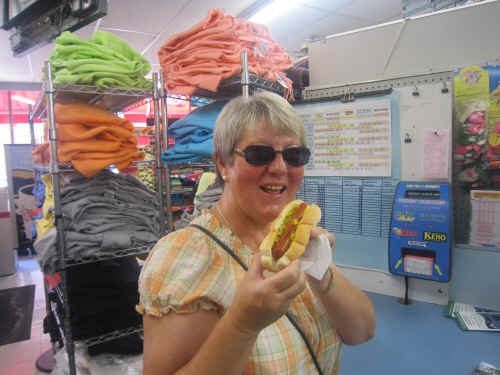 We wandered down a pedestrian mall between a few old buildings and looked into a few candy shops and ice cream stores. Carol noticed a couple of ladies fiddling with an amplifier and we took a seat to watch their show. They were putting on a demonstration for a local belly-dancing school. I immediately wanted to sign up for some classes but Carol wouldn't allow it!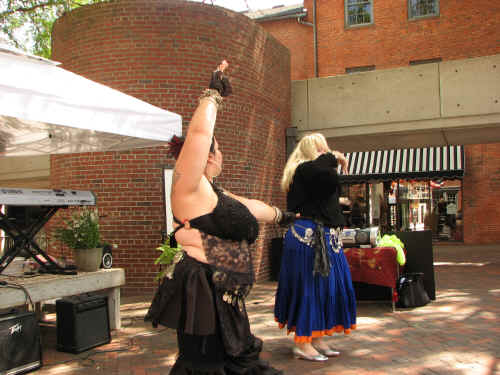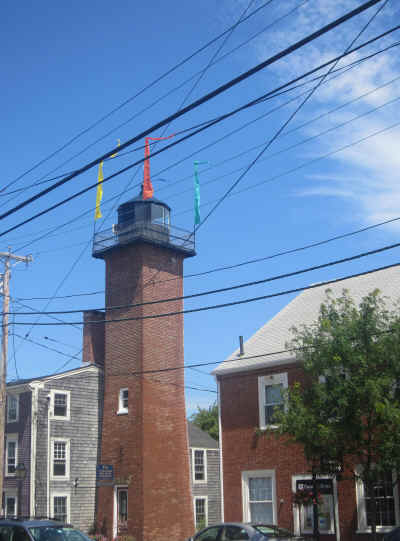 Carol headed back to one of he shops to pick up a Jim Shore birdhouse (Disney) she had admired earlier while I waited in the car. Then we headed over to The Tannery area. The Tannery is five old factories, just a few blocks from downtown, which have been converted to a retail complex. Sunday mornings they have a farmer's market. We walked around the farmer's market but we were surprised to see that most of the surrounding retail stores were closed.
We stopped for a bite at a downtown tavern, then headed back to the campground. Since we are pulling out to begin our trip home tomorrow we spent a few minutes making some preparations. We took the lights on the awning down and Carol put a few other things away while I dumped and flushed the holding tanks.
By 3:00 we were in the pool cooling off. I had a few dips and read my book a bit but soon it was time for me to head back to the RV for a nap. Carol stayed and basked by the pool for another hour or so. By then it was time to feed the dogs and take them for a walk.
Dinner was an amusing affair at The Hungry Traveller; a place just a few doors away. Carol saw an item on the menu and asked our waitress, "What is Boneless Fried Chicken Supreme?"
"It's boneless fried chicken with supreme sauce."
"What is supreme sauce?"
"It's kinda something like chicken gravy."
"Is it white gravy?"
"No, it's kinda something like chicken gravy."
The waitress brought out a small sample of the supreme sauce and it was indeed chicken gravy, just like Carol makes at home. So Carol ordered the Boneless Fried Chicken Supreme. I ordered the chicken parmigiana. Carol's order arrived and we snickered when we saw that the boneless fried chicken was actually chicken fingers. Seconds later my chicken parmigiana arrived. Our snickers changed to guffaws. My dinner consisted of a platter of chicken fingers smothered in tomato sauce and melted mozzarella. So Carol ate her chicken fingers with gravy, while I ate mine with tomato sauce and the little girl at the next table had hers with ketchup. It wasn't gourmet fare but it filled the void and gave us a few laughs.
After dinner we drove over to Plum Island and headed south into the Parker River National Wildlife Refuge. We stopped several times to watch swallows swooping over the salt marsh catching bugs. It was a very active night for them.
We watched the sun set over the town of Newburyport and then headed back to the campground and settled for the evening.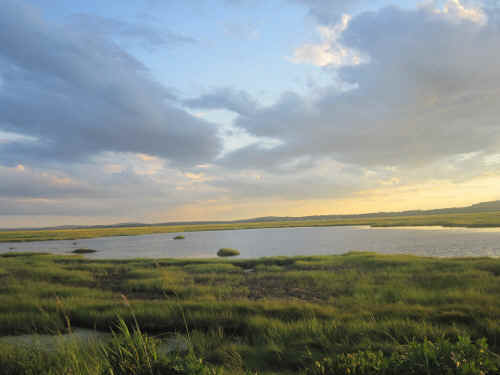 ---
Monday July 26, 2010
Zoë woke me up early, she had to go out. I looked at the clock - it said 6:30 so I turned on the coffee pot and computer. No sense going back to bed. By the time I sat down at the computer my eyes were fully open and I noticed the time was really 5:30. Ooops – back to bed I go. Of course Carol asked, "What were you doing?" so I had to admit my stupidity.
We finally did get up at 7:00 and were pulling out of the campground by 8:45. We had changed our plans and decided we would not stop at Sturbridge , MA but go on to Rome, NY where we had stopped the first night on our way to Cape Cod . It was a clear bright day and the miles rolled by quickly. We made a few quick rest area stops to walk the dogs and had lunch at a service centre on I-90. Once again we followed the Erie Canal for a few hours before arriving at our stop for the night.
We pulled into The Villages at Turning Stone at 3:00. It's a beautiful campground operated by the Oneida Indian Nation and it's just down the road from the Turning Stone Casino. After we got set up and walked the dogs I rested for a bit after a long drive. Then we hopped in the car and went to the casino. First stop was something to eat. Wonder if they have chicken fingers? Carol had the daily special, beef stew over noodles and I had a cobb salad. Mine was great, hers was so-so.
Then we sat down in front of a couple of slot machines. Hmmmm . . . this is strange! Where do you put the money? I look over at Carol, she's scouring her machine looking for a slot for bills – nothing there either!
Turns out that you have to stand in line and apply for a card to insert in the machines. Then you go and stand in another line in order to load cash on your card. At this point you are prepared to put your card in a machine and lose all that money you just loaded. So we go in search of a machine . . . and within five minutes my cash is gone. Carol was having fun at some kind of machine where you play for a nickel and play about a hundred different lines, so I watched her for a while. When I was totally confused by the payouts she decided it was time to go so she stood in line to cash out her card. She made three dollars but had to stand in three different lines to get it. I think my plan was better, blow it all and avoid that third line!
We were back and settled in the RV by 9:00
---
Tuesday July 27, 2010
It was a relaxed morning – for me! I got up at about 7:00, took the dogs out, drank a few cups of coffee, ate a bowl of cereal and then had a shower.
Carol got up and started working. I took the dogs for a nice long walk. She vacuumed the motorhome, scrubbed the floors, cleaned the bathroom, wiped down every surface and sanitized everything. Then she took a shower (hooray) and wiped down the shower.
When the dogs and I got back I dumped our holding tanks, flushed them all out, disconnected everything and got ready to pull out. By 10:00 we were on the road.
We made a brief stop in Syracuse, NY at the Christmas Tree Shop (Carol cannot drive past one) but this time she didn't buy a thing!
Next stop was at Adams Centre where we filled up with $2.79 gas. It's over $4.00 a gallon at home, so this seems like a bargain! Then we were off to Watertown , NY . We were only 50 miles from home but we hadn't stopped at Cracker Barrel during the whole trip, so now was the time. Lunch was great!
Carol looked at more witch hats in the store . . . but didn't buy any. We were soon back on the road and pulled up in front of our house at about 2:30. Hallelujah! Zoë went directly to the back yard and started rolling. It is so nice to go on vacation, and it is always soooo nice to get home again!
OBSERVATIONS:
People in New England talk funny:
One day we pulled up to our campground entrance and traffic was stopped in the southbound lanes of MA Route 28. We pulled up on the shoulder and pointed in front of a car, Carol said, "We are going in there." The guy in the car said, "OK, go ahead." And then he backed up a bit. Carol asked, "What's going on?" and he replied, "Caw fah." We looked at each other because neither one of us understood what he was trying to tell us. Then we saw a car in flames on the shoulder of the road. Ah - he said CAR FIRE!
The owner of the RV Park at Salisbury Beach was much the same. He told us how RVs keep getting bigger and bigger. He said, "Trailahs keep getting biggah and biggah and my pawk keeps getting smallah and smallah!"
No one pronounces the letter "R" in New England .
---