Thursday August 6
We were up bright and early this morning. I drove to our neighbourhood Tim Horton's and picked up coffee and breakfast sandwiches and Carol and I were on the road by 7:00 a.m. After a short wait at the border we crossed into New York State at about 7:30. Traffic was moving well and by 9:15 we were approaching Syracuse. That's when I looked in the driver's side mirror and noticed a body panel on the bottom of the motorhome flapping in the breeze. We pulled into a rest area and I hauled out the trusty duct tape. After a quick "Red Green" repair job we hit the road again. The guys a Possum Lodge would be so proud of me! We met ScottWDW at the Cracker Barrel Restaurant near his work and picked up a silent auction item we are delivering for him. After a short visit with Scott we had a bite to eat, filled up with gas and got back on the road.
Our good progress came to a halt when we hit Pennsylvania. This state hasn't spent a dime on road maintenance in about 50 years, but now that "stimulus money" is available they have torn up every road there is. About half of the northernmost 100 miles of Interstate 81 is reduced to one lane. The 15-mile stretch of the southbound lanes between mile markers 176 and 161 took us an hour and a half to cover. That's right - 90 minutes for 15 miles. OUCH! It will be nice when it's finished, but it sure is painful now!
Things sped up for the last 100 miles of the day and we pulled into Harrisburg East Campground at 4:30. By 6:00 we had everything unpacked and set up and then sat and relaxed for a few minutes before heading out for a quick bite of dinner and some shopping. We ate at "Capitol Diner" just down the street from the campground. It's a retro place, 1950's soda shop decor and the food was good. Carol and I agreed it's a place we will go back to.
We stopped at WalMart and picked up a few things before heading back to the RV for a quiet night of TV.
---
Friday August 7
I was up at 6:30 and tiptoed around getting the dogs out. Carol's final words the previous night had been, "Do not wake me up in the morning. I don't care if I'm still sleeping at noon; don't wake me up." So I was as quiet as I could be. Our friends John and Erin from New Jersey, who had pulled in about 10:30 the night before, were up walking their three dogs as well. They were heading out to the Radisson Hotel to help set up for MagicMeets and had to be there for 8:00 a.m. We had a short visit while I was fixing the flapping side panel on the motorhome and by 7:00 Carol (the "don't wake me" girl) joined us.
After a coffee and a shower we were ready to head out shopping. We got my shopping out of the way first with stops at Harbor Freight Tools and Home Depot. Then it was The Disney Outlet, Chocolate World and The Christmas Tree Shop for Carol. We were back to the campground by noon and had a sandwich in the motorhome before heading across the river to the Radisson Hotel at Camp Hill, PA where MagicMeets will kick-off this evening. We had some smuggled Canadian whiskey and a few other things to drop off. We were surprised when we were ushered into the banquet room . . . it was all sealed off last year. The tables look great, with beautiful centrepieces.
After visiting briefly with some of our good friends we headed back to the campground for our last "quiet time" this weekend.
Erin came over to the RV for a visit at about 4:00 and then we walked the dogs and got ready to leave for our evening in across the Susquehanna River in Camp Hill. We met WDWNJ (John) & Big Red (Cathy) at Arooga's, beside the Radisson, and had a nice dinner with them. Then it was off to the Radisson for a rousing game of Magic Tunes. We saw a bunch of our "Tag friends" there. They included WDWNJ, Big Red, JohnnyBlack, RoguePony, Deb Wills, DizFan7, Beci, Mary801, sjh801, TiggerTails57, tinkerbellj, cassyx289, StephaMickey, Tinker1bell, Lorilovestigger, "the screamers" and ScottWDW. Sorry if I missed any of you, beer can do that to me!
The Magic Tunes game started of quite well, but when the chips were down folks started cheating. I would never name names, but it took 5 people on the "Double Deb" team to beat a lonely Lou Mongello. Who would have guessed that Lou knew so much about Disney Trivia?
At 9:00 p.m. we adjourned, back down the street to Arooga's for some libations and karaoke. Those who sang well had a good time, those who didn't sing quite that well had a good time and those of us who didn't sing at all also had a good time. And an added bonus – the two events raised over $1,600 for charity. Deb Wills' Avon Walk for Breast Cancer and Lou Mongello's Dream Team each received $830 from the nights events.
By 11:00 we had outlived our stamina and Carol drove me back to the campground! Tomorrow will be another action packed day!
---
Saturday August 8
Morning came early. After getting to bed at 12:30 it seemed just too soon when I woke up at 6:30. Zoë was anxious and just had to get out on the grass for a few minutes. When we got back Carol was up and started whining about hearing trains in the middle of the night. At 2:30 a.m. she woke with a start to the sounds of, "All Aboard! Welcome aboard the Walt Disney World Railway. For those of you just joining us . . . " That's the ring tone on my cell phone which tells me that I have a new text message. Apparently some drunken Canadian from the 905 area code (surrounding Toronto) decided to send us a gibberish text message. Since I can sleep through a hurricane, Carol had to deal with this message. Her mission, once we get home, is to track down the person responsible and kill them. Ouch . . . I wouldn't want to be in their shoes.
By 8:00 a.m. we were sitting with friends John and Cathy at Perkins Restaurant, beside the Radisson Hotel. After a leisurely breakfast with them we walked over to the hotel and registered for the day's events. This was our first chance to review the many silent auction items Carol was to bid on later. We enjoyed the time we spent chatting with our many "Disney friends" and then settled at our table for the opening ceremonies and then the presentation by Justin Muchoney, Disney's first Chief Magic Officer.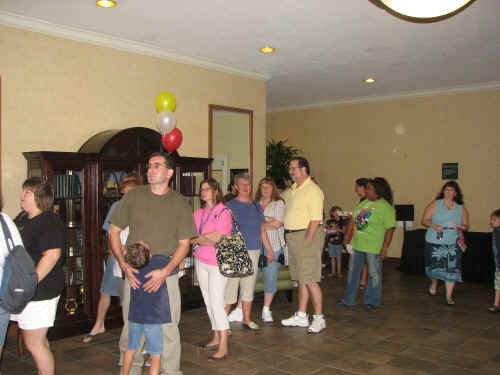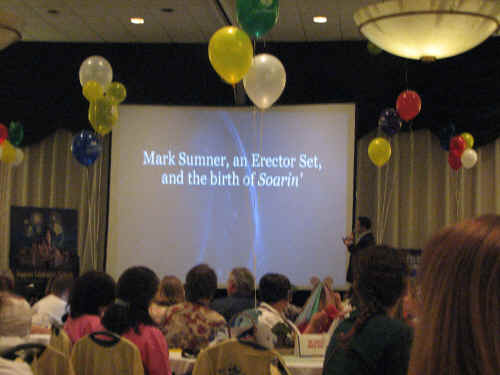 Justin won a competition and was appointed to serve as Chief Magic Officer from April 2008 until April 2009. He gave us a review of his year "in office" but it seemed to be more of a year "in the parks" where he was responsible for helping make dreams come true. The pictures and video clips he used in his presentation were both inspired and inspiring. The last half of his time was devoted to telling us how we could make our own dreams come true. He's an amazing young man and it's not hard to see why he won the competition.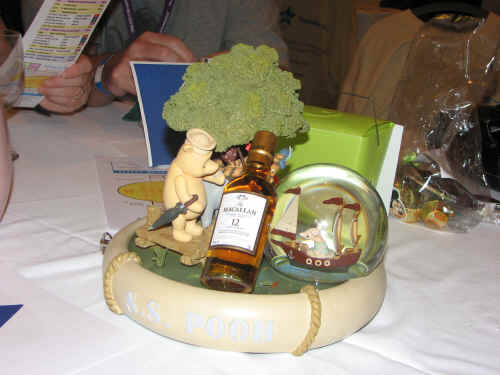 sjh801 (Sandy) gave WDWNJ and I each a package of liquefied pixie dust.
John used his (briefly) to decorate the Winnie the Pooh centerpiece.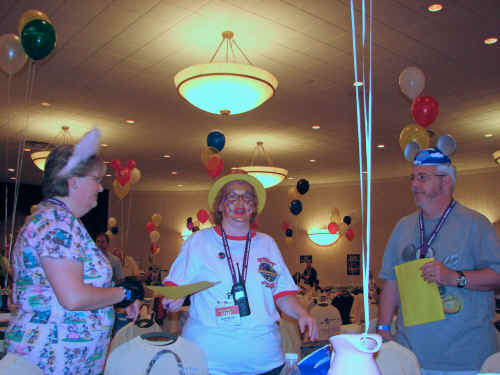 Next on the agenda were three breakout sessions. Both Carol and I went to a session dedicated to Adventures by Disney, hosted by our friends Deb Wills and Beci Mahnken. They used a variety of pictures from their Adventures by Disney trips to (a) the American Southwest (b) Ireland and (C) Paris and London to hold our attention while they transformed us into a genuine Adventures by Disney cult. Yes . . . we drank the Kool-Aid! Now the only question is which adventure we enjoy first!
A buffet lunch was served, and then JohnnyBlack and I hurried back to the campground to let the dogs out. We were back in time for the next breakout sessions at 3:00 p.m. I went to the "Magic in Pixels" session with Tim Devine and Carol went to the Pin Trading session with John Rick. Both were very well done and enjoyable. The silent auction bids were now closed and we found out that Carol had not been successful in any of her bids (apparently there is a God!)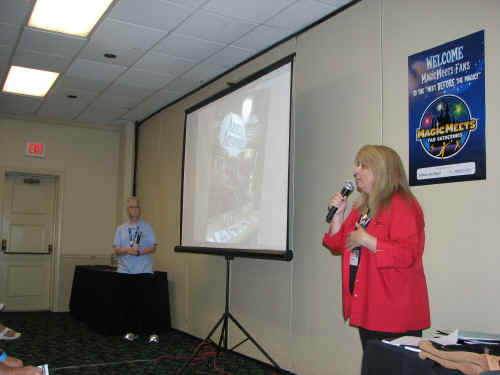 After the auction results, Lou Mongello led us in a Disney Trivia game. Our table was quickly eliminated . . . but we were saved by some new technology. Several young people who disagreed with Lou's answer Googled the question and proved him wrong. Lou proved what a large man he really is by reversing his ruling and reinstating us. Unfortunately our lack of Disney knowledge was proven again just a few minutes later and our table was permanently eliminated from the competition.
After the trivia game it was time to review the financial results of the auction. WOW! Our little group of 550 people were able to get together for a few days of fun and at the same time raise $26,235.00 to help those less fortunate than ourselves enjoy the magic of Disney. WOW!
Then it came time for Fred Block's closing remarks and a few more prize draws. When the time came for the "grand prize" our friend Beci Mahnken, President of MouseFan Travel, began to describe the prize. It was a six night, seven-day stay at any of Disney's moderate resorts, and it included "Magic Your Way" tickets and the Disney Dining Plan! WOW!
Beci drew the winning number, and began mimicking Fred Block by slowly reading out the numbers and pausing. She was more annoying than Ryan Seacrest! Finally she read out the first three digits . . . she said, "If your ticket begins with 146 please stand up." Carol and I stood, along with about 50 other people.
Another pregnant pause!
Then Beci said, "If your next number is not 7, please sit." Carol and I were still standing, along with two other people!
Yup . . . as you might expect, another long "Ryan Seacrest" pause. Thank God there were no commercial breaks.
Then Beci continued, "The last winning number is six." Carol sat down. I looked around . . . I was the only one standing! WOW! I won!
The rest is a bit of a blur, I was up on stage, and Fred asked some questions, I mumbled and drooled a bit, hugged Beci and wandered off in a daze. WOW . . . I won!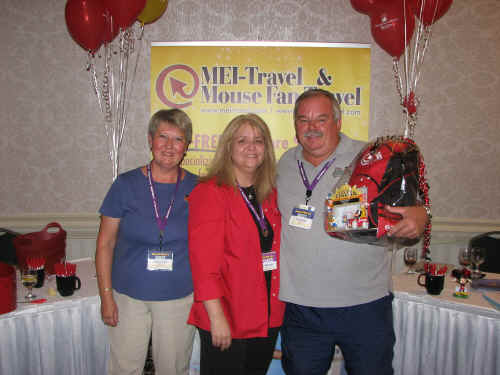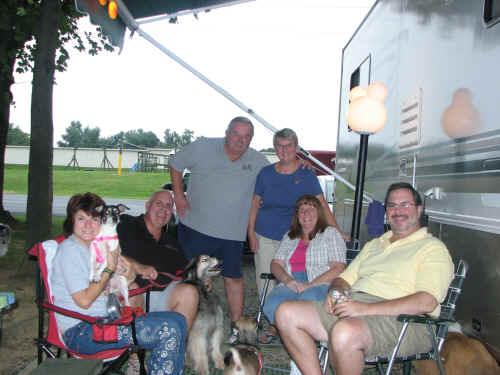 Once Carol and I were able to collect our thoughts we roamed the hall for a few minutes, said some thank-yous and headed back to the campground with a few friends. We headed out for dinner and then Carol went back to Camp Hill for the pin-trading meet while the rest of us relaxed at the campground. By 9:30 I was settled in at the RV and Carol got back about 11:00. We're still a little dazed by our big win. Thank you Beci!
---
Sunday August 9
I woke up early and couldn't get back to sleep. The sound of the rain, which normally lulls me to sleep just didn't work this morning. I was too busy thinking about my big win (Carol now seems to think of it as her big win!) and planning the trip in my mind. When should we go? Of course it has to be Port Orleans French Quarter, that's our favourite moderate resort! Should we use the Magic Your Way tickets after our Annual Passes expire, or use them to help pay for renewal of the AP's? So many decisions! Life must be so simple if you're not a Disney geek!
So I was up at 5:30, turned on the coffee and took the dogs out for a walk in the rain. They enjoyed it much more than I did. Carol must have been doing some nocturnal trip planning too, because she was up by 7:00 a.m.
By 8:15 we had walked the dogs again, showered and were on the road to meet John & Cathy for breakfast at Perkins. We realized about half way through breakfast that in exactly two weeks time the four of us will be having breakfast at Port Orleans French Quarter before we board the Disney Cruise Lines bus to begin the Tag Cruise. Wow, only two weeks!
John and Cathy walked back to the hotel with us and said a few goodbyes before checking out to head home. Carol and I went on to listen to Deb Wills describe the three new Disney Vacation Club properties, Kidani Village, Tree House Villas and Bay Lake Tower. The three are all quite different; they don't fit your normal preconception of a Disney resort. Deb's slide show was beautiful and highlighted the unique features of each property.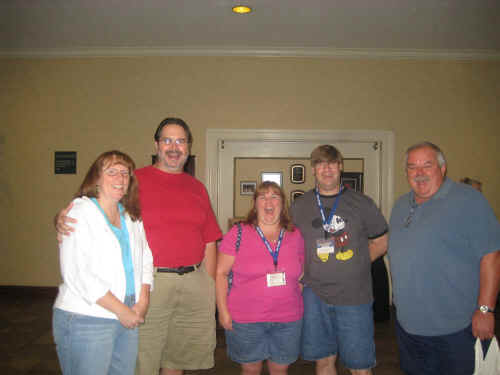 By 11:00 we had said all of our goodbyes. It is always difficult to say so long to some of these folks, and today was especially hard, since we aren't sure exactly when we are going to see some of them again. But of course, we know we will.
Back at the campground we walked the dogs and had a sandwich for lunch. Then the weekend activities caught up with us and we laid down for a nap. I woke up after about an hour and read my book while I waited for Carol. We had talked about going for a swim, but by the time she woke up an hour later John and Erin had stopped by and I was busy repairing their Mickey Mouse lamppost. We visited for a couple of hours with them and shared lots of laughs before the wind picked up and the sky turned dark. Carol and I quickly took down our patio lights, Mickey Mouse lamppost and lawn chairs, rolled up the awning and packed away the patio carpet. John and Erin were doing the same thing at their campsite directly beside us. We all finished just as the rain started and then took cover inside while the wind howled and the rain came down in sheets. So we're now pretty much ready to pull out tomorrow and head for home.
We ran out to the Eat 'n Park restaurant directly across the Interstate. (Wouldn't it be safer to Park 'n Eat?) It was a good little diner and we were quite satisfied with our salad bar and sandwich choices. They had what looked to be an excellent breakfast menu. We will probably stop for breakfast on a future trip. We were back to the camp by 8:00 and walked the dogs before I headed over to the pool for a swim. We walked past a campsite where the storm, which sent us all scurrying, actually brought down a large (12 - 14") tree branch and took the satellite dish off a camper. I'm glad there was no damage in our part of the campground. When we got back I went for my swim; dang . . . the pool closed at 8:00.
So tonight will be spent reading and then early to bed, we have a long drive through plenty of construction tomorrow!
---
Monday August 10, 2009
Today was pack up and go home day. We were up early, finished packing things up, dumped our tanks (and the RV tanks too), had a shower, said goodbye to John and Erin and were on the road by 8:50 a.m. Traffic was good and to our surprise construction in the northbound lanes was not a problem. The only slowdown was a short stretch near Scranton, PA and that probably only cost us 5 minutes of travel time. By 11:30 we were filling up with gas in northern PA and at 12:10 we hit New York State. We pulled in to the Cracker Barrel at Binghamton for lunch. There was no sign of Tagrel (this is where we normally meet him if we are transporting swag for him) but he didn't know we were stopping, so why would he be there? We were quickly back on the road but had to make two more shopping stops in Syracuse. So construction didn't slow us down, but shopping did!
It was a very pleasant drive home. The weather was good, traffic was light and we chatted a lot about our fortunate win. We both agreed that it may be difficult to work another trip into our schedule this year . . . but what a wonderful problem to have! I suspect we will probably be using it in 2010.
We pulled up to the Thousand Islands border crossing at 5:30 and barely waited at all, probably not more than three minutes. Two simple questions, "Any alcohol or tobacco?" and we were on our way. They didn't even want to X-ray the motorhome this time! We pulled up in front of our home at 6:00 p.m. The skies had opened up five minutes before we arrived and it was still teeming down. We had to wait an hour before we could unpack the RV and unhook our tow car.
Once we were all unpacked, Carol was faced with a mountain of laundry. I decided to attack the RV and clean it from top to bottom the next day. That night I was all done in!
To all those who worked so hard to make MagicMeets the success it was, thanks!
To all our Tagrel buddies who attended and cheered so loudly for my big win, thanks!
To Beci who donated such a fabulous prize . . . .and then drew my number, thanks, THANKS, THANKS, THANKS!
---