Tuesday September 30, 2008

It all began just a few days ago when Gary started whining, "We've been home a long time, let's go somewhere." I took my normal conciliatory approach and replied, "You fool, we just got home two weeks ago."

That's how it started. We have a very busy autumn ahead of us, but I looked at our schedule and found two short blocks of time available. We decided to head out today and our first choice was Maine. We hoped to start in the northeast corner of Maine and follow the coast south as far as Massachusetts. Then we heard about the hurricane. The long-range weather forecast was nothing but rain. Yuck!

So we changed our plans and now we're on our way to Nashville.

The plan is to reach Nashville tomorrow and spend about 5 days there before heading home. Our return trip will take us through Cincinnati to Cleveland and then across Interstate 90 through Buffalo and Syracuse before we head north on Interstate 81 and home.

I managed to get us some tickets to the Saturday performance at the Grand Ole Opry and we hope to do a few city tours.

We pulled away from home at 6:10 this morning. We hit Toronto at the end of rush hour, but some rain had slowed thing down to a crawl. What should have been a 20-minute drive across the top of the city took us an hour and a half. By noon we were at London, Ontario where we stopped for gas and lunch. We crossed the border from Sarnia, Ontario into Port Huron, Michigan at 1:30 and followed Interstate 69 to Auburn, Indiana where we will spend the night.
---
Wednesday October 1, 2008
We were up and on the road by 6:03am; I didn't even make a pot of coffee. We stopped a few miles down the highway at a McDonalds and had coffee and an Egg McMuffin. We had a great day to travel and we made good time. The only other stops we made were for gas and lunch at the Cracker Barrel, it was Chicken Pot Pie day and they make the best.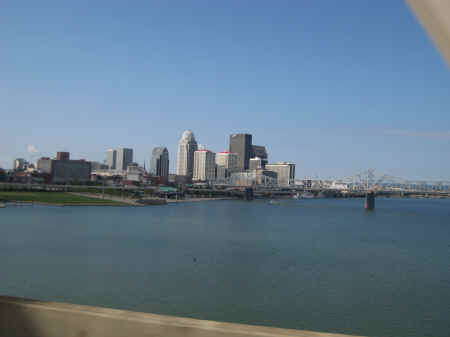 We arrived at the campground in Nashville by 3:00 p.m. our time but realized we crossed a time zone so it was actually 2:00 p.m. here. We gained an hour. Gary got everything outside set up and I got the inside done, then we both lied down for a nap.
We decided not to go anywhere so I made some sandwiches for dinner and then we walked the dogs. It is quite nice here, in the 70's, the forecast looks good so we should have a good week.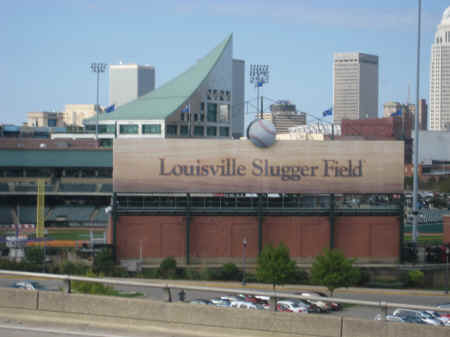 ---
Thursday October 2, 2008
We got off to a late (and lazy) start today. After two days on the road it was nice to relax.
We had a light breakfast in the RV, took the dogs for a walk and then stopped at the campground office to book some tours. We are booked for a dinner show at Nashville Nightlife tonight and then the Gray Line "Nashville Nights" tour tomorrow night. I had already picked up Grand Ole Opera tickets online for Saturday night.
After we finished in the campground office we headed over to the Opry Mills Mall. We spend several hours shopping our way around the mall and picked up a few things in several of the stores. Before we knew it lunchtime had rolled around so we stowed our purchases in the car and headed to the Macaroni Grill for lunch. We don't have this restaurant chain in Canada and we enjoy it.
Back at the campground we took the dogs for a romp. They were happy that their house wasn't moving around today! We spent a relaxing afternoon and left at 5:30 for the dinner show at Nashville Nightlife, just down the road from our campground.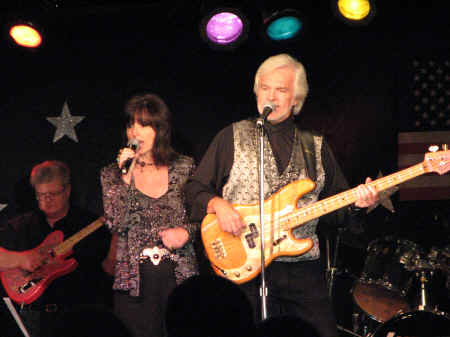 The buffet dinner was merely OK . . . but it wasn't about the food. The show was a hoot! It was almost like a family affair! The guy who sold us our ticket was the lead singer and bass guitar player in the house band. The headliners were Jeannie Seely, a long time member of the Grand Ole Opry, and Steve Hall with Shotgun Red.
Steve and his puppet Shotgun were regulars on the Hee Haw show and several other CMT and TNN shows. The hostess who seated us turned out to be Jeannie Seely's friend and neighbour Carolyn.
The show was very entertaining. Good music, good comedy in a fun and lively presentation.
We were back to the campground by 9:00 p.m.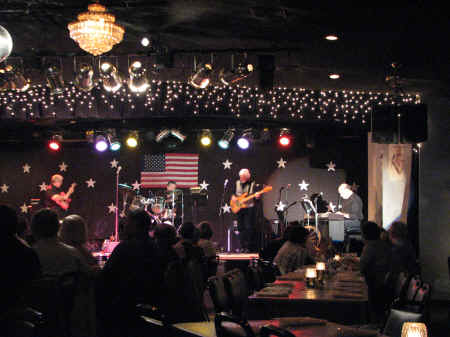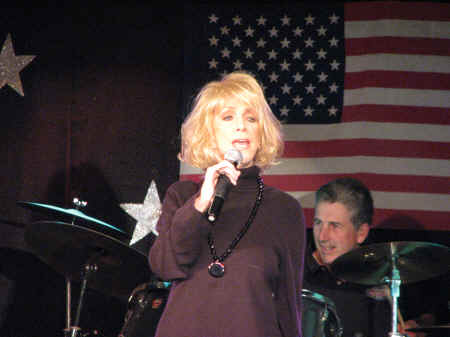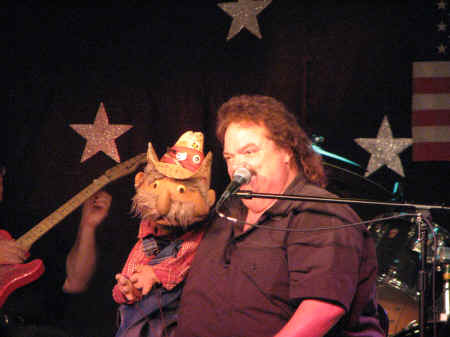 ---
Friday October 3, 2008
We got off to a slow start again today. We took the dogs for a walk and a bit of a romp and then hopped in the car and headed over to the Grand Ole Opry House to pick up our tickets for Saturday night. We arrived a half-hour before opening so we took a few pictures around the grounds and hopped back in the car for a trip to The Disney Store. The store in the nearby Opry Mills Mall is an outlet store and I prefer the traditional Disney Store. We headed south on Interstate 65 to Franklin and the Cool Springs Mall. I picked up a few Christmas gifts and of course Gary had to stop at Home Depot. We headed back to Nashville and stopped to pick up our Opry tickets.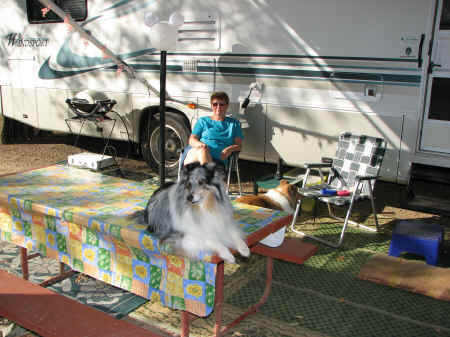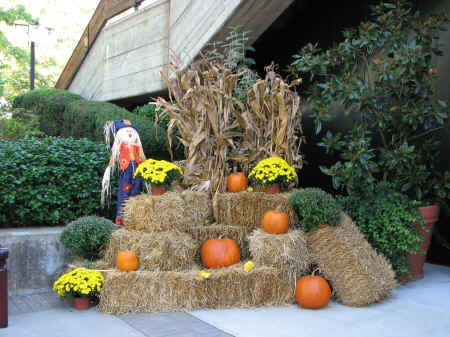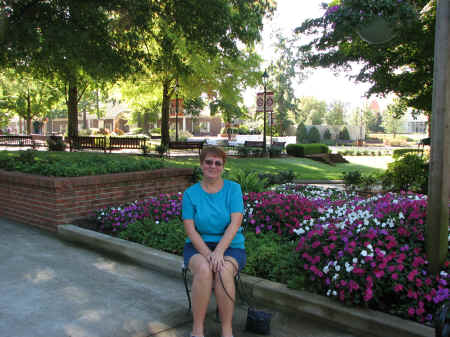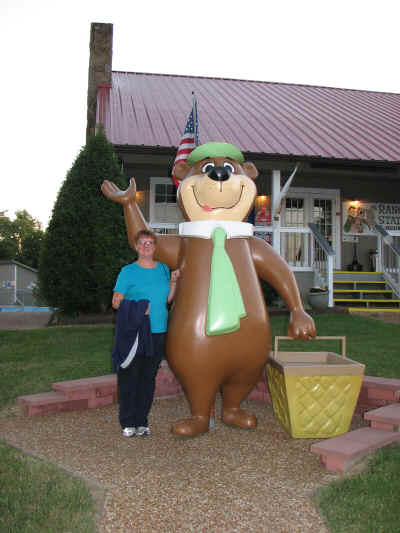 We had lunch in the motorhome followed by a restful afternoon and then barbecued dinner before heading out on our "Nashville Nights" tour with Gray Line Tours. We have enjoyed many tours with Gray Line, but I must say that this one was not up to their normal standards. We were the first to be picked up at the campground and then had to stop at four hotels for more pick-ups before the tour began. We drove through downtown Nashville on our way to the honky tonk area on Broadway and the guide, Tex, pointed out a few sites.
The tour is advertised to include exclusive entry to both the Legends Corner and Wild Horse Saloon honky tonks. We pulled up at the Wild Horse Saloon and the driver announced that there was a concert that night so we would not be stopping. We did get into Legends Corner where a great band was playing. Gray Line bought us all a drink and we sat and enjoyed some music. Within ten minutes Tex was spinning his finger in the air in the "time to go" motion. We were no sooner back on the bus when Tex announced that he was driving us three blocks down Broadway to the corner of 2nd Avenue. He dropped us off there to explore the many honky tonks on our own. Ouch! This wasn't what we expected the tour to be. It was nothing more than a $90.00 cab ride downtown.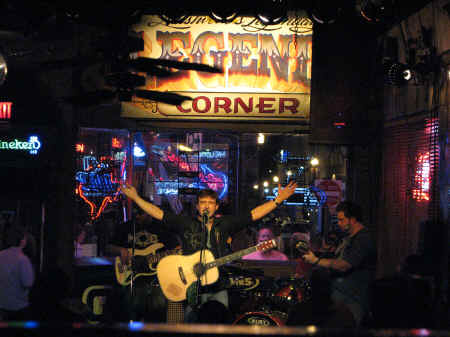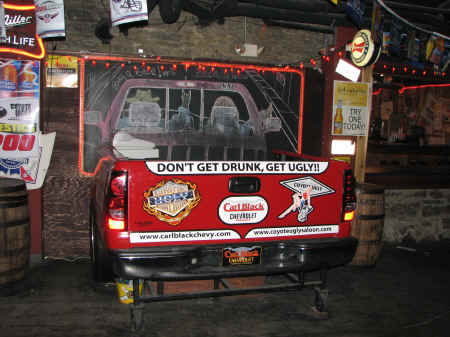 I thought I'd give Gary a treat so we went directly to Coyote Ugly where the girls dance on the bar. It was too early, no crowds and no dancing yet, but we did watch the bartenders compete with patrons in some bizarre drinking game. Before long the extremely loud rock music drove us out.
We wandered down Broadway, stopped in for a look around the Ernest Tubb Record Shop and then went across the street to Tootsies. There was a great group playing, the singer was Jake Maurer. We had a drink and enjoyed the show for about 40 minutes.
We moved on down the street to The Bluegrass Inn. A group called Jypsi was playing . . . we're not sure exactly what it was. It was some sort of "rocked-up" bluegrass that we agreed we didn't enjoy. We didn't finish our drinks, just headed out and stopped at the Merchants Restaurant for a snack and some quiet time after that loud and weird bluegrass experience.
By this time it was getting close to our 11:00 p.m. pick-up time. We went back to Legends Corner where a new band was playing. We sat and enjoyed them for about 30 minutes until we boarded the bus for our return trip to the campground. Of course, we were the last stop.
While we had a fun evening, the tour was certainly not worth the money. We should have just driven downtown, as we have many times before, and wandered around the honky tonk district.
---
Saturday October 4, 2008
This morning we followed our normal routine and walked the dogs before heading out to the Opryland Hotel. This is an amazing building to walk through. It has three huge conservatories, or glass canopied atriums which are themed and magnificently landscaped, and there is a huge open-air atrium which houses the pool and more wonderful landscaping.
We parked at the Opry Mills Mall and entered the hotel at the Delta Portal which leads in to the Delta atrium. This glass covered area is themed to replicate the French Quarter in New Orleans. We took the riverboat ride around the Delta Island and enjoyed the three cascading waterfalls, colourful foliage and the New Orleans theme.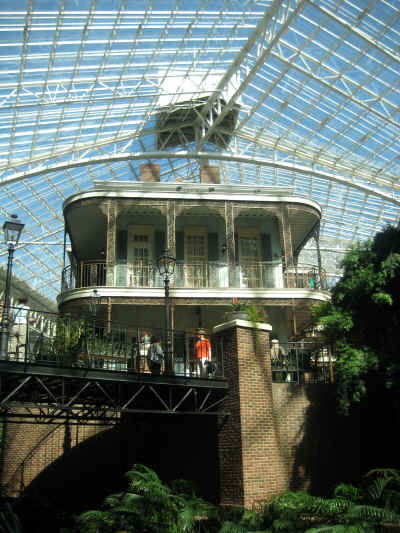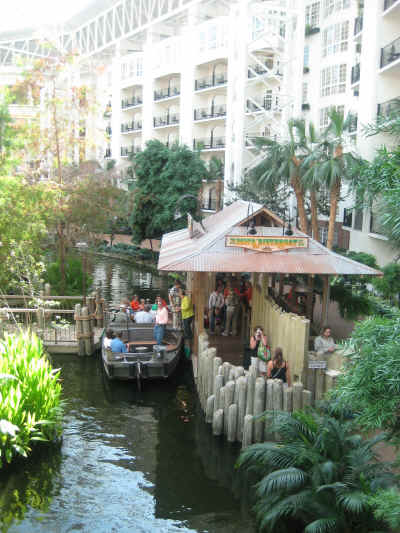 From there we walked on to the Garden Conservatory, another glass covered atrium, devoted to lush greenery and foliage. There are orchids everywhere! We stopped at the open-air Magnolia atrium which is full of azaleas. It was not nearly as showy as the last time we visited. In April 2007 the azaleas were a blaze of colour.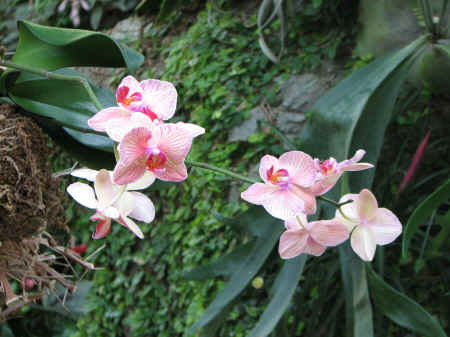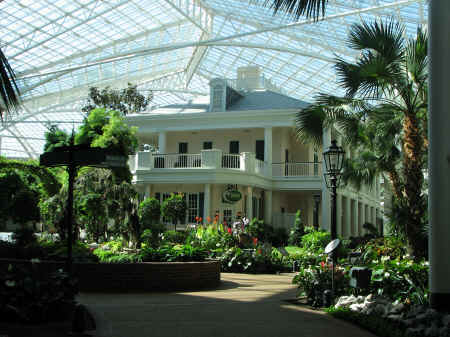 Lunch time was rolling around, so we headed back to the Delta Atrium where we each had a burger at Stax. It was disappointing. We sat on a New Orleans styled gallery and enjoyed a magnificent view while we ate a huge, cold and flavourless burger.
As we started off to see the Cascades Atrium a street performer named DeVine arrived. We stopped to watch her show for a few minutes before heading on to our last stop in the hotel.
The Cascades, another glass covered atrium, has a large water area with numerous fountains dancing water. I must say that the Delta is our favourite conservatory.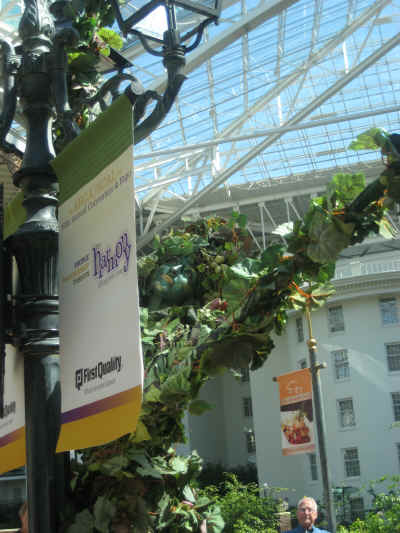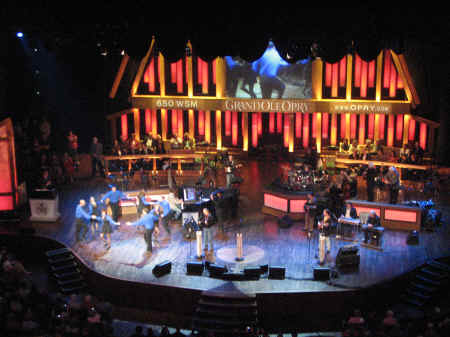 We headed back to the RV and spent the afternoon in the campground. After dinner it was time for the Grand Ole Opry show. We drove once again to the Opry Mills Mall parking lot and walked the short distance to the Opry House.
Our seats were quite high up in the theatre. I guess, since we only decide to come here a few days before we left, we were lucky to get tickets at all. The show was a sell out!
The show is broadcast live on WSM Radio, as it has been since 1925. It seems strange to see an announcer at the side of the stage throughout the show. Between every song he reads a commercial for the show's sponsors.
We went to the 7:00 p.m. show which was broken into three segments.
Segment 1:
Hosted by Jean Shepard, featuring The Whites and Eric Church
Segment 2:
Hosted by Jeannie Seely, featuring Connie Smith, and Lee Greenwood
Segment 3:
Televised live and featuring Josh Turner, Sara Evans, Jimmy Wayne and Wynonna.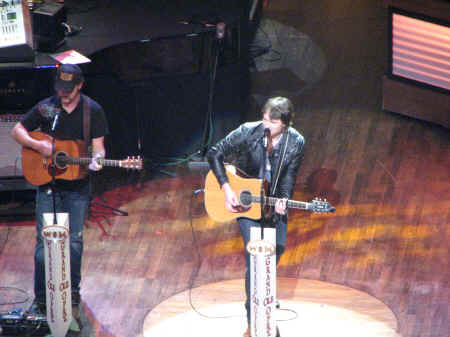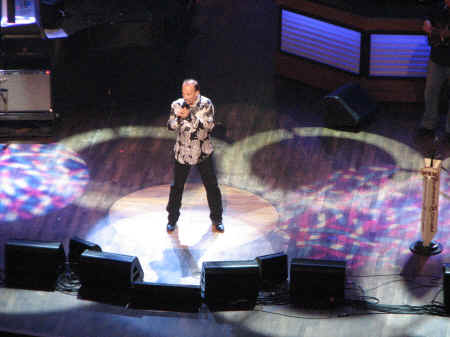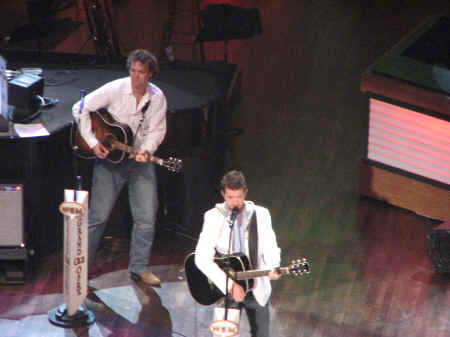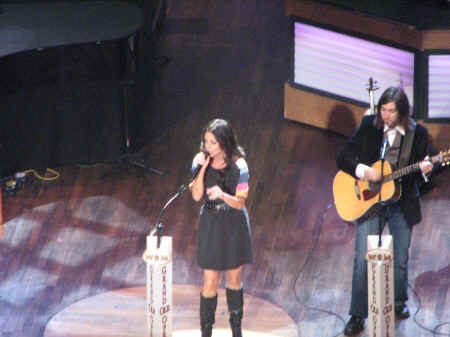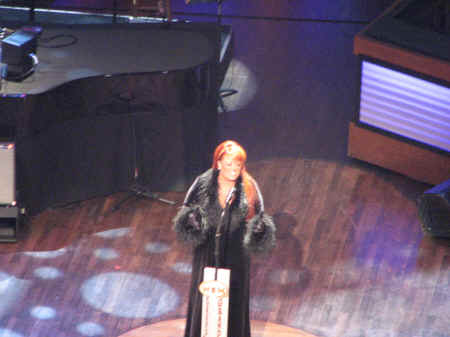 The show was just wonderful. Even Gary, who isn't a country fan, was tapping his toes and clapping along.
After the show we went back to the RV, lit a campfire and sat out enjoying the peace and quite for about an hour. Then it was lights out!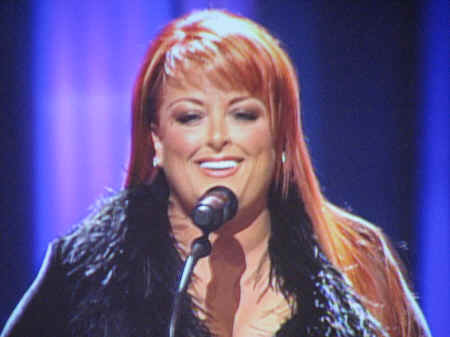 ---
Sunday October 5, 2008
Today was a very quiet day. We had an 11:30 reservation for brunch at the Opryland Hotel so we enjoyed a slow morning with the dogs. We left the campground at about 10:45 and parked at the Opry Mills Mall then walked the short distance to the hotel.
Brunch was at the Water's Edge Marketplace Buffet in the beautiful Delta Atrium.

The setting was fabulous, right beside the indoor river and surrounded by lush tropical foliage.

The meal was just as good as the surroundings.

Gary and I both completely enjoyed it.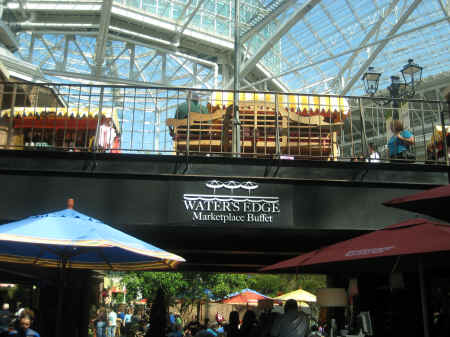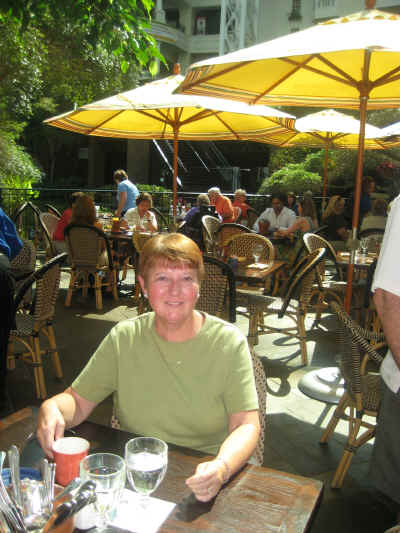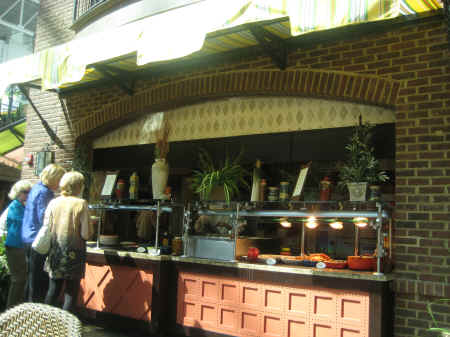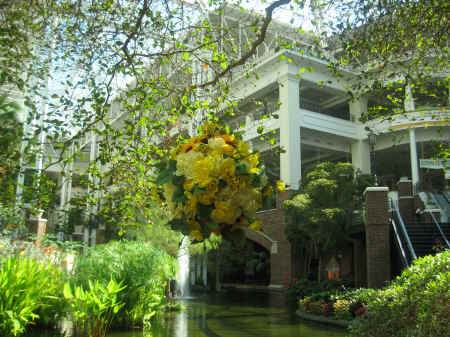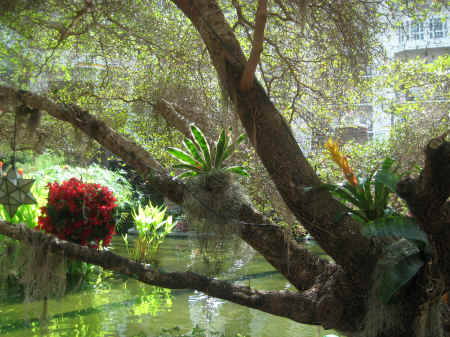 We left at about 1:15 and had intended to go to the Country Music Hall of Fame. By the time we got to the car I was pooped. It seems that neither Gary nor I have gotten up to a full energy level since we returned from last month's cruise. We went back to the campground and had a relaxing afternoon with the dogs. Later in the afternoon we took a drive out McGavock Pike and Lebanon Pike for some last minute shopping before we leave town and head for home.
Our first choice for dinner was a nearby roadhouse, Caney Forks. When we checked the menu there was little that appealed to us . . . somehow we just couldn't get our heads around a catfish Reuben sandwich!
So we drove just down the street to John A's Little Palace where the sign advertised live music. We sat, ordered a drink and checked the menu . . . no catfish Reuben . . . so all looked good. We ordered dinner and almost immediately there was a man standing beside our table. He said, "Gary, how are you?" It was Bob Ward, a man who used to work for the same company Gary and I worked for. He and Gary played on the same company baseball and hockey teams many years ago and have been friends for over 35 years. It was the first time Gary had seen him since we moved from Burlington to Kingston two years ago. It really is a small world! We had a nice visit with Bob and his wife Mary Lou. They are leaving for home tomorrow too. We had a good dinner, enjoyed the music and agreed that this is a place we will visit again. It looks like a popular place with the locals. The line dancers seemed to be well known to over half of the people who came in while we were there. It looks like a good spot to go for an evening of music and a few drinks.
After dinner we headed back to the campground for some TV before bed. We hoped to be on the road early the next day, it was going to be a long driving day!
---
Monday October 6, 2008
Bear Creek KOA, East Sparta, OH
---
Tuesday October 7, 2008
Home
---