April 9, 2008
Our plan was to be up and on the road by 7 a.m. We were actually on the road by 5:50 a.m. It was nice to get an early start. We made a quick stop in Gananoque for one last cup of Tim Horton's coffee before leaving the country. At that early hour there was nobody at customs so we breezed through with a quick "have a nice time" from the custom officer, at 6:45 we in the USA. It was a nice day once the sun came up, there was hardly any traffic so we made good time. We just got past Syracuse when we heard a crashing noise, Gary pulled the RV over to the side of the road and went out to check on what happened. It was the A/C cover that flew off the roof and broke in a million pieces when it hit the road. Not much we could do so it had to wait until we got home to be fixed. We hoped it wouldn't affect anything else!
We stopped at Wilkes-Barre for lunch, it was Wednesday so that meant "chicken pot pie day" at the Cracker Barrel. It is a favorite for both of us. After lunch we got right back on the road and drove right through to Hershey PA. We got set up, romped the dogs for a bit and then headed over to Chocolate World. We watched the 3D movie, it's no Honey I Shrunk the Audience but it was cute. I bought some candies and then we went to a grocery store for some supplies. After that we drove into Harrisburg for a quick trip to the Disney Store and then some dinner.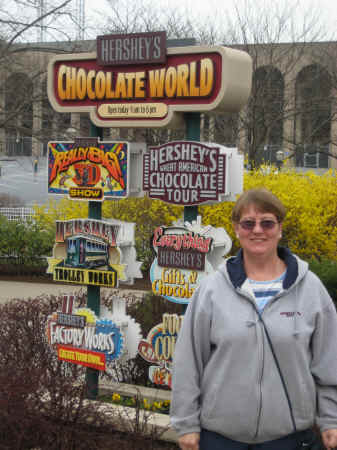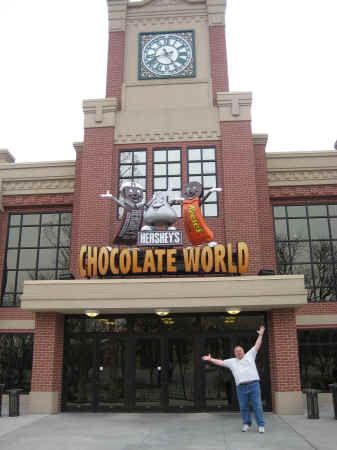 After dinner we drove back to the campground, I packed away our purchases and Gary took the dogs out for a walk. It had been a long day so we watched a bit of TV and then called it a night. The following day was to bean easy drive day, not to far to Cherry Hill Park, MD.
---
April 10, 2008
We got an early start this morning, we needed to take the RV over to a repair shop. When we set up yesterday the jacks would not come down, the motor is toast. The mechanic checked it out and confirmed it needs a new motor but they didn't have one in stock. While the mechanic was checking it out we drove over to the Outlet Mall. They have a wonderful Disney Store there. When we went back to pick up the RV we decided to worry about the motor later. We stopped in York for some lunch and I had a chance to go through the Christmas Tree Shop. I love that store. After lunch we drove right on through to Maryland. We didn't realize how hot it was until we started setting up at the campground. It was well in the 80's. It was a beautiful afternoon, but we spent most of it setting up and trying to find a service department that could fix the RV jacks. We tried places all the way down to Florida, no one had time or the parts. We decided to just wait until we get home, we knew it would be a bit bouncy and hoped we would find level sites for the rest of our journey.
After we decided to give up, I took the dogs for a walk and checked out the campground. It is quite nice, some of the trees were in blossom and it was very pretty.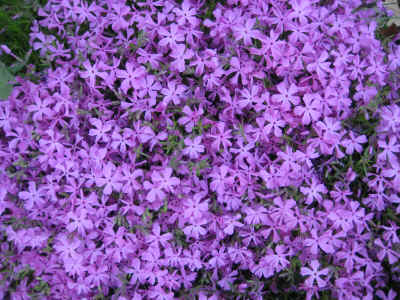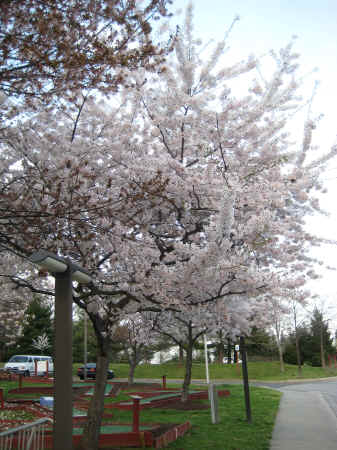 We decided to go out for dinner, we hopped in the car and just started driving, and we drove and drove and couldn't find anything to our liking. We finally found a restaurant at the Holiday Inn that had a nice dining room. It was excellent food, but by the time we finished it was after 8 o'clock and the fatigue from the day hit us like a rock, so it was an early night.
---
April 11, 2008
It was quite overcast and a little cool when we got up. We went to the Star Café at the campground for some breakfast and then gave the dogs a romp. We drove out to the front of the campground and caught the bus to the Metro. We took the Metro into Washington and then we walked, and walked and walked. It is such a huge area and we tried to see too much in one day. We started out walking down to the Mall and to the Washington Monument. We walked around the monument and then over to the Tidal Basin. The cherry blossoms were almost over but we could get an idea of what it must have looked like a week prior. Some of the trees still had lots of flower and the wind was blowing the petals so it looked like it was snowing. We walked around the basin stopping at the Jefferson Memorial, the FDR Memorial and over to the Lincoln Memorial. We then walked through the Korean War Memorial, the Vietnam War Memorial and finished at the WWII Memorial. Then we had the long walk back to the Metro. My legs were so sore that I didn't think I would make it. We made several stops along the way to sit on a bench. Next time we will get a ticket for the tourist trolley that runs all around the area.
We caught the Metro back out to the College Park stop and then took bus #83 back to Cherry Hill. It was 4 p.m. by the time we got back to the camp and the dogs were happy to see us. By then it was in the 80's, we were hot, tired and thirsty. I got the dogs out while Gary started the A/C and grabbed us a cool drink. It was then time for a nap before dinner. Zak ended up waking us up at 6 p.m., he wanted his supper!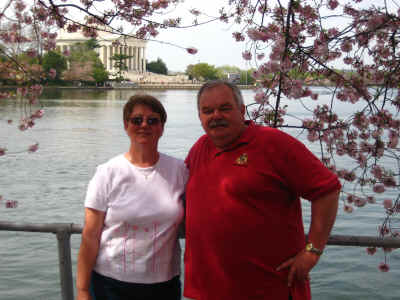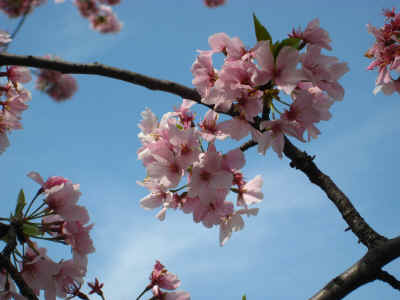 We went to a nice restaurant for dinner, they had such a great soup and salad bar that by the time our dinner arrived we were both too full to eat it. Oh well, next time we will know to pass on dinner and just pay for the salad bar.
We were both pretty tired so we just watched a bit of TV before crashing. We had a busy day planned the next day. Deb and Linda were picking us up at 7:30 a.m. to go back into Washington for the Cherry Blossom Festival Parade. We were looking forward to seeing them again!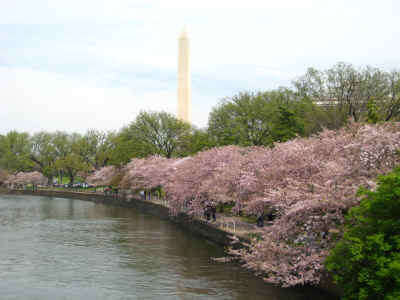 ---
April 12, 2008
We set the alarm early, we had to be up and ready for Deb and Linda, they were picking us up at 7:30. The weather forecast had not been good but the sun was trying to peek through and it looked like it was going to be a good day. Deb and Linda arrived right on time and came in for a coffee before we hit the road. It gave them a bit of time to meet Zak and Zoë and have a tour of the RV.
We drove to the Metro and then caught the train into Washington. Linda had bought everyone tickets so that we could sit in the bleachers rather than stand for the parade. I was very glad she did this, the parade took a little over 2 hours from start to finish. We also lucked out with the weather, there were a couple of showers but they passed quickly and the sun came out. The parade was very nice but a little drawn out. It was okay since it gave us lots of time to chat and get to know each other better.
After the parade we walked back through the Mall to the Metro and started our journey back to the campground. We had decided to have lunch out that way so that we could let the dogs out and not have to rush through lunch. Deb and Gary took the dogs for a walk while Linda and I sat and chatted in the RV.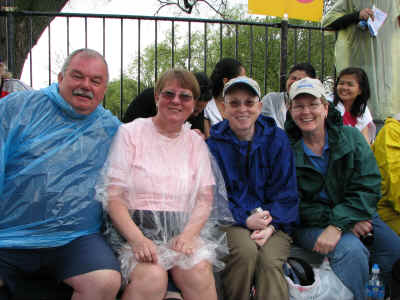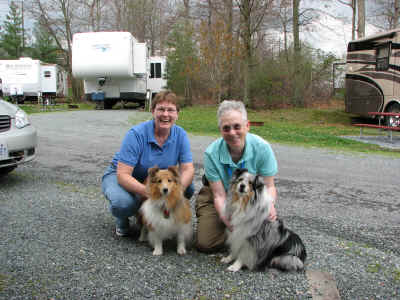 Linda had been in charge of the day's itinerary and she picked a great restaurant, it was a rib place called Red Hot and Blue in Laurel, MD. The ribs were great! We really enjoyed a leisurely meal, talking and trading stories. It was getting late in the day so we drove back to the camp and said our goodbye's to the ladies, it had been a wonderful day.
---
April 13, 2008
I woke up at 5 a.m. and couldn't get back to sleep so I got up and took the dogs out and got them fed. Gary figured he might as well get up too so we were packed up and on the road by 7 a.m. It was a very nice day and very little traffic so we arrived at the campground just after noon. It was nice to have the better part of the day not on the road. We had lunch, did a bit of shopping and then had a nap before dinner. Our campsite was right beside the doggie park so Zak & Zoë had their own private play ground. It was nice and warm, not hot, just right. We got to bed early again, and planned to get up early, I was anxious to get to Hilton Head.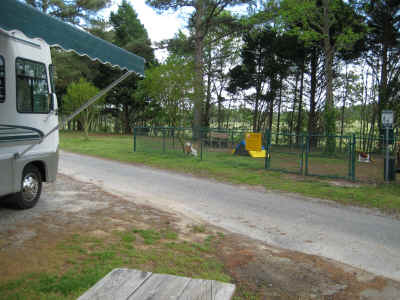 ---
April 14, 2008
We slept in a bit this morning and didn't get on the road until almost 8 o'clock. We had 300 miles to cover but it was a nice day and the traffic wasn't too bad. It was quite cool though, quite a change from the previous couple of days. We only stopped once for gas and then again for a quick lunch so we got to the campground just after 1 o'clock.
When we drove into the campground we couldn't believe our eyes, it was absolutely beautiful. We have been to a lot of campgrounds and I have to say this was one of the nicest we have been to (not including Fort Wilderness). It is right on the inner coastal waterway that runs between the island and the mainland. The grounds were impeccable, every site nicely manicured, each site has a concrete pad, paved patio, lots of shrubs and grass. Zak and Zoë think it is a pretty neat place.
After we got set up Gary and I decided to hit the hot tub, it felt really good to just relax. Unfortunately it was getting cloudy and cold so we took the dogs for a walk before the rain started.
When we had checked in we asked where the locals go for good seafood, we were told to try The Crazy Crab, so we decided that was where we would have dinner. Before we went to the restaurant we drove around a bit and found the public beaches. They are so beautiful, even in the rain. I hope it clears up for tomorrow.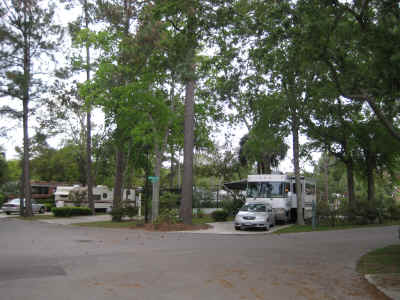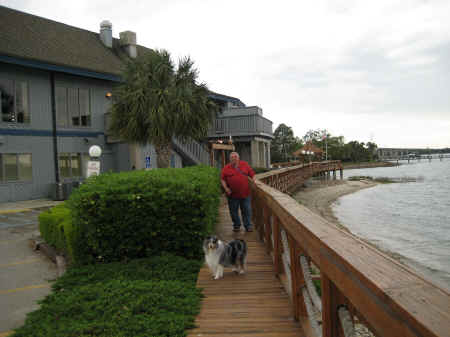 Then we went for dinner, it was so good, we both had seafood platters that had a variety of fish, scallops and shrimp. It was excellent!
It was a long day so needless to say we were both worn out. After we took the dogs for a romp, I played at the computer for a while and Gary went for a hot tub. A bit of TV followed and then early to bed. We planned to do lots of exploring the following day.
---
April 15
We woke to sunshine but it was still cold. After breakfast we loaded the dogs into the car and headed for the beach. I was surprised that there were quite a few people on the beach with it being so cold. The dogs had a blast chasing seagulls, I had wanted to keep Zak out of the water but he decided that he needed to chase one of the birds right into the ocean. With the wind as strong as it was, he dried off pretty fast.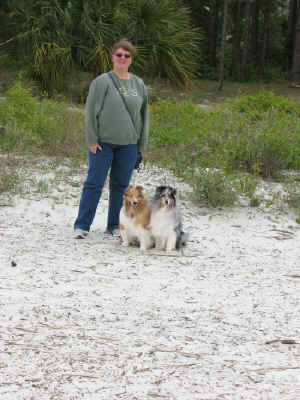 After the beach we drove around the island a bit, it is a beautiful community. We stopped at another beach and walked around South Beach Marina. We wanted to go over to Harbor Town but everything was closed off due to the PGA tournament going on. We decided to go back to the camp, drop the dogs off and have some lunch. We rode our bikes down to Sunset Grill, the restaurant in the campground, and had a nice lunch while watching the dolphins swim by.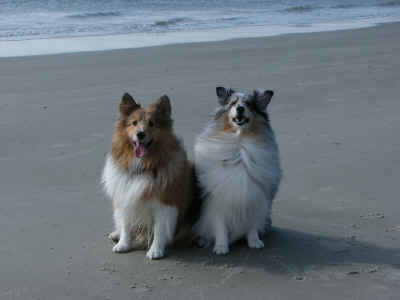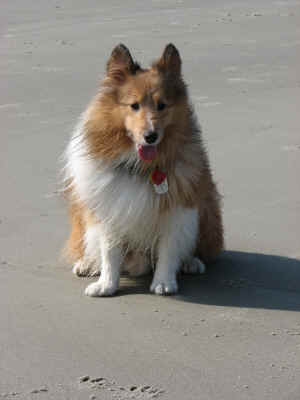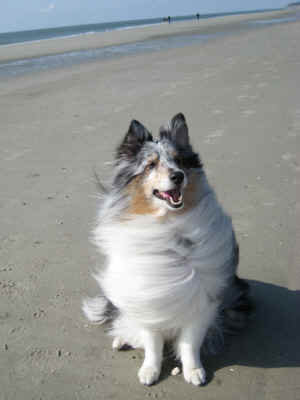 After lunch we drove over to Fort Mitchell, there really wasn't much to see but Gary enjoyed reading all the plaques which told the history of the Civil War fort. Then we thought we should have a bit of a nap before dinner so back to the campsite we went.
We went to The Old Oyster Factory for dinner, what a wonderful place to eat. The food was excellent, again we both had seafood. I still wanted to get over to Harbor Town so we drove back to the far end of the island. The golf was over for the day so we were able to drive right in. We arrived just in time to see the most beautiful sunset. It was a great way to end a great day.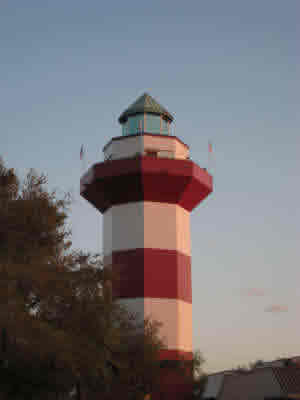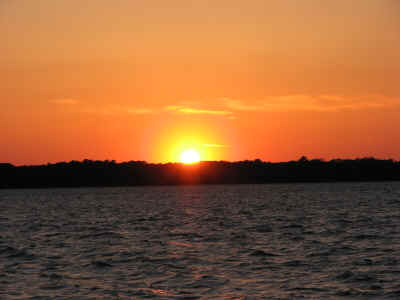 Tomorrow we head to Cape Kennedy for an over night stop on our way to the Keys.
---
April 16
We once again woke up to sunshine and hit the road at 8:00 a.m. By 10:30 we were in Florida and we just had to stop at the Florida Welcome Center for a free glass of orange juice. The juice somehow seems to make it official that we have arrived!
I had to get a quick "Disney fix" so we stopped at St. Augustine and I picked up a few things at the Character Outlet. Gary made a quick stop at the St. Augustine Camping World Store and then we had a quick bite at the food court in the Prime Outlets Mall. We made another quick shopping stop at Ormond Beach and arrived at the Cape Kennedy KOA at 3:30 p.m.
By 4:00 we were all set up and hopped in the car to explore the area. Our tour took us through Mims, Titusville, Kennedy Space Center and Cocoa Beach. The dogs had another romp on the beach and Gary and I watched the surfers for a while before we grabbed a burger for dinner and went back to the campground. Gary hooked up the car so we could get a quick start in the morning. We planned to get an early start so we would have time to explore Key Largo on Thursday afternoon.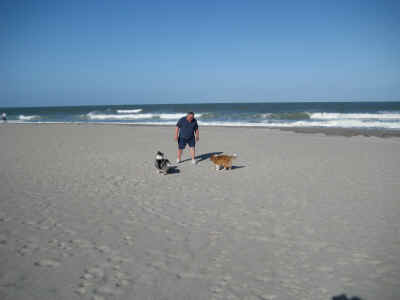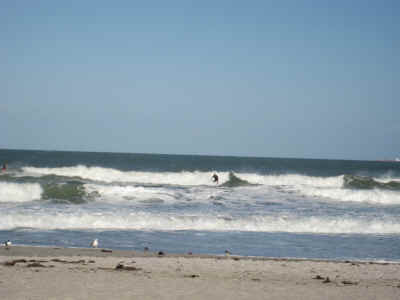 ---
April 17
Gary woke up early – annoyingly early. He was up at 6:00 a.m. and made too much noise. I grudgingly got up at 6:30. By the time we finished our normal morning routine and got on the road it was 8:00 a.m. We stopped briefly at a rest area at 10:00 and got quickly back on the road. By 11:30 we were in Miami, southbound on I95. We gassed up and had a bite to eat before we left the mainland – and crossed over our first bridge to the keys at 2:00.
As we drove along the first stretch of the keys we saw a truck on the roadside selling "Plant City" strawberries. We stopped and bought some. I swear that the guy selling them was Larry the Cable Guy's father. If you took Larry, thinned out his hair, turned it all gray and yanked out all his teeth – it would be the strawberry guy!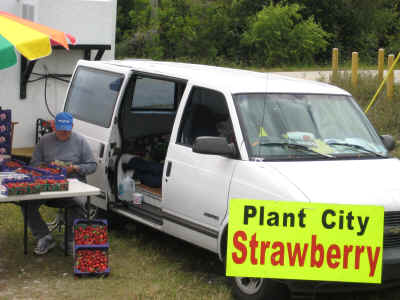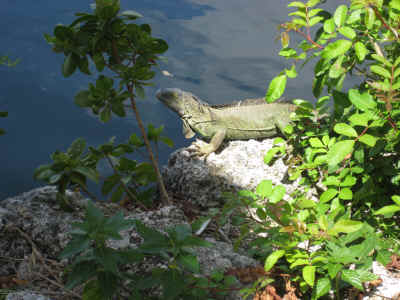 We pulled into the Key Largo Campground at 2:30 and were all set up by 3:00. I stepped out with the dogs to give them a stretch and almost stepped on an iguanadon. I swear it was three feet long – a giant green prehistoric lizard. After it frightened the bejeebers out of me it jumped off the dock into the harbour and swam away.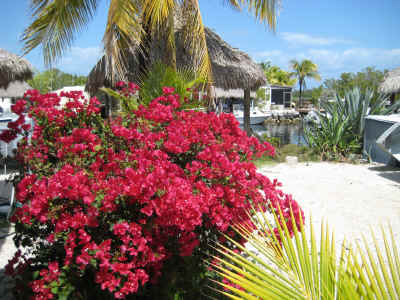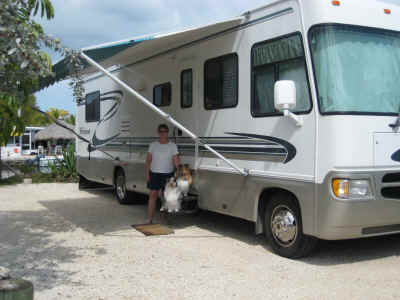 By 3:15 p.m. we were exploring. We drove back east to a visitor's center and picked up some information. Then we headed west and found a doggie park just a few miles away. Zak had a good run chasing his ball and Zoë just rolled in the grass.
We drove on west to Islamorada and at about 5:30 turned around to head back home. We dropped the dogs off and went to a wonderful restaurant, The Sundowner, for dinner. We both had Shrimp Scampi served over rice. It was awesome.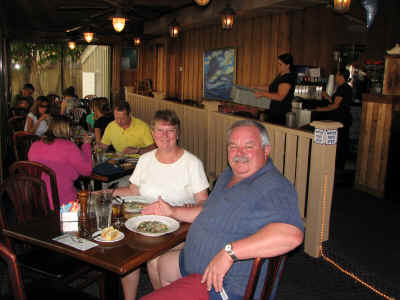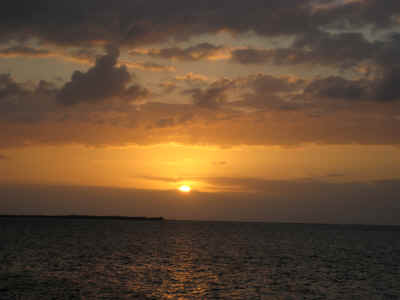 After dinner we moved to the patio to watch the sunset over Florida Bay, part of the Gulf of Mexico. Wow!
Then back to the motorhome. We walked the dogs and settled in for the evening. Tomorrow we head west another 80 miles to Sugarloaf Key, near Key West. We are already looking forward to returning to this campground at Key Largo on Sunday to explore this area some more.
---
April 18
We woke up to another beautiful day. We had our coffee and breakfast out on the little dock at our campsite. We got packed up and hit the road about 9:30 a.m., a little later than usual but we only had to travel 80 miles to the next campground. That 80 miles was just amazing, the water was every colour of blue and aqua you could imagine. Most of the route is on bridges and the views were awesome.
When we arrived at the campground we were able to pick a site near the water. It is a nice campground although it could use some more trees. It is very open and you are close to your neighbor. We were okay since there was no one beside us. Zoë wasn't too happy, there is no grass, everything is little stone pebbles.
After we got set up we had a sandwich, walked the dogs and then drove into Key West. We just drove around a bit to see what we could see. We stopped at the most southern point of continental USA and had our picture taken. We have now been to the most southern point of both Canada and USA. We decided that we would go back to the camp for a swim and to spend some time with the dogs. We stopped to buy some tickets for the tourist trolley, we decided that we would tour around the next day and figure out what we wanted to spend time seeing.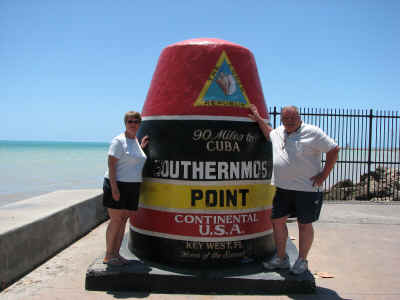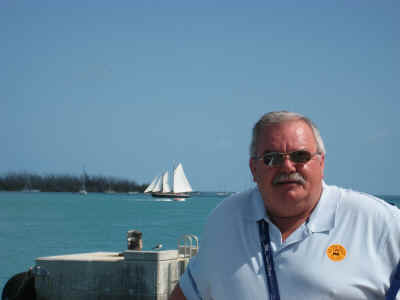 After a nice swim and nap we drove back into Key West to have dinner. We found a place to park and walked down Duval St. to the pier. We stopped at Sloppy Joes for a drink, just so we could say we had been there. We then walked along the pier and found a quaint place called Turtle Kraals. We had a nice table outside along the pier so that we could watch the boats come and go. After dinner we drove back to Sugarloaf Key. We walked the dogs then went for a nice soak in the hot tub and a swim before bed.
---
April 19
When we woke up Gary said, "Look out the window", we were still lying in bed, the sun was just coming up and the sky was all colors of pink and red and orange, there was a coconut tree outlined in the view. It was so pretty, just like a post card. We got up, showered and took the dogs to the dog park for a romp. Then we got in the car and drove into Key West.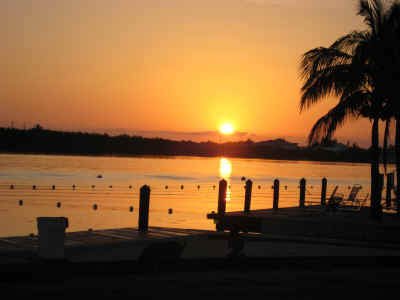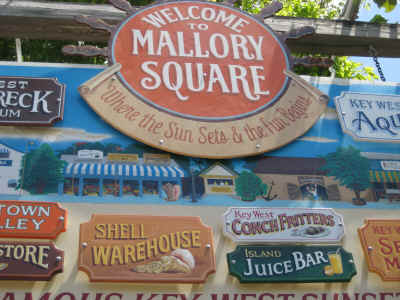 We boarded the Orange and Green Trolley and started our tour of the island. The driver was very good at his job, quite amusing yet very knowledgeable about the town. It is a very interesting place with lots of history. We got off the trolley in the center of town and walked around the many shops. On the drivers advice we had lunch at the only Cuban restaurant left on the island, it was called Pepe's. We ordered some traditional food and found it all to be quite tasty.
After lunch it was getting very hot so we decided to get back on the trolley, finish the tour and return to the campground for a swim. It was nice to be able to spend some time at the pool.
After a swim and a nap we walked the dogs and then decided that we would have dinner closer to the campground. There was a place just down the road called Mangrove Mama's. We had a good meal sitting under a canopied, outside dining area. We finished and then came back to the campground. I did some laundry while Gary took the dogs to the dog park and then went for a swim. The mosquitoes were so bad that we could not stand to be outside, so we had to pass on the full moon and a nice warm evening.
---
April 20
Gary woke me up telling me to look out the window again, the sun coming up was beautiful. We got an early start and took our time driving back to Key Largo, the scenery is so nice. Going over one of the bridges I was looking down into the water, it is so clear I actually saw a stingray. We arrived at the campground just after 10 a.m., we were not sure if our site would be open yet but it was so we could pull right in and get set up.
We had a quick lunch and got the dogs walked, we wanted to get to the John Pennekamp Coral Reef State Park in time to catch the 12:15 glass bottom boat. We got our tickets and had enough time to get and ice cream cone and sit by the water before the boarding call. The boat went through the channels, lined with Red Mangrove, fairly slowly but once it gout out in the ocean if traveled quite fast out to the reef. We saw lots of sea life. On the way out we saw a sea turtle and several flying fish. While we cruised over the reef we saw Dory and a nurse shark plus numerous other fish and coral. We then headed back to shore, the whole trip was 2 ½ hours. Just long enough to get a sunburn!
Back at the camp we went for a swim then a short nap. We decided to go to a local restaurant called Ballyhoo's and had a wonderful seafood dinner. All the fresh air and good food has taken its toll, we were both really tired so it was early to bed. We had to be up early the following day, and headed for Disney in good time!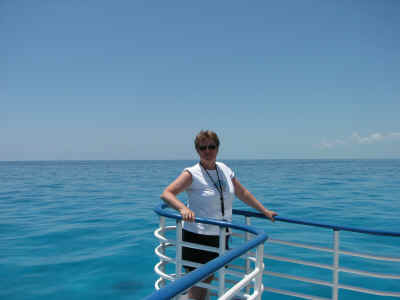 ---
April 21
We hit the road at 7:45 anxious to get to Disney. We had a lot of construction along Highway 1 but when we got to the Florida Turnpike it was smooth sailing, at least for a few miles. Then we hit the Miami area and the traffic just stopped. It was stop and go for miles. We did not make very good time until we got to the Vero Beach area, then things opened up and we were on our way.
We made a couple of stops just to stretch our legs and have a coffee. It was quite hot and we were both tired. We pulled into Fort Wilderness around 3 o'clock and immediately felt the "we are at Disney" feeling. The CM that checked us in was very nice and was able to upgrade us to a preferred site, so I ran in to get the cables and modem, this meant we would have Internet. At least that is what we thought! While Gary did the outside hookups I played around with the inside hookups. I could not get the Internet to work. I won't go into the details of my numerous conversations with various Cast Members and the company that Disney outsources the internet service from but lets just say we ended up with a complimentary dinner at The Trails End and free access to the Internet when we took our laptop up to the Outpost.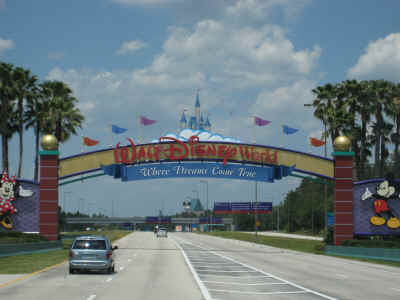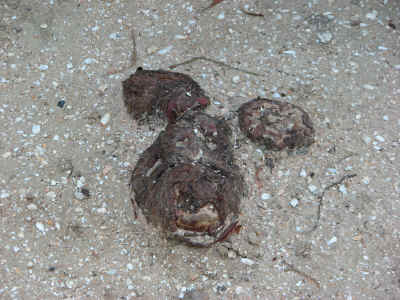 Gary found a Hidden Mickey at our campsite. It is formed by some cypress knees growing up through the sand and gravel behind our motorhome. I've sent a copy to Steve Barrett's site, we'll see if it becomes an "Official Hidden Mickey"
We were both too tired to even attempt to go to a park after we had eaten so we rode our bikes up to the swimming pool and had a nice relaxing swim. We decided that since we had to be at Animal Kingdom the next morning by 7:30 a.m. we should get some sleep.
---
April 22
I was wide-awake at 5:30 a.m. I was so excited about attending the WDW Celebration's 10th Anniversary gathering for Animal Kingdom called A Wild Decade. I had read about the event they ran for EPCOT's 25th and regretted not being able to attend that event. We showered, fed the dogs and loaded them and the laptop into the car. We made a quick stop at the Outpost so I could do a quick check of email. While I was doing that Gary walked the dogs over to the butterfly garden and had a chat with Fred. We had met Fred the first time we stayed at Fort Wilderness, he is in charge of the garden and cares for the butterflies. If you ever want to know anything about butterflies or how to grow a butterfly garden, this is the man to talk to.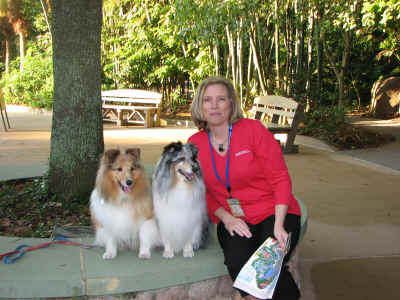 After a short visit with Fred we got in the car and headed over to Animal Kingdom. Since we had the dogs we could drive into the kennel parking area that is close to the gates.
Gary took the dogs with him to the event registration desk while I went into the kennel to do the paper work. Zak and Zoë got to visit with the group before I checked them into the AK Doggie Lodge (we don't let them know it's a kennel – they think it's a resort).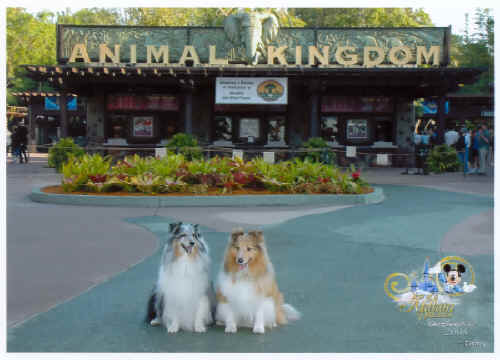 The gates opened at 8:45 and the crowd went directly into the area in front of the Tree of Life. There they did a rededication of the park with special guest Dr. Jane Goodall speaking to the crowd. She finished her speech with a thank you from the chimpanzees then a parade of cast members came out swinging paper doves over their heads. It was all very touching.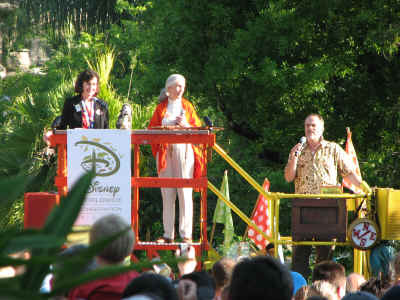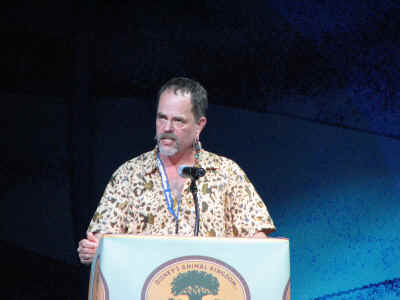 The Wild Decade group then proceeded over to the Theatre in the Wild where we had been invited to join the Cast Members and enjoy a presentation by Joe Rohde. He was the lead man in the design and completion of Animal Kingdom. What an amazing person to listen to. He is truly a genus in the imagineering world. After that session was over we had an hour before the group Nemo meet so Gary and I decided we need a snack. The only thing we could find in the area was ice cream - so that was lunch.
We went back to the Theatre in the Wild and watched Nemo, we both really enjoy this show. The next event was a group ride on Expedition Everest, I decided that I would go and walk the dogs while Gary went for the ride. Zak and Zoë were quite glad to see me and we spent some time wandering around the edges of the parking lot. After I deserted them in the doggie resort I walked back through the park and meet Gary in time for the History Walk. This was a very interesting walk with one of the WDW Celebration team who took us through the park talking about how the park had grown and changed over the past 10 years.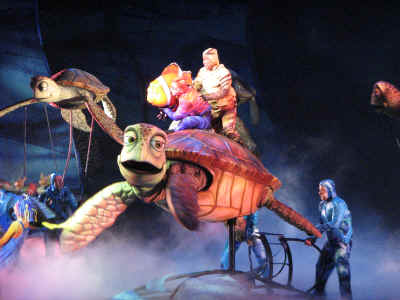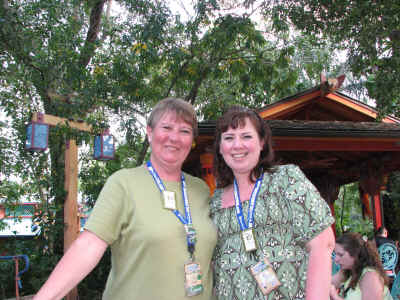 When we finished the walk we both went back to get Zak and Zoë for the second required walk of the day, then we went the Flame Tree Barbeque to meet the group for dinner. We had a nice visit with Amymouse and had several laughs while we exchanged stories. At 6:15 p.m. it was time for the group photo and a presentation to Lou Mongello for his Dream Team charity. There was a final group ride after that at Dinosaur but we decided to pass. We said our goodbyes to DebW, DebK, Annette, LindaM and Amy. We would see them all again in July at MagicMeets.
Hot and tired we made our way to the front of the park, discussing what a wonderful day we had. The young man who organized this is Adam Roth, a 17-year-old incredibly brilliant young man. He announced his next event would be Hollywood Studio's 20th next year and Gary and I would both really like to attend. I strongly recommend that you check out the site www.wdwcelebrations.com
Zak and Zoë were thrilled to see us, they had I think figured out the AK doggie resort was not all that much fun. We stopped back at the Outpost to see if our Internet had been fixed . . . again I won't bore you with the details but we still did not have Internet. Gary made a couple of trips back and forth changing modems and cables and to make another long story short we still had no Internet but a nice discount off the campsite rate. The ISP used by Disney is named Smart Spots - but we agree that they should be named "No Spots" - their customer support is worse than pathetic! We were both too tired to even go for a swim so we crashed.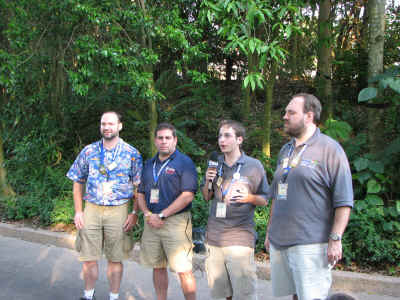 ---
April 23
After all our frustration the two days before with the lack of internet access, when I got up and looked at the modem, all the lights were lit. I immediately turned the PC on and as if by magic, I was into the Internet. I quickly downloaded our mail and posted some of my Trip Reports. I said to Gary "don't turn it off or we may lose it".
We had some breakfast and then I phoned Snickerdoodlesmommy, we arranged a time to go and have a quick meet up with her. We then walked the dogs and had a nice slow start to the morning. We drove over and had a nice little visit with Snickerdoodlesmommy, then followed her directions back to Disney, driving along to the new west entrance. We arrive at Downtown Disney just in time for lunch.
We went to The Earl of Sandwich for lunch, it is so good I could eat there every day. Then I did some shopping; I renewed my Walt Disney Classics Collection membership and picked up my membership piece, Donald Duck. While I was in the Art of Disney store I saw a sketch of Figment, nicely framed with a matching pin. I had to have it! I then went to Pin Central while Gary went over the World of Disney. After we finished our shopping we headed back to the campground and guess what – NO Internet!
Gary went back to the front desk and I decided that I would just ignore it, the whole thing was starting to affect my Happy Place! I had a bit of a lie down and then went out and played with the dogs. When Gary got back he tried to nap but was too tee'd off. The Internet was affecting his happy place too!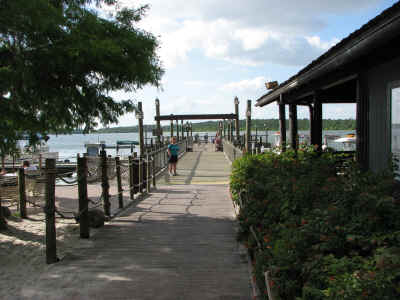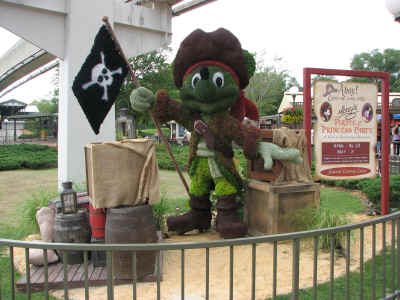 It was time to catch the boat and head over to the Magic Kingdom for the Pirate and Princess Party. We rode our bikes down to the docks and watched the boat pull away. We took advantage of the situation and Gary took some pictures of the area. The boat came along soon so we boarded and sailed across the lake on a beautiful sunny day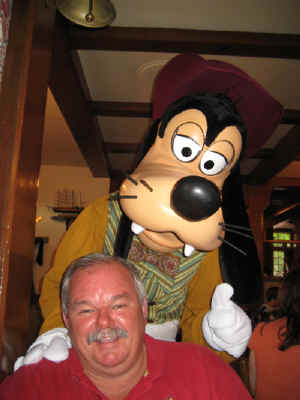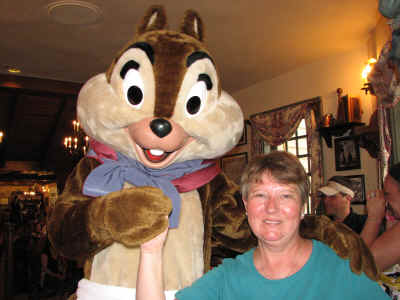 We had dinner reservations at the Liberty Tree Tavern, once again the meal was so good, home-cooked comfort food! We took our time and enjoyed the character visits. When we finished we had time to ride the Haunted Mansion before the show started in front of the castle. We were standing in a great spot so that as soon as the show finished we just turned around and waited a few minutes for the parade to come by. I really liked the parade, for Gary it was just OK.
Click on the green arrow to play Part 1 of video
Click on the green arrow to play Part 2 of video
After the parade we walked over to Casey's, Gary sat at one of the tables and had a cool drink while I did some shopping on Main Street. There was no one in the stores, I had never seen it like that before. The fireworks started at 9:45 and we stood out on Main Street just by Casey's and there was no one around us for about 25 feet. It was wonderful! After the fireworks, which I thought were great, we walked over to Fantasyland and rode Peter Pan and then over to Tomorrowland and rode Buzz. It had been a long day so we started down Main Street making our way to the boat. We had a great day.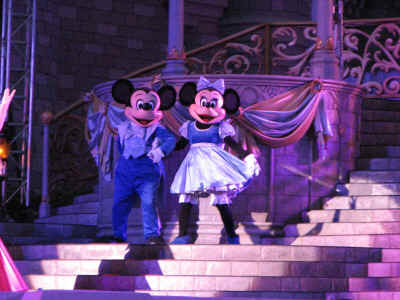 ---
April 24
We woke up and got a slow start to the day. Guess what? We had Internet access so we both spent a little time getting caught up. We were leaving for EPCOT at 9:30 when a truck from Disney Engineering pulled up and the men who got out unhooked our cable. Their test of our signal strength revealed an extremely low signal. They were planning to lay a new cable to our site from the junction box a few hundred yards away. That was the plan when we left.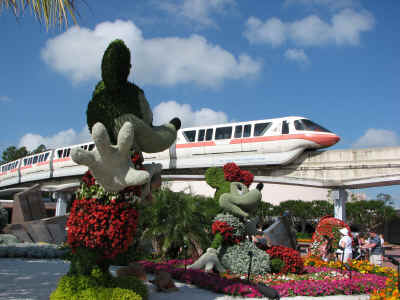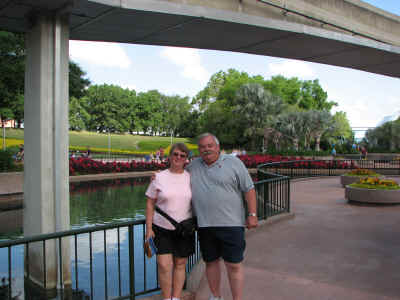 We arrived at EPCOT, got a FastPass for Soarin' and were taking some pictures of the Flower & Garden Show while we were waiting to meet Stinkerbelle and Ken at Canada when the phone rang. It was Stinkerbelle, she and Ken were still at All Star Sports waiting for a bus. We took some more pictures and then met Terry & Ken about 11:30 at the Canadian Pavilion. We had a nice visit while we waited for the Circle-Vision Show. We like the updated show much better than the old version. After the show Terry & Ken went to Le Cellier for lunch while Gary and I roamed through World Showcase, planning on lunch at Yakitori House in Japan. We didn't see anything on the menu that appealed to us, so we wandered on around the lagoon. We saw that Nine Dragons was open in China so we stopped there and had a delightful lunch. We chatted with a couple from Oregon at the next table. They wanted to ride Soarin' and had a FastPass for 6:30. Ours was for 1:50 and we knew we would not be riding it until the evening, so we traded with them.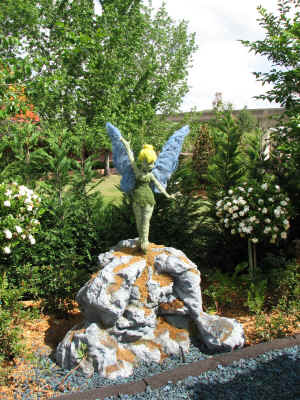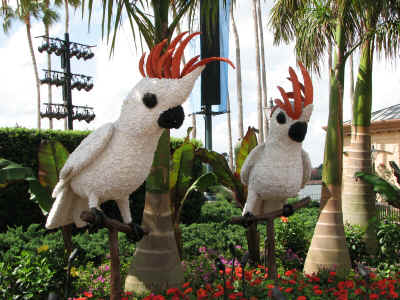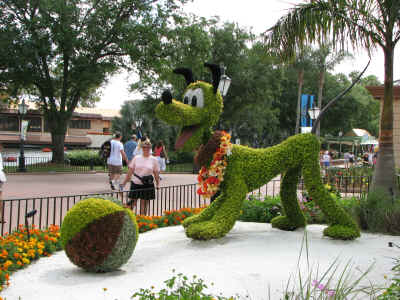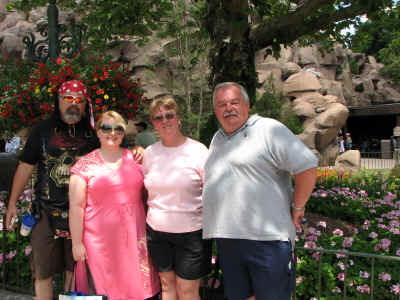 After lunch we walked the rest of the way around the lagoon, hopped in the car and returned to Fort Wilderness. By now the Engineering squad were digging up the neighbourhood in the campground. They had found some bad wiring and were replacing a lot of old, water damaged cable. We both had a long nap!
By 5:15 we were ready to head back to EPCOT for dinner. Gary pulled some cold drinks out of the refrigerator and took them out to the engineers who were still digging. By this time they had also discovered that someone had run their car into a "booster box" and knocked it out of commission. It had been replaced and they were ready to make the final connection to our site.
Off we went to dinner at San Angel Café in Mexico. It was our first time dining there and it was just great. We will definitely go back.
Gary is a big fan of Rock & Roll Oldies (he just cannot leave the 60's behind) so he was anxious to get to the America Gardens Theatre where the Ventures were appearing. I had time for some more window-shopping while Gary waited in line for the 8:15 show. I enjoy teasing Gary about his old fashioned taste in music, but I found my toes tapping and my hands clapping during the show. The band got a standing ovation when it was over and I was one of the first out of my seat to applaud. They were great. By the time the show was over the park was closing and Illuminations was beginning. We had missed our ride on Soarin' . . .
Oh well! Tomorrow we are back to EPCOT, so we'll ride it then.
We got to the car just as Illuminations ended and headed back to Fort Wilderness. The Internet was working when we arrived back (and was still working three hours later – a record for this trip) so I sat to update my trip reports while Gary rode his bike to the pool for a swim. We had another big day planned for Friday so "lights out" came early.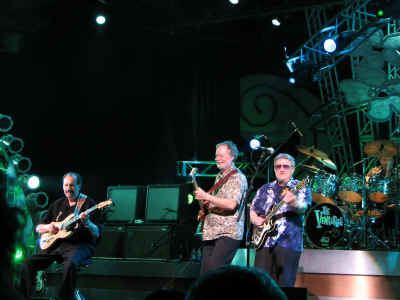 ---
April 25
I woke up thinking, there are only two more days. The thought was stuck in my mind and as we drove to EPCOT I blurted out "I don't want to go home". Gary is used to me saying that at the end of every trip so he let it fly by. A couple of minutes later I reiterated the fact a little more strongly and reminded him that he always tells me I never do anything spontaneous, so I saw no reason why we couldn't just got to the Outpost and ask if they could let us stay another day or two. He replied that we needed to check the calendar and see what was scheduled at home next week, and continued to drive to the Flower and Garden Show.
As soon as we got there we rode Spaceship Earth; we had been able to catch a soft opening in December but this was our first ride since it was completed. I really enjoyed the ending and we laughed at ourselves floating through space at the end of the ride. Gary then went immediately over to Soarin' to get fast passes and I went to Pin Central to pick up a couple of new releases. We met back of MouseGear and had the pleasure of meeting Jiminy Cricket!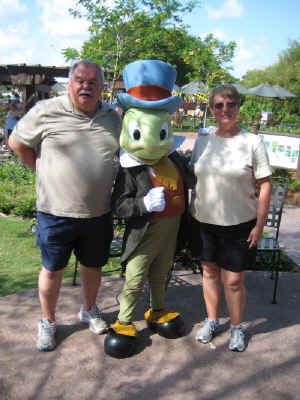 After that Gary walked over to Mission Space and I went to the Wonders of Life building. They had all the Flower and Garden shops and presentations set up in the now defunct building. I had just started wandering around when Gary showed up; the line was too long for Mission Space and they no longer have a singles line running. As we continued to walk around we were asked if we wanted to see the day's presentation. It was one I had wanted to see Wednesday but we were too late getting there; today there were some extra tickets – what luck! It was very interesting, the topic was "Wildlife Gardening Habitats". We all got a nice carry bag and a Gourd that can be made into a birdhouse. If we had more time we could have stayed after and painted it.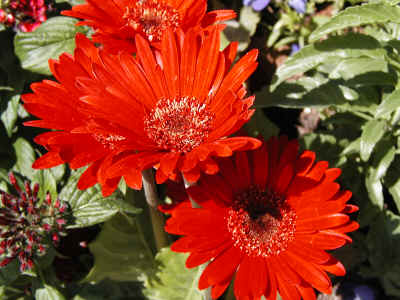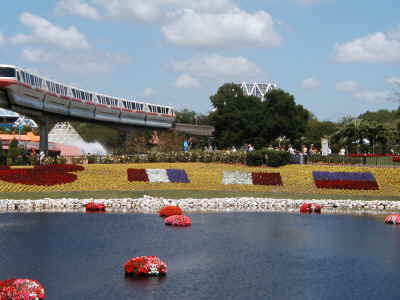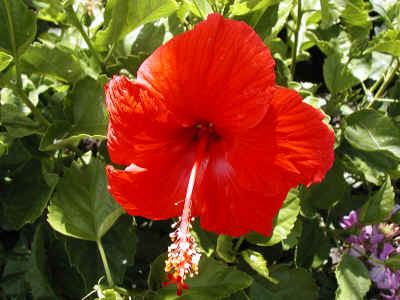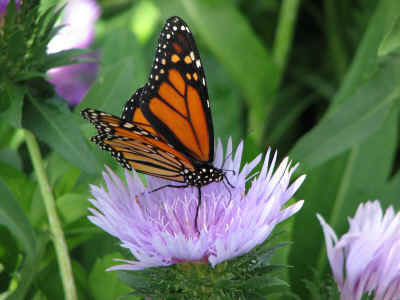 From there we walked over to the Rose and Crown for lunch. We had a nice table outside and enjoyed a nice meal. In my mind I was planning what we could do if we didn't have to go home.
After lunch we walked back over to The Land and rode Soarin'. The line up was two hours long, we were glad we had the fast pass. We then walked through the EPCOT 25 Years Exhibit, it is really interesting and well worth the few minutes it takes. We then walked back to the car, it was later than we had planned and the dogs would be missing us.
We had decided we should stop at the Outpost to just check our bill and make sure all the recalculations and credits had been processed. While the CM was printing it out I asked her if it would be possible for us to stay three more nights. She checked the system, went into the back room and then came out and announced that it would not be a problem. I looked at Gary and he reminded me that we had all our reservations for the trip home and some appointments booked for next week, I looked at the CM and said "book it". Gary seemed to grasp that he had no choice in the matter.
Back at the campsite we romped the dogs, had a nap and then started making phone calls, rescheduling our reservations and doctors appointments.
(See – I can be spontaneous!)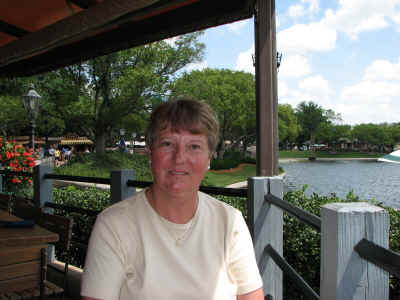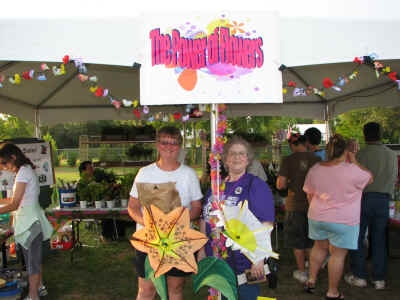 It was then time to drive over to the Reedy Creek Fire Station and meet up with Robin. She was walking in the Relay for Life and we were able to see her walk the survivors lap and then Gary joined her for the care-givers lap. We spent some time walking around the various booths and then left to go to Downtown Disney for a bit. I did some pin trading and Gary read his book. We headed back to the relay for 9 o'clock and stood with Robin to listen to the Luminaria Ceremony. It was very touching, and then we walked the lap in silence with Robin. It was time to say our good byes and we headed back to the campground. It was great turning in for the night knowing that when we got up in the morning it would NOT be our last day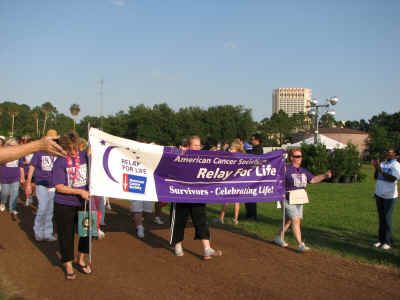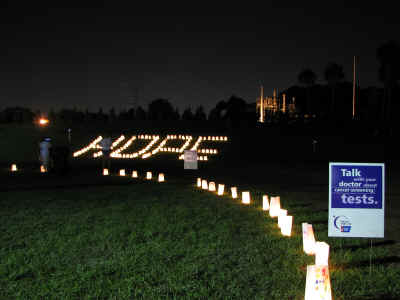 ---
April 26
Since this was not to be our last day we got off to a much more leisurely start. We changed our 7:40 breakfast at Trails End to an 8:40 breakfast and slept in a bit. After a great breakfast we hopped on the boat to Magic Kingdom. We were in the park by 9:30 and immediately caught the train to Frontierland. It was already getting hot, so our first priority was a FastPass for Splash Mountain. Then we went over to Big Thunder Mountain to ride it while we waited for our time to ride Splash Mountain. While in line at Big Thunder we were chatting with the couple in line behind us, Bob and Susan. They live in the shadow of Mount St. Helens and are big Disney fans just like us. We enjoyed sharing Disney experiences so much that we rode together and then moved on to Splash Mountain where we rode together once again. We described Tagrel.com and MouseFest to them . . . they were quite interested, so I suspect that we'll hear from them online soon.
It was getting on toward noon so Gary and I headed over toward Tomorrowland for a strawberry swirl. Gary couldn't walk by Mickey's PhilharMagic, so we stopped for the show and then had our swirl. Then we caught the boat back to the campground where I had a relaxing afternoon at poolside. Gary took Zak & Zoë to the new doggie park for a romp and then played a bit at the computer before joining me at the pool.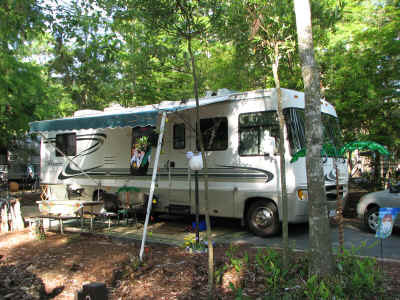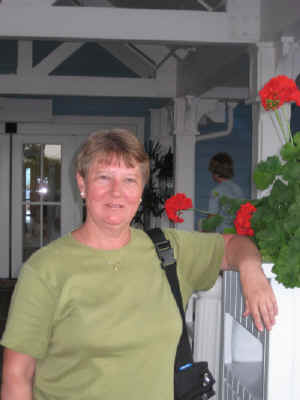 The pool was a mob scene. I've never seen it so busy. After we both had a dip we returned to the motorhome for a rest. At 5:30 we hopped in the car and headed over to the Beach Club for our dinner reservation at Cape May. We had the seafood buffet there several years ago and thought we should try it again. It was OK, but is still not one we will rush back to.
After dinner we drove over to Crossroads Plaza and picked up a few groceries and then stopped at the Character Store in the Prime Outlets Mall. Traffic was crazy . . . I told Gary we should never go back there on a Saturday night.
Back at our campsite we decided that we had both enjoyed our relaxing day so we just stayed in and watched a little TV before bed.
---
April 27
I am beginning to think that acting spontaneously has its rewards. I was able to sleep in this morning – there was nothing planned and nowhere to go. I didn't get up until 8:15 – Wow!
Gary asked, "What's the plan for today."
I replied, "Don't have one."
He asked, "Where are we having dinner?"
I replied, "Don't know."
He asked, "Which park do you want to go to?"
I replied, "Don't care!"
He said, "Let's go to Hollywood Studios." although it didn't roll off his tongue very smoothly. It still wants to be MGM Studios in our minds.
So by 9:30 we were driving into the studios.

Our first priority was a FastPass for Tower of Terror, so Gary headed to the Tower to get the passes and then used the singles line to ride Rock 'n Roller Coaster.

I shopped my way down Sunset Boulevard and we met at the corner near the Toluca Legs Turkey Co. and headed off to the Animation Studio.

We chatted for a few minutes with the Cast Member in the store and then went through the Animation Theater to the display area in the rear.

We spotted a sample of the new Dumbo cel which will go on sale in June.

I love it – I've just got to have a copy!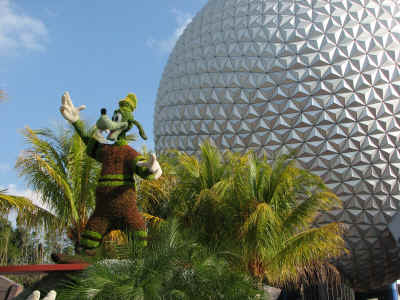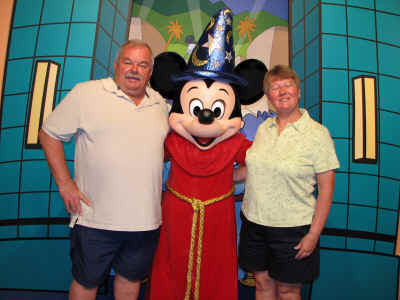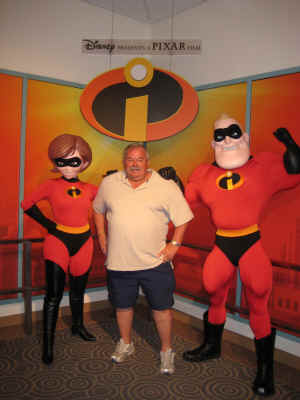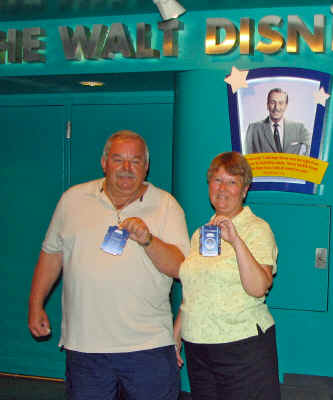 From Animation, we headed over toward the new Toy Story Mania ride, hoping that we would find get lucky and find a soft opening. No such luck, it was closed up tight, but there was a Cast Member standing nearby and he recommended that we visit "One Man's Dream". We had just been there in December and Gary didn't want to go, but something in the Cast Members eyes told me we should. I grabbed Gary and dragged him in. Are we ever glad I did. The Dream Squad was there handing out Dream FastPasses. Wow – this spontaneity was working out well.
We headed over to Star Tours where Gary used his new FastPass for an express flight to the Moon of Endor. By now it was lunchtime, so we headed over to the 50's Prime Time Café. I asked, "Are you taking any walk-ins?" and the Cast Member replied, "Sure cousin, what's your name?" Within five minutes we were enjoying our PBJ (peanut butter & jelly) shakes. By now I was really starting to like this spontaneity thing!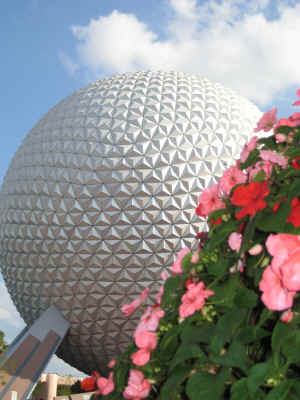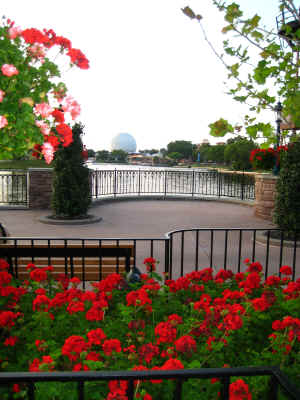 After lunch we headed back down Sunset Boulevard and rode Tower of Terror together, then Gary used his new FastPass to ride Rock 'n Roller Coaster again.
We hopped in the car to head back to Fort Wilderness and the dogs at 1:45.
Our plan for a swim fell apart. After walking the dogs we laid down for a nap and an hour flew by. We left for EPCOT at 5:00 and had a burger at the American Pavilion before we caught the 7:00 Flower Power concert featuring B.J. Thomas. It was great. He sang all his old classics and had the audience yelling for more. After the concert we headed to Test Track for a ride, but we stopped halfway around the World Showcase Lagoon to watch a spectacular sunset over the Canadian Pavilion. After Test Track we rode Spaceship Earth and then I spent a few minutes browsing in The Art of Disney store.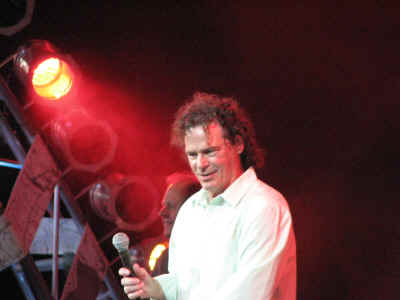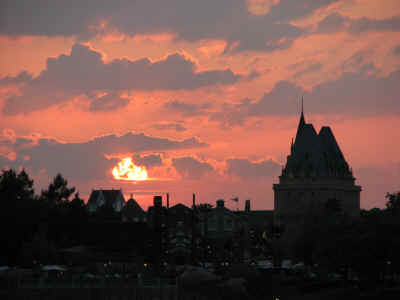 We were back to the motorhome by 9:30; a swim and some TV rounded out our day.
I am still reflecting on spontaneity . . . there isn't a spontaneous bone in my body, but today turned out pretty well!
---
April 28
Another slow start. It is kind of nice not having to be anywhere at a specific time. We had some breakfast, walked the dogs and decided to go over to Animal Kingdom. I knew it would be busy because it was morning Extra Magic Hours but I had missed the safari the day we had gone over. We decided to grab a FastPass at Expedition Everest before heading over to Africa and while we were that close to Everest we hopped in the singles line and had a ride.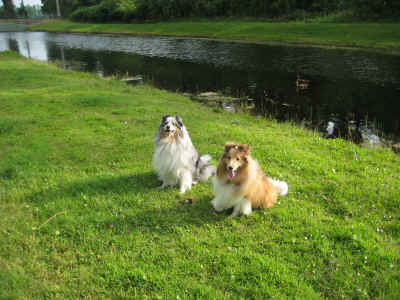 Then as we passed Yak & Yeti I thought, "This spontaneity thing has worked well so far – lets try it again!" So I asked the Cast Member if they were taking lunch reservations. WOW! We got a reservation for 12:30 . . . sweet!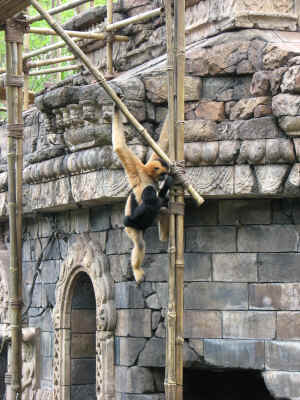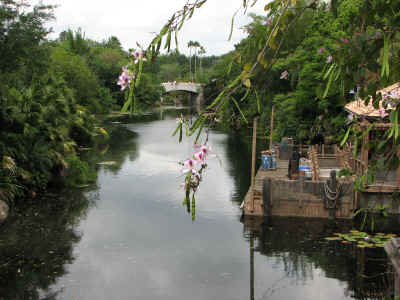 We got to Kilimanjaro Safaris to find the line right out onto the street in Harambe. We waited for about 5 minutes and had hardly moved. Knowing how long that queue is, we soon figured out that we could not finish in time for our lunch reservation, so we hopped out of line. We wandered down some of the back trails around the tree of life and ended up at the It's Tough To Be A Bug show. We hadn't seen it for a few years and it once again surprised me. Why does a children's show make so many children cry?
We rode Everest again before lunch and then Gary decided he had time for the Kali River Rapids on the way to Yak & Yeti. He got soaked! He could not have been wetter if he had jumped out of the raft and into the Kali River. We sat directly under a fan and he shivered all through lunch. Lunch was great; we really like this new restaurant.
After lunch we headed back to the campground and started to pack things away in preparation for our trip home. The forecast was calling for rain and we wanted to get things packed away before they got wet.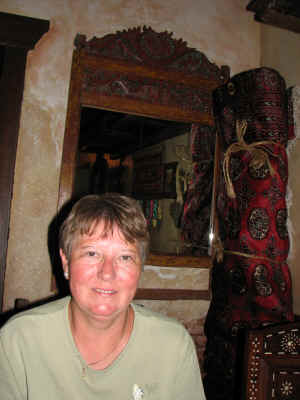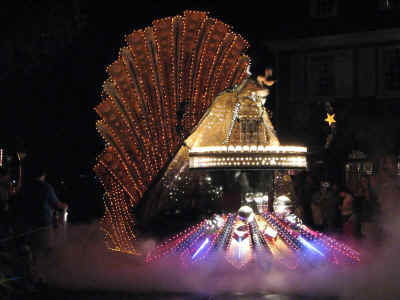 By 5:30 we were pretty much packed up and we hopped on a boat to the Contemporary Resort and then the monorail to the Polynesian Resort where we had a reservation for dinner at the Kona Café. It had started to rain by that time. I spontaneously (lovin' that word) walked over to Ohana and asked the Cast Member if they were accepting walk-ins. She smiled sweetly and said, "Sure, the wait is 1 hour and 45 minutes." Looks like my spontaneous is sputtering out! Dang! We had a great dinner at Kona. It's one we'll return to for sure, we even got to have the bread pudding from 'Ohana, all you have to do is ask!
We caught the monorail to the Magic Kingdom and walked over to Liberty Square where we staked out a spot across from the Christmas Shop to watch the SpectroMagic Parade. Gary got some great photos. While everyone was rushing to Main Street to see the Wishes fireworks show, we cut through to Caribbean Plaza and rode Pirates of the Caribbean. There was no line – we walked right on. Then we hurried through the Emporium to the park entrance and were on the dock waiting for the boat to Fort Wilderness by the time Wishes was over. Back at the motorhome I crashed immediately. Where has my stamina gone? Oh yeah – I traded it for spontaneity.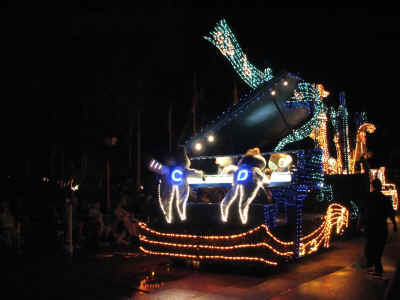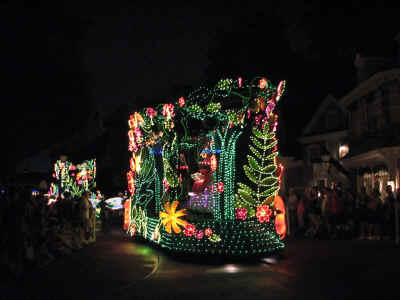 ---
April 29
It was another sleep-in day, when we did get up we took our time. It was a gorgeous day, sunny with no humidity, we were able to open up all the windows and shut the A/C off. We decided that since it was our last day we would spend it at the Magic Kingdom. We rode our bikes down to the dock and caught the boat about 10 a.m.
We walked into the park just in time to hop on the horse-drawn trolley. We got off in front of the castle and walked over to Space Mountain to get a FastPass. We then went to Buzz Lightyear where Gary beat me again. After Buzz we rode the Tomorrowland Transit Authority and then walked over to It's a Small World. We got a FastPass for Peter Pan and headed toward Casey's for lunch but the Liberty Belle Riverboat was just loading as we passed so we decided to take a ride on it.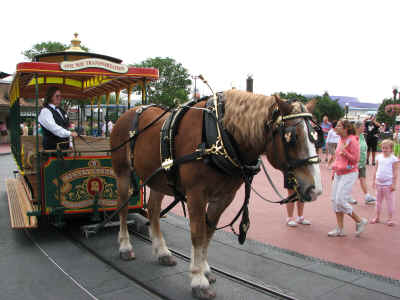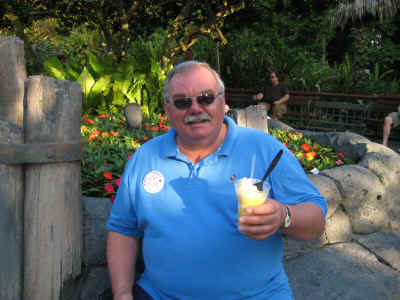 After riding our riverboat ride we made it to Casey's and had a hotdog for lunch then walked across the street to have ice cream for dessert. We walked down Main Street and out to catch the boat back to the campground. We rode our bikes back to our site and took the dogs out for a romp.
We wanted to make sure our bill was in order so we drove up to the Outpost, everything had been fixed up just like they promised. I took my camera and walked around the butterfly garden, it was so beautiful and was in full bloom. There were lots of butterflies, caterpillars and cocoons, Fred, the man in charge of the butterfly garden, does a wonderful job.
We drove back to the site and Gary got our bikes strapped on the back of the RV, one less thing to do in the morning. We both had a short nap and then took the dogs out for a walk.
With the bikes packed up we had to walk down to the dock to catch the boat back to the Magic Kingdom. We got there just after 6 o'clock and made our way to Pecos Bills for a burger. After our burger Gary want a Dole Whip, so we walked back to Adventureland before riding Peter Pan. We walked through Fantasyland and got a FastPass for Winnie the Pooh. I wanted a Strawberry swirl so we stopped on our way to Tomorrowland and sat at the table there for a few minutes.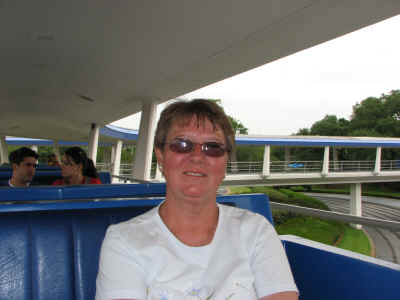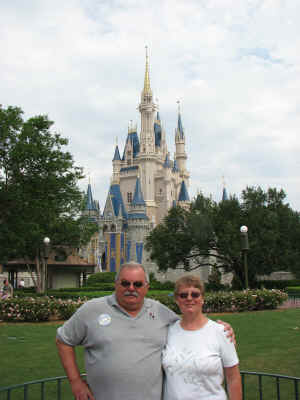 When we got to Space Mountain it was down so we went over to Buzz Lightyear and Gary beat me again. By the time we got off the Buzz ride Space Mountain was running again so we rode it before going back over to Fantasyland where we rode Winnie the Pooh, our last ride before taking that long last walk down Main Street. We were able to watch Wishes while we waited for the boat.
We started talking to a couple on the boat ride to Fort Wilderness and they very kindly offered us a ride on their golf cart back to our site. It was really appreciated since we didn't have our bikes, a nice way to finish off our day. As much as I hated leaving it didn't seem so bad since we had the extra three days and I knew we would be in Disneyland in just a month.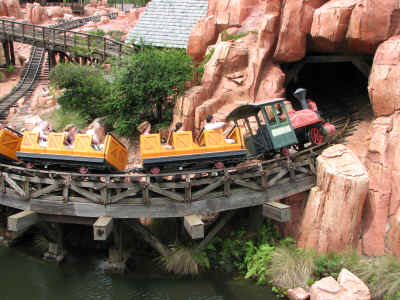 ---
April 30
We woke up at 6:30, but Gary was a little bit pokey getting going. It was just after 9:00 when we pulled out of the campsite and about 9:30 by the time I returned the cable modem to the Outpost and we finally hit the road. We stopped at the Cracker Barrel just across the Georgia State Line and then stopped to gas up at the Flying J Truck Centre at Brunswick, GA. They must have the slowest pumps in the world! Gary put 65 gallons in the motorhome and then 12 gallons in the car and it seemed like it took an hour.
It was an uneventful trip until we were almost at our destination. About 10 miles south of Walterboro, SC we heard a loud bang followed by some whirring and clanging noises. Gary pulled over on the shoulder of I95 and checked to see what had happened.
The tires were fine . . . the tow bar and safety chains were fine . . . he timed his laps around the motorhome to avoid the trucks speeding by . . . finally he looked under the rig and found the problem. The two exhaust pipes were mangled and the muffler was rubbing against the drive shaft. It looked as though we ran over a truck tire casing, or perhaps one of our exhaust pipe hangers broke, in any case the two tailpipes were dragged under the rear tire and we ran over them.
Gary was able to bend the exhaust pipe from the generator back into position, and then we drove the remaining 10 miles to our campsite with the main exhaust dragging on the highway and the muffler rubbing the drive shaft. Noisy!!
Once we got settled in at the camp, about 5:15, Gary crawled under the rig with a hacksaw and a few other tools. In about a half hour he crawled back out. He looked like a coal miner, but the tailpipe was cut off and some improvisation with a few coat hangers had the muffler hung back up. It should be enough to get us home. The RV was due for a trip to the shop, so we'll just add exhaust to the list!
Gary had a shower and we went to Ruby Tuesday just down the road for dinner.
---
May 1
We were up at 6:45 and Gary had a bite of breakfast and opened his birthday gifts. We were on the road by 8:30. Traffic was good and we went non-stop until noon. Northbound traffic slowed to a crawl at about 11:45 as we approached an exit at Lake Norman, NC with plenty of restaurants. After a quick bite at Subway we were back on the road at 12:30 and continued to make good time. As we passed from North Carolina and climbed the huge hill into Virginia one of the carbon monoxide detectors in the motorhome started beeping, followed almost instantly by the other one. I opened all the windows immediately.
Gary thinks it was probably caused by combination of the cut-off tailpipe, a high engine speed and slow motorhome speed as we climbed into the Blue Ridge Mountains. We pulled off the highway at the first exit, Fancy Gap, VA and let the motorhome air out. By chance we pulled into a gas station and I noticed that Pepsi was on sale – two 12 packs for $5.50. That sounded good, we like Diet Pepsi, so Gary went in to check it out while I walked the dogs. He must have charmed the two ladies working there because they gave him a bunch of coupons and he bought eight 12 packs for $14.00 – that was all the Diet Pepsi they had in stock. He wiped them out!
We got back on the road and pulled into our destination, Wytheville VA, at 3:00. We filled up with gasoline and propane at the Flying J and then checked in at the KOA campground.
After hooking up, walking the dogs and taking a quick nap we were off to our favourite restaurant in the area, the Peking Restaurant. We discovered it several trips back and always eat there when we are in the area. On our last visit, in December 2007, Gary thought there must be a Larry the Cable Guy Impersonators Convention in the area. He was the only guy inn the restaurant who wasn't wearing a sleeveless T-shirt and a ball cap with a fishing lure on it. Tonight there were no blatant rednecks. We had a great meal and headed back to watch some TV before bed.
---
May 2
We were up at 6:30 and after a quick shower and coffee we pulled out at 7:30. Breakfast was an Egg McMuffin about an hour down the road, and then we resumed our northern heading. We made a couple of rest area stops and had lunch at the Cracker Barrel before arriving at Lickdale Campground at 3:00 p.m. I walked the dogs while Gary set up the motorhome, and then we drove around looking for a WiFi signal. This campground does not have Internet accessibility at the campsites, so we will probably not stay here again. Harrisburg East Campground is only 20 miles away and we like it there!
After a rest we hopped in the car and drove into Lebanon PA, about 10 miles away, where we had dinner at Friendlys. Then back to the motorhome where we watched some TV before bed.
---
May 3
Up and on the road early again, at 7:30 we drove across the road to the Days Inn where we could pick up a WiFi signal and Gary followed the signs leading drivers to a special parking area for buses. Unfortunately, there were so many trucks there that we did not have room to turn around. You cannot back up the motorhome while you are towing the car, so Gary had to unhook the car, back the motorhome out and reconnect the car . . . a short delay, but annoying.
We downloaded mail and got going. Our first stop came early as well, the muffler started rubbing the driveshaft again, so Gary crawled back under the rig and used another coat hanger to hold it up. We stopped at the Flying J station in northern PA and I picked up a couple of pizza slices for lunch while Gary filled up.
In New York we had to pull into a rest area and Gary used our last metal coat hanger to tie up the muffler again. This time it was enough to get us home. We crossed the border back into Canada at 3:30 and were home unpacking the RV by 4:00.
I don't know why it is, but the four day trip southbound to Walt Disney World is always an adventure - but the four day trip northbound when we are coming home is always a bore. I'm always soooo glad to get home!
Now, if I can just get through the next three weeks . . . then we're off to California and Disneyland!
---